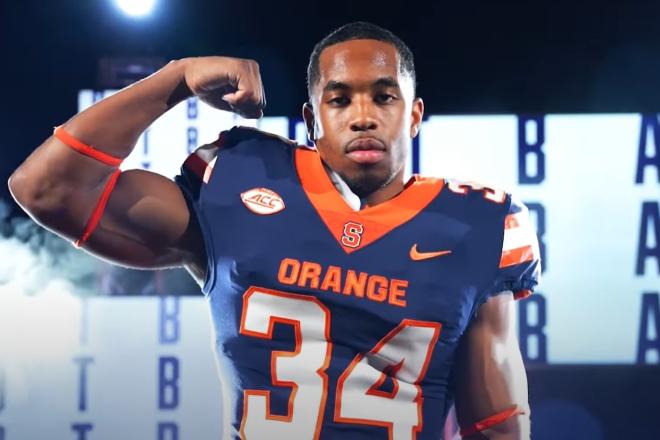 R.C. Fischer
Rookie Scouting Reports
06 April 2023
*Our RB grades can and will change as more information comes in from Pro Day workouts, leaked Wonderlic test results, etc. We will update ratings as new info becomes available.
*We use the term "Power RB" to separate physically bigger, more between-the-tackles–capable RBs from our "Speed RBs" group. "Speed RBs" are physically smaller, but much faster/quicker, and less likely to flourish between the tackles.
There are two Sean Tucker's to scout/consider for the 2023 NFL Draft. One of them is a serious contender to be a top 3-5 RB prospect in this class, and potential top 100 overall pick. The other is a forgotten in this class, fringe top 10 RB prospect going 5th+ round on day three of the draft.
The top 3-5 RB prospect version of Sean Tucker is the 2021 breakout star RB for Syracuse -- 1,496 yards rushing with 12 TDs and running at a 6.1 ypc clip. The ACC leader in rushing, #6 nationally in 2021. In our 2022 summer preview series of prospects (scouting their 2021 seasons), FFM's Ross Jacobs flashed a possible 'A' grade with Tucker's work after preview scouting his 2021 season.
The fringe top 10 RB prospect version of Sean Tucker is the one who fell a bit flat in 2022…a drop in his rushing production and effectiveness. A running back who was limping off the field a few times during the season…appearing to try to play through an injury most of the season. An RB prospect who got a mysterious, undefined 'medical exemption' and thus didn't run at the NFL Combine in late February…and then didn't do anything at his 3/20 March Pro Day -- in fact, not only not participating in the Pro Day but was barely seen, wouldn't take any questions, and snuck away by the end of his teammate's workouts.
All we know about Sean Tucker's 'medical exemption' is from his Twitter, where he has posted that he is about to be cleared from the 'medical exemption' as he posted a video of him doing Combine prep work dated 2/13/23. So, he was moving around fine mid-Feb. and then suddenly medically exempted from the Combine a few weeks later at the event.
Tucker's 'medical exemption' undefined has led to (a) wild speculation and/or (b) people just forgetting about him and moving on to liking/rating some of the other RB prospects above him. The medical thing + the weaker 2022 season are causing a slow slide down the consensus draft rankings.
Let me set all that aside, and focus on the 2021 breakout star for a bit…5'9"/207 of chiseled muscle -- a guy who likely would have out-benched every RB prospect at the Combine. A 4.4-4.5 runner with shifty feet in the run game, a big frame to work the interior, and 'plus'/reliable hands to be a pass game weapon…great at the screen game but works a really nice wheel route downfield as well. His 2021 self, no mysterious injury concerns, is a legit NFL RB prospect…a future NFL starter, possible three-down workhorse back in the right setting.
Watching his work on tape, I see a legit NFL RB…I just don't know how highly we should value it…
a) Is he more of a 'good', but forgettable prospect who wanders between being a #1-2-3 RB for his team over the years, with the coaches never intending him to be a #1 but injuries to others push him there and he shows well and is a valued/reliable RB…OR…
b) I can see a path of Tucker out-working, out-hustling, out-physique-ing the RBs on his NFL depth chart and he becomes a version of Austin Ekeler -- a ball of muscle that gets to the lead back role and never gives it up?
I see a path to either scenario…or somewhere in-between.
But then mixed into trying to define him as an 'A', 'B', or 'C' prospect for the NFL…we have this cloud of mystery/this 'medical exemption', that as of this writing -- no one in the media knows what it is. What if it is a heart issue or some type of cancer or maybe it's just an infection? His scouting grade could turn on a dime when we all find out what it is/was (if we ever do)?
I'm going to scout him ignoring the 'medical exemption' (for now) and focus on his 2021 and 2022 work, more so his 2021 work -- where Tucker was really good on a very weak O-Line team. A prospect that flashes three-down ability at the next level. Not the greatest 'wow' prospect I've ever seen at RB, but better than most in this class.
Outside of his solid skillset, off the field, Tucker is very shy and soft-spoken in interviews. His Twitter is clean but weird…he posted/tweeted a 2-3 sentence recap after every game…something I think he thought was serious, team-first, and being forthright/accountable about his performance…but comes off robotic and strange.
I'm intrigued about whether Tucker is the best conditioned/strongest little bundle of running back in this class…a better Chase Brown (Illinois) prospect -- or whether he has a serious medical thing and/or whether he is a strange bird in a one-on-one private interview.
In the end, sadly, right now…if someone called him an 'A' grade…I couldn't laugh it off. If they said he was a 'B', I think that's very possible. If an evaluator thought he was a 'C', I wouldn't think anything bad of them. I really don't fully know what we're dealing with here…but 'B' or 'C' feels the most comfortable for me to label him right now.
Sean Tucker, Through the Lens of Our RB Scouting Algorithm:
 -- Back-to-back 1,000+ yard seasons (2021-2022) despite some kind of issues in 2022.
 -- Nine of 12 games in 2021 with 100+ yards rushing in a game.
 -- Had a 23-232-3 game vs. FCS Wagner in 2022…minus that game, Tucker had 183-828-8 rushing totals in his other 11 games -- just a 4.5 yards per carry clip (under 5.0 is a red flag for me for a top college RB prospect). Medical issue? O-Line? 2021 was a lucky blip?
 -- 36 catches in 2022 season…he's a very sneaky good/great passing game back. He was not a checkdown…he was a planned event for the pass game weapon.
2023 Measurables Projections (didn't participate in the Combine or Pro Day)
*Note: Tucker posted a video of himself doing many of the Combine drills dated 2/13/23. So, I'm using some of that for the projections below…
5'9.2"/207, 9.3" hands. 30" arms (at the Combine)
40-time: His video workout shows 4.39…my hand timing of it, several times, was a low/mid-4.5s. Knowing how these 'video Combines' go…I'd trust more my timing, in the 4.4-4.5s, which is fine enough for his style.
Bench Press: 28 reps on video, and it makes sense -- hard to cheat that, and he is jacked.
Vertical: 41.5" from his video…that would be something, and I'm inclined to believe it.
Three-cone: Wasn't shown on the video, which means he's hiding it…but he looks pretty shifty on tape. Is probably around a 7.0+.
The Historical RB Prospects to Whom Sean Tucker Most Compares Within Our System:
It's not an exciting comp list. It's smaller, thicker, decent-speed, successful college runners who put up big benches pre-Draft. They seemed promising pre-draft but just kinda drifted into obscurity in the NFL. 
| | | | | | | | | | | | | |
| --- | --- | --- | --- | --- | --- | --- | --- | --- | --- | --- | --- | --- |
| RB Score | RB-Re | RB-ru | Last | First | College | Yr | H | H | W | Speed Metric | Agility Metric | Power Metric |
| 7.346 | 8.17 | 7.00 | Tucker | Sean | Syracuse | 2023 | 5 | 9.0 | 207 | 6.54 | 6.64 | 9.12 |
| 7.001 | 7.02 | 6.22 | Evans | Darrynton | Appalachian St. | 2020 | 5 | 10.1 | 203 | 7.80 | 6.17 | 7.65 |
| 4.595 | 6.97 | 5.34 | Brown | Kevin | Incarnate | 2022 | 5 | 8.7 | 207 | 6.84 | 4.60 | 6.89 |
| 6.432 | 5.36 | 7.78 | Boone | Mike | Cincy | 2018 | 5 | 9.7 | 206 | 3.33 | 4.06 | 8.93 |
| 8.073 | 8.74 | 6.73 | Batch | Baron | Texas Tech | 2011 | 5 | 9.5 | 207 | 4.31 | 2.04 | 9.26 |
*A score of 8.50+ is where we see a stronger correlation of RBs going on to become NFL good/great/elite. A score of 10.00+ is more rarefied air in our system and indicates a greater probability of becoming an elite NFL RB.
All of the RB ratings are based on a 0–10 scale, but a player can score negative, or above a 10.0 in certain instances.
Overall rating/score = A combination of several on-field performance measures, including refinement for the strength of opponents faced, mixed with all the physical measurement metrics – then compared/rated historically within our database and formulas. More of a traditional three-down search – runner, blocker, and receiver.
*RB-Re score = Our formula/rating that attempts to identify and quantify a prospect's receiving skills even deeper than in our original formulas. RB prospects can now make it/thrive in the NFL strictly based on their receiving skills – it is an individual attribute sought out for the NFL and no longer dismissed or overlooked. Our rating combines a study of their receiving numbers in college in relation to their offense and opponents, as well as profiling size-speed-agility along with hand size measurables, etc.
*RB-Ru score = Our formula/rating that attempts to classify and quantify an RB prospect's ability strictly as a runner of the ball. Our rating combines a study of their rushing numbers in college in relation to their offense and strength of opponents, as well as profiling size-speed-agility along with various size measurables, etc.
Raw Speed Metric = A combination of several speed and size measurements from the NFL Combine, judged along with physical size profile, and then compared/rated historically within our database and scouting formulas. This is a rating strictly for RBs of a similar/bigger size profile.
Agility Metric = A combination of several speed and agility measurements from the NFL Combine, judged along with physical size profile, and then compared/rated historically within our database and scouting formulas. This is a rating strictly for RBs of a similar/bigger size profile.
.
2023 NFL Draft Outlook:
Tucker has fallen from his January top 100 rankings overall…now heading towards around the #150 mark. This whole weird pre-Draft 'medical exemption' stuff is going to get him pushed to the 5th+ round unless there is a great explanation for it.
If I were an NFL GM, if there was a reasonable explanation for his medical thing, and he fell in the draft -- in the late 5th/6th+ round, I could see a bargain possibility I'd want to chase a little. The guy is in supreme shape, had a nice/big time successful season on a weaker college team, and has really good hands in the passing game. He's NFL legit…I just don't know if it is A-B-C worthy, or if the medical thing throws him into 'D' status.
NFL Outlook:  
Has gifts to offer to the NFL…and it might be more just 'competent' rather than 'star'. There is definitely something here for the NFL…how big it is, or how forgettable it is, depends upon this 'medical issue' outcome.
And if he's clean -- where he lands is going to matter. He's the kinda guy that needs a chance and then might steal the show from there, but he might be kept in a box for so long he never shows the goods (a la a Mike Boone career path).