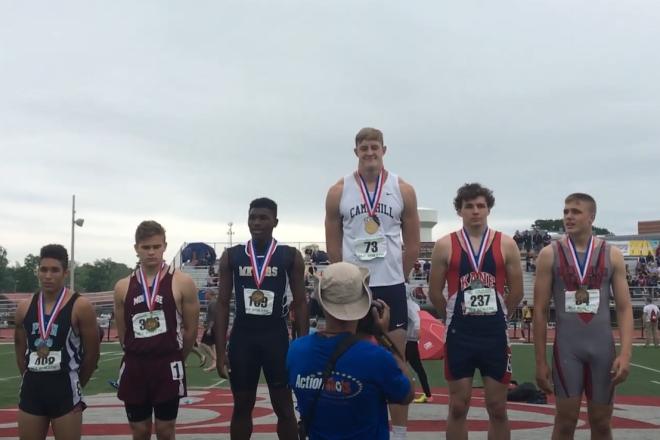 R.C. Fischer
Rookie Scouting Reports
18 March 2023
*Our TE grades can and will change as more information comes in from Pro Day workouts, leaked Wonderlic test results, etc. We will update ratings as new info becomes available.
**Our TE formulas had some slight changes in the 2018 offseason—an adjustment to better identify and value TE prospects that are smaller physically and are primed for the era ahead...the era of Jordan Reed and Delanie Walker-type TEs. Our historical grades will have changed some on various prospects as well, to show their grades by comparison. 
This one got real interesting, real fast, after his Combine day…
Zack Kuntz spent a couple seasons wasting away at Penn State, behind Mike Gesicki for a (redshirt) year and then behind Pat Freiermuth for two years, Kuntz playing a minor, blocking TE role. Kuntz then transfers (2021) to Old Dominion and breaks out with a 73-692-5 (13g) season and is named the All-Conference USA team tight end for 2021 season. He was taking another step forward in his 2022 season, but got his kneecap dislocated in their fifth game of the season and missed the rest of the campaign.
Kuntz had surgery, rehabbed back in time for the NFL Combine…and that's where things really changed. Kuntz stole the show with a high-end, arguably the single best Combine performance of 2023 -- a Combine year which might be the best TE group in history…that's saying, accomplishing something. People knew the other top names, now they were scrambling to find out more about Kuntz.
Kuntz has an NFL Draft status conflict that several TE prospects have had in the past: He's a stunning physical package in a giant 6'7"+ body, but he doesn't look like the NFL's concept of a tight end -- he's not 6'4"/250 and slower and designed to block most plays. Kuntz is not a traditional TE, per se, he's more of a weapon…a polished receiver with giant reach and high-end speed and agility. The NFL, still to this day, doesn't know what to do with/how to exploit a weaponized young tight end.
Kuntz is bringing some of the most impressive receiver traits, construction, and skills to the table that I've ever seen. He's not the greatest TE prospect I've ever scouted but he could be the most amazingly built/athletic prospect 'on paper' that we've ever seen.
The problem with getting too excited is that it's too easy to look at Kuntz's excellent Combine and say it's, "Just like (Mike) Gesicki."
6'5"/247, 34" arms, 4.54 40-time, 1.56 10-yd, 41.5" vertical, 4.10 shuttle, 6.76 three-cone = Mike Gesicki/2018 Combine
6'7"/255, 34" arms, 4.55 40-time, 1.57 10-yd, 40.0" vertical, 4.12 shuttle, 6.87 three-cone Kuntz/2023 Combine
Nearly identical.
I can remember scouting Gesicki, not really liking him much (seemed so slow and awkward)…and then he goes out and has a surreal/stunning Combine, one of the best ever for a TE…and I'm thinking: there's no way that's real! Did he pay someone off at the event? I did not see the Combine version of Gesicki on the tape version of Gesicki. And with history as our guide, in the NFL, Gesicki has not been the Combine-Gesicki.
So, are we headed there with Zack Kuntz…a Combine warrior, but the reality will also bite? No…no, we are not.
I did see the movement skills and natural gifts on Kuntz's preview tape scouting ahead of the Combine. And then when he blew away the Combine -- it didn't confuse me a bit. It made some sense. I didn't think his Combine would be THAT good, but it was not illogical after seeing his preview work…and then confirmed on the deeper tape study post-Combine -- Kuntz has really good+ movement skills. *Note: Kuntz was also a high school track and field star…a state champion in his high school level in the 110-meter hurdles (thus the picture I got for this report).
If Kuntz has real movement skills…then are we talking about a contender for top TE prospect in this draft? I wouldn't go that far, but he does deserve discussion among the top five TE prospects and being a top 100 overall pick possibility.
Kuntz is a solid route running receiving TE…he can move. He's very sleek and fluid for a 6'7"+ athlete. Whereas Mike Gesicki looks like a wounded baby giraffe on roller-skates half the time he's in motion, and he isn't a real route runner…he's just a 'go get it', jump ball guy…Kuntz is much more natural and fluid running pass patterns and making all the catches -- with the advantage of incredible reach and leaping ability to go get passes. His target radius may be the widest and tallest in the NFL…ever. He has a 40" vertical, which I think was a record for any guy who was 6'6"+ at the Combine. Regardless…he can go high or wide for passes, and he has good hands.
Kuntz is an OK blocker. He's not a blocking specialist and he has a skinnier lower body, but he has so much size-extension-mass that he can be enough as a blocker…but you don't draft him to be your ace blocker, you get him to be a unique pass game weapon unlike many in NFL history.
Off the field, Kuntz is a likable, chill personality but does not bring that into his play on the field. Well-liked by teammates and coaches. No off-field issues detected.
I give Kuntz a 'thumbs up' overall, but he's not as good a receiver tight end package as Dalton Kincaid or Luke Musgrave (but they are high-end, so it's not a diss…and he's closer to being a 'big' Luke Musgrave)…but Kuntz is a bigger/longer receiver than all of them, so that's his extra advantage/gift. He's not the blocker Kincaid, Musgrave or Darnell Washington are, but not far off what Kincaid does -- just gets in the way fairly effectively. Kuntz's play has not been as aggressive or physical as Kincaid-Musgrave-Washington either, but Kuntz has a more 'chill' personality…which could be mistaken for lack of aggression, but I don't think it's a real issue. I use those three TEs (Washington-Kincaid-Musgrave) for comparison as they are running as our top three graded TEs, and you could argue their order. Kuntz, for me, would be in the debate next on the TE list in a battle with Sam LaPorta. My next TE scouting study will be LaPorta, so we'll see/answer that question there.
Zack Kuntz, Through the Lens of Our TE Scouting Algorithm:
 -- His last 15 full games played in college: 5.2 rec., 50.2 yards, 0.47 TDs per game and two 100+ yard games. Nice production from a college TE, and considering he played with less than exciting QB play.
In 2022 season, Kuntz caught 5 TD passes…but his team only threw 15 TD passes the entire season.
 -- Injured in his 5th game of the 2022 season…so, we don't know where he would have wound up for production but probably a step or two better than his nice 2022 season, because the QB play improved year-over-year.
2023 NFL Combine Measurables:
6'7.3" (tallest of 20 TEs)/255
34" arms (2nd longest among 20 TEs), 10 1/4" hands (3rd biggest among 20 TEs)
4.55 40-time (2nd fastest among 13 TEs who ran…just .01 off #1), 1.57 10-yd (tied for the fastest TE)
4.12 shuttle (2nd fastest of 7 TEs), 6.87 three-cone (fastest among 7 TEs)
23 bench reps (tied for the most among 8 TEs)
40" vertical (#1 among 14 TEs)
10'8 broad jump (#1 among 14 TEs)
.
The Historical TE Prospects to Whom Zack Kuntz Most Compares Within Our System:
Kuntz as 'the next Jimmy Graham' is not off the table here at all. Kuntz is so uniquely built, so extreme in some measurements (for a TE) that he's hard to comp. Jelani Woods is a much more thick/physical version of Kuntz measurables. 
| | | | | | | | | | | | |
| --- | --- | --- | --- | --- | --- | --- | --- | --- | --- | --- | --- |
| TE Grade | TE-Reed | Last | First | Yr | College | H | H | W | Spd-Agil Metric | Strgth Blxing Metric | Hands Metric |
| 8.519 | 6.98 | Kuntz | Zack | 2023 | Old Dom. | 6 | 7.3 | 255 | 11.23 | 7.32 | 8.66 |
| 9.725 | 3.80 | Graham | Jimmy | 2010 | Miami, Fla | 6 | 6.2 | 260 | 10.78 | 8.18 | 8.23 |
| 9.475 | 6.45 | Woods | Jelani | 2022 | Virginia | 6 | 7.1 | 253 | 9.58 | 10.56 | 8.05 |
| 8.479 | 4.29 | Hodges | Bucky | 2017 | Va Tech | 6 | 6.0 | 257 | 8.11 | 7.76 | 9.25 |
| 7.692 | 5.24 | Gesicki | Mike | 2018 | Penn St. | 6 | 5.4 | 247 | 10.45 | 4.94 | 8.65 |
*A score of 7.0+ is where we start to take a TE prospect more seriously. A score of 8.50+ is where we see a stronger correlation of TEs going on to become NFL good/great/elite. A score of 10.00+ is more rarefied air in our system and indicates a greater probability of becoming an elite NFL TE.
All of the TE ratings are based on a 0–10 scale, but a player can score negative, or above a 10.0 in certain instances.
**The 'TE-Reed' score is in honor of Jordan Reed's 2015 season…looking at TEs in a different manner—the smaller, speedy receiving threats.
"Speed-Agility Metric" = A combination of unique metrics surrounding speed, agility, physical size, mixed with some on-field performance metrics. High scorers here project to have a better YAC and show characteristics to be used as deep threats/create separation.
"Power-Strength Metric" = A combination of unique metrics surrounding physical size profiling, bench press strength, etc.  High scorers here project to be more physical, better blockers, and less injury-prone.
"Hands Metric" = A combination of unique metrics surrounding on-field performance in college, considering the strength of opponents played. Furthermore, this data considers some physical profiling for hand size, etc. High scorers here have a better track record of college statistical performance, and project the combination of data for receiving success at the next level.
2023 NFL Draft Outlook:
Kuntz has moved up into the top 150 overall in consensus rank/averages…and climbing. I don't think he'll crack the top 100 because he's not the NFL's kind of TE…he didn't play in the SEC and he's not thick and boxy. He should go day three between #100-150.
If I were an NFL GM, I'd have to consider taking Kuntz 3rd-round…even if I didn't 'need' a TE, he's such a unique pass game weapon. Like, how could you not just toss him fade passes in the end zone every time you got in the red zone? If your QB throws the ball properly, or close to it, who can get up with a 6'7"+, 40" vertical leap, 83"+ wingspan guy? How much advantage is just that specialized weapon? That's not to mention all his other gifts in the passing game he brings.
The NFL will draft a thousand useless specialists like 'satellite' running backs (and then 99% of the coaches never use this feature but 1-2x a game) and they'll draft specialized blocking tight ends, but if you suggested to draft a specific red zone pass game weapon at tight end -- you'd be thought of as an idiot in NFL circles. I'd like to question who the idiots are in this situation…
NFL Outlook:  
Same outlook as Darnell Washington, Dalton Kincaid, and Luke Musgrave, among others. They could all be God's gift to an offense but in the NFL they're more likely to get Kyle Pitts'd  or Donald Parham'd or Jelani Woods'd, then they are becoming a Gronk or Kelce or Jimmy Graham -- but here's to hoping the NFL wakes up on Kuntz, and others like them hitting the NFL now and in years to come.