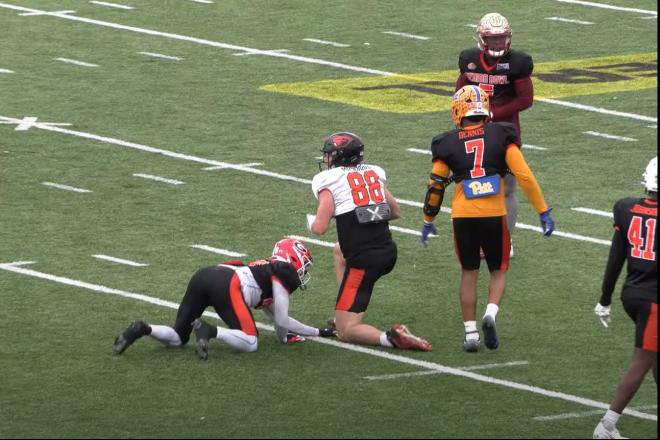 R.C. Fischer
Rookie Scouting Reports
17 March 2023
*Our TE grades can and will change as more information comes in from Pro Day workouts, leaked Wonderlic test results, etc. We will update ratings as new info becomes available.
**Our TE formulas had some slight changes in the 2018 offseason—an adjustment to better identify and value TE prospects that are smaller physically and are primed for the era ahead...the era of Jordan Reed and Delanie Walker-type TEs. Our historical grades will have changed some on various prospects as well, to show their grades by comparison. 
The short version scouting report on Luke Musgrave: He's what the football media/analysts think Michael Mayer is.
The football intelligentsia LOVES Michael Mayer, but he isn't as good as Luke Musgrave…nor is he as good as our #1-2, elite-ish prospects at TE, Darnell Washington and Dalton Kincaid. And there are others we have over Mayer.
Musgrave is that NFL 'big', swift moving, blocking + receiving weapon tight end the football people think Mayer is. Just to compare these two guys (Mayer and Musgrave), as the basis for a scouting report on Musgrave…
 -- Musgrave is bigger than Mayer, just straight judging size.
6'5.7"/253, 32 5/8" arms, 10 3/8" hands, 79.5" wingspan = Musgrave/2023 Combine
6'4.4"/249, 31 5/8" arms, 9.5" hands, 76.25" wingspan = Mayer/2023 Combine
Just in the size, the physical package alone…edge in every way to Musgrave.
 -- So what if Musgrave is bigger, if he's not faster/quicker?
4.61 40-time, 1.54 10-yd = Musgrave/2023 Combine
4.70 40-time, 1.66 10-yd = Mayer/2023 Combine
Yep…edge in every way to Musgrave in speed (and we don't have the agility times on either yet)
 -- Yeah, but is Musgrave as athletic?
36.0" vertical, 10'5" broad jump = Musgrave/2023 Combine
32.5" vertical, 9'10" broad jump = Mayer/2023 Combine
Yeah…edge in every way to Musgrave.
 -- Yeah, but is Musgrave better on the field…in reality?
Yes.
1) Musgrave is a poor man's Dalton Kincaid as a receiver…and that's a big compliment. Musgrave is a very good/sharp/quick route runner…a better receiving threat/talent than I realized from just my preview scouting pre-Senior Bowl and at the Senior Bowl.
Mayer is not as quick into his routes and has nowhere near the hands that Musgrave does.
2) Musgrave is a solid blocker with longer arms than Mayer to help. Mayer is a solid enough blocker as well, but he's not as quick in short space and has shorter arms to do his blocking with.
Musgrave is really very talented. He only played two games in 2022, before suffering a leg injury (non-major) and they hoped he'd heal/return from by late season, but he didn't get back…so only two games from 2022 to scout, but that's all you need -- you can see the ability in those two games, and the emerging ability in 2021 season.
Musgrave is a very good receiving tight end…and all-around tight end. The presence of Dalton Kincaid, the supreme receiving tight end of the 2023 draft overshadows just how solid/good Musgrave is as a receiver at tight end. Musgrave can block…he is a receiving threat…he tested nice at the Combine…he's an honor roll student…he has NFL lineage in his background/upbringing -- in most NFL Drafts, he'd be the top TE prospect (had he had a normal 2022 season). He's just in an unfortunate situation where Washington and Kincaid are so great as TE prospects.
Musgrave is probably going to be the very good consolation prize for the TE desirous who miss out on Washington-Kincaid, and some dumb NFL team will draft Mayer ahead of Musgrave too.
Luke Musgrave, Through the Lens of Our TE Scouting Algorithm:
 -- Only played the two games in 2022, before missing the rest of the season, but was showing the early output trend of a breakout…5.5 rec., 84.5 yards, 0.50 TDs per game in his two games…with weak quarterbacks to work with.
 -- His last 4 college games (including a bowl game): 5.3 rec., 74.5 yards, 0.50 TDs per game…and those are HIGH END output numbers for a traditional tight end. Musgrave is not a WR masquerading as a TE…he's a legit, NFL sized/look tight end and worked that way for Oregon State.
2023 NFL Combine Measurables:
6'5.7"/253 (6th tallest of 20)
10 3/8" hands (2nd biggest of 20), 32 5/8" arms (8th longest/tied of 20)
4.61 40-time (4th of 13), 1.54 10-yd (#1 of 13)
n/a = three-cone or shuttle (have to wait for Pro Day)
36" vertical (5th of 14), 10'5" road jump (3rd of 14)
.
The Historical TE Prospects to Whom Luke Musgrave Most Compares Within Our System:
It's a good list of comps for Musgrave…all legit, nice NFL receiving TEs, and mostly TEs underutilized in their careers…when the passing games were way more stiff for the TEs. Not anymore. 
| | | | | | | | | | | | |
| --- | --- | --- | --- | --- | --- | --- | --- | --- | --- | --- | --- |
| TE Grade | TE-Reed | Last | First | Yr | College | H | H | W | Spd-Agil Metric | Strgth Blxing Metric | Hands Metric |
| 8.720 | 8.12 | Musgrave | Luke | 2023 | Oregon St. | 6 | 5.7 | 253 | 9.67 | 7.08 | 8.95 |
| 9.438 | 7.52 | Pitta | Dennis | 2010 | BYU | 6 | 4.4 | 245 | 10.19 | 6.83 | 10.28 |
| 8.250 | 6.63 | Eifert | Tyler | 2013 | Notre Dame | 6 | 6.0 | 250 | 8.02 | 6.18 | 10.07 |
| 8.829 | 7.44 | Scheffler | Tony | 2006 | W. Michigan | 6 | 5.3 | 254 | 12.09 | 7.53 | 7.45 |
| 7.949 | 3.40 | Olsen | Greg | 2007 | Miami, Fla | 6 | 5.7 | 254 | 10.57 | 7.93 | 7.82 |
| 8.072 | 4.70 | Shockey | Jeremy | 2002 | Miami, Fla | 6 | 4.6 | 255 | 7.73 | 8.81 | 9.66 |
*A score of 7.0+ is where we start to take a TE prospect more seriously. A score of 8.50+ is where we see a stronger correlation of TEs going on to become NFL good/great/elite. A score of 10.00+ is more rarefied air in our system and indicates a greater probability of becoming an elite NFL TE.
All of the TE ratings are based on a 0–10 scale, but a player can score negative, or above a 10.0 in certain instances.
**The 'TE-Reed' score is in honor of Jordan Reed's 2015 season…looking at TEs in a different manner—the smaller, speedy receiving threats.
"Speed-Agility Metric" = A combination of unique metrics surrounding speed, agility, physical size, mixed with some on-field performance metrics. High scorers here project to have a better YAC and show characteristics to be used as deep threats/create separation.
"Power-Strength Metric" = A combination of unique metrics surrounding physical size profiling, bench press strength, etc.  High scorers here project to be more physical, better blockers, and less injury-prone.
"Hands Metric" = A combination of unique metrics surrounding on-field performance in college, considering the strength of opponents played. Furthermore, this data considers some physical profiling for hand size, etc. High scorers here have a better track record of college statistical performance, and project the combination of data for receiving success at the next level.
2023 NFL Draft Outlook:
Musgrave is tracking top 50…and that sounds about right. He may surprise and go in the 1st-round if Darnell Washington goes top 15 and then Dalton Kincaid goes top 20…to cause a run on the top TEs. Likely, Musgrave goes 2nd-round and behind Michael Mayer, which will be a grave error for the team that does that.
If I were an NFL GM, I would have interest in Musgrave if I couldn't get to Washington-Kincaid…1st-round interest, if needed. I'd also need to apologize to Todd McShay, who was a huge Musgrave proponent at the Senior Bowl…so much so it made me sick, and I didn't see 'it' during the Senior Bowl week -- but I see it now with deeper study. McShay wins…but I have more career wins by a mile, so 'hat's off' to McShay.
NFL Outlook:  
Should be a three-down starter quickly and a high-end receiving weapon TE, if he lands in a modern offense…and not (the more likely) stiff, ancient use of the TE offense (see: Kyle Pitts).