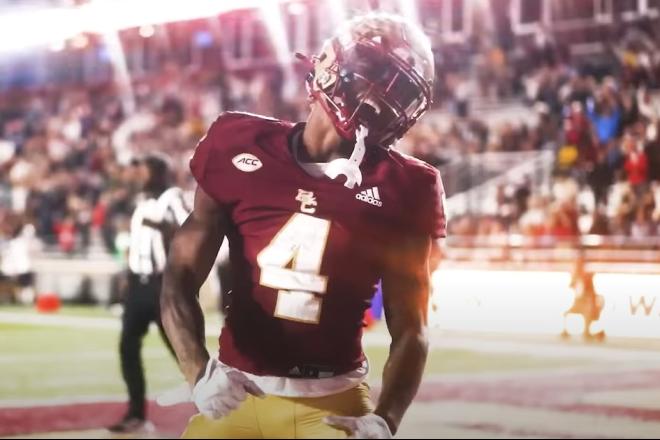 R.C. Fischer
Rookie Scouting Reports
10 March 2023
*WR grades can and will change as more information comes in from Pro Day workouts, Wonderlic test results leaked, etc. We will update ratings as new info becomes available.
*WR-B stands for "Big-WR," a classification we use to separate the more physical, downfield/over-the-top, heavy-red-zone-threat-type WRs. Our WR-S/"Small-WRs" are profiled by our computer more as slot and/or possession-type WRs who are typically less physical and rely more on speed/agility to operate underneath the defense and/or use big speed to get open deep...they are not used as weapons in the red zone as much.  
I'll go into more detail as we go, but I'm gonna try something different here to get my Zay Flowers scouting-take across. Hopefully, it lands…
In the movie Moneyball, there's a pivotal, early scene where the 'Moneyball' theory was activated into reality/dumped onto the heads of a shocked-then-disbelieving room full of longtime MLB scouts. It was one of the first moves that Oakland A's GM Billy Beane began the Moneyball era on -- sending a shockwave to his own scouts (dismissing their scouting) and unveiling his newly formed scouting/analysis partnership with recent Yale graduate, baseball data analyst Peter Brandt to usher in the era of ON BASE PERCENTAGE MEANS EVERYTHING.
There's a line in the key scene where Beane answers a scout's sarcastic doubts on Beane's newfound love of a certain player because he "walks a lot." Beane said, in response to the scout, "He gets on base a lot…do I care if it's a walk or a hit?" Beane's 'on base percentage' movement (just one small part of their plan) would totally transform baseball in the months and years ahead.
Now, let's swerve from the movies and major league baseball to scouting Zay Flowers. I can summarize Flowers' scouting in a similar phrase a la what Brad Pitt/Billy Beane said in the Moneyball movie… Why do I/why should you like Zay Flowers for the NFL as a top WR prospect? "He gets open."
Analysts will comment on Zay's size and some point to a heavier 'drops' percentage his senior year. We'll discuss those things ahead, but the bottom line/the main theme of what makes Zay Flowers such a good prospect, and possibly the best WR in this draft is…"He gets open."
He's the best 'get open' WR that I've seen so far in this 2023 WR class. Flowers can get open on short routes with ease, making sharp cuts that most CBs cannot react to fast enough. He can also get open going deep with great double moves or pure speed/cuts across the field.
Watch this Moneyball clip and when Brad Pitt/Billy Beane is talking about the players he wants to pursue, and he keeps harping on the label: 'he gets on base' -- think of Zay Flowers thrust into that scene and substitute in the words/thought "He gets open."
Moneyball clip: https://youtu.be/viXP2t9I_48
What makes Zay Flowers a top WR prospect in the 2023 NFL Draft? He gets open.
So, he gets open…great! How much is that worth for the NFL? Well, on one hand…it's everything -- think of how valuable and/or productive Cooper Kupp or Amon-Ra St. Brown have become. How is Cooper Kupp always so wide open? "He gets open." 
On the other hand…there's a lot of physically gifted, 'smaller' WRs flooding the marketplace of the NFL. I could say Flowers is 'the best' at getting open, but I could see a few others who could challenge for that title…AND there are more physically gifted WR prospects, who aren't as schooled in route running right now, but  they could really learn/hone their craft in the next year or two in the NFL and blow past Zay as best 'gets open' WR in this class, in the end. But for right now, so far, all I know is…Flowers 'gets open' 
And Zay could be this elite route runner (let's say) but then wind up with a Sam Darnold-like guy as his QB…and then what? Or he goes with Justin Herbert but is under-targeted for 2-3 years behind Allen-Williams…and just as he's getting going, he's becoming a free agent. There are a ton of WRs hitting the NFL marketplace via the draft and it's going to cause problems for these young WRs to find target opportunities -- hopefully Zay is so good on his routes that he's instantly his QB's BFF target and they instantly live happily ever after.
There's been talk of/statistical evidence of a 'drops' issue with Zay Flowers. After watching his game tapes, I'd say the 'drops' thing might be a bit overblown…as it usually is by stat wonks and analysts. Not all 'drops' are the same. Flowers was such the heavy target for the QBs, often times their desperation throw, and he played with such awful/inaccurate QBs his entire career -- so, he was dealing with wobbly passes, floater passes, underthrown balls, throws not-in-stride but behind where he was route running too. Flowers had to adjust to and contest on a lot of bad throws…and why Zay was so good/noticeable/productive in college was his ability to adjust and fight for catches with bad QBs…but sometimes he didn't pull down the catch. Flowers is not Larry Fitzgerald or anything, but I think he's fine in the 'hands' department.
If Zay is so good, then why didn't he just transfer out to a real program and get a push from a better offense/school? That question, and the answer, are where Zay Flowers separates himself as a WR prospect from the basket of small-fast-good route runners of 2023.
Flowers turned down bigger NIL offers to transfer and make way more money and boost his visibility/production because -- he believed that he made a commitment to Boston College, and he wanted to honor that. Flowers is one of 14 children. His mom died when he was five. His dad solo raised 14 kids. It was difficult for Flowers to turn down the big NIL opportunity, as he tells the story, but he and his dad believed in honoring commitments. When the East-West Shrine bowl offered Flowers an invite, he accepted. When the Senior Bowl then offered after…he turned down the more prestigious bowl because he felt he committed to the East-West people and didn't want to break the commitment. EVERY WR that has that happen ditches the East-West bowl and heads to Mobile…not Zay Flowers. That's what you're dealing with on Zay Jones…and that's different than probably 99-100% of the other WRs…or any prospects for this draft. It could be the differentiator for him among them. He's a different breed of loyal/committed.
Flowers is also a pleasant but serious person off-the-field. Coaches love him. He's a team captain. He holds all the key career receiving marks at Boston College. I don't know that Flowers will be legendary in the NFL, but he's likely not going to be a bust/problem. His floor is good…his ceiling is really good.
Zay Flowers, Through the Lens of Our WR Scouting Algorithm:
 -- Boston College all-time leader in career receptions, yards, and receiving TDs.
 -- All-ACC as a sophomore and as a senior. Not as a junior…but his junior year his QBs threw for a combined 13 TDs/11 INTs in 12 games with a sub-57% Comp. Pct. It was his worst statistical tally season in his final 3 years at BC, but by percentage he WAS the offense in that down year…not his fault the totals looked weak.
 -- Receiving TD share for Zay in his last three seasons as starter for BC…
2020 = 39.1%
2021 = 38.5%
2022 = 57.1% (a radical % for a smaller WR playing with junk QBs…12 of 21 rec. TDs)
 -- 2 receiving TDs in a game in five of his 12 games as a senior/2022 (with everyone knowing he was getting the ball).
 -- 57 career rushes for 345 yards (6.1 ypc) and 2 TDs.
2023 NFL Combine Measurables:
5'9.2/182, 9.5" hands, 29.5" arms
4.42 40-time, 1.53 10-yd split
35.5" vertical
10'7" broad jump
DNP = Shuttle, three-cone
.
The Historical WR Prospects to Whom Zay Flowers Most Compares Within Our System:
Flowers always looks, visually, like Brandin Cooks when I watch the tape…just his body type and movement skills. However, Tyler Lockett is right there too as a smart comp -- Lockett's game is more Flowers-like…an all-around WR weapon, not just 'deep ball guy'.
| | | | | | | | | | | |
| --- | --- | --- | --- | --- | --- | --- | --- | --- | --- | --- |
| WR Score | Draft Yr | Last | First | College | H | H | W | Power Strngth Metric | Speed Agility Metric | Hands Metric |
| 8.027 | 2023 | Flowers | Zay | Boston Coll | 5 | 9.2 | 182 | 6.26 | 9.89 | 8.65 |
| 9.038 | 2015 | Lockett | Tyler | Kansas State | 5 | 9.7 | 182 | 6.12 | 11.41 | 10.23 |
| 9.595 | 2014 | Cooks | Brandin | Oregon State | 5 | 9.6 | 189 | 8.09 | 15.22 | 10.45 |
| 7.943 | 2021 | Moore | Elijah | Ole Miss | 5 | 8.5 | 180 | 6.24 | 8.19 | 10.04 |
| 6.748 | 2010 | Brown | Antonio | C. Michigan | 5 | 10.1 | 186 | 5.75 | 7.63 | 10.20 |
| 8.112 | 2015 | Carter | DeAndre | Sacramento St | 5 | 8.4 | 185 | 7.76 | 8.40 | 8.46 |
*A score of 7.0+ is where we start to take a Small-WR prospect more seriously. A score of 8.50+ is where we see a stronger correlation of a Small-WR going on to become NFL good/great/elite. A score of 10.00+ is more rarefied air in our system and indicates a greater probability of becoming an elite NFL Small-WR.
All of the WR ratings are based on a 0–10 scale, but a player can score negative, or above a 10.0 in certain instances.
Overall WR score = A combination of several on-field performance measures, including refinement for strength of opponents faced. Mixed with all the physical measurement metrics, rated historically in our database.
"Power-Strength" = A combination of unique metrics surrounding physical-size profiling, bench press strength, etc.  High scorers here project to be more physical, better blockers, and less injury-prone.
"Speed-Agility" = A combination of unique metrics surrounding speed, agility, physical size, mixed with some on-field performance metrics. High scorers here project to have a better YAC and show characteristics to be used as deep threats/create separation.
"Hands" = A combination of unique metrics surrounding on-field performance in college, considering the strength of opponents played. Furthermore, this data considers some physical profiling for hand size, etc. High scorers here have a better track record of college statistical performance, and overall this projects the combination of performance and physical data for the next level.
2023 NFL Draft Outlook:
Flowers keeps slowly rising up the draft boards…from a mid-2nd-rounder to now right on the edge of 1st/2nd-round rankings. I think he sneaks into the 1st-round before it's all said and done. The Steelers have some linkage with Mike Tomlin's son playing for BC in 2022…and Tomlin attending BC games. Zay used to workout with Geno Smith a few years ago…so, Seattle has some intel. The Patriots were all over Zay at the East-West Shrine. Coaches are going to fall in love with Zay's commitment and effort/work ethic. He's gonna go 1st-round.
If I were an NFL GM, I respect Zay Flowers…but I'm not taking him or any of the 2023 WRs in the 1st-round. 'Good' WRs are going to become the new RBs of the NFL -- interchangeable and easily replaceable and reducing in value because too much 'good' rookie supply is building for the demand/need. And, in 2022, the NFL figured out that WRs overlooked by their original draft team, guys who grinded and bettered themselves after 3-4-5 years are just as good, but cheaper, than high-pick, hot shot rookies (guys like Isaiah Hodgins, Mack Hollins, Zay Jones, Greg Dortch, etc.).
NFL Outlook:  
Will be drafted highly to get into the action quickly. Has a chance to be a very solid pro and beloved by coaches and fans and have a nice career, stretching his talents past other bigger, athletic guys because he outworks them. No one ever thinks of Tyler Lockett, when discussing the NFL's best WRs…but he's had a helluva good, long time productive NFL career.