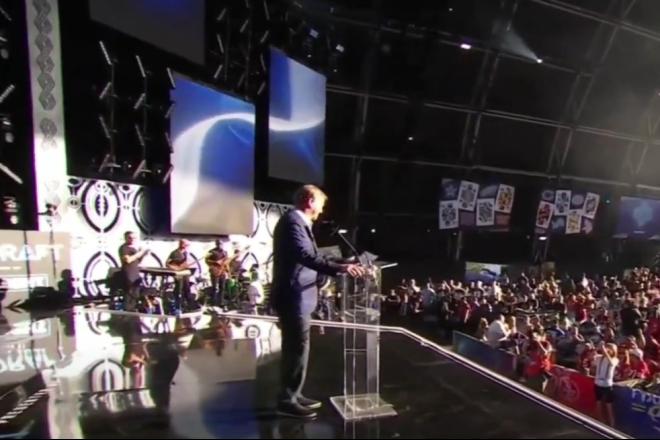 R.C. Fischer
Rookie Scouting Reports
02 March 2023
2023 NFL Pre-Combine: RC's Current Top 10 Best Prospects For The NFL Draft…
I've spent some time with every prospect attending the 2023 NFL Combine, except for all the offensive linemen -- I've only previewed the current top 50 overall type OL prospects to get a feel for them. Some of the (all) prospects I've scouted for 15-30 minutes, others I've spent hours with and filed full scouting reports on FFM already.
I've got a long way to go in this scouting process, and the Combine numbers are another important piece coming up, but heading into the Combine drills…here are my first reactions on the top 10 players for the draft -- and it will probably/likely change some after the Combine, after the Pro Days, and as we head to the NFL Draft.
So, with those disclaimers -- here are the top 10 NFL Draft prospects (for NFL purposes, not FF) that I see right now…
1) QB C.J. Stroud, Ohio State
You gotta take the elite QB in the NFL Draft when you can, and Stroud is ready-to-go from everything I've seen. A day one starter and a very high floor. The next two QBs that I'll discuss here have more physical tools and upside in general, but they are not as polished/lethal passing as Stroud.
2) QB Will Levis, Kentucky
Every other time I watch Levis, whether watching/scouting him specifically or if I'm scouting a defender facing him…I start to think that Levis is such a perfect NFL QB prospect -- perfect build, perfect mechanics, perfect toughness, and a cannon arm…and a legit-good/great passer mind. And I could see that after deeper NFL interviews and background checks of the top prospects, that NFL teams may move en masse to having Levis graded ahead of/over Stroud.
It's possible that in a few weeks we'll have Levis over Stroud as well. Going through Levis's tape with a fine tooth comb -- I see a chunk of his interceptions are not his fault, among other adjustments we will make to our scouting formulas/analytics. Plus, the Combine measurements, etc., could help get Levis over Stroud…we'll see.
But Stroud destroyed CFB as a passer for two years, while Levis was OK/good but not a machine in college…but he also didn't have anywhere near the O-Line and WRs Stroud had.
3) QB Anthony Richardson, Florida
And then… Sometimes I watch Richardson in a given day and start to think he could be better than all of them. Cannon arm. Good feet/running skills. Amazing deep ball accuracy…and terrible basic pass accuracy. His accuracy flaw will keep him from going #1 overall…but he may be Josh Allen 2.0 after three years in the league and everyone is kicking themselves for missing it.
4) OT Dawand Jones, Ohio State
Again…I've never seen anything like him. His blocking skills PLUS those historically long arms make him an elite prospect in my book. You watch Jones on tape for one-minute and then watch that dude from Northwestern, Skoronski, for the same minute…it's not even a comparison/not even close.
5) CB Christian Gonzalez, Oregon
Cornerback is so important…way more important than the EDGE rushers the media (and NFL) always loves. Gonzalez is the gem in a great/deep class of CBs in 2023.
6) OT Parris Johnson, Ohio State
Offensive line is the most important position after QB, to me, so I gotta take the next best one that I've seen so far after Dawand…his teammate. Which then makes me wonder how much Stroud benefitted from having two high-end tackles to play behind, and it was a benefit but when you watch Stroud against the tougher defenses like Georgia -- that's when Stroud shined brightest/took over the game while under pressure.
To be fair, Parris is the least amount of time I've spent scouting of this top 10…I could be selling him short…or he needs to go from this list.
7) LB Drew Sanders, Arkansas
One of the best linebacker prospect previews I have done in a long time. I might have to go back to scouting Luke Kuechly to get the same vibes. Looking forward to studying him more.
8) DE Myles Murphy, Clemson
I'm breaking my own rule of not placing a high value on DLs/EDGE rushers…but Murphy gave me too many Reggie White vapors to deny.
9) DL Tuli Tuipulotu, USC
There are enough 'Aaron Donald' vibes here to make me chase him this high…and he might deserve to be ahead of Murphy, because of his DT/DE possibilities, but the Combine (and/or Pro Day times) will help us judge his best projected position/usage ahead.
10) Dealer's choice CB…
You can pick between Devon Witherspoon, Joey Porter, and Emmanuel Forbes. I see the value in all of them, and each is unique in what makes them special. My heart/gut is kinda with Forbes, but the Combine data and measurements will hopefully help break the tie.
Names I also considered: Trenton Simpson, Bryan Bresee, Jalen Carter, Darnell Washington, Broderick Jones.
I've got a lot more work to do on all these guys after the Combine and through the Pro Days and right up into the NFL preseason.