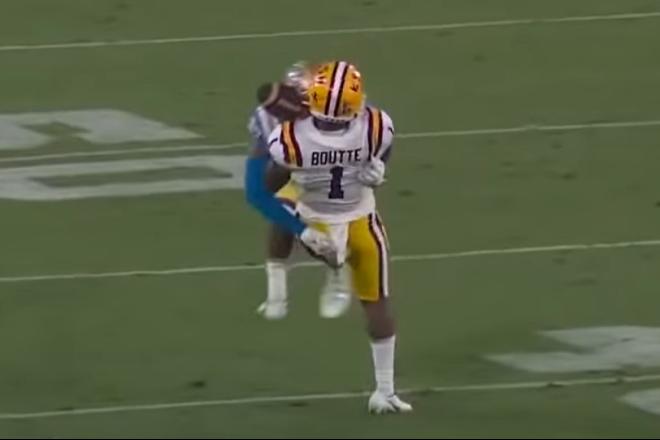 R.C. Fischer
Rookie Scouting Reports
22 February 2023
NFL Draft 2023 Scouting Report: WR Kayshon Boutte, LSU
*WR grades can and will change as more information comes in from Pro Day workouts, Wonderlic test results leaked, etc. We will update ratings as new info becomes available.
*WR-B stands for "Big-WR," a classification we use to separate the more physical, downfield/over-the-top, heavy-red-zone-threat-type WRs. Our WR-S/"Small-WRs" are profiled by our computer more as slot and/or possession-type WRs who are typically less physical and rely more on speed/agility to operate underneath the defense and/or use big speed to get open deep...they are not used as weapons in the red zone as much. 
Is it possible Kayshon Boutte is the most talented WR prospect in the (weak at WR) 2023 NFL Draft? Yes, it is.
Is Kayshon Boutte in the running for the top 150 drafted WR most likely to bust? Yes, he is.
And that's my scouting report on Kayshon Boutte in a nutshell. You could call him an 'A'/best in the class or you can slap a 'D/F' grade on him and totally avoid him…either path has logic. Usually, 'these' types of talented enigmas fail more often than they radically change their ways and become students of the game as they build a Hall of Fame career. More likely with these 'sketchy' athletic enigmas you're looking at a (short) career of minor injuries keeping them out of practice/play and are at-risk of doing something stupid off the field.
Let's examine the 'A' grade/positive outlook, and then go dark into the negatives…
On the plus side: Watching his tape… if you only looked at a glance you think you're watching Ja'Marr Chase at LSU -- very good/smooth athlete who can outrun coverage to get open and outrun tacklers with ease. Good hands. NFL+ movement open field speed. 'A poor man's Ja'Marr Chase' is the best way to describe him.
He had a stunning stretch of performances at one point in his LSU career: If you look at the last 3 games of his freshman year (2020) + all 6 games he played in 2021 (before he got hurt and missed the rest of the season), Boutte had a 9-game stretch averaging: 7.2 rec., 115.1, 1.44 TDs per game…and that is ELITE output, especially against a mostly SEC schedule AND playing with not the greatest QB play/passing game.
Boutte had stretches of dominance with the best of them.
…but then it all went away in 2022.
On the negative side: 2021 ankle injury halfway through the season…or he probably would have been an All-American and probable WR of the Year in CFB. People think the ankle injury carried over/lingered into 2022…I can't say so with any certainty…though it makes a good excuse for his massive drop-off in the 2022 season, but he looked fine enough to me. Who knows?
Boutte missed the beginning of the 2022 spring practices to draw the ire of the new head coach Brian Kelly.
First game of 2022 season vs. Florida State, Boutte has only two catches and gets few targets in an opening week loss. His response to the down game was to scrub all of his social media of LSU pictures and references.
He gets past the social media firestorm to continue to play the season and had a very 'down' season with lower targets/catches and only 2 TDs in 11 games played.
In early December 2022, Boutte announced he's returning to LSU for his senior season (2023). The LSU world rejoices. But then late December 2022, he announces he's going pro…as controversy swirls with rumors and internet claims that Boutte was kicked off the team for some kind of sex party he was involved in -- involved along with several LSU staffers. The coaches went hush-hush about the incident. Some of the LSU people supposedly involved in the rumored/unconfirmed event were fired. Boutte is made 'unavailable' for their bowl game…and declares for the NFL Draft.
How's that for a final college season? Going out with a bang…literally.
What I see on the field is a 'poor man's Ja'Marr Chase' with flaws. Boutte can run like the wind and get open and run away after the catch and make huge/chunk plays. But where I decide to fall in with the 'negatives' on him and kinda write Boutte off as a serious prospect is where he's most unlike Ja'Marr – he's a very 'soft' WR.
Boutte makes catches just fine when clearly open, but when he's got any type of tight coverage or physicality…he wilts too often. Too many times he kinda quits on routes when the coverage is tight or he's harassed at the line of scrimmage. When he drops passes it's usually because it's a bang-bang play and there's some contact. Boutte also has no interest at all in blocking…and you can tell when it's a pass play versus a run by how engaged Boutte looks pre-snap and after. He's not a precise route runner…he's a speedster who gets open by being faster than the CB -- easier to do in college than the pros. Boutte is bad/disinterested in all the little things about the game.
To me, Boutte is a very lazy, selfish, soft WR…who is very fast sprinting/running free and gets open downfield with ease. You can see the talent but it's not like it's 'wow'…it's not like he's something you've never seen before. He's not 'wow' enough for me to take a major chance on all his other baggage…and just listening to Boutte in interviews doesn't help his cause. There are too many red flags to go with the promising talent…but I get a team taking him at some point hoping they can change his very CHANGEABLE issues. I just don't think you will change him. If you can…kudos to the team.
…if he makes a turn early on/is a good soldier at first, I wouldn't want to be the team giving him a mega-deal early extension after three seasons. I can't imagine what happens with Boutte once you jam $50M+ in his pocket.
Kayshon Boutte, Through the Lens of Our WR Scouting Algorithm:
Final game of his freshman season v. Ole Miss: 14-308-3…he just outran everybody. His breakout performance.
Two career games vs. Alabama (2020 + 2021) and one against Georgia (2022), three toughest opponents, and he averaged a very nice: 7.0 rec., 89.7 yards, 0.33 TDs per game.
The stat from earlier in this report: Boutte had a 9-game stretch averaging: 7.2 rec., 115.1, 1.44 TDs per game…and that is ELITE…especially against a mostly SEC schedule AND playing with not the greatest QB play/passing game.
2022 season per game numbers (the drop-off): 4.3 rec., 48.9 yards, 0.2 TDs per game
2023 Measurables Projections:
6'0"/205
9.5" hands, 32" arms
40-time: 4.4+
Three-cone: 6.9+
.
The Historical WR Prospects to Whom Kayshon Boutte Most Compares Within Our System:
LSU alum Odell Beckham is a kind of best comp, and I guess Stefon Diggs is as well…troubled WRs whose mentality people questioned coming out of college -- but then they splashed in the NFL. I say OBJ is the closest comp for me, in a sense, because OBJ splashed then got hurt, went soft after the money came in and his career has been mostly a disappointment…but there were 2-3 seasons where OBJ was a superstar…now, he's a joke. I don't think Boutte is as good as peak OBJ…he might have been stellar if transported to 2015 with his current skills/athleticism, but today/2023 he's more just generically 'very talented'.  
| | | | | | | | | | | |
| --- | --- | --- | --- | --- | --- | --- | --- | --- | --- | --- |
| WR Score | Draft Yr | Last | First | College | H | H | W | Power Strngth Metric | Speed Agility Metric | Hands Metric |
| 7.481 | 2023 | Boutte | Kayshon | LSU | 6 | 0.0 | 205 | 6.72 | 8.20 | 7.41 |
| 6.070 | 2015 | Diggs | Stefon | Maryland | 6 | 0.0 | 195 | 7.50 | 7.12 | 8.82 |
| 8.871 | 2014 | Beckham Jr. | Odell | LSU | 5 | 11.2 | 198 | 7.08 | 11.96 | 9.59 |
| 8.861 | 2009 | Wallace | Mike | Mississippi | 6 | 0.3 | 199 | 9.33 | 13.42 | 6.44 |
| 8.790 | 2006 | Jennings | Greg | W. Michigan | 5 | 11.0 | 197 | 9.93 | 12.81 | 9.91 |
| 5.554 | 2014 | Coates | Sammie | Auburn | 6 | 1.5 | 205 | 8.13 | 12.89 | 5.87 |
*A score of 7.0+ is where we start to take a Small-WR prospect more seriously. A score of 8.50+ is where we see a stronger correlation of a Small-WR going on to become NFL good/great/elite. A score of 10.00+ is more rarefied air in our system and indicates a greater probability of becoming an elite NFL Small-WR.
All of the WR ratings are based on a 0–10 scale, but a player can score negative, or above a 10.0 in certain instances.
Overall WR score = A combination of several on-field performance measures, including refinement for strength of opponents faced. Mixed with all the physical measurement metrics, rated historically in our database.
"Power-Strength" = A combination of unique metrics surrounding physical-size profiling, bench press strength, etc.  High scorers here project to be more physical, better blockers, and less injury prone.
"Speed-Agility" = A combination of unique metrics surrounding speed, agility, physical size, mixed with some on-field performance metrics. High scorers here project to have a better YAC and show characteristics to be used as deep threats/create separation.
"Hands" = A combination of unique metrics surrounding on-field performance in college, considering the strength of opponents played. Furthermore, this data considers some physical profiling for hand size, etc. High scorers here have a better track record of college statistical performance, and overall this projects the combination of performance and physical data for the next level.
2023 NFL Draft Outlook:
Projections range from 1st-round (some have him as the first WR taken) with the latest he projects is early 2nd-round. I'll use George Pickens 2022 as my guide -- superstar tape but also injuries and a little wacky, and he went 2nd-round though he was arguably the single most all-around talented WR in the 2022 rookie class. I would bet a nickel that Boutte goes 2nd or 3rd-round, falling due to bad interviews and troubling background checks.
If I were an NFL GM, I'd be thinking about it if he slid to the 3rd-round…a low-cost risk, but honestly the NFL is being ruled by crafty, heady, dedicated technicians more than 'wow' athletes with wobbly off-field worries.
NFL Outlook:  
I would not be shocked if Boutte got his crap together, landed in the right spot and was the Rookie of the Year.
I would also not be shocked if he barely played for a few seasons and then was out of the league and into the USFL/XFL 4-5 years from now.