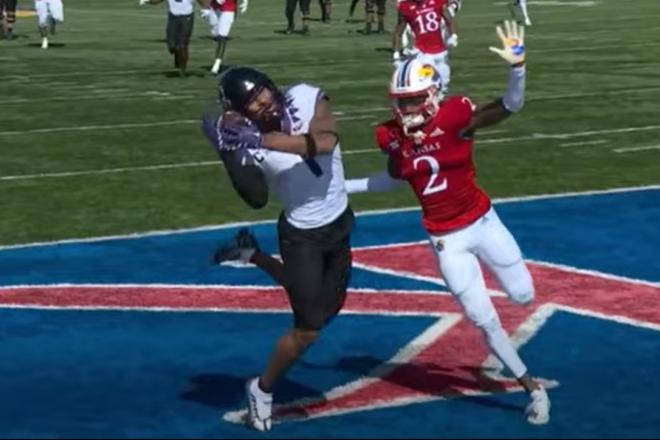 R.C. Fischer
Rookie Scouting Reports
16 February 2023
NFL Draft 2023 Scouting Report: WR Quentin Johnston, TCU
*WR grades can and will change as more information comes in from Pro Day workouts, Wonderlic test results leaked, etc. We will update ratings as new info becomes available.
*WR-B stands for "Big-WR," a classification we use to separate the more physical, downfield/over-the-top, heavy-red-zone-threat-type WRs. Our WR-S/"Small-WRs" are profiled by our computer more as slot and/or possession-type WRs who are typically less physical and rely more on speed/agility to operate underneath the defense and/or use big speed to get open deep...they are not used as weapons in the red zone as much. 
Quentin Johnston is…good…I guess?
He's not great, but for many analysts, he's the #1 ranked WR for the 2023 draft.  Although I haven't seen all the top WRs at this stage of my studies, so far, this 2023 WR class isn't looking great -- but after studying Johnston deeper ahead of the NFL Combine, I cannot imagine he's going to end up the best WR in the 2023 NFL Draft.
He's not bad, but he's not this obvious elite WR for the NFL…he wasn't elite in college. I think people are attracted to his size (6'4"), but 'tall' is a dead commodity in the NFL anymore. 5-10+ years ago, we all looked for the super tall WR and marveled at the thought of NFL QB's throwing them all these alley oop TDs over helpless 5'10" cornerbacks. Football people hoped to find 'the next Calvin Johnson' or 'the next Mike Evans', but now the league has shifted to 6'0" +/- tall speed/route running WRs ruling the league…and is slowly starting to shift into a more 'Who cares about Mike Evans, anymore?' sentiment.
The league, at WR, belongs to the fastest/quickest 'get open' receivers and then we judge those who have the high-end speed and/or superior power to make hay after the catch. Johnston doesn't fit any of those profiles very well. He's the big, tall guy who goes deep down the sidelines and gets occasional bombs that the QB hopes he can make a play on…but rarely does…because by its very nature it's a low probability event. And Johnston is not the kind of miracle worker athlete/WR who is gonna make a supreme living that way.
Johnston can work a medium range game OK, but he's very lanky and gangly and when he tries to take on a cornerback and make a sharp cut…his arms and legs flop and flail around and the cuts and routes develop too slowly for the NFL. The new era stud cornerbacks (and it looks like we're entering the golden age for those) are going to run those routes for him because he's not the sharpest runner of routes.
I don't mean to say Johnston is a bad or bust WR. I just don't see the attributes for 'elite', or 1st-round draft pick level. He's closer to 'bust' than he is 'elite', but he's fine/good. Think about Chase Claypool…the guy is 10x the athlete Johnston is and about the same height but is 20+ pounds bigger/thicker…and he was a 2nd-round pick who no one really cares about anymore. What has possessing extreme height and top 1% historical athleticism gotten Claypool? Why would Quentin Johnston, a far inferior WR in every way you can compare them, be a top 10-20 overall pick in the draft by comparison?
Claypool has been a victim of bad QB play as well, but he's also been a victim of the tall WR being typecast as just a go-deep on the outside WR. If Johnston lands with the same QB play and same coaching mindset Claypool has been saddled with…Johnston will be a harmless, boring NFL WR. Johnston's best hope is to be a Tee Higgins type WR, and then get lucky enough to be put with a Joe Burrow.
I watched/studied Johnston in four games specifically…
2022-23 CFB playoffs vs. Michigan
2022-23 CFB playoffs vs. Georgia
2022 regular season and Big 12 title games vs. Kansas State.
K-State has a top (6'3") CB prospect in Julius Brents…and Brents kept him in check in their matchups, with the exception of a push off by Johnston that caused him to break totally free and clear for a big catch in one game and a totally covered by Brents deep ball that Max Duggan threw in the perfect spot for a great catch… all the other similar go-deep down the sideline throws were pretty well covered/handled by Brents.
Against Michigan in the CFB Final Four, Johnston had 163 yards and a TD, but he had a broken coverage short pass and missed tackle that turned a simple 5-yard play into a 70+ yard wide open, untouched (after the missed tackle attempt) sprint for a TD. Michigan put a freshman corner on Johnston, and QJ didn't dominate the freshman. And when the solid 2023 NFL Draft prospect, Michigan CB D.J. Turner moved over on Johnson, he had no issues blanketing him on routes.
In the CFB title game, top CB prospect Kelee Ringo held QJ to one catch for 3 yards. He was wiped out by Ringo.
I didn't see Johnston having an answer for top CBs outside of bubble screen work and the occasional lucky downfield strike. I don't really recall a 'great catch' or 'signature moment' from Johnston -- my memories are more broken coverage plays or QJ pushing off the CB, penalty not called, and play made. I did not see signs of any domination from Johnston…just a good, solid enough downfield, tall WR. OK hands. OK speed. Suspect agility/routes. Nothing that special.
Honestly, after watching Johnston in all his big games, I walked away thinking -- damn, Max Duggan is a really good QB, and is going to be a surprise in the NFL. Not good news for Johnston, if you were thinking he's the top 1-2-3 WR in this draft, a future elite.
Nothing off-field to worry about with Johnston. He's a very smart, nice young person with no real injury trouble/history or any locker room or suspensions, etc.
All-in-all, he's just OK. He's a 'C' WR…could be a 'B' with a great offense, could be a forgettable 'D' in a cold weather, sluggish offense/QB situation.
Quentin Johnston, Through the Lens of Our WR Scouting Algorithm:
-- Max Duggan finished as the runner up for the Heisman, throwing for 32 TDs. Of his 32 TD passes, how many would you expect a 6'4" supposed elite WR prospect to haul in, with no other real high end talent on the receiving corps? 10+ TDs should be a 'minimum'? 40%+ of the TD share? These are common numbers/share for the stud college WRs. For Johnston, try 6 TDs…18.8% share. If QJ is so dominant…how did he only have 6 TD catches in 14 games with a high-end QB?
 -- You would also expect an elite WR with a top QB to get 5+ catches in a game all the time. Of Johnston's 14 games in the 2022 season, he had just three with 5 or more catches. For his career, Johnston hit 5 or more grabs in a game 8 times in 30 career games.
 -- 7 TD catches in his last 18 games of college play. How is that possible, if he's so great?
I just don't see any data/output pattern of elite WR play here. Hell, 5'8" WR Tank Dell had 17 TDs in the 2022 season alone…Johnston doesn't have 17 TDs in his entire college career (14 total).
 -- They give Johnston some jet sweeps from time to time…and this is a potential mini-'tell' on his speed concerns: 8 career carries for 8 yards for Johnston in his career. A 'long' of 8 yards.
2023 Measurables Projections:
6'4"/215
10" hands, 33" arms
4.5+ 40-time
7.1+ three-cone 
.
The Historical WR Prospects to Whom Quentin Johnston Most Compares Within Our System:
Equanimeous St. Brown makes a lot of sense here…and my scouting memories of ESB are better coming out of Notre Dame than my feelings on Quentin Johnston.
Mack Hollins 2022 with Las Vegas was a similar-styled, but better WR than I see Johnston being his first few years of NFL play. Hollins took several years to hone his craft. 
| | | | | | | | | | | |
| --- | --- | --- | --- | --- | --- | --- | --- | --- | --- | --- |
| WR Score | Draft Yr | Last | First | College | H | H | W | Power Strngth Metric | Speed Agility Metric | Hands' Metric |
| 6.937 | 2023 | Johnson | Quentin | TCU | 6 | 4.0 | 215 | 5.85 | 5.34 | 7.04 |
| 7.108 | 2018 | St. Brown | Equanimeous | Notre Dame | 6 | 4.6 | 214 | 7.15 | 6.51 | 8.51 |
| 5.167 | 2017 | Hollins | Mack | UNC | 6 | 4.0 | 221 | 8.40 | 3.49 | 6.09 |
| 5.653 | 2020 | Higgins | Tee | Clemson | 6 | 3.5 | 216 | 5.45 | 3.66 | 8.37 |
*A score of 7.0+ is where we start to take a Big-WR prospect more seriously. A score of 8.50+ is where we see a stronger correlation of a Big-WR going on to become NFL good/great/elite. A score of 10.00+ is more rarefied air in our system and indicates a greater probability of becoming an elite NFL Big-WR.
All of the WR ratings are based on a 0–10 scale, but a player can score negative, or above a 10.0 in certain instances.
Overall WR score = A combination of several on-field performance measures, including refinement for strength of opponents faced, mixed with all the physical measurement metrics, and rated historically in our database.
"Power-Strength" = A combination of unique metrics surrounding physical size profiling, bench press strength, etc.  High scorers here project to be more physical, better blockers, and less injury-prone.
"Speed-Agility" = A combination of unique metrics surrounding speed, agility, physical size, mixed with some on-field performance metrics. High scorers here project to have a better YAC and show characteristics to be used as deep threats/to create separation.
"Hands" = A combination of unique metrics surrounding on-field performance in college, considering the strength of opponents played. Furthermore, this data considers some physical profiling for hand size, etc. High scorers here have a better track record of college statistical performance. Everything combining to project catch-abilities for the next level.
2023 NFL Draft Outlook:
Johnston is the current consensus #1 ranked WR…mocked anywhere from #10-#30 overall in any mock draft. I don't think he'll be the top WR taken, nor do I believe he'll be a 1st-round pick.
If I were an NFL GM, I'm not even thinking about him. He's not worth a top 100 pick, in my book. I don't see the upside or the need for another generic go-deep on the outside guy. I'd rather have a smaller WR who ran in the 4.4s or better who could get open short, medium, and deep.
NFL Outlook:   
Is a likely #2 or #3 WR starter for a team and is used as the occasional down the sidelines deep ball heave. In a year or two, he'll be easily forgotten as just an 'OK' WR. If he lands in the perfect spot, maybe he gets good targets and makes a little output noise…but no one will mistake him for one of the top WRs in the league.