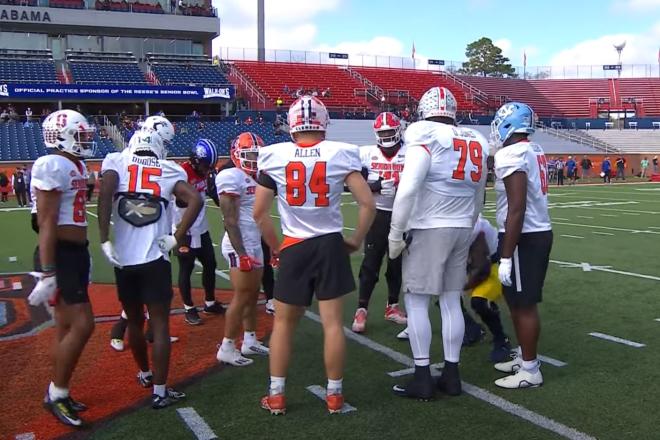 R.C. Fischer
Rookie Scouting Reports
03 February 2023
2023 Senior Bowl Observations/Notes: Practice Day 3
So much to try to keep up with because various drills are going on at the same time, different parts of the field at certain times -- so, I want to thank all my bootleg video sources for allowing me to watch the drills on tape at my leisure.
This is the last day of practice for the week. The next event is the Senior Bowl game on Saturday, which I will have a game report on Monday morning and then updated Senior Bowl participant scouting re-grades all the following week+.
My observation notes on both practices from Senior Bowl Day 3 (in no particular order)…
*Non-player/scouting note: I think there may be a bet here, if we see game odds get posted anywhere (usually hits Friday before the Saturday game, if they can be found). I'll tell you where I'm leaning in the notes below.
NATIONAL TEAM PRACTICE:
 -- The TV analysts continue to fawn over Michigan State WR Jayden Reed, and his superior movement skills…and they are right to do so. Reed is very smooth in his routes…drawing comparisons to Davante Adams, which is cool but there is a missing context, I believe.
Reed is moving great…I agree, but if this was 5-10+ years ago we would/should rush Reed into the 1st-round with those excellent feet. However, in 2023 (much less going ack to 2022)…there's like 5+ guys in Mobile (not counting the top WRs not in Mobile) who have movement skills like/in the range of what Reed is displaying.
One of those WRs is Stanford WR Michael Wilson…who is moving around so gracefully at 2+ inches taller and 25+ pounds bigger than Reed. Where's his non-stop hype from the TV analysts?
Watching day three tape and listening to the ESPN team of analysts covering it for TV, I continued to shake my head at the coverage of the Senior Bowl this year. It was so bad…the worst I can remember. And I am pointing it out not to make fun, but to communicate two things…
1) It's sad because this is such a great pre-Draft event, but it looks like costs are being cut and less-and-less NFL people attend or go down to the field anymore (the various team's top brass are going there to meet with players in interviews and not going to the live practices or game). People are skipping out of live watch because they can get the camera feeds/the tape to watch it at their own leisure/control later. Who wants to sit out in the cold and scout players with no chance to rewind/slowing down what you're seeing?
I wish the NFL would subsidize this more to showcase the event/players and create better coverage/video that maybe they could sell as a PPV or something. But it seems like the NFL/NFL Network has abandoned the Senior Bowl…left it to a high school AV production ESPN effort now.
2) The terrible, fanboy commentary by the four TV analysts affects these player's draft stock, good or bad, like it or not. It affects the football writers who just listen to the TV analysts and co-op their views as their own published analysis. Most football writers, nationally, are just reporting on what the TV analysts said…they aren't scouting this…they don't know how.
As Dynasty/Fantasy GMs/players and as football bettors -- we need to recognize this flaw, how their words move the sentiment/the markets…and we can then find opportunity in what THEY are missing, what they are not hyping (but should). And we do need to know what they are hyping in order to set our valuations for Dynasty Rookie Drafts, etc., and to know where mock drafts are heading (which shapes public opinion…and NFL exec's opinions).
 -- One of the big hype players this day, and all week…Wisconsin DT Keeanu Benton. He looks great for eye candy. Had some moments in the 1-on-1 drills, which those drills can be such a head fake. I hear and see all this 'thirst' for Benton and then you go look at his career and see this 6'4"/317 pounder was 'good' in production, but not 'great' in the Big 10.
Not that Burton isn't a legit prospect but the better OLs seemed to hang with him fine here in Mobile. I'll be looking at him deeper in the days ahead.
Georgia's DT Jalen Carter also looks good to the eyes, in his occasional breakthrough/past his blocker but then you watch his play/tape against equal opponents and he's fine but not magical. See my full report on him posted this past week.
 -- Iowa CB Riley Moss looks terrific, moves so well…but he continues to strike me as so 'hand's off' here, trying not to commit a penalty…that he is getting beat by WRs in 1-on-1 drills, but he looks much better in the 11-on-11s. He's one of the 3-4 best CB prospects here.
 -- Louisville QB Malik Cunningham is not an NFL QB. He looks terrible/out of place here. It was funny, as an observer, to watch the ESPN coverage and an ex-NFL GM now analyst is saying how Cunningham is a neat developmental QB having a really good Senior Bowl…while the live action on field is rolling with Cunningham throwing incomplete passes all over the place. 11-on-11 is A LOT different than the 1-on-1 safe throwing by QBs.
 -- Fresno State QB Jake Haener, FINALLY, appears to have moved ahead of BYU flop (here) QB Jaren Reed on the depth chart/in drills. It's been obvious since practice day one…and now it looks like the coaches are on board with it too.
Haener will be moving into the top 125 prospect ranks overall with his performance here. Hall will fall outside of the top 150-200 in short order. In the end, I think Haener goes around the 4th-round and Hall falls to the 6th-7th-round and possibly right out of the draft.
AMERICAN TEAM PRACTICE:
 -- OK, OK…I see the Oregon State TE Luke Musgrave's movement skills better now. I was thinking he was a slower TE in my preview tape of his work and wasn't fully drawn in day one of practices but I see some of it now. The TV analysts are making him out to be Hussein Bolt or something…and I still didn't see THAT the first two practices, per se, but I started to see a better athlete day two and saw more of it day three practice. He can move pretty well. I don't think he'll be top of the class among TEs, running at the Combine, but I see that he's faster/more fluid than my preview scouting.
 -- TCU QB Max Duggan continues to be the best QB prospect/performer in Mobile this week, despite what the TV analysts are pushing. THEY don't really believe in him, so everything is muted on his skill set that is obviously above the other QBs. The draft media is going to continue to overlook Duggan from here because he got no push/help here from the analysts.
Houston QB Clayton Tune looks somewhat promising with his play and size and arm.
D2 Shepherd QB Tyson Bagent continues to feel more comfortable each day. He has moved himself from UDFA likely to 6th-round projections (and possibly a touch higher on draft weekend) with his performance here.
I could argue that Duggan-Tune-Bagent are performing better than any of the other (Nat'l) team's QBs…and that's a big reason why I like the American Team to win this game. Jake Haener is all the National Team has…and he'd be 2nd among all the QBs in Mobile, if I had to rank them…with Tune-Bagent close behind in the debate.
 -- South Carolina CB Darius Rush keeps grabbing my attention as a legit NFL CB. He pops up making nice coverage plays here-and-there and came in at 6'1.5"/196 at the weigh-ins with the 2nd-longest (for a CB here) wingspan of 79.75".
 -- The final note for this practice day/week…
No one's draft stock will soar more, leaving here, than Tulane RB Tyjae Spears. People liked him OK enough going in, but now THEY all love him because he put on a show.
I've seen a few 'wow' moments from some of the prospects here at the 2023 event, but Spears provided 'wows' every other touch it seemed. In all the time I've been to the Senior Bowl and/or watched the tape of the events, Spears has to be the most impressive RB that I've seen perform during practice week. David Johnson was the last RB that comes to my mind that so captivated me at the Senior Bowl.
That's not to say Spears is going to jump into the 1st-round or anything but I think you'll soon see him in every top 100/day two mock or ranking…no longer a #125-175 ranked prospect. Spears has a chance to be Austin Ekeler-like…or better.
Spears is now a 'made man' after this, especially with the fans and Fantasy GMs, but Ohio State RT Dawand Jones likely leaves as the most 'made man' within the NFL circles.
*Re-grading of all the players at each position group will publish all next week+, as we start getting ready for the NFL Combine. A we'll cap it off with a post-event mock Dynasty Rookie Draft using the Senior Bowl attendees.