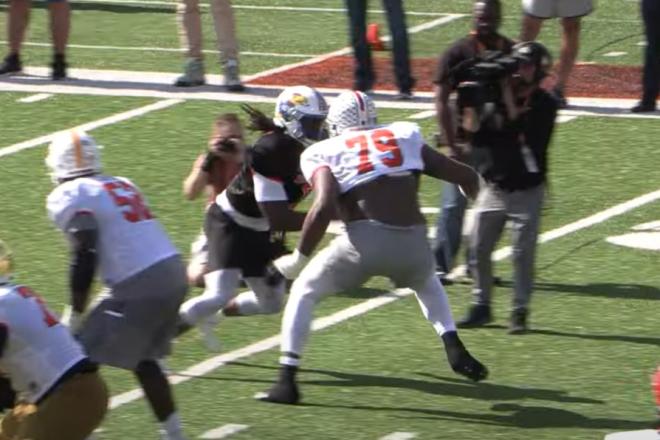 R.C. Fischer
Rookie Scouting Reports
01 February 2023
2023 Senior Bowl Observations/Notes: Practice Day 1
So much to try to keep up with because of all the drills going on at the same time, at different parts of the field at certain times -- so, I want to thank all my bootleg video sources to allow me to watch the drills on tape and not have to worry about live watching this anymore.
My observation notes on both practices from Senior Bowl Day 1 (in no particular order)…
 -- Let me just start with this note…
These new era college players are 'freaks', in general. Every year college football is sending us amazing waves of talent and physical freaks. The size and speed and technical skills across the board is stunning…and getting more stunning year-after-year the past few years. Many of these talented, highly trained players are plug & play rookies in 2023…not 'three years to develop' guys. Developmental players are no longer desired/needed in the NFL with the wave of college talent flooding in.
I'm saying that from looking at the 2023 Senior Bowl group on the field for a few hours…we're not even talking about all the high-end juniors/early declarers we can't see in this environment.
If I were an NFL GM, in this new era, I would be accumulating as many 2nd-7th round picks as possible for the payroll price ROI. You can rebuild an NFL team in April (the draft) in an instant with a solid+ QB in-house and hitting on a bunch of your picks -- look at Seattle 2022, as an example.
 -- I speak of all the amazing talent at the Senior Bowl 2023 but have to add a disclaimer… "but not so much at the QB position." The top QBs are not here.
Hendon Hooker is in Mobile but can't participate with his ACL injury. Will Levis was headed in but decided to skip it (as he should).
All the C/D/F grade QBs that did arrive looked mostly jumpy and overwhelmed in the 11-on-11s, except for Max Duggan…who looks like a real NFL QB prospect. See my full scouting report on him. Day one, Duggan made me feel fine for my above-the-consensus grade and scouting report ahead of this event.
Clayton Tune looked the best of the non-Duggan's.
 -- All the hype is real on Ohio State OL Dawand Jones. I'm shocked that he's not a universal top 10 prospect already…maybe top 5. Whenever I saw him in a battle at the Senior Bowl this day one, whether 1-on-1 drills or the 11-on-11 drills…he's near impervious to any pass rusher and was often just clubbing pass rushers to the ground with his historic 89.5 inch wingspan. I also watched him treat Georgia top 5 consensus draft pick Jalen Carter like a rag doll in the CFB playoffs whenever they matched up.
Jones is arguably the single best prospect here, regardless of position. Probably not arguable.
 -- A lot of pre-buzz about Ga Tech's Keion White, in general, and it was lit even further when he came in at 6'4.8"/280 with a 79.75" wingspan at the weigh ins…and then rumors he will run in the 4.6s at the Combine circulated like middle school gossip among the attendees.
I think he looks promising, but I'm not fully excited/onboard yet -- but if he runs low 4.6s at 280 pounds, I can't deny the prospect-excitement from that.
 -- Just an 'in general' statement…and this is not an original thought at all, everyone is saying it, but (sadly) I'm with the crowd…this is a really good group of RB prospects. Not great, just deep with 'good'.
Tyjae Spears caught my attention in the preview studies, my personal favorite of the group, secretly…but I feared he would be deemed too small for any real FF damage to be done at the next level. Well, he came in at 5'9.5" and 204 pounds…14 pounds heavier than his listed college weight, and with 10" hands. That's a good size for the NFL.
Spears might be doing a smart thing…an Elijah Mitchell thing -- bulk up for the Senior Bowl, then cut all the weight for the Combine to run an eye-catching speed…then bulk back up again to around 200 pounds.
Spears coming in at that size…it changes my thoughts/pre-grades. Arguably, he's my top RB prospect here now.
Next to all these smaller, but OK-sized, sleeker RBs, top SEC power RB Chris Rodriquez looked awfully slow and plodding by comparison. Rodriquez came in at 224 pounds at the weigh in.
 -- Army EDGE Andre Carter was a prospect a lot of people liked coming into Mobile. I liked his preview too, but I wasn't quite as high on him as others were going in -- but I leave day one as a converted fan. 6'6"/252 and moves so gracefully and quickly off the edge. He's definitely going to rise in grade post-event for us.
Just one aside: Carter looked so good to me in the 11-on-11 drills especially, but I was watching tape of the 1-on-1 drills prior to the 11-on-11 and I saw 'that man', OSU RT Dawand Jones halt/dismiss Carter's attempt to get by him like he was an elephant shooing away a fly.
 -- Iowa State EDGE Xavier Hutchinson had a lot of energy and moves but I still think he's a step too slow to be a top prospect, but he draws attention with his spins and whirls…so analysts are claiming him as a top performer day one. I'm not ready to go there yet.
 -- Maybe I'll see another/other CB prospects over the next two days that will change my mind, but almost in an instant, day one drills, Kansas State CB Julius Brents looked like the best CB prospect here and no one was even close as an alternative. He's so incredibly smooth and mirrors WR's moves so well. One of the best cover corner skillsets I've seen at the Senior Bowl week in nearly a decade of covering it/scouting the event.
 -- There is so much love for Oregon State TE Luke Musgrave in Mobile, it caught me by surprise…because my preview grade was a D+, noting he was slow and generic-looking. Others are saying he's the definitive top TE here and a 1st-round prospect and will run in the 4.5s. I don't see any of that. I see that he's good/solid, but I don't see a star.
But also Trey McBride was the top TE taken last year…as Jelani Woods sunk to the 3rd-round. So, I am not initially worried about what THEY think they see here yet. I'll keep an open mind on Musgrave.
 -- WR talk to finish us out…
Ole Miss WR Jonathan Mingo looked as good/better than I had hoped. He's definitely in the argument for the best WR prospect here.
However, Houston WR Nathaniel 'Tank' Dell entered Mobile as my top graded WR, the only 'A' prospect on offense I gave out among the weapon positions, and he leaves day one as still my top guy. He's virtually uncoverable. The top CBs here could not touch him. I think Oregon State CB Rejzohn Wright might be the best CB on Dell's Senior Bowl team, and Wright could not keep up with Dell in the 1-on-1 drills…short or long.
BYU WR Puka Nacua was most analyst's day one best WR performer, and I have to say he is much better than I expected to see from my previews (grade D) -- he's quicker and smoother than I expected. I'm still not as far up as others on him, but I am moving a step in his direction. I'm moving from a 'D' to a 'C', and climbing, after seeing him against the top CBs day one.
The most 'wow' player on offense, for me, on day one…Cincinnati WR Tre Tucker. His movement skills were arguably better than Nathaniel Dell's. Tucker was so eye popping in movement skills, I need to rewatch this practice and see him follow it up day two before I start thinking he might be a possible 'A' prospect as well.
I thought Tucker's listed size might hurt him (170 pounds) in the process, but he came in at 187 pounds and was flying all over the place. I had him as a 'B-/C+' preview…but he's already into the upper Bs trying to be an 'A' weapon WR.