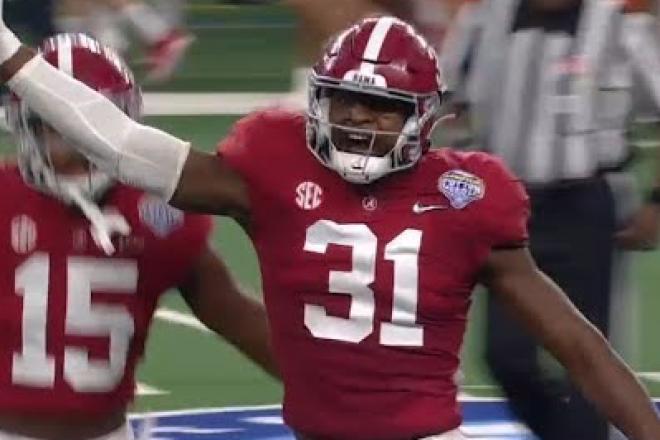 R.C. Fischer
Rookie Scouting Reports
28 January 2023
NFL Draft 2023 Scouting Report (v1.0): OLB/EDGE Will Anderson, Alabama
*Our LB grades can and will change as more information comes in from Pro Day workouts, leaked Wonderlic test results, etc. We will update ratings as new info becomes available.
As of this typing, Will Anderson is the (on average/consensus) #1 ranked prospect in the 2023 NFL Draft. Why? Well, there are two reasons…both of which are reasons to believe Anderson WON'T end up being taken as the top ranked prospect in the draft…
1) He's got the 'Alabama' push…anything Alabama is instantly perceived and promoted as the best ever if there's anything reasonable to support the push…and Anderson is obviously a good player. Now obviously, that is not a rational reason to rate a guy #1, but 'rational' hardly moves the needle for the mainstream…and all the sheep that jump on board with it.
This 'Alabama' push can also apply to all the big four schools of the past few years (Alabama, Georgia, Ohio State, Clemson), but 'Alabama' seems to always get 'first dibs' on the 'top prospect at their position' come Jan.-Feb.
2) NFL analysts love to push the top ranked or beloved/the 'cool' pass rushing edge guy/prospect as 'their' #1 prospect every January-February, because it makes them seem smart. NFL coaches/GMs are suckers for it too. Despite everyone knowing the QB is the most important position in the game, and should thus be taken first off the board every year (with rare exception)…despite everyone admitting this QB importance, analysts still want to be clever and push the defender early on in draft season. You can see it most every draft season, early on…
2022 = Travon Walker eventually caught a wave to the top, but initially it was Aidan Hutchinson as the assumed top guy.
2021 = No big name pass rusher to even push, but there was some early, minor push for Greg Rousseau…though the first one went off the board at #18, Jaelen Phillips. Trevor Lawrence was anointed as well, so he was never-not the #1 ranked prospect.
2020 = They SO wanted Chase Young to go #1 right off the bat in the 2020 draft season, but Joe Burrow was the obvious right call, and was taken #1. Young went #2..
2019 = They SO wanted Nick Bosa to be #1 and pushed it hard early on that draft season…they hated it when 'too short' Kyler Murray went #1.
2018 = They tried to get Bradley Chubb to #1 early in the process, but Baker Mayfield ended up the surprise-ish #1.
In the last five drafts, four of them began with the EDGE pass rusher rated #1, taken #1 in almost every mock…and then three out of those 4 events it was a QB that jumped ahead and ended up #1 overall.
If you knew nothing about football or the draft, and I just showed you the track record of who the media gloms onto as their #1 in Jan.-Feb., and then whether they went #1 or not -- you would see THEY are wrong right off the bat about 80-90% of the time. The top QB prospect/s typically find their way to the top of the draft eventually. 2022 being an odd, recent exception.
Also, supporting the 'you shouldn't take a top pass rush prospect #1' narrative is… when you look back, most of these top pass rushers aren't the best player from that draft.
Travon Walker was a ghost in 2022. You might not know who the top edge prospect taken in 2021 (Jaelen Phillips) plays for in the NFL…or where he went to college. 2020 Chase Young is working towards being a bust. 2019 Nick Bosa has panned out very well. 2018 Bradley Chubb hasn't really made the major impact that they expected. I also think of Joey Bosa and Jadeveon Clowney as guys who we look back and think -- good players, but were they worth all the draft or salary cap fuss?
2023, early draft rankings…enter edge rusher Will Anderson as the consensus #1 to start. After my lead in, does anyone wanna bet that he ends up #1 in the end…or winds up as good as THEY all say?
Besides history, we also have to ask/evaluate -- is there any pass rusher worth a #1 pick…ever? Micah Parsons doesn't count, kinda sorta, because he came into the league as a middle linebacker, shifted to edge due to injuries…and the rest is history.
Sacks are cool and all, but the top guys get one sack a game…in 40-50-60+ snaps played. A lot of the time they are rushing themselves right out of the play totally/completely. And, what…could we say that around 25-50% of their sacks are situations where the coverage is good and the QB tries to escape and goes right into their arms or the blocker can't keep the pass rusher blocked out forever? These pass rushers also log 3-5 'roughing the passer' negative plays to the season as well…negating some of their actual sack moment impacts. In 40-50-60+ snaps in a game, how many plays does an every-time head down pass rusher impact the play positively (real pressure affecting a throw)? And how many times are they running by a play or blocked way away from the action or drawing a roughing penalty and causing a negative situation? It's my working theory that pass rushers are one of the more overrated things in football. The NFL would not agree…today.
I'd rather have a great pass rush scheme, I'd really rather have exquisite coverage over a great pass rusher. The Eagles had the most sacks of any defense in the 2022 season. Can you name their top pass rusher? It's a guy they signed in free agency…a guy who was an undersized edge in college, was drafted to play middle linebacker, failed at it, then went back to situational pass rusher (Haason Reddick). Why did the Eagles lead all teams in sacks? The main reason is that they had great outside corner coverage,. To me, top corners are WAY more important than top pass rushers. Sauce Gardner was CLEARLY the best player in last year's draft. Travon Walker (OLB/edge) and Aidan Hutchinson (DE/edge) went ahead of him. Sauce Gardner is more valuable than any pass rusher you can think of in the NFL today…including Nick Bosa.
NFL analysts are stuck on top pass rushers as THEE most important thing outside of QB, when it comes to the NFL Draft. The value pecking order should be: QB-then OT or CB…but that's just me watching every game, twice (live and on tape during the following week), for the past decade+. Certainly, GM Jerry Jones or Steven A. Smith watching a few highlights know better than I do.
All that aside, all I care about is properly grading and evaluating the players…and, here, my purpose is properly evaluating Will Anderson for the pros. Doesn't matter when/where he gets drafted.
I will say this about my study time on Will Anderson… There are plenty of 'wow' moments, but the more I watch and dig in, there are also plenty of 'dull' moments. And some of the 'wow' moments aren't as 'wow' as you first think once you really watch closely (empty lane to run straight to the backfield is cool but anyone could've done it). He's human…he's not super-human. He's a legit NFL pass rusher, starting edge player in the NFL…but I don't know that you get a lot more than that from Anderson -- just a nice pass rusher, not great against the run, not super tall, batting down passes all over. He's good…I'm not sure if he's 'great'.
'Great' is possible, therefore (like with Travon Walker) you have to like the Anderson floor of 'good' with the potential for 'great'. I say the 'potential' for 'great' is here because he has the athleticism and (seems like) the drive to be a top NFL talent, so he can get better against the run…he can develop more pass rush techniques, etc. But, like many top NFL pass rushers, they know the money is in sacks…because that's what cons the football personnel people. Edge rushers too often put their heads down and try to beat the blocker to the backfield almost every snap…and when they don't make the play 55 times out of 60 snaps in a game, and leave gaping holes for RBs to run through, etc. -- that doesn't matter. No one counts that. They do look at individual sacks and pressures. And that's where Will Anderson (and others like him) are at -- gonna rush the passer every snap because there's money in it. You can't blame them.
I mention Anderson's weakness against the run, and there are two reasons for it…one is 'fine' and the other is 'troubling':
1) Anderson goes after the backfield most plays, usually trying to run around the blocker…which leads to getting moved/blocked behind the QB and/or way out of the play…just trying to always go outside of the blocker to use speed to get to the QB, and the RB goes right through the interior hole they left wide open. Constant pass rushers are taken out of the play 5-10x more than they disrupt anything. He cares more about getting to the backfield than playing all facets -- at Alabama he had the luxury to do that. This can be corrected…or he may self-adjust.
2) The troubling thing is…when I watch Anderson tape, and I saw it a ton of times, especially in 2022 -- after Anderson has burned himself out on his surge and the play goes away from him like on a simple run play not right at him, Anderson almost always lollygags/lightly jogs behind and isn't helping/chasing the ballcarrier at all costs. Once you see it on his tape, you can't unsee it.
It's a problem that he does this, but, there's an upside to that -- it could be corrected (by him or a coach) at the next level. College pass rush stars, in this era, can be known to protect their draft stock by reducing the number of times they go get involved in anything that could get them hurt (see: Kayvon Thibodeaux 2021 at Oregon). Once drafted into the pros, they can/will then give a different level of effort (see: Kayvon Thibodeaux 2022 for NYG). But, that next-level effort tends to be short-lived…so they follow a pattern of 'make a splash', get a reputation to enhance their existing reputation, then cut it back down in the pros to protect themselves until their contract season arrives…then they are suddenly all-world for a season…then they get paid and disappear softly back to 80-90% effort.
None of us knows if that is Anderson's future or not…I can only tell you, right now, he pulls back/slows down on most plays after he's done his initial backfield rush surge.
At his best, Anderson is a step (or more) quicker than your average NFL pass rusher. Great first step, great acceleration. He's slippery to block…he's agile in short space and gets to a crease and slips right off a blocker and accelerates into the backfield well. Sometimes, he moves/glides so fast on the field that he looks like he's on skates. He's gonna produce sacks and pressures in the pros.
Some of his tape I watched, Anderson was finding his way to the backfield a lot (whether he made a play or not). Some tape, I see his opposing blocker lock him up pretty well all game (Tennessee 2022 was one of those games). It seemed like there was a different Will Anderson, randomly, game-to-game (you'll see some statistical evidence of what I'm trying to convey, in the next section).
I guess, my main point would be here -- Anderson is human, not a 'god'. He's 'good' more than 'great' though there may be hope of 'great' -- and that's worth pursuing in the draft. How high in the draft? What if I told you Anderson will run a bit slower than last year's #1 pick (Travon Walker), measure with a little less agility, come in an inch+ shorter AND doing all that being 25 pounds lighter than Walker? Would you rather have Anderson or Walker, if given the choice? Would you take Walker #1 in the 2022 NFL Draft today, if you had a re-do? If you start to think that Anderson is a lesser prospect than Walker, because of the physical/athletic/size advantage for Walker…then Anderson cannot be the #1 pick in this draft. But if you say you'd take Anderson over Walker, despite the size/athletic gap or shortfall -- I'd ask why?
What is the case for Anderson as the all-world, hands down #1 pick in 2023 NFL Draft…if he's not as good a prospect profile as Travon Walker? Is it the 31.0 TFLs in 2021? It is a salt count. But why did Anderson have his TFL count cut in half in 2022? Was it because a better Alabama defense in 2021 allowed Anderson to rush the backfield in perfect surroundings?
Durrell Johnson, from Liberty, led the NCAAs in 2022 in TFLs with 28.0…do you care about him with unbridled, #1 pick in the draft passion?
You know who was #2 to Anderson in TFLs in his terrific TFL 2021 season? Devin Lloyd (Utah)…and that helped get Lloyd drafted in the first round in 2022. In 2022 season, Lloyd was benched midway through the season, and he had 1.0 TFLs in 19 games played, 17 starts.
How much are you willing to stretch…risk…PAY a Will Anderson because he had a s-ton of TFLs two seasons ago?
It may seem like I'm picking on Anderson…or that I think he sucks. I don't. I see the upside. I see his gifts. I'm just questioning the extreme value of those gifts…and also trying to bring some criticism/critical thinking to this case because all you'll read and hear otherwise is fawning praise of Anderson from every single analyst of the draft. Anderson is a 'made man'…but I don't know if he should be.
Outside of all the on-field and draft valuation talk, Anderson checks out fine off the field. Two-time captain. Well-spoken, serious in interviews. Says all the right things. Clean injury history. He's a legit NFL prospect -- but #1 overall, above these elite QBs? I don't think so. I don't think he's the best defensive prospect in the draft either. 
-
 Will Anderson, Through the Lens of Our OLB Scouting Algorithm:
 -- Two-time Bronko Nagurski award winner, two-time SEC Defensive Player of the Year, two-time consensus All-American. Anderson definitely deserved all that in 2021. But in 2022 season, his numbers were down quite a bit. They were good numbers in 2022…award worthy…but not slam dunk award worthy. Not as extreme as 2021.
Anderson got by, in 2022, on his 2021 output/reputation…which makes me wonder if he's getting by in 2023 (consensus draft rank) on that same 2021 reputation scale?
 -- Here's an odd, scary stat…
Anderson played 41 games in three seasons, registered 58.5 TFLs and 34.5 sacks. All that backfield hitting and playmaking, and he had 1 forced fumble his entire career. That's very odd.
 -- His five toughest games the past two seasons: Georgia (2021 2x, win and loss), Texas A&M 2021 (loss) LSU 2022 (loss), Tennessee 2022 (loss).
His average per game\ numbers in those 5 contests…
1.6 solo tackles (terrible), 0.7 TFLs, 0.4 sacks per game =Anderson's five toughest opponents (2021-2022)
Compare that to the rest of his 2021 and 2022 games minus these 5 games (the only teams Alabama lost to in those two seasons)…
3.1 solo tackles, 1.9 TFLs, 1.1 sacks per game (double the solo tackles, about triple the TFLs, about triple the sacks in these games versus his toughest matchups).
I'm just sayin'…Anderson is not above reproach as a prospect.
2023 Projected Combine Measurables:
6'4"/243
10" hands, 34" arms
4.55-4.6+ 40-time
7.0 +/- three-cone
The Historical OLB Prospects to Whom Will Anderson Most Compares Within Our System:
Harold Landry has been a nice, solid NFL pass rusher in his career…but it was a choppy start and then a big 2021 breakout (12.5 sacks), just in time in his contract year.  He's not been worthy of our pre-Draft grade…but he's been very good.
You hope Anderson's comp is more Watt-Ware, but what if it's Bowser-Beasley?
| | | | | | | | | | | |
| --- | --- | --- | --- | --- | --- | --- | --- | --- | --- | --- |
| OLB Grade | Last | First | Draft Yr | College | H | H | W | Tackle Strgth Metric | Spd Agil Metric | Pass Rush Metric |
| 8.981 | Anderson | Will | 2023 | Alabama | 6 | 4.0 | 243 | 7.34 | 10.39 | 9.35 |
| 10.545 | Landry | Harold | 2018 | Boston Coll | 6 | 2.3 | 252 | 7.16 | 11.08 | 9.71 |
| 9.032 | Watt | T.J. | 2017 | Wisconsin | 6 | 4.4 | 252 | 6.01 | 11.03 | 10.59 |
| 8.167 | Bowser | Tyus | 2017 | Houston | 6 | 2.5 | 247 | 6.97 | 10.70 | 9.72 |
| 11.494 | Ware | Demarcus | 2001 | Troy | 6 | 4.0 | 251 | 7.26 | 12.64 | 10.31 |
| 9.999 | Beasley | Vic | 2015 | Nebraska | 6 | 3.0 | 246 | 8.97 | 13.13 | 11.10 |
*A score of 8.00+ is where we see a stronger correlation of LBs going on to become NFL good/great/elite. A score of 10.00+ is more rarefied air in our system, and indicates a greater probability of becoming an NFL elite LB.
All of the LB ratings are based on a 0–10 scale, but a player can score negative, or above a 10.0 in certain instances.
Tackle-Strength Metrics = A combination of several physical and performance measurements. An attempt to classify the LB prospect's ability to stop the run, as well as a gauge of how physical the player is and the likelihood of higher tackle counts in the NFL. All based on profiles of LBs historically.
Speed-Agility Metrics = A combination of several speed, agility, and size measurements...as well as game performance data to profile a LB for speed/agility based on LBs historically. A unique measuring system to look for LBs that profile for quickness, pass-coverage ability, and general ability to cover more ground.
Pass Rush Metrics = A combination of the physical measurements, but also proven on-field ability to get to the QB/backfield in college.
2023 NFL Draft Outlook:
As previously mentioned, Anderson is tracking as the consensus #1 overall pick as of this report date (late Jan. 2023). But I don't think he will go #1 overall…there are too many high-end QBs to consider. Jalen Carter could also pass him. No doubt, Anderson will go top 5…there's too much heat/love on him from the press and he might be one of the five best players in the draft, in the end. I want to see his Combine/Pro Day numbers (which he'd be wise to skip) to really confirm or deny him top 5 status.
If I were an NFL GM, I don't pay up into the top 5 in the draft for a pass rusher. I think the top 5 should be reserved for QB-CB-OT and rare instances for DT-DE/edge-TE-OC and then all the other positions, as a rule of thumb. What I see of Anderson, I just don't get the feeling that I want to spend a top 5 picks here -- although if he blasts away the Combine clocked measurables, then I could see it possibly.
NFL Outlook:   
The trend is -- get all excited about top promoted (by the media) names in the draft, especially pass rushers, during the draft process…then slowly/rapidly start to not be excited by them and just start to forget about them and move on to the next draft. Is anyone talking excitedly about Chase Young or Travon Walker or Jadeveon Clowney anymore (all top 1-2 picks in their draft)?
We still do talk about, with reverence, Nick Bosa and Von Miller (among others)…but I'm harping on all the 'misses' (not that they all busted, just that they were overhyped) to show that just because all of football agrees on something for a moment-- it doesn't mean it's real. Most of the time, THEY'RE collectively way off…so, it's entirely possible they are overshooting on Anderson as well.
Anderson will be fine in the NFL. He is not a 'bust' prospect. I'm just worried he'll not live up to the hype, and he'll just be a 'good' player not the magical unicorn he'll be described as over the next 6 months before the preseason opens up…and he's revealed to be 'human'.