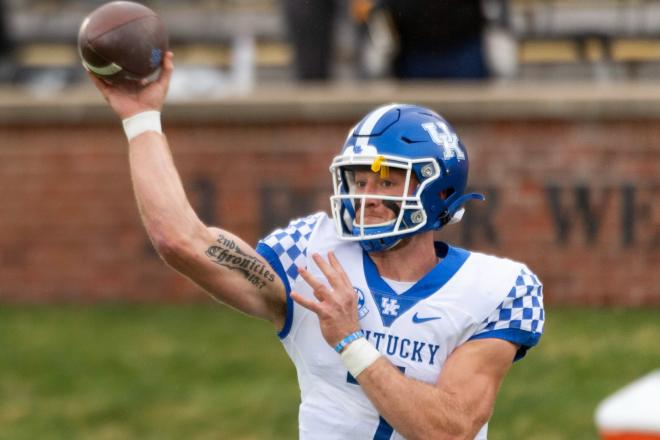 R.C. Fischer
Rookie Scouting Reports
22 January 2023
2023 NFL Draft Scouting Report (v1.0): QB Will Levis, Kentucky
*Our QB grades can and will change as more information comes in from Pro Day workouts, leaked Wonderlic test results, etc. We will update ratings as new info becomes available.
Let's just get it out of the way upfront…Will Levis is a legit candidate to be the #1 overall pick in the 2023 NFL Draft. I've done four QB studies so far with a bunch more to go…
Tyson Bagent is a side curiosity, not a #1 pick threat.
Bryce Young isn't going to be the #1 pick, I believe…he may fall out of the top 10-20.
C.J. Stroud really stands out as #1 pick material, and I wondered (after my study/report) if anyone could even touch Stroud. But…enter Will Levis.
The mainstream debate on Will Levis… Is this a legit Josh Allen type of big-armed prospect?  If you'll recall, Allen didn't totally 'wow' with numbers in college but possessed high-end physical tools, and eventually became an elite NFL QB.  Or is Levis just another 'big arm' that gets everyone excited, but winds up a not very good quarterback in the pros?
My initial reaction is: Trey Lance is more of an example of a Josh Allen 'projection'/hope to be turned into a Josh Allen someday…both were a super raw ball of clay to mold/shape/harness. Will Levis is way further along as a pocket passer/technician QB than either Allen or Lance when they came out of college…a night and day difference, not even close. Levis is not raw, he's polished.
After watching several of his game tapes, I think the Will Levis debate comes down to how you want to see/deal with one major issue: How much did the spotty protection at Kentucky affect Levis' outputs?
When I watched/studied Levis against Georgia (2021 and 2022) and against Tennessee in 2022 (0 TDs/3 INTs), etc., there's too much tape where Levis is under pressure or getting sacked. When you're under a ton of pressure against top teams…it's hard to put up wins or numbers. Levis has the opposite situation a Bryce Young (or Mac Jones or Tua) had at Alabama…Levis didn't have a constant stream of all-star O-Linemen with all-star weapons (and all-star backups) to work with to help push numbers and wins.
Let me say it this way, saying it from my perspective as a 'Levis believer'…and this is the entire Levis scouting, for me, all in one statement and you choose whether to believe it or not…
If you took Will Levis and put him on Alabama the last two years, he would've produced more than Bryce Young and would have won a Heisman and a National Title. If you put Bryce Young or Mac Jones on Kentucky instead of Alabama, the past 2-3 seasons, you wouldn't care half as much about either of those QBs…and they would not have performed as well or had as much output as Levis did at Kentucky.
Levis is the kind of QB that NFL scouts and coaches dream of -- tall, thick, cannon/whip arm, super-tough, excellent mechanics…but also very smart (Academic All-American Team Member of the Year/2022), has a face and jawline made to be the face-of-a-franchise, is personable and smart in interviews, is a ready-made captain personality for your locker room.
All those things are true, but my favorite attribute of Levis is -- his ability, mentality under pass rush pressure. Watching him face that Georgia team the past two seasons…he was under steady, heavy pressure from a far superior team/opponent, and he never flinched. They didn't win either game with Georgia…didn't even come that close…but Levis stood tall -- making plays, taking hits, coming right back to fight the next play. He didn't put up huge numbers, but it was the way he played, the way he reacted to the situation.
I think Levis has all the tools to be the #1 overall pick in the draft…and to be an actual star in the NFL. He has the physical tools, and they're all much more refined than the big-armed guys of the past. He throws laser beams with precision -- and the ball comes out so fast/gets delivered so quickly, defenses can hardly react. If he had any high-end NFL-level college receiver talent at Kentucky, his college output numbers would have been higher.
Analysts compare Levis to Josh Allen. I think the more apt comparison might be Levis as a smaller Justin Herbert -- cannon arm, super-smart (like award winning smart)…Herbert is bigger/taller, Levis tougher, more alpha. And Herbert didn't begin his draft season as a top QB prospect…his physical tools were obvious, but some questioned whether his gaudy numbers in college/at Oregon were fluffed up in a pass happy offense facing a conference filled with bad defenses… the Levis debate/questions are the exact opposite of that.
When it comes to C.J. Stroud vs. Will Levis for the #1 overall pick/top QB in the 2023 NFL Draft (and I am studying Anthony Richardson next, so we'll see whether he changes things), I think 2023 could be like a remake of the 2020 NFL Draft debate…
You could try to parallel it by saying Stroud is Joe Burrow. Levis is Herbert. Bryce Young is…Tua. If you had to redraft the 2020 NFL Draft, who would you pick #1 today? You'd probably pick Burrow, but in 2020 midseason you might have been 'Team Herbert'. After the 2021 season it would've been a debate between Herbert's tools vs. Burrow's execution, leaning toward Burrow. After the 2022 season, you'd most likely choose Burrow. And Tua would never enter the debate.
Let's say you were the NGL GM for Houston - if I asked you right now to choose between Herbert and Burrow, you'd go round-and-round trying to figure out the right choice. But it's like choosing between a 5-pound bar of gold and a 5-pound ball of gold. Both are great. It's gonna come down to -- what's your personal preference? Herbert jumps off any screen…Burrow is a lethal assassin of output/wins…which do you prefer?
Levis is 'sexy' on tape…that arm is amazing, his personality coaches will LOVE. Stroud is subtly great…an acquired taste, a 'plus' arm and an 'I don't know how he does it' quiet assassin (kinda like Burrow)…a little more subdued personality, not as infectious a personality/leader as Levis…probably won't be an obvious coach's yes man or buddy like Levis could be, upfront. Not saying there's an issue with Stroud's personality…he's just not the high-end/polished/corporate personality of Levis.
I think Stroud is the better QB, from what I've seen…but I see a path where both are great, and could see where Levis winds up the better NFL QB in the long run.
I will wrap it up with this: Both Stroud and Levis are better than any QB prospect from the 2021 or 2022 NFL Drafts. I would choose Stroud, as I type this today…he's too proven great (in college), like Burrow. But I wouldn't be upset 'settling' for Levis either.
A quick off-the-field check/note: Levis has a totally clean background, and has a Master's degree in economics and finance and was named the top academic player in CFB in 2022.
Also, injury note: Levis played the 2022 season with various nagging injuries -- a foot issue, a dislocated finger, and a shoulder issue. He's not injury prone, per se, as much as he is 'tough' and when he runs the ball, he tends to try to shoulder ballcarriers to 'truck' them instead of sliding or evading straight hits -- he can tend to play QB like a linebacker and that is an issue to consider for his long-term outlook/longevity/style of play (and can it be reeled in?). These injuries may have stunted Levis' output in 2022 as well…many suspect they did.
Will Levis, Through the Lens of Our QB Scouting Algorithm:
Levis played for a head coach that wanted to run the ball primarily, and they had a top NCAA prospect to do that with in Chris Rodriguez…but that held Levis' attempts and tallies down.
Example…Rodriquez missed the first 4 games of the 2022 season, and played 7 games with Levis -- the splits in those games:
29.3 pass attempts, 296.3 passing yards, 2.5 TDs/1.0 INTs per game = Levis without Rodriguez
23.7 pass attempts, 174.4 passing yards, 1.3 TDs/0.9 INTs per game = Levis with Rodriguez
An additional comparison…Levis in 2021 season with better weapons AND with Rodriguez all season…
27.1 pass attempts, 217.4 passing yards, 1.8 TDs/1.0 INTs per game = Levis 2021 full season
Levis' numbers are not eyepopping, but you either believe he was held back by game plan, O-Line, and lower grade weapons…or you deem him unworthy and gravitate to the Alabama and Ohio State and USC prospects with the bigger outputs/tallies.
His INT counts are higher than you'd like to see but on the tape that I watched, I rarely/never saw him throw the ball blindly into obvious coverage. Most of the picks I saw/charted…they made sense given the context of the game -- deficits to superior teams, trying to make a tight throw…or deflects off a receiver's hands and to the defense. I didn't see a turnover issue on tape, but on paper, his turnover numbers aren't good.
2023 Pre-Draft Measurables Projections…
6'3"/232, 10.3" hands, 32" arms
4.7+ 40-time, 7.3+ three-cone
The Historical QB Prospects to Whom Will Levis Most Compares Within Our System:
Our computer comps don't feel 100% on target/there's no one that just jumps out. I could see bits and pieces of all of them together making an amalgamated comp. In another college lifetime, maybe Levis could have been Andrew Luck-like…if he'd had different coaching or surroundings.
To my own mind's eye…Levis is maybe a better Davis Mills (who is a lot better than given credit for nationally). Levis does have some Aaron Rodgers arm ability, but Levis has a bigger arm…they both have that classic over-the-top zip/flick on their throws.
| | | | | | | | | | | | |
| --- | --- | --- | --- | --- | --- | --- | --- | --- | --- | --- | --- |
| QB-Grade | LJax Rating | Last | First | Yr | College | H | W | Adj Comp Pct | Adj Yds per Comp | Adj Pass per TD | Adj Pass Per INT |
| 8.638 | 3.86 | Levis | Will | 2023 | Kentucky | 75.0 | 220 | 67.9% | 10.2 | 22.9 | 61.7 |
| 9.519 | 2.84 | Rodgers | Aaron | 2005 | California | 74.0 | 223 | 71.0% | 10.3 | 15.4 | 20.5 |
| 12.152 | 4.75 | Luck | Andrew | 2012 | Stanford | 76.0 | 235 | 63.6% | 11.1 | 21.2 | 47.4 |
| 2.309 | 4.04 | Romo | Tony | 2004 | E. Illinois | 74.3 | 220 | 72.7% | 11.4 | 12.5 | 31.6 |
| 8.886 | 1.46 | Foles | Nick | 2012 | Arizona | 76.5 | 240 | 68.0% | 10.1 | 19.7 | 34.9 |
*'LJax rating' – new for 2023, as we re-do our grading systems to better identify/reward the spread offense QB prospects…looking for the runner-passer talents.
**"Adj" = A view of adjusted college output in our system…adjusted for strength of opponent.
***A score of 8.5+ is where we see a stronger correlation of QBs going on to become NFL good-to-great. A scouting score of 9.5+ is rarefied air—higher potential for becoming great-to-elite.
QBs scoring 6.0–8.0 are finding more success in the new passing era of the NFL (2014–on). Depending upon the system and surrounding weapons, a 6.0–8.0 rated QB can do fine in today's NFL—with the right circumstances…but they are not 'the next Tom Brady' guys, just NFL-useful guys.
--------------------------------------------
2023 NFL Draft Outlook:
At this stage, you'll find Levis in most every top 10 overall draft rankling and usually the #3 QB behind Young then Stroud. I think Levis will jump Young and be the #2 QB taken…possibly #1, because the NFL loves tools. Anthony Richardson could jump into the #1-2 debate when I do his research next. The Levis tools, his intelligence and presentation in interviews -- I can't see Levis falling past the top 5 overall in this draft…and is possibly #1 in the end.
If I were an NFL GM, I'd seriously kick a lot of tires on Levis and do a ton of study and have him into my facilities working with my best WRs to get the scoop. This could be a real opportunity for an NFL franchise to find 'their franchise guy'… at the #2 or #3 pick, without paying the extra high price to get to #1.
NFL Outlook:  
I think the floor is nice here…worst case he's a 'C' grade QB with great tools who can outsmart defenses and be a real leader and takes a team to the playoffs with a great surrounding cast. The upside is…Kentucky was holding him back/hiding him and his 'A' grade tools with 'A' grade mind = a top 10 NFL QB…a top 3-5 pocket passing QB in the NFL.