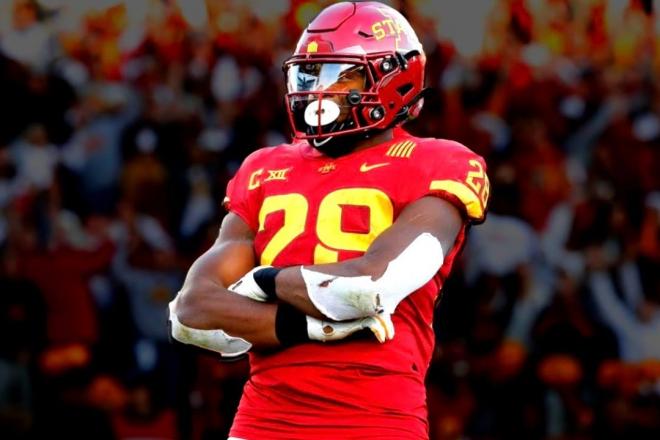 R.C. Fischer
Dynasty Rookie Draft
02 May 2022
2022 Dynasty Rookie Draft: Initial Reaction Top 12 (with special commentary)
This is my first reaction Top 12 DRD prospects post-NFL Draft – subject to change all week with more consideration of the player's situations with the fallout of the big picture changes to rosters/depth charts post-Draft.
There is so much talent being poured into the NFL from college, thus making the NFL rosters and depth charts so congested with talent to try and interpret short and long-term… If I could get/take a picture of my mind right now, going through these new rookies and looking at their situations/landing spots post-Draft weekend -- it would be like one of those overloaded crime/detective boards chasing a serial killer or figuring out the local mafia hierarchy, that board where there's a bunch of loose clues and pictures of people with a thousand push pins and string going all over the place trying to connect a million dots (I just looked it up…they are known as 'evidence boards' or sometimes called 'conspiracy board' or 'crazy wall' or 'murder map') – 'crazy wall' kinda fits the initial 2022 DRD rankings right now.  
I don't know if these stuffed depth charts are making FF more fun…or more maddening…or both…or if I just can no longer tell the difference between fun and madness anymore.
Before we get right into the top 12, let me give an overview of what my 'crazy wall' looks like/feels like for the overall 2022 Dynasty Rookie Draft right now…
The 2022 DRD feels like an actual 2022 NFL Draft overview from the 'experts' – a deep draft with solid talent, but not any obvious stars at the tippy top. If that's true, then you immediately think the way to play this DRD is looking to trade away the top/high picks, trade their hype for real/existing players and get a better ROI from the pick that way.
I have no doubt that one of the top 5-10+ WRs will break out to be a star…a la Justin Jefferson 2020. We all liked Jefferson…but none of us thought he'd be one of the top five WRs in FF right away. There's talent at WR in this draft, but every single one of them comes with something to worry about – whether QB, coach, depth chart, or their individual mindset.
If you consider that the top 12 WRs in PPR PPG last season all had higher-end QBs they worked with, and most all had more than a year with that QB (except Kupp). Using that simple litmus test, what 2022 rookie WR has talent grade + elite QB + relationship they're walking into the league with? Even Ja'Marr Chase had a relationship going into the NFL, from college with Burrow.
The top 12 PPR WRs by PPG last season listed with their QB (look at the QB names)…
1) Kupp (Stafford)
2) Davante (Rodgers)
3) Deebo (ignore…he made his FF points off running)
4) Jefferson (Cousins)
5) Ja'Marr (Burrow)
6) Tyreek (Mahomes)
7) Diggs (Allen)
8) Diontae (Big Ben) *the weakest QB, but a Hall of Famer
9) Keenan (Hebert)
10) Godwin (Brady)
11) Renfrow (Carr) *Not an elite QB, but is upper half of the league?
12) Evans (Brady)
The top 10 drafted WRs in 2022, listed with the QBs they're joining (now look at these QB names)…
London (Mariota)
Wilson (Z. Wilson)
Olave (Winston)
Jam. Williams (Goff)
Dotson (Wentz)
Burks (Tannehill)
Ch Watson (Rodgers) *the outlier, but no prior relationship…and will Rodgers be there in 2023?
Wan'Dale (Dan Dimes)
Metchie (Mills)
Ty Thornton (Mac Jones)
Last year, Chase went with Burrow. Waddle went with Tua. They were the #1-2 WRs off the NFL Draft board in 2021. The next 14 WRs drafted, you don't care that much about today…not like you did when they were HOLY rookies this time last year…DeVonta Smith, Kadarius, Bateman, Elijah, Rondale, Eskridge, Tutu rounded out last year's top 10 WRs drafted. Elijah Moore is the only one among them with some higher respect a year later…everyone else has fallen in favor/stature some or a lot.
If the 2022 WRs are going to be hard to figure out on which one will pop through…why not trade those 1st-round DRD picks for real, established WRs (if you can)?
If the 2022 RBs landed into mostly RBBC type situations, or unclear paths to #1 back situations…why not use those 1st-round DRD picks to get a clearer, existing RB? Your pick + a player for an RB you have confidence in? Aside from Breece Hall, and he has a twinge of Michael Carter to consider, the RBs are landing in congested or confusing/murky NFL spots. One of them will probably breakthrough (due to injury above them) like Elijah Mitchell, but he wasn't a 1st-rounder in the DRD. You/everyone was super-sure Trey Sermon was going to be fantastic…remember that when you evaluate how excited to get about Walker-Pierce-Cook, etc.
2022 looks like another situation where trading the 'hope' for something 'real' is the way to go, Breece Hall aside…but his 1.01 pick is tradable, as far as I'm concerned, but just for a lot more exchange than trading your #2-12.
Now, we aren't giving these picks away because we don't love the 2022 rookie options. The plan would be – trading the picks for existing things, taking your time and making great moves that yield you more in a real player exchange than what you'd draft with the pick you'll use to get the real player.
Example…
If I had the 1.02 in a DRD, and someone offered me Javonte Williams for it (now that there's Melvin fear cooling off Javonte)…I'd do it. Kenneth Walker or Javonte? I'll take Javonte all day long.
It's easy to say 'trade those picks', but it's harder to do so in reality sometimes – because what player/s to target, etc., and will the other owner be as excited about the pick/not clutching the player you want for dear life? You'll have to create that path, and we'll give ideas along the way the next few days/weeks/months – but I am suggesting you walk down some path of trading the picks, at least work the phones to stir it up to look at some possible paths. Not having a 1st-round pick in this draft, especially after 1.01/Breece, should be more a goal/source of pride than a bummer.
I'm going to display my initial top 12 thoughts, but also sliding in rookies from last year/2021 where I would have taken them (as a 2021 rookie/a year ago mindset) to show some compare and contrast for the 2022 rookies…
**2021 Draft Value Setting thoughts: You would take Najee Harris over Breece Hall, for sure. Might you have taken Kyle Pitts over Breece as well? You might have considered Javonte over Breece...maybe? And I would have missed the boat on this one, but Ja'Marr Chase would have likely gone over Breece in some leagues, ones not slave to the RBs.
1) RB Breece Hall, NYJ
So, which side of the argument wins out?
a) Hall storms into the main starting role and

Michael Carter

becomes a lightly used backup and hurry up offense pass game back? Or (b) Hall is the lead back, but does a healthy RBBC 'share' with Carter…70/30? 60/40 (like Kyle Shanahan likes to run, and where this staff likes to mimic)? The correct answer between option 'A & B' changes Hall's DRD value radically.
Typically, the 1.01/top RB in the DRD is a guy going to a team where he'll CLEARLY (or so we think) take over the job all to himself immediately. Breece Hall is a consensus 1.01 where it's not a golden or clear situation immediately…if you think Carter is not just going to be thrown in the trash/never or barely touching the ball.
Hall may be the #1 ranked DRD option, because he will start, he is good, and his public value is massive…but is the situation such that it's better to trade this pick/player to get into more of a sure thing? Maybe you think Hall is a sure thing/lead dog unquestioned…it's possible, and then you grab and hold…but Carter there does present some minor headwinds (especially in PPR) getting us towards full throttled excitement (like if Hall had gone to Houston, let's say).
**2021 Draft Value Setting thoughts: You'd have taken Najee already. You would have taken Chase, Pitts, Javonte over any #2 option in 2022/after Breece was gone. And perhaps you would have taken Etienne and DeVonta Smith and maybe Waddle as well, after Breece and before any other 2022 rookie option.
So, we're probably looking at a 2021 + 2022 rookie draft mashup selection flow of: Najee, Breece, then some order of Chase/Pitts/Javonte…and then with the 1.06 you'd consider the 2021 options Etienne/DeVonta/Waddle (and the consensus might have considered 'generational' Trevor Lawrence) or you'd consider taking someone from the Walker-London-Burks-Williams group from 2022? So, you might have taken/considered 5-7 rookies from 2021 (from this time last year mindset) all before you would have selected the second 2022 rookie – that's the valuation problem with this DRD, in my opinion.
2) RB Kenneth Walker, SEA
Is Kenneth Walker better than Rashaad Penny? That's a big question…and the Rookie Derangement Syndrome in us is going to think – OF COURSE, Walker is better than Penny, why Seattle just drafted Walker knowing Penny is on the roster! We forget that Walker was a 2nd-round pick…Penny a 1st-round pick a few years ago, and Penny's crime was he was hurt every time he got going – but in the 2nd-half of last season, Penny finally showed up and showed out. So, I ask again – are you sure Walker is better than Penny, right now? The fact that it is a real question makes this a terrible 1.02 pick, in reality. 
Penny is bigger…10+ pounds bigger/thicker. Walker is faster, but if he adds 5+ pounds for the NFL, then he'll be as fast as Penny. Walker was terrific in college…so was Penny (he wasn't a 1st-round pick for nothing). Is this going to be a 2021 Denver Broncos Gordon-Javonte split, on purpose…some 'hot hand' but split by design in 2022? Is Penny going to start due to his experience and his 2021 finish? What if Penny shines again as a Week 1 starter and never yields to Walker…where does that leave Walker's value?
I'm not fighting against Walker's ability (although, I'm a tad nervous if he plays at 205-210 pounds)…I have to worry that Walker is not the best RB on his team today…or just that he is not the starter Week 1 and then the value slides from there for 2022. I know Breece Hall is better than Michael Carter…hand's down, but I'm not sure Walker is better than Penny. If it's a real  toss-up…then how much are you willing to pay to wait and see if Walker wins the job, banishes Penny to nothing…or wait for Penny to get hurt again (not a bad bet)?
An undersized (in today's NFL) lead back in a poor offense/questionable QB with a bad O-Line – how good will this be for Walker's value over the next 1-2 years? And I write 1-2 years because it's the exciting rookie thing now – but in 2-3 years is he Miles Sanders or David Montgomery 'exciting'…a.k.a. 'boring'? Would you rather have Elijah Mitchell or Walker today? J.K. Dobbins or Walker? Nick Chubb or Walker? Javonte Williams or Walker? Rashaad Penny or Walker for just 2022? Just askin' those questions as food for thought to try to value him properly and try and cut through the rookie inflation hype we all have right about now. But Walker has heat as the consensus 1.02 option, so that puffs his value here – to draft and trade. If not for the trade value here, he'd be my #5 or so rookie listed most likely.
3) WR Jameson Williams, DET
The upside scenario for Williams would be: The Lions' WRs separate like Goff's final year with the Rams…D.J. Chark is the deep ball Josh Reynolds type. St. Brown becomes a worse version of Cooper Kupp. Jameson Williams is the Robert Woods, who was the equal to/better FF PPR option over Kupp for a while. Williams could be the Goff BFF WR in a hurry….Robert Woods' floor during Goff's time, with a Woods + a chunk/nice slice of Kupp ceiling potential (if that makes sense).
The downside scenario: Dan Campbell goes heavy run game, and with moderate targets otherwise in the overall passing game…those targets get all split up between Williams-St. Brown and then lesser to Chark, and then don't forget about Hockenson. Williams could be a nice WR2 for PPR in this scenario…working his way towards a WR1 future? But will a Dan Campbell offense really allow a flashy WR to shine?
Williams is really good, but his path to the top is a bit murky…but if anyone can become the Justin Jefferson of this draft class, it's Williams. I went back & forth between taking Walker or Jameson at 1.02, but knowing how hot Walker is right now – I'd likely take him to trade him before using the pick on Jameson, but I'd consider both paths.
4) WR Drake London, ATL
The de facto #1 WR for the Falcons…that's a good thing for FF. But a rookie coming in as a #1 WR, getting #1 CB coverage and without another WR of note to take the heat off him initially – not sure how high the 2022 ceiling is here. Justin Jefferson had Thielen. Ja'Marr Chase had Higgins/Boyd…and they both had much better QBs to work with. However, Atlanta has something for London that no other team has – a tight end getting double and triple covered. Pitts, not another WR, might be the perfect space for London to work as a #1 short and medium.
Mariota is probably not going to be a high-volume passer by design, but still London could be the best PPR WR of the 2022 rookie crop, right away. If you assume the Falcons will be down a lot in games in 2022, and thus throwing a ton against soft coverages in big deficits…a lot of simple pitch & catch work might be available. Still, the top FF WRs are linked to high flying offenses/QBs…and that's not Marcus Mariota, you wouldn't think.
I like London and I like this landing spot 'big picture', long-term…but it's murky on how quickly London will start producing for FF at a high PPR level.  
**2021 Draft Value Setting thoughts: by the time we get here, you might have taken 2021 rookies Sermon-Elijah Moore-M. Carter before you would have taken the 4th or 5th 2022 rookie…after for sure/most likely taking Etienne/DeVonta/Waddle/Lawrence. You may have considered/taken for 7-8 rookies from 2021 before your 4th-5th 2022 rookie option taken…and possibly taken/considered up to 11-12 rookies from the 2021 group ahead of the 4th-5th 2022 option.
---------------------------------------------------
I'm taking four 2022 'chalk'/safe rookie picks with real world trade value at #1-2-3-4, but now I'm going to start looking at players I have more interest in over the consensus options left…and I'm not using my 1.05 to take Jelani Woods, but this is where I start to value Woods considering talent + landing spot + real world value of the players (to trade).
---------------------------------------------------
5) TE Jelani Woods, IND
A great landing spot. Jack Doyle retired, and all Indy really has is Mo Alie-Cox. Woods can start right away…and with Pittman-Pierce on the outside, Woods should have room to operate over-the-middle and not worry about getting doubled like Kyle Pitts does every snap.
Woods has Jimmy Graham-like hopes, only Woods is a better blocker…the best blocking TE in this draft. Oddly, I am starting wonder if Jelani is in a better spot for production than always-doubled Kyle Pitts. Woods is working with an OK-ish QB, in a home dome, with a great run game and no obvious underneath option that's the QB's best friend throw. How many TDs do you suspect Woods will catch on goal-to-go situation where they play action fake to Jonathan Taylor and then soft toss to a 6'7" TE who slipped out into the end zone? This landing spot works!
There's an argument that Woods might be the single best opportunity/rookie in the 2022 DRD, but he's not going to be a top 12 pick/rank, at least not yet. He's going to track at #15-20 in 'smart' leagues and #25+ in asleep ones…he doesn't have the anointing that Trey McBride or any of the top RBs-WRs have, but Woods is so unique in his play…and in his separation from the rest of the pack. It wouldn't shock me if any one of 4-8 WRs from this draft ended up 'the best'…and there's 2-5 RBs that I could see as 'the best'. I have zero doubt Woods is the best TE option in Fantasy (or in the NFL). Woods will be one of/the best values of the 2022 DRD…but every week we get past the NFL Draft people will start waking up to this, so not a top 18-20 guy initially…but may be top 12 if you DRD in August.
*Either 6a-6b…I go back and forth…
6a) RB Tyler Allgeier, ATL
Talk about RBs who landed in a decent place… It doesn't feel perfect right off the bat because Cordarrelle is there, but this is a set up (at a minimum) that Allgeier is going to play, get touches right away as a 'share' (30/70?) with CP…but on the 2022 upside Allgeier is also the 'handcuff' and is the guy that's the more traditional RB who can free up CP to do other things.
Longer-view…how much time does CP have left a lead back? Can't be but maybe through 2022? Allgeier has a chance to be the future (2023+) with Patterson being pulled back, switching roles, or fading at his age. Allgeier has a clear path to the main RB role here for the future – not only because of Patterson's age/outlook, but because Allgeier is a legit lead RB for the NFL, a power back who is a three-down RB. Our 2nd-best (graded) rookie RB of 2022…and I like his ability/style maybe more than Breece Hall's for the NFL, but their respective O-Line's and offense's will determine the fate betwixt them.
Allgeier is a legit bigger, more powerful RB version of Elijah Mitchell…but one on a shaky offense with a questionable coach. He's an RB whose time will likely be more 2023+ but is the legit handcuff for Patterson right away for 2022. There's hope here…and some speed bumps. With Allgeier being NFL-drafted later in the 4th-round, his DRD ADP out of the gates is outside the top 20 most places – he's going to be a DRD bargain it appears. I mean, Allgeier is potentially better than let's say a Kenneth Walker…only Allgeier is bigger, more NFL traditional, and doesn't have Rashaad Penny to deal with – but Walker will be a top 3 DRD pick for most and Allgeier may be outside the top 20 DRDs all offseason.   
6b) RB Dameon Pierce, HOU
Most top RB and WR names landed in some kind of depth chart stew of other talent to have to deal with…even the holy Breece Hall has Michael Carter for all of us to consider how he'll impact Hall. But with Pierce…no such real talent worry, today, in theory/on the surface. Pierce has to beat out Marlon Mack and Rex Burkhead…which seems very promising/likely, but we don't know what kind of offense the Texans will run under Lovie Smith. Will it be a 'committee' backfield? Is he going to push a 'green' rookie over vaunted veterans right off the bat (I'd bet not…I'd bet an old school coach doesn't go there right away)? And no matter who the main RB is…will there be anywhere to run behind that O-Line, which was dreadful last year?
Pierce seems to be in a good landing place for opportunity, but he has some obstacles of a different kind to overcome. He should be the RB winner, in the end, but maybe not until 2023…and then they may draft some other RB and mess with the flow. We want RBs that we know are going to sail into the main carry role…and Pierce seems like he has a path to it, but he's never been a main carry guy and Marlon/Rex are coveted by the regime. I don't need another solid RB talent in a committee. And I don't know that Pierce is SO superior to a Marlon Mack or Rex Burkhead in 2022 In Lovie's eyes). It's not a slam dunk race to the top for Pierce in 2022.
Of all the rookie RBs in a cluttered depth chart…Pierce has landed on arguably the least talent-cluttered. There's hope he'll take advantage quickly, but it's not a sure thing…it is a hopeful thing, a seemingly strong hope…but even if Pierce races to the lead role, it's not like he's Gale Sayers…he's a good/OK RB in a good spot at the moment.
8) RB James Cook, BUF
Most people are projecting James Cook as this crazy PPR RB who is gonna get 5-10 catches a game and rule! I mean, it's logical to scout Cook as 'a pass game back' but it's not like he's Christian McCaffrey or David Johnson in the passing game. Cook is just a good pass game RB…so is J.D. McKissic, but no one cares about him because he's not a rookie and doesn't have a famous brother. Cook's name appeal is outpacing his real, current value. In PPR, do you know where the highest scoring (PPG) RB who was known as a 'passing game back' ranked…and who it was? Kareem Hunt…#21 -- if you'd call him a pass game back. McKissic was #32 on PPR PPG.
I think Cook could be more of a real RB that has the nice enough pass game skills, but not elite in either instance…but good at both. For 2022, Cook would have to be so good that he just makes Devin Singletary disappear. I don't think that could happen in year one. Cook will be used in the passing game for sure in 2022, but how hot is that splitting time with Singletary (to whatever degree)? Cook seems destined to be the split part of a backfield, and a gadget, hurry up offense passing game option…in the realm of James White or J.D. McKissic…which means erratic output, and White and McKissic are dismissed (today) for being 'old news' while Cook could be in a similar role but sitting at 3x the value because he's a holy 'rookie'.
I like Cook for PPR. There's an upside if Singletary gets hurt…and an upside when Singletary goes to free agency in a year. But Cook is likely always to be part of a split backfield but carries a 'name' that trades higher than the reality. Cook didn't look like he was too excited about being picked by Buffalo…his game (or silver spoon lifestyle) is not a great match for the Buffalo weather or Buffalo nightlife…just a guess on my part.
I think there's reasonable hope Cook carries the ball more than people would think initially, but Buffalo has not been a great supporter/promoter of the RB for FF. His touch counts and ways he's gonna be used are very much up for debate/a stab in the dark right now.
---------------------------------------------------
You can hate the order of the next group of players, which are all WRs, and that's OK…and I may change the order of them every day this first week. But before you fly too far off the handle on my order…I know you have certain rookies you LOVE and are spiritually soul tied too, but consider the next few names just by their possible QB in 2023…
Skyy (Mahomes)
Watson (Love?)
Burks (Willis?)
Wilson (Z. Wilson…who I like)
Olave (Winston?)
Can you blame me for defaulting to Skyy here on top of this group? You put them in any order you desire, but this is my order from my instant reaction. With more thought, it might/will change.
One of these five will probably be the 'outta nowhere' shock best FF scorer, so I got one question – do you feel lucky? Go spin the wheel…or throw the dart. You aren't wrong to do so.
---------------------------------------------------
9) WR Skyy Moore, KC
Skyy Moore is a solid/good WR. Ross Jacobs calls him 'the Chiefs' Sterling Shephard'. Is that the right comp? We could debate it, but it's logical/reasonable…but I think I do know another comp for Skyy – he's NOT comparable to Tyreek Hill. Not even close. He's not inheriting the Tyreek output.
So, if we have Sterling Shepard-ish, capable WR thrown into a mix with Juju and MVS…and Kelce…how is it so many deduce that Moore is an instant FF-megastar in 2022? He's likely to be an instant 'meh', and then no one will really care that much by November 2022 or summer of 2023…not caring as much as they do today (because 'rookie'). And then the 2023 NFL Draft will bring a whole new lot of rookies to overly fawn over…brought into the league, and/or onto the Chiefs. *JuJu's contract is a one-year joke, like a 'nothing' WR deal…so, he'll be replaced in 2023, I would suspect.
Yes, it's 'Mahomes' but that didn't make Mecole or Pringle or Watkins or DeMarcus or Josh Gordon anything more than in spurts. I'm not anti-Skyy, but I am wary of this landing spot being what the masses think it is going to be. We should NOT start the projections with '...but…Mahomes!' We should start with – Skyy is not Tyreek, not close, so how FF-valuable is he? However, the 'Mahomes' factor does add value…it's just not necessarily the lead punch in the discussion of Skyy.
10) WR Christian Watson, GB
The Packers ditch Marquez Valdes-Scantling and add back a version of MVS with Christian Watson. They are pretty similar size and 40-time and three-cone, overall slight edge to Watson as an athlete…but it's fair to say they physically profile the same. Where they differ, what makes Watson better, is that Watson is a much more aggressive/alpha and higher functioning/better output WR comparing their college days...considering Watson ran the ball more and was an ace in the kick return game, whereas MVS steered clear of the return game. I like Watson's talent today better than MVS's talent today…but considering the landing spot -- will 'talent' matter (discerning between them) for FF 2022 and beyond?
As I think through this, I assume Aaron Rodgers is gone in 2023…or for sure by 2024. He's essentially on a series of one-year deals…kinda/sorta. If Rodgers goes away, THEN how much do you like Christian Watson here? Most of the Watson enthusiasm here is 'we like Watson the player' but 'we LOVE him getting paired with Rodgers' – but what if there is no Rodgers into the 2023+ future? Not as exciting. If this is a 1-2 year run with Rodgers…then will Watson get "MVS'd"? Will he get a stiff rookie treatment from Rodgers and by the time Rodgers accepts him into his inner circle…will Rodgers be gone and/or talent fading? If so, then a proper Watson outlook could be…he has a wobbly rookie season and then possibly Rodgers is gone the next year – all of which is not great for Watson's FF projected value.
This works out nicely if Watson rushes right into the starting lineup and becomes Rodgers #1 WR instantly a la a Justin Jefferson rise up…but what are the odds of that happening…from the historical rookie treatment from Rodgers aspect? What if the Packers trade for a veteran WR this summer to pair with Rodgers' possible swansong season? Then Watson becomes MVS, at best, in 2022…and you hope not Equanimous St. Brown. I like Watson, but the situation is very murky/fluid.
11) WR Treylon Burks, TEN
A.J. Brown traded, Burks drafted to be the AJB replacement…it's a cute projection due to their similar size, but they are different types of players, different types of athletes. Burks is going to be an outside type WR, not a Deebo or AJB type WR…and if that's the case, how excited are you with Burks on the outside with a lower volume pass game AND with Robert Woods in the starting lineup AND with the very excellent underneath WR Kyle Phillips drafted as well. How can we see Burks as the clear #1…or a clear target leader right away? There's a chance, but it's not a 'given'.
I like Burks but this situation is not as clear but as just assuming Burks right into the target dominant role, on a lower volume passing game. It's the dilemma we face with lots of FF WRs in 2022…trying to find WRs who are not going to fall into the WR2-3 bucket, a bucket full of WR2-3s. Should you make this pick high in a DRD…or trade it to get a more secure/predictable  existing/non-rookie WR?
If there is one WR from the 2022 crop that just bullies his way to being the top FF WR…it's Burks. I think Burks is more likely/aptly called the Courtland Sutton for Tennessee…not the Deebo or AJ Brown, but Sutton + crap/mediocre QBs in Denver has been a three-year waste of FF-time, pretty much. And what happens if 'raw' Malik Willis takes over in 2022...or 2023? What did Jalen Hurts do for DeVonta Smith…and Hurts is better than Willis?
12) WR Garrett Wilson, NYJ
Not a terrible landing spot. Wilson has a chance to be 'the guy' downfield for Zach Wilson with Elijah Moore doing more of the closer to the line of scrimmage work. If Zach Wilson comes into his own, and Garrett Wilson is there for the uprising…it might be some perfect timing.
This could go wrong/underwhelming right away if Corey Davis hogs the #1 outside WR looks in 2022, while Elijah is the overall #1 look for Zach…and thus Garrett Wilson is reduced to just deep ball guy in year one. Also, if Deebo Samuel winds up here…then Wilson is all but buried as a random WR3/flex type 'who cares' WR. I don't think Wilson will surpass Elijah in Zach Wilson's targeting…so I'm a bit hesitant on how excited we should get about Garrett here.
More names to come everyday this first post-Draft week, building our top 12-25-50-100-200-300…and updating weekly all preseason.