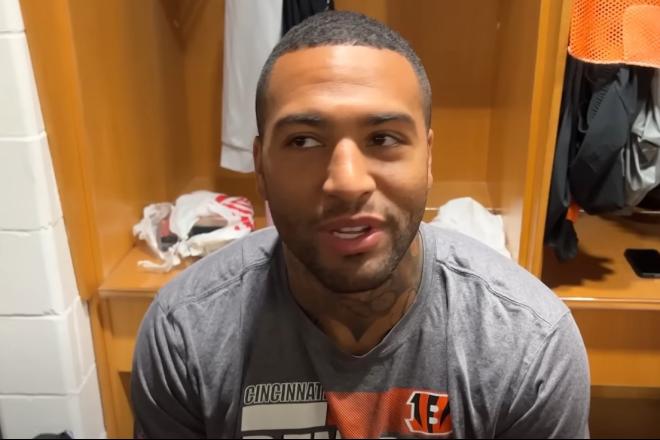 R.C. Fischer
Dynasty Rookie Draft
19 May 2023
There are two non-rookie players that I see consistently being drafted in 2023 DRDs. They are: TE Irv Smith, CIN and WR Rasheed Shaheed, NO.
Just a quick note on how I would value them in a DRD…
TE Irv Smith, CIN
Smith is the current starting TE for the Bengals, with no threat from the depth chart at all…and that seems like it would have nice value — and it does, in theory but I'm not going wild and crazy after Irv in DRDs for three reasons…
1) Cincy recent TEs history
We got all excited about Hayden Hurst in this offense last year…and it was a frustrating hit-and-miss fringe TE1/2 event all year. 
Before that CJ Uzomah was an unexciting fringe TE1/2, more TE2. 
It doesn't seem like the Zac Taylor Bengals are all worked up about the TE spot. They don't seem to be seeking out weapons or desiring to get radical.
2) Irv's talent and possible replacements
Irv Smith isn't better than Hayden Hurst…or he's differently similar. What you thought about Hurst for FF is about what you should think of Irv Smith, I guess…for simplicity's sake. Smith is shorter/smaller but is decent enough in the pass game. All things considered, for FF, I'd rather have Cincy Hurst than Cincy Irv.
I also wonder if the Bengals will add a tight end ahead.
I'm guessing the Raiders might've called the Bengals about Darren Waller months ago, before they traded him to NYG? I'm sure the whole league knew Waller was available and obviously the Bengals didn't have any great enthusiasm to snag him? If the Bengals are really wanting to upgrade the tight end position from a pass game weaponry situation, they also could've moved up to try to get Dalton Kincaid, which they did not. They also didn't take Luke Musgrave or Luke Schoonmaker…or any other TE in the draft for that matter.
They could try to chase Zach Ertz at some point I suppose. But it just generally looks to me like the Bengals are content with a blocking tight end who is capable enough if he gets thrown the ball but they're not looking for any radical play makers at the position. What else could we deduce after looking back at everything they've done at the TE position the last few years with Joe Burrow?
3) Other DRD TEs…it's a deep pool…
So why should anyone burn a number #30-40 DRD pick on Irv Smith when you may get the same kind of fringe TE 1/2 but with upside out of guys like Luke Musgrave or Luke Schoonmaker? I mean established tight ends typically out produce rookie tight ends right away, but the game is changing so fast and considering the long-term outlook in value of the other interesting rookie TEs, I might rather have an upside rookie tight end and then possess some kind of other boring, very replaceable fringe TE1/2 to work with/stream if I needed it.
I just don't think Irv Smith can be a real answer for your tight end issues – if Irv Smith is an exciting addition to your Dynasty/FF TE group, then you've got bigger problems at tight end that you need to go find better solutions for. 
WR Rasheed Shaheed, NO
Many reading this, in deeper dynasty roster leagues, have Shaheed leftover from 2022 season — as we were very early (the earliest) on that train. 
Shaheed showed me real talent and rapid growth once he got the shot to play and touch the ball in 2022. But as is the case with most UDFAs who weren't supposed to be good — he was given opportunity/touches slowly and when he was making big plays with his sparse action…the touches still came slow and didn't really ramp up until several other WRs got hurt. 
I see a hope and a future with Shaheed. However, I know he will get buried by plan for Week 1/2023 the way it's set up right now. If Michael Thomas is back, he will scare Carr (and Dennis Allen) into throwing him the ball a lot. With 1st-round pick Chris Olave there, it will be Olave who gets the work aside from Thomas -- and when/if Thomas goes down again, Olave will be the lead WR for targets. All the while Shaheed will be a random event going from between 2-6 touches in games and being an inconsistent (for FF due to low touches) homerun hitter hope. 
Shaheed is going to be the 3rd WR of the Saints starting three for touches — it's just the way these things go. So, what's the value of that? I'd rather throw darts at undervalued, big upside rookie WRs in the #30-40 range in a typical DRD but at some point later in a DRD I'd consider Shaheed -- but I know he'll be dirt cheap after weeks 1-2-3 or so when he's buried off the jump. He'd be a buy low waiting for the inevitable Mike Thomas injury. I'd rather have a Michael Wilson from the DRD instead, or Charlie Jones, for some examples of where I see Shaheed going in some DRDs.
In general, I like/am fine with both of these non-rookie players in DRDs. I think Rasheed Shaheed can have a future as a real playmaker in the NFL -- but there are a ton of headwinds for him right now in New Orleans. Irv Smith is totally competent but there are random TE1/2s like him all over…and week-to-week when we get in the thick of it.
If I could only have one of these guys, I'd take Irv…just because if he scores a TD Week 1 -- you could trade him like he's the next great FF 2023 TE. Shaheed…not so much.