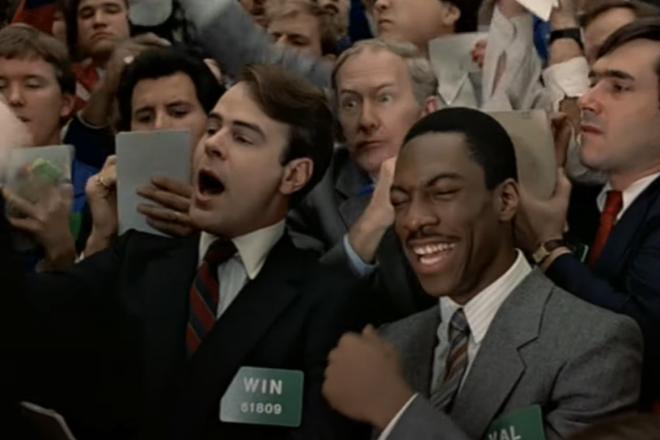 R.C. Fischer
Dynasty Rookie Draft
05 May 2023
A 12-part series, DRD mock drafting from each of the (typical) 12 draft spots to give an early idea the direction I'm heading early on in the post-NFL Draft process.  
Using the FantasyPros rookie draft tool, which isn't great but is useful for this exercise…and reflects a good amount of the mainstream thinking. We can argue their ADPs, etc., but they're close/within a margin of error on their top 30-40-50…close enough.
The rules are – I HAVE TO make the pick. In reality, I want to trade out of the first round except in places where I think I can safely get Anthony Richardson, if QB is a need/asset to take for my situation.  I only have two real 'missions' in this year's 'sad' DRD (not as juicy as last year's DRD) -- I want Anthony Richardson AND Dalton Kincaid. If I can't get them in the draft, I'll work on it this summer via trade…or in August preseason month hysteria, etc.
*Article picture is from the movie 'Trading Places' -- when the main characters had manipulated the orange juice futures market and were doing some old-school stock market selling shares in the pit...which is what I see in this year's DRD: SELL-SELL-SELL (the picks)!! Sell them to the frenetic lovers of 'picks'.
1.1 Bijan Robinson
1.2 Jaxon Smith-Njigba
1.3 Jahmyr Gibbs
1.4 Jordan Addison
1.5 Anthony Richardson
1.6 Quentin Johnston
1.7 Zay Flowers
1.8 Tyjae Spears
1.9 Dalton Kincaid -- Richardson went quite early in this one, so it's Plan B for pick #1.
1.10 Zach Charbonnet
1.11 Bryce Young
1.12 C.J. Stroud
---------------------------------------
2.1 Michael Mayer
2.2 Will Levis
2.3 Devon Achane
2.4 Kendre Miller
2.5 Kayshon Boutte
2.6 Josh Downs
2.7 Sam LaPorta
2.8 Tank Bigsby
2.9 Chase Brown -- Now that I'm drafting later, I'm having to pull my draft forward. Brown is starting to creep towards the 2nd-round in drafts and rankings lately. He'll be a late 2nd-rounder ADP before August preseason, I think.
His full FFM scouting report is being worked on today, with plans to try and publish by midnightET.
2.10 Jalin Hyatt
2.11 Zach Evans
2.12 Cedric Tillman
---------------------------------------
3.1 Israel Abanikanda
3.2 Evan Hull
3.3 Roschon Johnson
3.4 Marvin Mims
3.5 Sean Tucker
3.6 Darnell Washington
3.7 Jonathan Mingo
3.8 Rashee Rice
3.9 Luke Musgrave -- Forced to reach for players I like (none left I love) in landing spots that are more promising, like Musgrave in GB…and it isn't great in GB.
3.10 Tyler Scott
3.11 Eric Gray
3.12 DeWayne McBride
---------------------------------------
4.1 Hendon Hooker
4.2 Tucker Kraft
4.3 Xavier Hutchinson
4.4 Jayden Reed
4.5 J. Moreno-Cropper
4.6 A.T. Perry
4.7 Puka Nacua
4.8 Trey Palmer
4.9 Michael Wilson -- May not be around the rest of my mocks at 10-11-12. And I'm not completely fired up about this because the Arizona Cardinals organization is so horrific.
4.10 Deuce Vaughn
4.11 Parker Washington
4.12 Tiyon Evans
---------------------------------------
5.1 Mohamed Ibrahim
5.2 Kenny McIntosh
5.3 Nathaniel Dell
5.4 D. Thompson-Robinson
5.5 Keaton Mitchell
5.6 Rakim Jarrett
5.7 Luke Schoonmaker
5.8 Clayton Tune
5.9 David Durden -- No way I would reach like this for the W. Florida WR. I wanted to just note about this 'Prospect X' in the NFL that drew a lot of attention and was so well thought of he thought, many thought he would be drafted. Someone to be aware of, at least.
(link): https://cowboyswire.usatoday.com/2023/05/02/david-durden-prospect-x-most-overlooked-player/
5.10 Zack Kuntz
5.11 C. Rodriguez
5.12 Jaren Hall