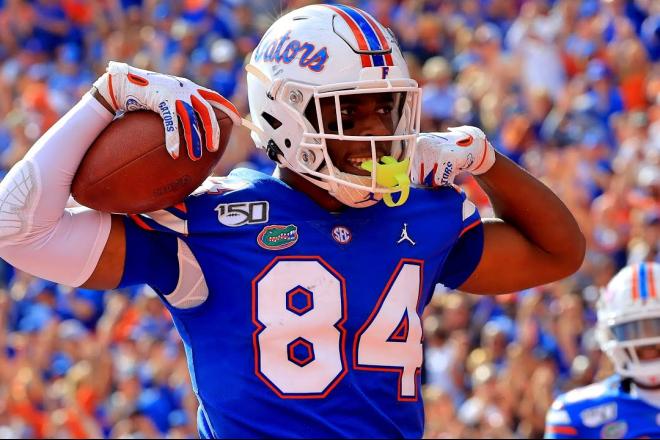 R.C. Fischer
Dynasty Rookie Draft
02 June 2021
 ‍
May 2021 Mock Dynasty Rookie Draft (Five Rounds) Series (#1.12 of 12)
For the next 12 days, I'll be releasing a Mock Dynasty Rookie Draft daily -- ones I conducted using the FantasyPros mock draft tool as my platform.
I used FantasyPros' PRO tools, so I bumped up the value of RBs for their A.I. to reflect reality a little better/favoring RB-lust that usually happens.
I'm going start the series from the #1 spot, and then move back and spot and do a new Mock Draft every day until I get through drafting from each of the 12 spots in a typical DRD. I will add some brief commentary as I see fit, to give you an idea of what I'm doing/seeing in recent DRDs happening.
Here we go…
From the #12 pick spot:
1.1 Trevor Lawrence
1.2 Najee Harris
1.3 Ja'Marr Chase
1.4 Travis Etienne
1.5 Kyle Pitts
1.6 Javonte Williams
1.7 DeVonta Smith
1.8 Jaylen Waddle
1.9 Elijah Moore
1.10 Rashod Bateman
1.11 Justin Fields
1.12 Michael Carter – Why do I get the feeling I'm not taking this seriously enough…for PPR instant impact in FF 2021? He's battling Tevin Coleman-Ty Johnson-LaMichal Perine for touches, but then again…not really. Carter is probably locked in as the 3rd-down/C.O.P./2-minute drill Darren Sproles here on a team with no real competition for the role.
Average straight speed, but higher end NFL agility. I would rather have Carter than Waddle or Bateman 100 times out of 100.
----------------------------------
2.1 Zach Wilson
2.2 Rondale Moore
2.3 Kenneth Gainwell
2.4 Chuba Hubbard
2.5 Terrace Marshall
2.6 Trey Sermon
2.7 Kadarius Toney
2.8 Trey Lance
2.9 D'Wayne Eskridge
2.10 Amon-Ra St. Brown (the buzz is getting a little more each week, but I don't see it…but maybe he's going to be a bully WR not a great athletic/great FF one).
2.11 Dyami Brown
2.12 Nico Collins – You have to take him here…he's the only real #1 WR profile in the 2021 NFL Draft with his build, athleticism, size, hands. He may be erratic with the HOU QB scene in 2021…but there's real hope he's a starter Week 1, while other rookie WRs are brought along slowly.
--------------------------------------
3.1 Mac Jones
3.2 Amari Rodgers
3.3 Tylan Wallace
3.4 Jermar Jefferson
3.5 Pat Freiermuth
3.6 Elijah Mitchell
3.7 Tamorrion Terry
3.8 Cornell Powell
3.9 Tutu Atwell
3.10 R. Stevenson
3.11 Javian Hawkins
3.12 Chris Evans – I keep making this pick, and I hate it…but I'm just looking for something that could be an asset to flip quick if a lightning bolt strikes the right way.
---------------------------------
4.1 Seth Williams
4.2 Kylin Hill
4.3 Brevin Jordan
4.4 Jaret Patterson
4.5 Khalil Herbert
4.6 Sage Surratt
4.7 Kyle Trask
4.8 Josh Palmer
4.9 Anthony Schwartz
4.10 Demetric Felton
4.11 Shi Smith
4.12 (Gerrid Doaks) – Again, the more I look at this Miami backfield situation – the more I see a ray of hope here with Gaskin-M.Brown-Ahmed to overcome in some way. Maybe Doaks catches a break and gets time in camp to impress. It's a dart throw. Not a must. Just an RB name for RB despair FF leagues.
--------------------------------------
5.1 Marquez Stevenson
5.2 Larry Rountree III
5.3 Hunter Long
5.4 Rakeem Boyd
5.5 Pooka Williams Jr.
5.6 Dazz Newsome
5.7 I. Smith-Marsette
5.8 Cade Johnson
5.9 Tommy Tremble
5.10 Dez Fitzpatrick
5.11 Kellen Mond
5.12 (Jalen Camp) – Just one final reminder on Camp…I think Jalen Camp has NFL star abilities. He's in the realm of UDFA/later NFL Draft pick WRs that I promoted way ahead of their times like Tyrell Williams and Allen Lazard.
Likely to be buried? Sure. But look at the names we have to make long shot choices on here. This is what the 5th-round of a DRD is all about.