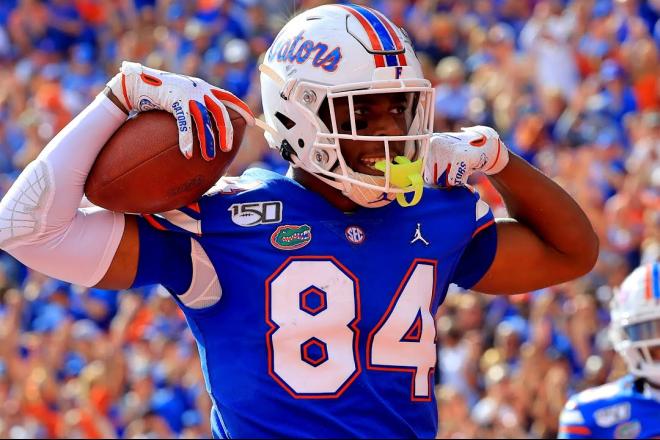 R.C. Fischer
Dynasty Rookie Draft
25 May 2021
 ‍
May 2021 Mock Dynasty Rookie Draft (Five Rounds) Series (#1.04 of 12)
For the next 12 days, I'll be releasing a Mock Dynasty Rookie Draft daily -- ones I conducted using the FantasyPros mock draft tool as my platform.
I used FantasyPros' PRO tools, so I bumped up the value of RBs for their A.I. to reflect reality a little better/favoring RB-lust that usually happens.
I'm going start the series from the #1 spot, and then move back and spot and do a new Mock Draft every day until I get through drafting from each of the 12 spots in a typical DRD. I will add some brief commentary as I see fit, to give you an idea of what I'm doing/seeing in recent DRDs happening.
Here we go…
From the #4 pick spot:
1.1 Najee Harris
1.2 Ja'Marr Chase
1.3 Travis Etienne
1.4 Kyle Pitts – So far, the FPros system is giving me gifts. I get Kyle Pitts at #4. If Pitts were not here, which he is typically not available in DRDs I'm seeing so far in the real world, then I would probably take Trevor Lawrence with the express intent of trading him in a deal for (___) QB that I wanted like Josh Allen or Justin Herbert or maybe Kyler Murray. Herbert and Allen trade a bit easier; people have diamond hands on Kyler more often.
1.5 Trevor Lawrence
1.6 Javonte Williams
1.7 DeVonta Smith
1.8 Jaylen Waddle
1.9 Rashod Bateman
1.10 Trey Lance (Why not Lance discussed with Wilson more…isn't Lance a better FF potential runner/thrower? I think there are a lot of questions on whether Lance is really going to convert to clicking in the NFL…as a passer. It's a leap of faith that may work because of Kyle Shanahan, but it could take 1-2 years. Wilson is light years ahead of him right away, and he can run the ball a little as well. I'm not disinterested/writing off Lance, but it's a bet I think I can get in on later, cheaper, when the new car rookie smell wears off. I don't believe he'll start Week1…or at all in 2021).
1.11 Elijah Moore
1.12 Michael Carter
---------------------------------
2.1 Kenneth Gainwell
2.2 Rondale Moore
2.3 Terrace Marshall
2.4 Zach Wilson – All my drafts look the same from 2nd-round on, so next mock drafts coming up I will force myself to deviate some just for kicks. I like taking Wilson in the 2nd-round because in a draft with a lot of weak prospects in it – I believe Wilson is the best FF QB hope long-term. I mean, look at who went just two picks later from my pick here…Tylan Wallace, are you kidding me? But I see it all too often.
2.5 Justin Fields
2.6 Tylan Wallace
2.7 Trey Sermon
2.8 Kadarius Toney
2.9 Jermar Jefferson
2.10 Mac Jones
2.11 D'Wayne Eskridge
2.12 Amon-Ra St. Brown
-------------------------------------
3.1 Amari Rodgers
3.2 Chuba Hubbard
3.3 Dyami Brown
3.4 Nico Collins – My typical 3rd-round pick, but when I get to the next few days/mock picks #5-6-7…my days of getting Nico in the 3rd will be over.
3.5 Pat Freiermuth
3.6 Tamorrion Terry
3.7 R. Stevenson
3.8 Anthony Schwartz
3.9 Seth Williams
3.10 Davis Mills
3.11 Tutu Atwell
3.12 Elijah Mitchell
4.1 Javian Hawkins
4.2 Jaret Patterson
4.3 Kylin Hill
4.4 Jacob Harris – I could keep making this pick every time, but I'll switch it up some in the mocks ahead. But a wide receiver with elite measurables moving to TE…how can you not roll some dice?
4.5 Kyle Trask
4.6 Brevin Jordan
4.7 Khalil Herbert
4.8 Josh Palmer
4.9 Demetric Felton
4.10 Kellen Mond
4.11 Cornell Powell
4.12 Dez Fitzpatrick
----------------------------------------
5.1 Marquez Stevenson
5.2 Shi Smith
5.3 Pooka Williams Jr.
5.4 Jalen Camp – Same thing as prior pick, I could make this pick every time…but I'll force myself into some different moves in the mocks upcoming to keep it fresh.
5.5 Tommy Tremble
5.6 Sage Surratt
5.7 Hunter Long
5.8 I. Smith-Marsette
5.9 Rakeem Boyd
5.10 Jaelon Darden
5.11 Frank Darby
5.12 Dazz Newsome