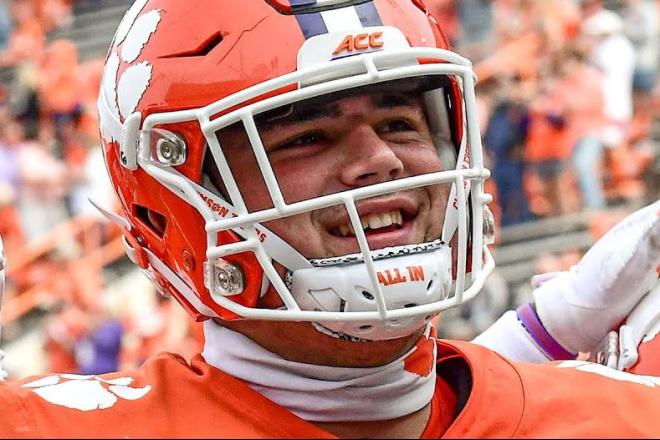 R.C. Fischer
Devy
29 July 2022
2022 Devy Preview Scouting Series (for 2023+): DT Bryan Bresee, Clemson
*Devy (for 2023 prospects) Preview scouting = scouting 1-2+ key game tapes, looking at output trends/basic analytics, and some minor background research. Not a full blown, deep dive scouting report. We'll continue to scout these players ahead of the college all-star games, the Combine and post-Combine for a full reporting ahead of their NFL Draft.
I (RC) conducted my scouting as Ross Jacobs did his, we then exchanged our reports without knowing what the other was thinking/seeing. Then we briefly discussed our scouting of this player in an informal text chat (posted below the two scouting takes). *Please forgive typos on the chat transcript.
 -------------------------------------
DT Bryan Bresee, Clemson (Scouting Grade: B) = by R.C. Fischer
6'4"/290, 2021: 13 tackles, 3.0 TFL, 1.5 sacks, 0 INT, 0 PD, 0 FF 4g), Projected: 4.8 40-time, 7.2 3-cone
He's listed at 300 pounds. He looks and moves like he's 280-range. If he's 300 +/- pounds, he's a 'B' grade for sure, possible 'A' with his size and movement skills. If he's 280-pounds, he's more a 3-4 DE and a B/C prospect potentially. The measurables will tell the tale, but it might be a 'wow' on size and speed/agility times come March 2023.
COMP? = I fear he's more DeMarvin Leal than Quinnen Williams
--------------------
DT Bryan Bresee, Clemson (Scouting Preview Grade: B-/C+) -- Ross Jacobs
6'5"/300, 2021: 13 tackles, 3 tfl, 1.5 sacks, (4g), Projected: 5.0 40-time, 7.2 3-cone
Former top overall recruit. Tore his ACL to end his 2021 season short.
Big boy at 6'5"/300 but his body looks relatively undefined. He plays with natural strength, but I think he could really use some gym time to sculpt his body, especially his legs. They are relatively thin for how big he is.
Bresee is strange to watch. He moves with natural ease for his size but he's not cat-quick the way Carter is. He's rather slow out of his stance and almost looks like he's lumbering but somehow, he still avoids blockers. I wouldn't really describe him as explosive either, but he can get a quick burst to the ball if he gets a free lane. It's almost like he's unsure of what to do until he gets a free run. I like him better as a run defender than a pass rusher, but he can get blocked out of the play too easily because his technique is inconsistent, and he'll come out of his stance too high at 6'5".
You can tell why everyone is high on him. He's got a ton of physical ability, but it looks like he's still trying to put it together and a major ACL injury is going to set him back. Looks a little too inconsistent for my tastes but someone is going to take a stab on him in the 1st round.
NFL Comp? = Taven Bryan
RC: When I read your 'looks slow but somehow avoids...' analysis...I immediately thought of DeMarvin Leal again.
RC: Perplexing to scout
Ross: As soon as I saw you type DeMarvin Leal I immediately thought how much sense that makes
RC: You want them to be eye candy, but they're not...but then they're always disrupting/making things happen.
Ross: Bresee isn't a slam dunk I think but he's interesting
RC: Whereas Jordan Davis...you're like 'wow' that guy is a freak of movement at his size...but 5-10 min later your wondering why he never does anything on the field besides look nimble for a his size.
Ross: I kept thinking to myself "what am I watching" because he looks sluggish at times but I'm wondering if my brain is tricking me because he's so big. He looks like Brock Lesnar wrestling guys half his size
RC: I don't know how he big he is...like Leal.
RC: They pushed Leal as 300+ but he was really 280+
Ross: Well weight is a whole other question, but I just mean he has a big body, he's just got a physical presence...at least he looks like it
Ross: And to your point he doesn't play as physically as you'd expect from a 6'5"/300 lb guy
Ross: I remember seeing high school tape of him and he was literally ragdolling blockers out of his way, just picking them up and moving them. Not doing that in college so much
RC: If he's 300 +/-, he might be an 'A'
RC: He looks and moves like an edge...but if he's 300 pounds, then Holy $
Ross: Can't rule it out
RC: The Steelers would take him at #1 overall next year if so
RC: a 3-4 DE like that
Ross: If he's 300 lbs then he could be like a JJ Watt clone
RC: He does look like he has long arms
RC: Jalen Carter or 290-pound Bryan Bresee...for you, as a GM?
Ross: Carter
Ross: Now Bresee vs Davis is interesting to think about
RC: How about 300 pound Bresee?
Ross: I think I'd still take Carter
Ross: I reserve the right to change my mind if he rips up the combine though
RC: What if their Combine times are similar and both 300+ but Bresee 2" taller?
RC: Carter or Bresee?
Ross: Carter
RC: Man, I can't get you to come off Carter at all.
Ross: I really like Carter
RC: Both these two DTs 1st-rounders 2023?
Ross: And I saw some weird stuff from Bresee that I can't get out of my head
Ross: Yes. Carter looks like a top 10 lock. Bresee I would guess in the mid-20s with a chance to go higher depending
‍