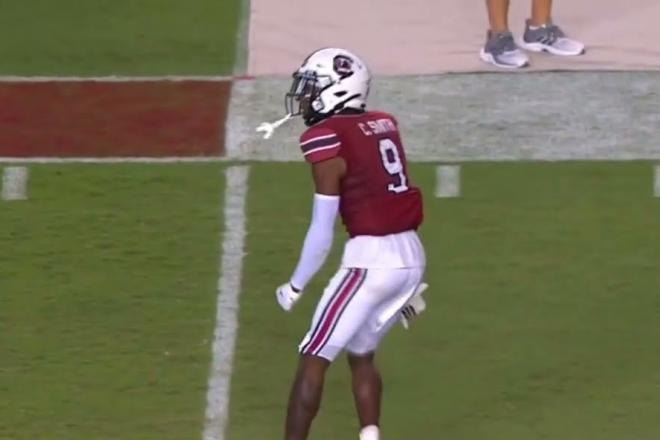 R.C. Fischer
Devy
24 July 2022
2022 Devy Preview Scouting Series (for 2023+): CB Cam Smith, South Carolina
*Devy (for 2023 prospects) Preview scouting = scouting 1-2+ key game tapes, looking at output trends/basic analytics, and some minor background research. Not a full blown, deep dive scouting report. We'll continue to scout these players ahead of the college all-star games, the Combine and post-Combine for a full reporting ahead of their NFL Draft.
I (RC) conducted my scouting as Ross Jacobs did his, we then exchanged our reports without knowing what the other was thinking/seeing. Then we briefly discussed our scouting of this player in an informal text chat (posted below the two scouting takes). *Please forgive typos on the chat transcript.
CB Cam Smith, South Carolina (Scouting Grade: B+) = by R.C. Fischer
6'1"/190, 2021: 41 tackles, 2.5 TFLs, 0.0 sacks, 11 PDs, 3 INTs, 1 FF (14 games). Projected: 4.4+ 40-time, 6.9+ 3-cone
A pretty solid CB talent for the NFL. Good size. Very aggressive. Above average movement skills and athleticism. Will get physical but can run all over the field with WRs. Everything looks like an NFL starting CB.
COMP? = Jaycee Horn, a lesser version of.
-------------------------
CB Cam Smith, South Carolina (Scouting Preview Grade: B) -- Ross Jacobs
6'1"/185, 2021: 41 tackles, 2.5 TFL, 1 FF, 3 INT, 11 pd (11g), Projected: 4.5 40-time, 6.9 3-cone
Tall corner, little on the thin side but looks like he has the frame to get stronger. Excellent in man coverage. He has a smooth backpedal and is able to perfectly mirror his receiver. Not the greatest tackler ever but won't shy away from it either.
My only two concerns with Smith are his deep speed and his weight. I don't think either will be a problem but it's something to watch for. Looks like a very solid corner for the NFL.
NFL Comp? = Less physical Ahmad Gardner
RC: Gardner-like...that gets my attention.
Ross: I really liked Gardner when we previewed him last summer. I really like Smith. I'm not sure Smith is QUITE as good but he's close. He looks and moves a lot like Gardner, but he wasn't nearly as good at the press man stuff. Gardner was just throwing guys off their routes. But then I've never seen anyone as good as him at that. Smith is more like your comp in that way. Horn could be physical, but he was just so good at mirroring the receiver. Smith reminds me of that. More Gardner's skinny body though. I remember Horn being much more muscular
RC: Definitely Horn with a better body walking in
Ross: Gardner 190 lbs at the combine. Horn 205. Smith will be much closer to Gardner
RC: We've looked at Ringo-Ricks-Smith so far...what order do you think the NFL will take them?
Ross: But hey a mix of Horn and Gardner is pretty nice company
RC: We've liked all three for different reasons/ways.
Ross: Probably the order we've gone. Ringo-Ricks-Smith...possibly Ricks falls below Smith into the 20s because of the attitude stuff
RC: Attitude didn't hurt Stingley or Thibodeaux
RC: The selection of Stingley over Gardner will go down in the annals of history as one of the worst decisions a GM/team ever made.
Ross: Not quite the same with those guys but fair enough. 2022 was a little weaker at the top though. 2023 is looking quite deep. Could be easier to fall if there's lots of good players that don't have the same issues
RC: What is your order for them right now, as an NFL GM...
Ross: Ringo-Smith-Ricks personally
RC: I might be Smith-Ricks/Ringo
Ross: I could see it
RC: But in another year we'll see how these guys fill out their frame or don't go to jail