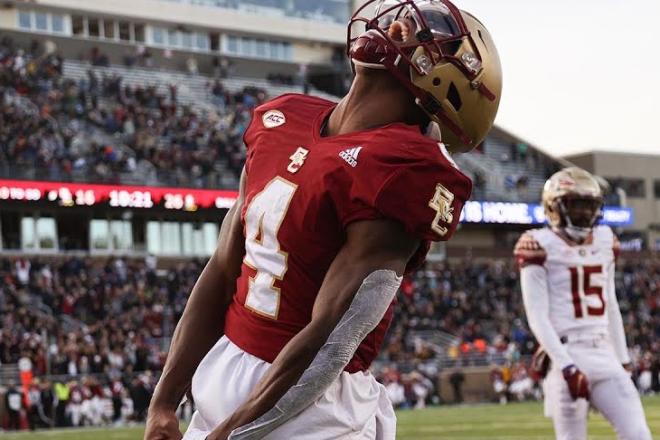 R.C. Fischer
Devy
22 July 2022
2022 Devy Preview Scouting Series (for 2023+): WR Zay Flowers, Boston College
*Devy (for 2023 prospects) Preview scouting = scouting 1-2+ key game tapes, looking at output trends/basic analytics, and some minor background research. Not a full blown, deep dive scouting report. We'll continue to scout these players ahead of the college all-star games, the Combine and post-Combine for a full reporting ahead of their NFL Draft.
I (RC) conducted my scouting as Ross Jacobs did his, we then exchanged our reports without knowing what the other was thinking/seeing. Then we briefly discussed our scouting of this player in an informal text chat (posted below the two scouting takes). *Please forgive typos on the chat transcript.
WR Zay Flowers, Boston College (Scouting Grade: C+) = by R.C. Fischer
5'10"/180, 2021: 44 rec., 746 yards, 5 TDs, 7-69-0 rushing. (12 games). Projected: 4.4+ 40-time, 7+ 3-cone
Could be a 'B' grade WR, but hard to tell when he's working with garbage QBs. He is an aggressive, speedy, good hands WR. Not the fastest but fast…not agile, but OK – it's his aggressive play, his confidence, his hands/instincts that make him a good prospect…and he might be a great prospect, but we'll see if we can get him with better QB work in 2022 to see more expansion of his game.
COMP? = Emmanuel Sanders
------------------------
WR Zay Flowers, Boston College (Scouting Preview Grade: C-) --Ross Jacobs
5'10"/175, 2021: 44-746-5 (12g), Projected: 4.40 40-time, 6.9 3-cone 3-cone
Another generically good receiver. Average size, good speed, ok routes but doesn't break ankles, solid hands and tough over the middle despite his size. He can play in the NFL, but he looks like just another guy to me.
NFL Comp? = Emmanuel Sanders
RC: Holy crap, let's play the lottery today...we have the same comp for the first time ever, I think
Ross: I was thinking the same thing
Ross: Case closed he's Manny Sanders
RC: I do remember his QB was one of the worst I saw all year
RC: BC 2021...12 games, two QBs split time and combined for 13 TDs/11 INTs
Ross: The starter Phil Jurkovec is actually getting a little draft heat
RC: Hard to fully know on Flowers in that piece of garbage offense
RC: You have got to be kidding me
RC: Weird Al Jurkovec has draft heat...well, the NFL knows what they're doing...
Ross: No. The year before he had about 2500 yards 17/5 in 10 games
RC: How the hell did he have that ratio. College football stats are now all in question
Ross: Maybe he was dealing with injuries in 2021 since he only played half the year? Not really sure
RC: he sucked the half he played
Ross: Oh, speaking of draft issues...guess who is back up to a late 2nd rounder in consensus big boards? Your boy Rattler
RC: Of course. They won't give that up
RC: At least SC has something a step above garbage at QB for the first time in a while
Ross: Back to Manny Sanders
Ross: Decent but might be a little better with QB play?
RC: Yeah, he's destined to be overlooked and have to Combine his way to attention or risk being forgotten...like that Boise State WR
Ross: He's a 4th rounder right now
RC: if they don't have a big Combine, they get lost in the shuffle for being at mid-major schools with 'meh' tallies
Ross: Just outside the top 100
Ross: I'm not overly excited about him for fantasy but he's a nice player in real life
‍