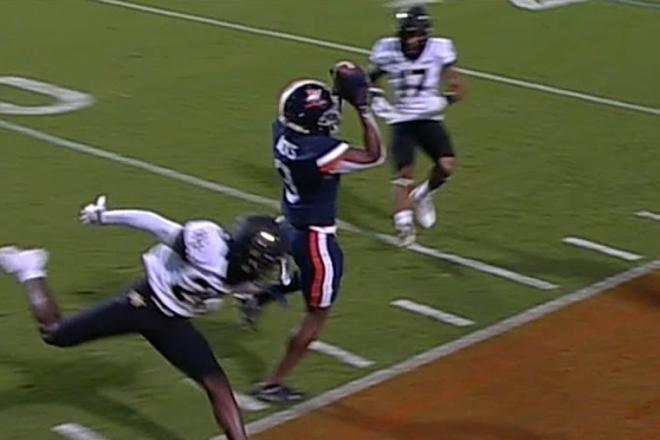 R.C. Fischer
Devy
19 July 2022
2022 Devy Preview Scouting Series (for 2023+): WR Dontayvion Wicks, Virginia
*Devy (for 2023 prospects) Preview scouting = scouting 1-2+ key game tapes, looking at output trends/basic analytics, and some minor background research. Not a full blown, deep dive scouting report. We'll continue to scout these players ahead of the college all-star games, the Combine and post-Combine for a full reporting ahead of their NFL Draft.
I (RC) conducted my scouting as Ross Jacobs did his, we then exchanged our reports without knowing what the other was thinking/seeing. Then we briefly discussed our scouting of this player in an informal text chat (posted below the two scouting takes). *Please forgive typos on the chat transcript.
WR Dontayvion Wicks, Virginia (Scouting Grade: B) = by R.C. Fischer
6'1"/210, 2021: 57 rec., 1203 yards, 9 TDs, 0-0-0 rushing. (12 games). Projected: 4.4+ 40-time, 6.9+ 3-cone
A really good WR...good speed, agility, routes, hands, and aggression/confidence. Works/acts like a star/playmaker. He might be a really good college WR but 'C' for the NFL…or a technically gifted 'A' type go-to might be looming. I need to see more but I like what I see from him.
COMP? = Terry McLaurin, a bit slower version.
-----------------------------
WR Dontayvion Wicks, Virginia (Scouting Preview Grade: B+) --Ross Jacobs
6'1"/207, 2021: 57-1203-9 (12g), Projected: 4.40 40-time, 6.8 3-cone
I nearly left Wicks off our list because we only have so much room and Wicks isn't getting a whole lot of media attention, but I'm glad I decided to add him at the last second. This guy is fun to watch.
Good size at 6'1" and around 205-210 lbs. He could even add a few pounds of muscle to his frame, I think. Trying to describe his movements is hard. He takes a second to build up to full speed but he's also very twitchy. It's bizarre to see. His burst off the line is so fast but he does it with perfect footwork, so he'll get the defender turned around in the first two steps and then just turn on the jets and blow by him. The rhythm is just odd. Explode, slow, explode and then he's gone.
Right now, he's being used almost exclusively as a deep ball guy (which he's excellent at) but I think there's a lot of untapped potential for him to work short/medium routes as well. He changes directions so quickly, but the team isn't letting him do that a whole lot right now. Maybe he's still working on his route tree. What I see is good enough already and he's got all the athletic ability to take full advantage. There's potential for a legit star WR here.
NFL Comp? = George Pickens
RC: A chance to be the sleeper best WR prospect.
RC: He's in the right size/weight range
Ross: He's WAY off the radar right now. Like 6th-7th round for the mainstream
RC: That's a bargain for sure.
Ross: I am so glad I added him back
RC: You know how I love UVA this year...and that QB, so I bet he rises up draft boards after a 15+ TD year in 2022.
Ross: I'm just never impressed with the QB. He reminds me of Kellen Moore in body and arm, but he plays like Bryce Petty, screens and bombs
RC: I think he can work the whole field from what I saw. Not an elite prospect for the NFL...but dud can play and is going to have a hot year in 2022...after a hot year 2021.
Ross: Loses Jelani but they have more talent and Wicks is fantastic
RC: I mean...six of 11 games with 400+ yards passing at Virginia is rad...and he's coming back for his final year.
RC: Two games with 90+ yards rushing for Armstrong too last season...9 rushing TDs, four games with 2 rushing TDs in a game
Ross: Colt Brennan went 400+ 9 out of 14 games...
RC: ...and zero consideration for a Heisman
RC: Armstrong may go there in 2022
Ross: I'd take Zappe way ahead of Armstrong from what I've seen
RC: Which helps Wicks
RC: I'm not worried about his NFL future...I'm saying he tears up the CFB nicely
Ross: Armstrong had a good year but nothing even close to Zappe and you see what that got him
Ross: Yes, he'll rack numbers for sure. How many games did they win?
Ross: 6-6 apparently
Ross: 21st highest scoring offense
RC: Almost took down Pickett and cost Pitt their run to the ACC title game late in season.
Ross: You know what they say about "almost"...
RC: They got a good CFB QB and Wicks and an interesting TE replacing Jelani
RC: I'm just saying they're gonna win some games and gonna be a top 20 offense
Ross: Beat the bad teams. Lost to every ranked opponent. Maybe they'll be better this year though
Ross: There's definitely hope here
Ross: Defense isn't doing them any favors
RC: Toughest game they have on schedule is...I don't know...it's all ACC garbage...and no Clemson.
RC: UNC, Miami I guess
Ross: No Clemson last year either
RC: they could start out 3-4-5 and 0 on schedule and offensive firepower
Ross: Armstrong vs Van Dyke could be a fun game
RC: 7.5 wins +120 on a 12-game schedule
Ross: I don't watch enough college to have any idea
Ross: Worth a speculative gamble
RC: At a minimum, Wicks should have an attention-getting season
Ross: I hope so. I really like him
‍