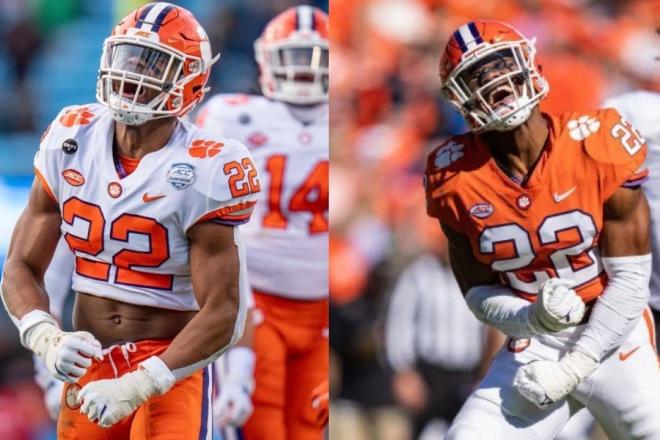 R.C. Fischer
Devy
16 July 2022
2022 Devy Preview Scouting Series (for 2023+): LB Trenton Simpson, Clemson
*Devy (for 2023 prospects) Preview scouting = scouting 1-2+ key game tapes, looking at output trends/basic analytics, and some minor background research. Not a full blown, deep dive scouting report. We'll continue to scout these players ahead of the college all-star games, the Combine and post-Combine for a full reporting ahead of their NFL Draft.
I (RC) conducted my scouting as Ross Jacobs did his, we then exchanged our reports without knowing what the other was thinking/seeing. Then we briefly discussed our scouting of this player in an informal text chat (posted below the two scouting takes). *Please forgive typos on the chat transcript.
LB Trenton Simpson, Clemson (Scouting Grade: B) = by R.C. Fischer
6'3"/225, 2021: 65 tackles, 12.5 TFLs, 6.5 sacks, 2 PDs, 0 FF (13 games). Projected: 4.4+ 40-time, 6.9+ 3-cone
Very impressive, versatile defender. I scouted him in his 2021 game against Georgia and in the first half of play I saw him at pure OLB, free safety, slot corner, and edge rusher. He is very cheetah-like quick, he goes from a standstill to missile acceleration in a blink, which allows him to change directions and get to tackles you don't think he's in position to make. I'm looking forward to seeing more here.
I don't know what position to classify him as for the NFL. Probably OLB/SAF hybrid, but he's going to be rated highly for the draft because of all the positions he plays in a game for Clemson.
COMP? = Smaller Isaiah Simmons?
----------------------------------------  
LB Trenton Simpson, Clemson (Scouting Preview Grade: B) --Ross Jacobs
6'2"/225, 2021: 65 tackles, 12.5 TFL, 6.5 sacks, 0 INT, 2 pd, 0 FF (13g), Projected: 4.45 40-time, 7.0 3-cone
This one is a bit weird because Simpson plays like a big nickel safety more than a true linebacker. He's usually in coverage over the slot and does a pretty good job with it. The only time he really plays close to the line is when the offense brings players in tight. In those situations, Simpson will either try to jam his man and play outside contain or rush the backfield (which again he's pretty good at).
The way to think about him is probably to compare him to the Derwin James role, a big in-the-box/nickel safety that can do a lot of different things. He's very versatile but doesn't really have any one skill that stands out. In the past I would have knocked him for his lack of a true position, but I do think the league is moving in the direction of these hyper-athletic, positionless players on defense because they can help counteract all the things that offenses are trying to do.
I'm cheating a little by giving Simpson a B and not taking a stand either way, but I do think that ultimately his grade is going to come down to the measurables. If he's really the high-end athlete that he seems like, then he might be an A for a creative defensive coordinator, and if he's less athletic (or ends up with some boring old school coach) then he might be a C.
Ross: So, we see Simpson identically
RC: It's possible Simpson is the best defensive prospect we'll look at outside of Will Anderson...maybe. Because of his versatility on top of talent.
Ross: He might be. I need to see more, and I want to see the measurables, but he looks very athletic. I think he fits perfectly for modern defenses. 10 years ago, nobody would have known what to do with him
RC: Of all the attributes he has, the thing that really stuck out to me is how stellar his movement skills are -- he can stop-start-accelerate with the best of them...or go side-to-side or backwards into coverage adeptly. Guys are lucky if they can do 1-2 of things at an NFL level...I think he does them all high-end.
RC: Then it comes down to size and position fit.
Ross: He does. I was getting bored at first watching him just drop into coverage in the slot...until I realized what I was seeing. Then he started blitzing a little and nobody could slow him down. He can really move at 225 lbs
RC: He would have been a great offensive player but is prob on defense because he can't handle the ball.
RC: He's like a reverse Minkah Fitzpatrick...can play a lot of positions but is more comfortable going forward, not backwards.
Ross: That's true but I think he's probably better in coverage than my comp, Derwin James
Ross: Little bit bigger than Derwin too
RC: He's going to be interesting to follow. I'd guess he catches a good draft vibe as 'jack of all trades' and 'Clemson'. If he played for Ga Tech or Rutgers, he'd be a day three pick at best.
Ross: You weren't the biggest fan of Simmons. You think Simpson is better? I do
RC: I think so, more versatile. Simmons has been better in the pros than I thought he'd be.
Ross: Simpson is going to run like a 4.37 and everyone will lose their minds
RC: Simmons thickened up and plays linebacker. That won't happen with Simpson.
RC: Where would you put Simpson if you had to pick one spot to keep him at?
RC: Defensive position
Ross: Strong safety I think
RC: That's probably his best spot, but man he comes forward so well like an OLB...who can play the run or pass and rush the passer.
Ross: Put him on the line and blitz him. Derwin does it all the time
RC: That's why we like him...he might could Pro Bowl at either position.
‍