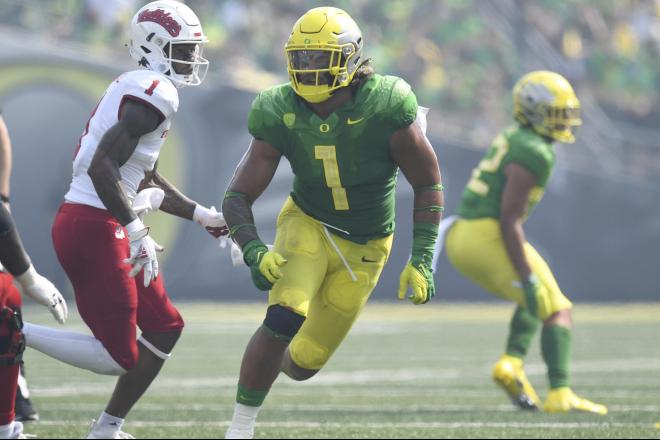 R.C. Fischer
Devy
15 July 2022
2022 Devy Preview Scouting Series (for 2023+): ILB Noah Sewell, Oregon
*Devy (for 2023 prospects) Preview scouting = scouting 1-2+ key game tapes, looking at output trends/basic analytics, and some minor background research. Not a full blown, deep dive scouting report. We'll continue to scout these players ahead of the college all-star games, the Combine and post-Combine for a full reporting ahead of their NFL Draft.
I (RC) conducted my scouting as Ross Jacobs did his, we then exchanged our reports without knowing what the other was thinking/seeing. Then we briefly discussed our scouting of this player in an informal text chat (posted below the two scouting takes). *Please forgive typos on the chat transcript.
ILB Noah Sewell, Oregon (Scouting Grade: D+) = by R.C. Fischer
6'3"/245, 2021: 114 tackles, 8.5 TFLs, 4.5 sacks, 5 PDs, 2 FF (14 games). Projected: 4.75+ 40-time, 7.4+ 3-cone
High effort, high energy middle linebacker…but so-so athletic and execution for the position. Not thick/strong, he's more lean…and that doesn't excite me for an ILB prospect. He's good for college. He runs all around looking to get in on plays but he's not a real playmaker/creator of disruption himself…not from my quick preview.
COMP? = Shaq Quarterman
-------------------------------------------
LB Noah Sewell, Oregon (Scouting Preview Grade: B+) --Ross Jacobs
6'2"/250, 2021: 114 tackles, 8.5 TFL, 4 sacks, 1 INT, 5 pd, 2 FF (14g), Projected: 4.55 40-time, 7.1 3-cone
Big, rangy middle linebacker that can chase sideline to sideline or pick through trash to get to the ball carrier. He's very good in coverage and can bait the QB into throwing a ball that looks open but isn't because of Sewell's speed. My only nitpick with him is I think he could stand to play a little more physically. He can blast people, but I'd like to see him use his size a little more when taking on blockers instead of always trying to avoid them (which he can do quite well because he's so athletic).
He's got the size of an inside linebacker, but I think his style is a little more suited to outside. He should be fine at either though. He's a quality backer. Not giving him an A just yet but he very well might be with another season.
NFL Comp? = Faster Logan Wilson
Ross: We are far apart on this one
RC: Yes, we are
Ross: This reminds me of our differences on Kyle Hamilton last year
RC: OLB might make more sense
RC: I don't like his body for ILB
Ross: I think he could do either. He's fast enough. Why don't you like his body? Looks thick to me
RC: He is definitely high energy and effort, but I think he's college fast not NFL fast
RC: He looks to mean more lean, meaning smaller/leaner legs...going to be trouble driving into NFL tackles. He's a chaser and dragger college tackler too much not a lay them out clean tackler, to me, in my preview.
RC: When he's moving and the ballcarriers moving, he's not great. He chases and hits college guys from behind well but not great taking the good ones on one-on-one/head-to-head.
Ross: I agree with that. I'd like to see him use his size a little more. He definitely plays more like an outside guy right now
Ross: He gets the job done though. Solid numbers across the board. Not off the charts though
RC: I was gonna note he looks more like an OLB, but I think his style and size/speed/agility will be 'meh' for an OLB to chase the pass game, rush passer, etc. Maybe a backup 4-3 OLB
RC: He gives all the effort, but when you see him and then some of the other defenders we're looking at -- he pales in comparison. But he's a good college LB for sure. I'm questioning how hot he is for the NFL and I'm not with him, yet.
Ross: I like him. You think he pales in comparison to other defenders? The only one we both agree is an 'A' so far is Anderson
RC: There are some LBs we're about to discuss...
Ross: Oh boy...
Ross: I see we're going to have some differences
RC: Buckle up
Ross: I definitely think he's the best of the bunch
RC: I very much disagree. So, let's get to the next guys.