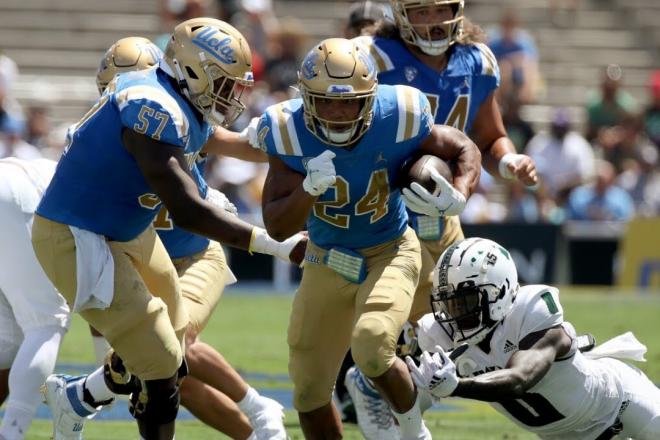 R.C. Fischer
Devy
13 July 2022
2022 Devy Preview Scouting Series (for 2023+): RB Zach Charbonnet, UCLA
*Devy (for 2023 prospects) Preview scouting = scouting 1-2+ key game tapes, looking at output trends/basic analytics, and some minor background research. Not a full blown, deep dive scouting report. We'll continue to scout these players ahead of the college all-star games, the Combine and post-Combine for a full reporting ahead of their NFL Draft.
I (RC) conducted my scouting as Ross Jacobs did his, we then exchanged our reports without knowing what the other was thinking/seeing. Then we briefly discussed our scouting of this player in an informal text chat (posted below the two scouting takes). *Please forgive typos on the chat transcript.
RB Zach Charbonnet, UCLA (Scouting Grade: C-/D+) = by R.C. Fischer
6'0"/218, 2021: 203 carries, 1,137 rush yds, 13 rush TDs, 24-197-0 rec. (12 games). Projected: 4.55+ 40-time, 7.0+ 3-cone
At my first viewing of his work, I wasn't thrilled with his burst/punch/acceleration…he really slows down when encountering trouble and is slow in ramping up speed to get by/through it – which leads to a guy who is going to get stopped up behind the line of scrimmage too much. With a head of steam/wide open hole he was fine, like 50-100+ other RBs but as a 'creator' or getting through/by traffic, I didn't love my first glimpses.
Charbonnet strikes me as another generic day three of the draft RB.
COMP? = Less aggressive Keaontay Ingram
-----------------------------------------------
RB Zach Charbonnet, UCLA (Scouting Preview Grade: D+) --Ross Jacobs
6'0"/220, 2021: 203 carries, 1127 yards, 13 TDs, 24-197-2 receiving (12g), Projected: 4.6 40-time, 7.2 3-cone
Charbonnet isn't a terrible back, but I see no starter qualities either. He's big and powerful with enough speed, but he's not good going side-to-side. If he has to slow down and shift gears, he's dead in the NFL. His hands are pretty decent for a big guy but nothing special at this point. Overall, he looks like a fairly generic big back to me.
NFL Comp? = Bigger Ke'Shawn Vaughn
Ross: Well, we agree on this one
RC: Yeah, I gave him a small bump for size...but he's more 'D" than 'C' in my book
Ross: I was so hoping the one big guy we had on the list would be good. I was disappointed
RC: Got sick of watching so many 200-210 pd backs, I might have given him too much credit for 'bigger'
Ross: He moves ok for his size and has surprisingly decent hands. That's something
RC: He is definitely 'straight ahead'...anything else could be trouble.
Ross: I noticed that immediately. If he slows down, he's cooked
RC: Decent enough athlete with size and decent hands. He's not a zero.
RC: Remember when Chip Kelly was the greatest coach ever?
Ross: Yeah, he made Nick Foles great that one year, remember?
RC: Yep. Where would he be if he just stuck w Foles...
RC: Maybe 5th year at UCLA is the charm to get them to a bowl game for the first time in his stint there
Ross: Would you rather be living and coaching in Philly or southern Cal?
Ross: In college where you have no one to answer to
RC: With Millionaire money...Cali
Ross: UCLA is an upgrade
RC: I'm saying...he was such a revolutionary coach, and then...nothing...can't even make UCLA that exciting.
Ross: Philly won a Superbowl with Foles and Pederson and promptly kicked them out of town
Ross: Everyone started running his scheme. He had nothing original left
RC: All who turn on Foles pay the price
Ross: And all who embrace him win 12+ games...like Indy...
RC: Kelly, Pederson, Jeff Fisher, the entire JAX organization, the Bears...
Ross: Speaking of your uncle Jeff Fisher, do you know what he's been up to?
RC: Yep. I think he can win that Indy job and win the AFC South too
Ross: Wanna bet on it?
Ross: Coffee says Ryan starts...
RC: Jeff Fisher is wearing his hat backwards and losing football games in front of tens of people last I saw
Ross: Yep. USFL bottom feeder. Offense is putrid surprise surprise. Remember when teams were fighting to sign him to a huge contract? Good times
How do you do fellow kids? How do you do fellow kids?
RC: His best moment from the USFL... https://youtu.be/98k05_bM2e4
Ross: So, the ghosts of Chip Kelly, Nick Foles, and Jeff Fisher are all more interesting than Charbonnet...
RC: One of them lost a Super Bowl...one of them won one and the MVP
RC: And then got cut because of it
RC: At least Carson Wentz was the right decision for the future. It worked out in the end.
RC: For Philly
Ross: I'm noticing a pattern with all these guys going to Indy eventually
RC: Coaches only know players from their past coaching stints
RC: They can't scout their way into anything
Ross: Just ask Matt Rhule, Chip Kelly, and Urban Meyer
RC: Thus...Jimmy G. to Miami
Ross: Could be!
RC: And this wraps up Charbonnet