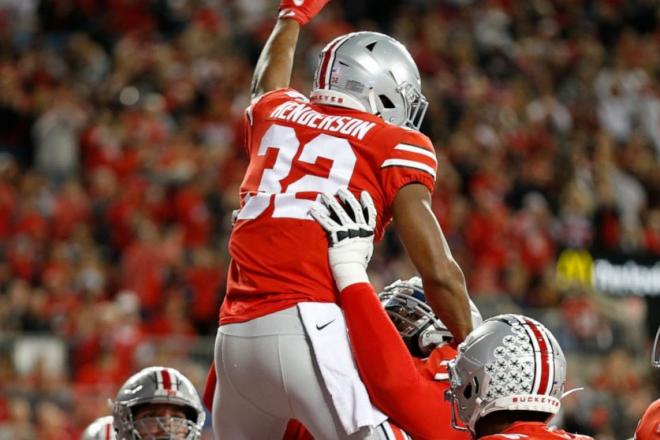 R.C. Fischer
Devy
10 July 2022
2022 Devy Preview Scouting Series (for 2023+): RB TreVeyon Henderson, Ohio St
*Devy (for 2023 prospects) Preview scouting = scouting 1-2+ key game tapes, looking at output trends/basic analytics, and some minor background research. Not a full blown, deep dive scouting report. We'll continue to scout these players ahead of the college all-star games, the Combine and post-Combine for a full reporting ahead of their NFL Draft.
I (RC) conducted my scouting as Ross Jacobs did his, we then exchanged our reports without knowing what the other was thinking/seeing. Then we briefly discussed our scouting of this player in an informal text chat (posted below the two scouting takes). *Please forgive typos on the chat transcript.
RB TreVeyon Henderson, Ohio St (Scouting Grade: B+) = by R.C. Fischer
6'0"/210, 2021: 183 carries, 1,248 rush yds, 15 rush TDs, 27-312-4 rec. (14 games). Projected: 4.3+ 40-time, 6.9+ 3-cone
A better version of Kenneth Walker…mid-size RB with higher-end speed. Henderson looks great…has the breakaway speed and good toughness/physicality and good hands. He was a top high school prospect at RB…he'll probably wind up the top ranked/drafted RB prospect of his draft class. His size is the only minor concern.
COMP? = Kenneth Walker, only better.
------------------------
RB TreVeyon Henderson, Ohio State (Scouting Preview Grade: B) --Ross Jacobs
5'10"/205, 2021: 183 rushes, 1248 yards, 15 TDs, 27-312-4 receiving (13g), Projected: 4.4 40-time, 7.0 3-cone
Henderson still has another two years of college ball before he can enter the draft, but he's already pretty good. He's a north/south runner but he's very efficient with his movements and jukes so he doesn't have to do much to make guys miss. If he has to go side-to-side though he's not at his best. He's well-built despite being a smaller back (which might keep him from being an A for me) but he's strong enough to carry a load. He's decent in the passing game but will need to become an ace receiver for me to consider him the top back in his draft class. Giving him a B for now but A is definitely on the table with another year under his belt.
NFL Comp? = JK Dobbins
RC: There is obvious agreement here. I like your comp, but I think he might have better hands...why I went Walker.
Ross: I don't think of Walker as a "good hands" RB but fair enough. There's not much to complain about with Henderson. He's good
RC: I mean 'acceptable hands'...Dobbins is struggling as a pass catcher in the NFL a bit, to me
Ross: Was thinking Dobbins was a bit better but now that you mention it...
RC: So, you're the GM of the Jets and you have the #36 overall pick in 2021 draft...and you're gonna take an RB, only it's Chris Rodriquez or TreVeyon Henderson as your choice -- who do you choose?
RC: 2022 NFL Draft
Ross: Henderson. Rodriguez has two issues, hands and off-field. Only qualm with Henderson is his size but I'd be doing a RBBC anyways
RC: Did you wanna say Rodriquez but then you wanted to take off the off-field risk factor?
RC: My heart wants Rodriquez because he's an excellent between the tackles runner...high-end, regardless of anything else. My head says 'play it safe' with THend
Ross: It's closer without the off-field stuff which may not ultimately even be an issue. If Henderson cost a 2nd round pick and I could get Rodriguez in the 4th…I'd take CRod
RC: I'm trying to get to the true motivation. I have a feeling we WANT Rodriquez because he looks like the perfect NFL runner between the tackles...he's captivating.
Ross: That's true
RC: We talk ourselves out of it being too savvy...when we really want Rodriquez.
RC: I think.
RC: And I'm saying that to try to give a feel of it to the readers, and our own selves
Ross: Cost matters. I'd never spend a 2nd round pick on an RB unless my team was loaded and the guy was a legit stud. Chris is good but those hands limit him a little
RC: I think it's a debate between them...and we really want the one, but have some 'fears'
RC: I'm just trying to flesh out...Rodriquez or Henderson (today) when it really comes down to it. 2nd round, 3rd round, 8th round. Who do you really want...or you don't care that much?
Ross: I don't care that much. They are both good in different ways
RC: My guts are screaming for Rodriquez in what I've seen to please my eyes...even if they lied to me.
RC: I saw Jonathan Taylor flashes
RC: NFL GM...Henderson or Breece Hall?
Ross: Breece
Ross: Rodriguez is more pleasing to watch when you know how savvy he is but they're RBs at the end of the day. It doesn't matter that much
RC: Wait...why don't we say something about Henderson
RC: This is all about Rodriquez, which is a red flag...on how our minds are thinking. We really didn't defend Henderson beyond 'value' and 'risk aversion' and 'Rodrgz looks better, sure'
RC: Why do we care about Henderson?
Ross: He doesn't really have a weakness other than his size. His ceiling is still in question, but would you be shocked if he came close to McCaffrey? Don't think I would
RC: Not the receiver CMC is, but no one hardly is...but Henderson is going to push to 210 pounds, I think, and run in the 4.2-3s and catch the Kenneth Walker draft vibe+, only better accepted, a rise to top of the class/first taken RB.
Ross: Then he's just a well-rounded back. I don't see the case against him
RC: He's the safe, smart pick
RC: But you know Rodriquez's interior running captured your heart some kinda way
Ross: It did. I absolutely love watching him run. But emotions will get you killed trying to run a team
RC: Whereas Henderson makes more sense on paper
‍