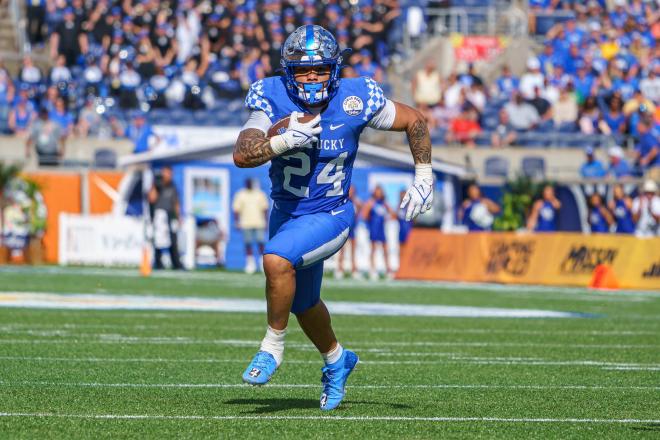 R.C. Fischer
Devy
09 July 2022
2022 Devy Preview Scouting Series (for 2023+): RB Chris Rodriquez, Kentucky
*Devy (for 2023 prospects) Preview scouting = scouting 1-2+ key game tapes, looking at output trends/basic analytics, and some minor background research. Not a full blown, deep dive scouting report. We'll continue to scout these players ahead of the college all-star games, the Combine and post-Combine for a full reporting ahead of their NFL Draft.
I (RC) conducted my scouting as Ross Jacobs did his, we then exchanged our reports without knowing what the other was thinking/seeing. Then we briefly discussed our scouting of this player in an informal text chat (posted below the two scouting takes). *Please forgive typos on the chat transcript.
RB Chris Rodriquez, Kentucky (Scouting Grade: B) = by R.C. Fischer
5'11"/220, 2021: 225 carries, 1,378 rush yds, 10 rush TDs, 13-61-3 rec. (13 games). Projected: 4.4+ 40-time, 6.8+ 3-cone
A near-perfect NFL RB prospect…as a runner – he has size, straight line speed/burst, excellent jump cut/one step cut avoidance of tacklers and changing directions where holes open up, plus he's balanced/tough as a runner…often not fazed by an initial hit to his upper body.
He has some off-field issues this offseason…DUI, failure to appear in court for it (supposed schedule snafu), and multiple traffic charges. Possible 'A' talent and 'D' brain/maturity. But the football part is wonderful.
Very suspect hands in the passing game is a concern for his NFL utility and upside for output.
COMP? = Nick Chubb, as a runner.
--------------------------
RB Chris Rodriguez, Kentucky (Scouting Preview Grade: B-/C+) --Ross Jacobs
5'11"/220, 2021: 225 carries, 1378 yards, 10 TDs, 13-61-3 receiving (13g), Projected: 4.5 40-time, 6.9 3-cone
I love watching Rodriguez play. He's such a natural runner, patiently waiting and reading his blocks then explodes through the hole and smacks the first person to get to him. You hardly ever see him dropped for less than 4-5 yards. My only negative on him is his lack of involvement in the passing game. He seems to have pretty decent hands, but they just do not throw him the ball. If I knew he would catch more I'd have him as a solid B.
The biggest question on Rodriguez at the moment is his legal status after getting arrested for driving under the influence a few months ago. There was talk that he might be suspended the entire year, but it's beginning to sound like it'll be a shorter suspension and he'll still be able to play part of the year.
NFL Comp ? = Damien Harris
RC: I thought you loved Rodriquez?
Ross: I do in a manner. I think he's a fantastic pure runner of the football...like your comp Nick Chubb. I think Rodriguez could be Chubb, but I have two questions about him: 1) How athletic is he really? and 2) Can he catch at all?
RC: You know, come to think of it, I didn't see him much in the passing game...wasn't thinking about it as I watched. Do you see an issue?
Ross: No, it seems like he CAN catch, pretty well actually but when they just don't throw it to him at all it worries me
RC: Gimme a 3 min. pause to watch this Georgia cutup where he only had 7 carries...for 7 yards, but 4 catches...most of his career.
RC: OK, there's a problem there.
RC: Not a good 'catcher' of the ball. Traps to body. Bobbles. Not smooth at all.
RC: Based on five targets v Georgia
Ross: Wasn't sure. He does it so rarely it's hard to get a feel
Ross: I love him as a runner but it's very hard to be an ace for fantasy without catching the ball these days
RC: I'd have to move him to more 'B'...but between the tackles he's an 'A'. He's really smooth up the middle running the ball. he has great instincts + size + speed
Ross: I think he might be the best pure runner of this class. I have one other that could challenge him, but Rodriguez is fantastic
RC: He's wonderful straight ahead. And maybe he can put a lot of work into his hands (while suspended).
RC: He's almost Jonathan Taylor-like between the tackles.
Ross: And when you see he can't catch AND has off-field issues AND he might not be as athletic as we think...it might drop him
Ross: It makes me wonder if he's possibly just a little bit better Allgeier...who I like but he's a little limited in what he can do
RC: But with the NFL moving to RBBC's, you make room for Rodriguez.
RC; Allgeier is a really good receiver.
Ross: As just a pure NFL player for my team -- yes, I'd love to have him as part of a rotation. Fantasy not so much
RC: ATL is talking about making him a 3rd-down back to start, possibly.
RC: Which is bizarre with CPatt in the backfield.
Ross: Allgeier can catch but hasn't done it much either. Often those guys never get the chance to in the NFL because coordinators aren't the most creative bunch
Ross: CPatt is going to be far more limited than you think. He's just going to be a role player for them, and I know your head is going to explode
RC: I watched a lot of Allgeier targets specifically to ferret it out...and I was surprised how good/smooth he was for a big guy.
Ross: Yeah, well make sure that Arthur Smith knows that
RC: ATL coaches raving about it helped cement it.
Ross: I'll need to see that article before I believe it. And then I'll need to see it in the preseason
RC: Rodriquez is the kind of runner you forgive some receiving glitches on.
Ross: It seems like he never gets stopped short. Love that consistency
Ross: Give me the guy that gets 4 yards every single carry over the boom/bust guy every time
RC: Yeah, he's what you'd hope Najee Harris would be like
RC: Now, I'm sad about Rodriquez because his hands could bury him into RoJo-land
RC: Which had its moments...
Ross: Maybe the Patriots will draft him to develop behind Harris and Stevenson and Strong and White and Harris and Taylor
RC: and Ty Montgomery
Ross: Oh lord is he there too? I missed that one
Ross: Bill's new offense...5 RBs on the field at once
RC: Oh, yeah...I thought he might be a Deebo shot because they actually chased and paid him, if I remember right...then drafted two more RBs a month later.
RC: get this for Ty...2 years/$3.6M...but just $300K guaranteed.
Ross: That's classic Belichick
Ross: All incentives
RC: If the Pats go (8-9) do you start to question Belichick's genius...looking at his moves post-Brady?
Ross: No
RC: If Mac there all year, and they just fade off and finish last in AFC East...would you start to question just how smart he was/is?
RC: Those deals last year in free agency sucked
Ross: If they finish last...maybe yes. But I think you are drastically underrating Mac
Ross: They had to make those moves though. They needed a quick infusion of depth, and they had the money to spend
RC: I've seen a good bit of Mac the past few weeks...I'm not sure he'll be top half of the league QB...ever.
Ross: But Bill really needs someone to draft for him. That is his biggest weakness by far. It's why their depth ran out
RC: If you were GM of Seattle today, and you were given a choice of a QB for free for the next 5 years (like the Browns were gonna pay for it somehow)...Baker or Mac?
Ross: Might take Mac only because I know it's possible to get into Baker's head or piss him off easily
RC: I think I want that edge + the talent
Ross: If Mac can just get his arm a little stronger, he's the new Kirk Cousins. That's pretty good
Ross: Baker has a little more raw ability and grit but man he can be so up and down
RC: Could be Mac turns into the Brady-Cousins-Burrow underwhelming 'look' but just balls out
RC: Who were we talking about here?
RC: Oh, and Will Levis has a laser beam arm
Ross: Chris Rodriguez. Good runner. Suspect hands. Suspect off-field. There's plenty of talent but question marks too
RC: Watching some of that Ky v Ga real quick in the middle.
Ross: Great, now can he hit the broad side of a barn on anything but a screen?
RC: Every throw I saw was on the money. I didn't see the Levis you did yet.
Ross: I'm inclined to believe you over me when it comes to QBs but I'm going to remember this one and bring it up in 2023 if I was ultimately right
RC: Now…you got Levis and Rodriquez as a package deal for the USFL
RC: While I got Ky in the SEC title game...
Ross: I don't buy the hype
‍