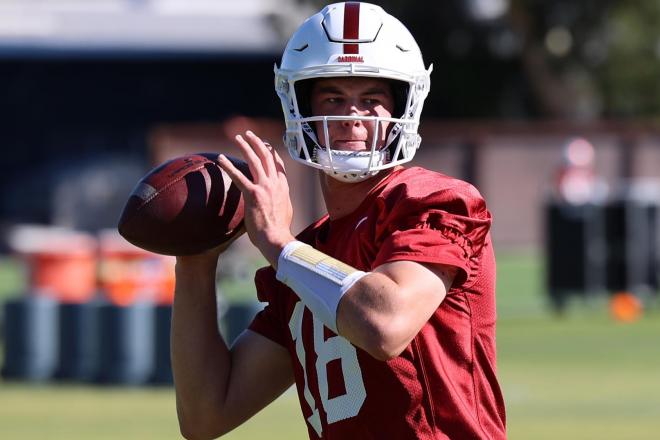 R.C. Fischer
Devy
08 July 2022
2022 Devy Preview Scouting Series (for 2023+): QB Tanner McKee, Stanford
*Devy (for 2023 prospects) Preview scouting = scouting 1-2+ key game tapes, looking at output trends/basic analytics, and some minor background research. Not a full blown, deep dive scouting report. We'll continue to scout these players ahead of the college all-star games, the Combine and post-Combine for a full reporting ahead of their NFL Draft.
I (RC) conducted my scouting as Ross Jacobs did his, we then exchanged our reports without knowing what the other was thinking/seeing. Then we briefly discussed our scouting of this player in an informal text chat (posted below the two scouting takes). *Please forgive typos on the chat transcript.
QB Tanner McKee, Stanford (Scouting Preview Grade: D) -- by RC Fischer
6'5"/220, 2021: 65.4% Comp Pct., 2,327 yards, 15 TDs/7 INTs (10g), Projected: 5.0+ 40-time, 7.2+ three-cone
Scrawny/gangly QB prospect with no mobility…but he has some height, a frame you can build on and shows some instincts as a pocket passer. He has a so-so arm with too much hitch…and that will hurt him for NFL Draft analysis. I think McKee is more 'game manager' in college and late round/UDFA in the draft for the NFL…with a sliver of hope he takes a bigger step forward in his progression in 2022. Not totally dead as a prospect, but most likely is nothing for the NFL.
COMP? = Mike Glennon, at best.
-------------------------------------
QB Tanner McKee, Stanford (Scouting Preview Grade: C-/D+) --Ross Jacobs
6'5"/225, 2021: 65.4% Comp Pct., 2327 yards, 15 TDs/7 INTs (10g), Projected 5.0 40-time, 7.1 3-cone
Tall, gangly pocket passer at his best running a quick up-tempo passing game. Distributes the ball well when given time but tends to fold or make bad decisions under pressure (as most QBs do). Has the size and arm strength that teams crave, but I'm not convinced he's ready to shoulder an NFL franchise just yet. Could grow into his traits.
NFL Comp? = Tony Pike
RC: Not sure my favorite part of seeing your notes...(1) The Tony Pike memory you made me recall, or (2) we both used gangly in the first three words of our report.
Ross: I was thinking the exact same thoughts!
RC: I have to be cautious because I wrote off Davis Mills so fast, but I don't see much with McKee except 'size'...size that can be enhanced/improved...maybe.
Ross: I guess he's got a prayer. He's a different style than Mills though
RC: Mike Glennon style...
Ross: He's got a unique thing going on that's for sure. Feel like someone is going to break him in half though
RC: I feel like his NFL story could be...'trying to convert to TE' (2-3 years in).
Ross: I don't see how because he'd need to put on 30 lbs and he's not fast at his current weight
RC: I didn't say it would work...just everyone is now converting to TE when their QB or WR attempts fail. It's like a government regulation now.
Ross: Well, if it's government mandated then it's for sure not going to work
RC: Debating his TE future...is not a good sign for his QB scouting...
Ross: No probably not
Ross: But we got a Tony Pike reference so it's still fun
‍
‍