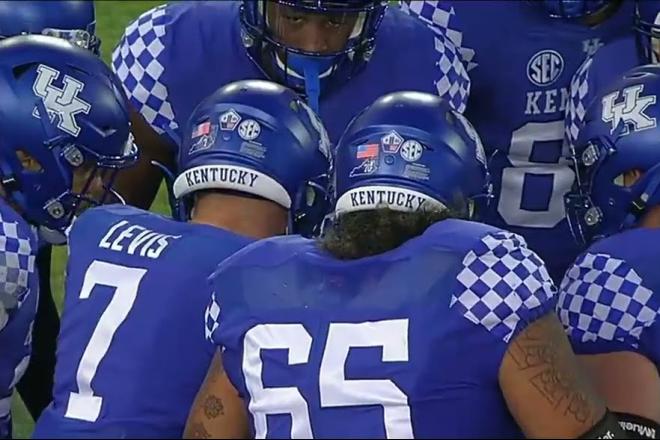 R.C. Fischer
Devy
06 July 2022
‍
2022 Devy Preview Scouting Series (for 2023+): QB Will Levis, Kentucky      
*Devy (for 2023 prospects) Preview scouting = scouting 1-2+ key game tapes, looking at output trends/basic analytics, and some minor background research. Not a full blown, deep dive scouting report. We'll continue to scout these players ahead of the college all-star games, the Combine and post-Combine for a full reporting ahead of their NFL Draft.
I (RC) conducted my scouting as Ross Jacobs did his, we then exchanged our reports without knowing what the other was thinking/seeing. Then we briefly discussed our scouting of this player in an informal text chat (posted below the two scouting takes). *Please forgive typos on the chat transcript.
QB Will Levis, Kentucky (Scouting Preview Grade: B/C) -- by RC Fischer
6'3"/222, 2021: 66.0% Comp Pct., 2,868 yards, 24 TDs/13 INTs (10g), Projected: 4.7+ 40-time, 7.0+ three-cone
With another year or two of growth, Levis might be an 'A'…the only real 'A' pocket passer/pro style guy (along with Cameron Ward) that I've seen from this Devy 2023 group. Excellent release/mechanics and an effortless zip on his passes. His arm and mechanics are the real deal. Has pretty good passer vision, but not 'A' level yet. Bryce Young and C.J. Stroud should not be mentioned in the same breath as Levis, as NFL prospects.          
COMP? = Future/developmental Aaron Rodgers or Derek Carr like release/upside. He's not there yet, not at all, but could be in a year.
—------------------------
‍
QB Will Levis, Kentucky (Scouting Preview Grade: D) --Ross Jacobs
6'3"/225, 2021: 68% Comp Pct., 2826 yards, 24 TDs/13 INTs, 107-376-9 rushing (13g), Projected: 4.9 40-time, 7.0 3-cone
Coming into this study, knowing how these things usually go, I had the vague impression that Levis was going to be my guy for 2023, the underrated one that would be far better than the top big school guys...I was sorely mistaken. Levis is not my guy, nor will he likely ever be.
I don't even know where to start. How anyone can think this guy is first round material I do not know. I would absolutely rather have Bryce Young, overrated as he is. Levis has good size and a big arm and that is literally it. No touch, can't read defenses, constant misfires and bad decisions, and the only passes he can complete are screens and 5 yard dump offs. 1/3 of his TD passes came against New Mexico State and Louisiana-Monroe. There's trouble brewing for whoever drafts this guy highly.
Ross: We are on radically different pages with this one...
RC: OK, we're way different on this one...which is highly unusual.
Ross: Maybe I caught him on a bad game...
Ross: I watched Florida and he was spraying stuff all over the place. Did not look like he belonged on the same field as those guys
RC: I think I watched LSU, Ga, Iowa
RC: I think he has, arguably, the best arm/release of this group. And I saw him work downfield nicely, a lot...especially making hay with Wan'Dale Robinson all over.
Ross: He does have a nice arm I'll give him that
Ross: I think Wan'Dale carried him...
RC: Good size. Decent enough movement skills. With the Aaron Rodgers-like whip in his throws...that flick...an accurate flick
RC: I would disagree. Wan'Dale hit some downfield shots because Levis put it on the money...but also Wan'Dale took some short action and did some work too for sure
Ross: Half his yards in the Florida game was hitting Wan'Dale on a bubble screen and Wan'Dale broke like 5 tackles running downfield
RC: Levis is for sure not there yet, but I saw him growing as he went last year and the arm, mechanics, hanging in the pocket, reading things...I liked it. Another year could catapult him
Ross: Here's the teams he cracked 200 yards against: Louisiana Monroe, Chattanooga, Tennessee, New Mexico St, and Iowa
RC: When I watched Young and Stroud, I got sick of all the short crap game after game. Didn't get that vibe with Levis. Not that he didn't use it, but that he had other things to offer
Those 5 games were also 14 of his 23 TD's
Ross: He better take a BIG step then
Ross: Or maybe I'm off. You're the QB whisperer
RC: He has a rocket for an arm, and he put balls in the right spot for guys and he's pretty mobile, like a Josh Allen type weapon mobile.
Ross: I agree he has traits. He LOOKS the part. I didn't see the game yet though. This time last year you loved Ridder too so maybe with deeper study you wouldn't like him so much
RC: He has the tools above all potentially. Like perfect tools as a thrower. He'll need to prove it with a big CFB 2022.
RC: I thought Ridder was the savvy Burrow-like smart QB...but then I saw (the next year of deeper scouting) he was just smartly throwing pre planned routes, not reading multiple options. But Levis is different in that he has all the right tools...and I saw the ability to put it on receivers downfield with a simple dart flick of the wrist.
RC: Low volume passing game, relied a lot on the run...for good reason...now that reason may be gone.
Ross: Chris Rodriguez is still there
RC: Transfer in from Penn State. 2021 could be that building block to a big 2022 breakout
Ross: Unless he gets suspended or kicked off the team
RC: I thought Rodriquez got in trouble?
Ross: He did but nothing was decided on his fate last I saw
RC: Thought it was serious but I don't know
Ross: Who is transferring to Kentucky?
RC: I think Ky is turning into one of the emerging teams of the SEC non-Ala/Ga
Ross: Maybe
RC: 10-3, should've been 11-2...didn't get humiliated by Ga. Beat Iowa in a bowl. Not a bad 1st year move/result by Levis to typically a so-so team
RC: I'm not cementing him at the top...but I see the high potential here
‍