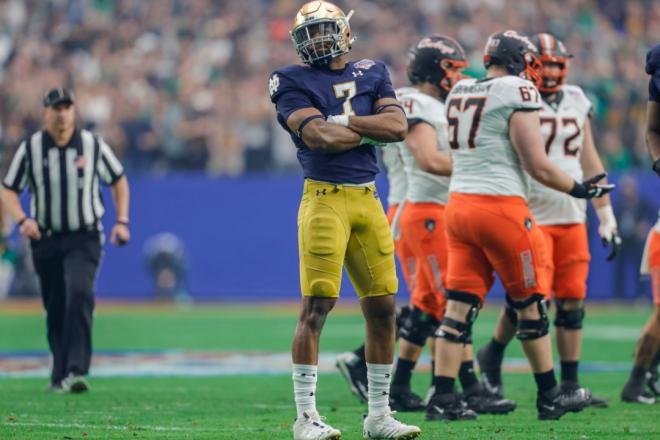 R.C. Fischer
Devy
05 July 2022
2022 Devy Preview Scouting Series (for 2023+): EDGE Isaiah Foskey, Notre Dame
*Devy (for 2023 prospects) Preview scouting = scouting 1-2+ key game tapes, looking at output trends/basic analytics, and some minor background research. Not a full blown, deep dive scouting report. We'll continue to scout these players ahead of the college all-star games, the Combine and post-Combine for a full reporting ahead of their NFL Draft.
I (RC) conducted my scouting as Ross Jacobs did his, we then exchanged our reports without knowing what the other was thinking/seeing. Then we briefly discussed our scouting of this player in an informal text chat (posted below the two scouting takes). *Please forgive typos on the chat transcript.
EDGE Isaiah Foskey, Notre Dame (Scouting Grade: C+) = by R.C. Fischer
6'4"/257, 2021: 52 tackles, 9.5 TFLs, 10.0 sacks, 1 PDs, 6 FF (13 games). Projected: 4.6+ 40-time, 7.2+ 3-cone
I had a hard time getting a read on Foskey. He was very effective rushing the passer as a pure edge rusher. His highlight tape is very nice. I watched one full game of his and was put to sleep. He's every 'good' edge rush prospect I've watched/previewed. He might be a 'B' grade or better edge…or he might be your normal, average 'C' grade useful edge. I'm not confident in grading him yet. I think it could be more 'B' than 'C' but let's see his 2022 season and Combine for the real news. I'm just left unsure here, so far.
COMP? = ??
----------------------------------
EDGE Isaiah Foskey, Notre Dame (Scouting Preview Grade: C) --Ross Jacobs
6'4"/255, 2021: 52 tackles, 9.5 TFLs, 10 sacks, 1 pd, 6 FF (13g), Projected 4.65 40-time, 7.2 3-cone
Foskey has an NFL body and athleticism, but I don't see anything that makes me think he'll be anything other than an average edge rusher. His speed is a tick above average, but he looks rather stiff and linear as a rusher. He does seem to get his hands on the ball a lot though. That's a valuable skill. Looks like a 2-round pick to me but not a guy I would ever be super interested in.
NFL Comp? = Patrick Jones
RC: I had a hard time being definitive on Foskey...there were sweet moments, and dull ones too.
RC: But those 6 forced fumbles are impressive in 2021...that's not to be taken too lightly.
Ross: Which is why I went with a generic C for now. He's fine at least but I was never blown away
RC: His highlight tape is better than one game I watched all the way with him. He may be more 'C
 than 'B'.
RC: We both had similar speed/agility projections on him.
Ross: Almost identical
RC: Patrick Jones is an interesting comp
Ross: Would you take Foskey or Jones right now?
RC: Jones
RC: Jones was so urgent and effective, but crap measurables if I remember
RC: But didn't Jones get hit by a bus or something? I might need to take Foskey for healthy purposes
Ross: No agility drills, bad unofficial 40 but excellent 10-yard split, bad jumps
RC: Maybe it was some other MIN 2021 rookie I am mixing Jones up with that got hit by a car or something.
Ross: I have no idea what you're talking about
RC: If P Jones comes into his own, the Vikings are going to have some scary pass rushers depth
Ross: Very true. They still have DJ Wonnum rotating behind the starters and if Watts hits on the inside...nice
RC: It was his PIT teammate Jaylen Twyman, and he was shot 4 times in Wash DC last preseason
Ross: Oh, wow I missed that one
RC: PITT and MIN teammate
Ross: Eric Kendricks and Jordan Hicks on the inside with Danielle Hunter and Za'Darius Smith rushing...that is a sick LB corp
RC: if only Eric Wilson and Nick Vigil could be there to see it
Ross: So, Foskey...pretty good, maybe quite solid, maybe just average?
RC: FYI, Mike Zimmer...defensive guru
RC: Foskey solid with possible upside but nothing jumped out too bad or too good.
‍