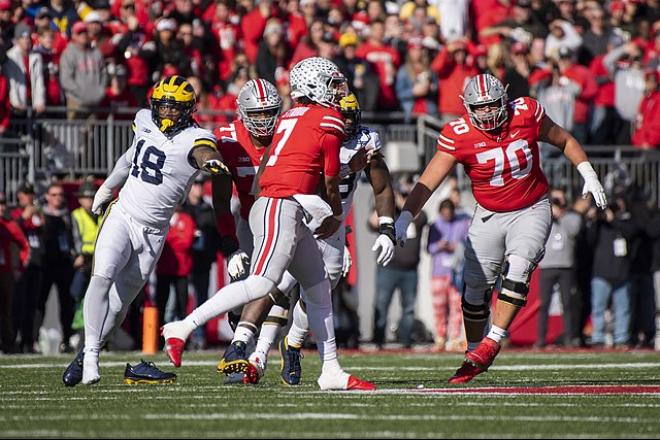 R.C. Fischer
Devy
01 July 2022
2022 Devy Preview Scouting Series (for 2023+): QB C.J. Stroud, Ohio St
*Devy (for 2023 prospects) Preview scouting = scouting 1-2+ key game tapes, looking at output trends/basic analytics, and some minor background research. Not a full blown, deep dive scouting report. We'll continue to scout these players ahead of the college all-star games, the Combine and post-Combine for a full reporting ahead of their NFL Draft.
I (RC) conducted my scouting as Ross Jacobs did his, we then exchanged our reports without knowing what the other was thinking/seeing. Then we briefly discussed our scouting of this player in an informal text chat (posted below the two scouting takes). *Please forgive typos on the chat transcript.
QB C.J. Stroud, Ohio St (Scouting Preview Grade: D+) -- by RC Fischer 
6'2"/210, 2021: 71.9% Comp Pct., 4,435 yards, 44 TDs/6 INTs (12g), Projected: 4.65+ 40-time, 7.0 +/- three-cone
I have to call it like I see it. And before anyone clutches their pearls – when I preview scouted Spencer Rattler this time last year, he was most everyone's #1 overall consensus pick for the 2022 NFL Draft. Anyone remember that? Now, he's transferred to South Carolina QB everyone is pretending they didn't push to the moon.
A similar, slightly better version of underwhelming QB prospect Bryce Young…heavy quick passing, bubble screens, tunnel screens, etc., passing game…perfect behind the safety of a great O-Line with all-star WR weapons. However, when it's time to be a real pocket passer against real defenses…all their flaws, all their non-NFL attributes are on display – so-so arms, moderate mobility, no real touch or great instinct in the passing game…rarely/never tight window rockets, more short passing and floating balls downfield where their all-star WRs/top NFL prospects can go make plays.
Stroud is bigger than Young with a stronger arm with it looks like a bit more passer awareness. But both are wholly unimpressive to me. I cannot believe either Young or Stroud are considered NFL franchise QBs. To me, they're not even close. Young especially. Stroud a hair better.
COMP? = Lesser Matt Corral, in every way.
‍
QB CJ Stroud, Ohio State (Scouting Preview Grade: C+/B-) --Ross Jacobs
6'3"/215, 2021: 71.9% Comp Pct., 4435 yards, 44 TDs/6 INTs (12g), Projected 4.9 40-time, 7.0 3-cone
I can sum up the scouting of Stroud with one word...dull.
He's not bad, he just doesn't do anything that grabs your attention either. He looks like every other average-ish, well-groomed college passer coming out these days. These guys have grown up in the era of 7-on-7's and so they are comfortable running an offense. Give Stroud time to throw and he'll deliver an accurate pass. Get in his face and he's average. I see no ability to really create on his own. He's not a runner. So, what does he bring to the table that any other QB can't?
Stroud is fine, I guess. He'll go high in the draft and have his moments where he looks competent enough. Right now, though, I do not see a guy that can carry a franchise. Maybe he could be good enough with a strong team around him. I'm not selling my soul for him though.
NFL Comp? = Justin Fields without the running
‍
RC: Are you giving him the B level because everyone is all up his ass? Your notes don't portend a C/B grade...
Ross: No it's more that I think he looks like a decently polished passer with enough physical traits to maybe be ok. I definitely don't think he's a solid B
RC: You run the risk of getting Spencer Rattler'd here...you know it's not good. Come to the dark side...
RC: You didn't like Rattler but gave him an OK grade at first
RC: Trust your instincts
Ross: There's another guy that could get Rattler'ed but I don't think Stroud is at risk of that. I like Stroud more than Rattler, I just had to get my mind around the grades last year.
RC: Put in order Stroud, Corral, Howell, Willis for the NFL if you were a GM with no team or coach yet...just the first player you're adding to the roster.
Ross: Yikes. There's a lot of layers to that question.
RC: No qualifiers, just straight order
RC: Proverbial gun to your head
Ross: Corral, Stroud, Howell, Willis I think.
RC: I would be Willis-Howell-Corral/Stroud at the moment...but not happy about any of it.
Ross: It's a tough question. Do you want to gamble on upside or take the safe play?
RC: I asked in order to see how tough that would be, and if it was tough...I think it means Stroud is more 'C' than 'B' and probably more 'D' inklings than 'B' if I may be so bold.
RC: Do you really see anything with Stroud?
RC: I see nothing of NFL note besides 'Ohio State experience'
Ross: He's more polished than most. I think he could be fine-ish
RC: Good enough college QB, nothing much for the pros
Ross: Nothing special certainly.
Ross: He's very bland.
RC: I was shocked, a bit. I thought he was supposed to be good and athletic...he was neither. I said comp was 'Corral' in that style of game I hate (translating to pros)...that quick throw, short game that doesn't exist for long in the NFL because he can't work downfield from the pocket reading progressions...but nice quick passer to all-star WRs with an all-star O-Line to keep him nice and cozy.
RC: But no athleticism compared to Corral and a lesser arm and Corral better at that Tua snap passes offense
RC: Corral is a decent QB, but I do think there's going to be some mental/locker room/leadership issues
Ross: He's definitely not an athlete. I thought he was decent at the medium depth stuff
RC: Stroud just is, your word, 'bland'
RC: Yeah, he floats it to the all-star WRs on occasion...but no real zip...no real challenge of progressions
Ross: Whatever grade you want to give him I'm not arguing it too much. I have no interest in him for my real team or fantasy team. I can do better
RC: I knew when the Michigan game cut up was nowhere on YouTube, there was a problem
RC: He has a lot of game cut ups on YT...but that one, the big one, where he struggled...'fake news'/canceled.
RC: On purpose, I think. We've seen that the past two years on guys
Ross: Yeah, that's the first one I went looking for too
‍