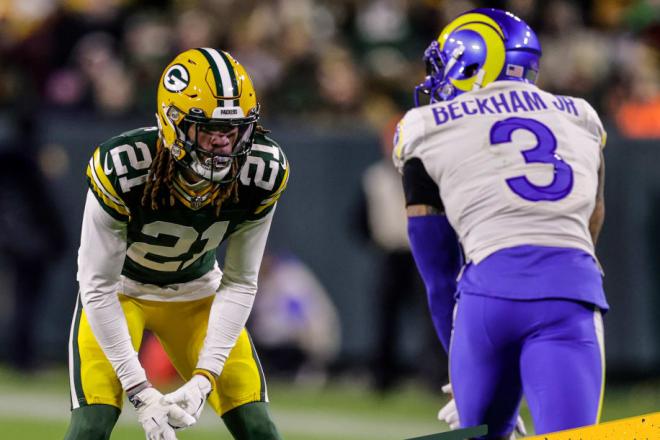 R.C. Fischer
Total Football Advisor
22 June 2022
‍
2022 DST Pairing Analysis: Green Bay DST
I like the Packers defensive unit, in general…arguably one of the best five defenses in the NFL with their #1 best cornerback group. However, I don't like their early schedule for FF matchups…Week 1 at MIN is a problem and Week 3 at TB is a big problem, potentially. But in-between and around that we have some nice matchups: Week 2 is hosting CHI and then Weeks 4-7 are nice/favorable with NE-NYG-NYJ-WSH.
Through Week 7, Green Bay DST has five favorable matchups. If I can find a DST that works Weeks 1 and 3…and then also Week 8, for when GB is at BUF (Wk8)…then I'd have a pairing I could work with, with Green Bay as the lead punch six times in the first nine weeks.
Who is that DST pairing for GB? There were two suggestions from our computer models – Cincinnati and Carolina. Both solid defensive units/personnel…and more importantly, a lot of positive schedule meshing. The best of those two DST pair options, for GB, is Carolina.
Here's the outlook with a GB-CAR DST pairing…
Week 1 = CAR hosting (likely) Jacoby Brissett/CLE
Week 2 = GB v. CHI…but CAR at NYG is useful too.
Week 3 = CAR hosting Jameis Winston/NO, the turnover machine often.
Now we get a GB stretch…
*and in redraft you could ditch CAR and take your chances coming up to Week 8 to find another DST for use when GB is at BUF…
Week 4 = GB hosting Mac Jones/NE
Week 5 = GB in Europe vs. NYG
Week 6 = GB hosting the Jets, which I think the Jets will be better offensively in 2022, but this is not a bad matchup for a very good GB DST (hopefully).
Week 7 = GB at Carson Wentz/WSH
Week 8 = CAR at ATL…might be an OK matchup.
Week 9 = GB at DET…should be favorable.
Week 10 = CAR hosts ATL…but more importantly, it starts to get ugly on the schedule for GB from here on out: DAL-TEN-PHI-CHI-BYE-LAR-MIA-MIN. Only one juicy matchup in there, Week 13 at CHI.
The schedule also stinks for CAR after Week 10 with BAL-DEN-BYE the next three weeks, but then jumps back favorable with – at SEA, PIT, DET Weeks 14-16…if you saw reason to hold them through the Weeks 11-13 rough patch.
In summary, if you want to start your head-to-head season with Green Bay…I wouldn't, not them alone. You need to get them through Week 3 with a 'helper' then you can ride to Week 7 with GB. And after Week 9 it is time to bail.
The Packers DST might score well overall on average but it's going to be more the scales tipped to their favor in the 1st-half and tougher matches 2nd-half but helped by weather in their home games later in the season.
Carolina is the best match/pairing for Weeks 1-8 or 10, then you'll likely need a new plan unless GB becomes an 'it' defense and matchup isn't as important – but that's a long shot.
‍