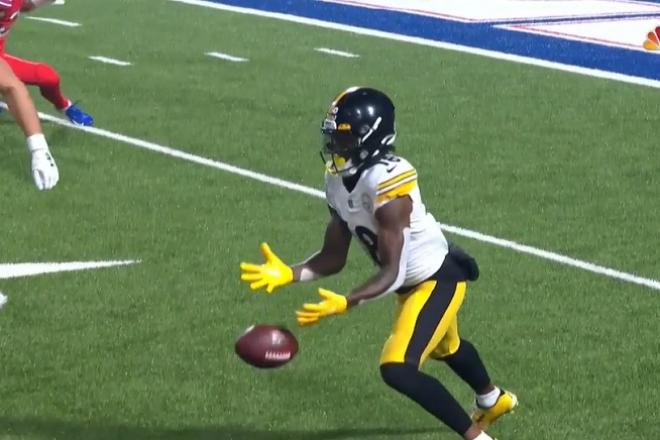 R.C. Fischer
Total Football Advisor
04 June 2022
Anatomy of a Diontae Johnson Trade…
I've been saying it all year – we have to move Diontae Johnson before the upcoming season. A good number of the people reading this message got into Diontae cheap as we pushed him hotter than any analyst did in his rookie season and did so again prior to the last two breakout years. We've gotten a very nice FF ROI out of the very inexpensive Diontae Johnson investment of the past few years. Now is the time to cash out.
I will go through my logic for this change in direction/philosophy (from our 2019-2021 positions) and then discuss how we all might best execute this plan.
Why the change of thought/valuation on Diontae…?
It's simple… I believe Diontae Johnson is a 'good' (not great) NFL WR. For the past two years, he has been the apple of Big Ben's eye for targets. For whatever reason, as Ben was dying off, he trusted Diontae over all others – to the point of ruining JuJu's NFL heat with fans and NFL GMs, and to the point of burying Chase Claypool (because Ben had no arm left to throw deep to CC), and to the point of James Washington's extinction.
Ben had been reduced to quick, short throws because his arm was giving out and his O-Line was all ripped apart from its prior greatness and the new group couldn't protect him like he was accustomed. Ben made the best of a bad situation. Diontae was trusted/connected with Ben AND ran the kinda routes that worked with Ben's new lot in life – the quick dink-and-dunker. So, with that, Diontae got elevated target levels. Only Cooper Kupp (191) got more targets in the 2021 season than Diontae Johnson (169).
With the elevated targets, Diontae was below-average in all the analytics to support this notion of him working in an easy short/quick game from Ben – lower yards per catch, yards per target, air yards per target, etc.
I'm making Ben Roethlisberger out to be a bad guy in this story, but he was still a savvy veteran who squeezed every ounce he had left in his arm and also had the gravitas to throw the ball a lot, because he was 'Big Ben'…despite Mike Tomlin wanting to run it more.
No Big Ben in 2022…and I think that means the entire Diontae flow is at risk of crumbling.
Mitch Trubisky and/or Kenny Pickett are not going to have the same long leash in 2022 as Big Ben did down the stretch of his career. They also aren't as experienced/talented as Big Ben was. They also have no long-time connection with Diontae…or any connection.
Big Ben threw the 6th most passes in the NFL last season…you know that level is coming down with the new QBs, you'd have to figure. The Steelers want to be a pound-it running team, and with Ben out of the way…Tomlin-Flores can go pursue their dreams. Figure Diontae's last two season's baseline is coming down by at least 10%(?) in targets and thus output…and that's still assuming Diontae keeps his status as king Steelers' WR. A 10% haircut in output would drop Diontae from his #7 PPR PPG WR finish in 2021…to a fringe WR1/#12-13 scoring PPR WR.
…but that's if Diontae is still 'the king' Steelers' WR. DJ was king with Big Ben. Is he really going to be that with Trubisky/Pickett? Mitch Trubisky hosted a special receiver's camp this spring…and Diontae Johnson was the only Steelers WR to blow it off…he's working out elsewhere to show his desire for a new contract. Is Trubisky going to be slave to Diontae…especially with the likes of Chase Claypool and George Pickens there? Diontae will have even less connection with Kenny Pickett…because Pickett is running 2nd-team for now and won't have much time with Diontae as it is…and I'm sure when Pickett eventually takes over, he will not be a slave to constant baby passes to Diontae when he has Claypool and Pickens to work with as well. If true, then not only might the Steelers drop in pass game production overall…the passing game is no longer going to tilt heavily to Diontae. Why would it?
If Diontae loses 10% output from just the change in offense/pass attempts in general in 2022, and if he drops another 10% because the ball gets spread around more than it was with Big Ben…then we have a 20% dip (from his nice 2021 output) for Diontae and it could/would take him towards a #20-30 WR in PPR PPG…still fine/useful for FF, but not a top 10 guy…not 'the guy' for Pittsburgh anymore.
A dip of some amount has to be headed Diontae's way – too many changing factors (changing 'down') are coming to not have it happen.
Can Diontae improve/return back to WR1 ways long-term…his 2022 may take a hit, but will he climb back up as Kenny Pickett matures, etc.? I don't think so. It's not impossible, but I'd bet more against it.
If Diontae signs a deal to stay in Pittsburgh, then I would for sure bet against him as a top 10 FF WR ever again. I don't like the offense under Tomlin-Flores full control…that whole franchise, the offense especially was propped up by the Hall of Famer, Big Ben…and equally so helped by a phenomenal O-Line continuity for years, which fell apart/dissipated all in the 2021 offseason.
If Diontae goes to free agency in 2023, he could land perfectly I guess…but then it's a new situation, a new offense, a new QB…no guarantees how he'll be used, and what caliber team he'd land with. If you want to bet on Diontae landing great in 2023, I get it…but at best he'd go back to being ranked/thought of as he is now/2022 – so why not sell it now?
At the end of the day, do you see Diontae as good as the top tier WRs like Adams-Jefferson-Diggs, etc.? I don't see it. I think he's back fighting with the WR2s, not competing with the high-end WR1s in pure talent.
The value differential currently on Diontae…
If we see Diontae as no longer WR1 material in 2022 with a murky future outlook, then the fact that he is trading as a back-end WR1 right now means it is time to sell it. We're at peak Diontae Johnson. It can only go down from here.
I see Diontae currently trading as the #12-15 WR in Dynasty…a respected, back-end WR1. However, I see Diontae as a WR2 in the future…a #20+ type WR. Still good and fine, but not as valued as he is today.
Diontae trades as a top 25-35 overall Dynasty asset today. I really don't see him anywhere near there come this time next year. If you're going to sell him off, you should be pricing him as a top 30 Dynasty asset for sale. You need to find the buyer who is generally excited about Diontae. Those who aren't big fans or excited to get a player of his mainstream/consensus ranking or value…don't bother trying to force a deal.
Proposed trade scenarios…
There are three general ways you could approach trading Diontae:
1) Deal him straight up for another WR/RB you like…just cold move off of him/lateral move.
If you just wanna get off the Diontae train and get a WR you like better, one who is ranked/valued similar – then a Diontae for Metcalf or McLaurin or Tee Higgins type deal might be to your liking. I mostly see Diontae for Higgins deals, straight up, for people taking this approach.
At RB, today, as I write this, you could probably land an RB2 like a falling Antonio Gibson or Elijah Mitchell…but they're falling so fast I think you could get those RBs and maybe a bit more. I'd like to try and get Diontae for fallen angels like Saquon Barkley or Derrick Henry, if at all possible – but FF GMs are usually hyperventilating over RBs so those bigger names would likely take more in the deal to get. Henry is achievable due to age and coming off injury, oddly is more easily available than I would have ever thought.
2) Deal him for a WR2/WR trading lower who we think is equal or better but then get a ____ asset for the exchange.
You could get into disrespected WRs who are their team's #1 WR but are ranked/valued as WR2s…and get that WR + something.
Rashod Bateman + ___ for Diontae? If I were picking a WR for 2022…I don't know that I wouldn't rather bet on Bateman over Diontae straight up…I think I might, ignoring trade values. I love this type of deal to get a similar-ish WR and then something else.
Ditto guys like DeVonta Smith or Mike Williams or Marquise Brown or Courtland Sutton and maybe Michael Pittman – if you have a hankering for any of those names, and they all have different tarde values to where the extra ____ you could ask for changes.
The blank item is probably not a major item, but the other owner's roster will dictate if the right ___ is there for you. A fallen/overlooked prospect we covet…a Lazard, a Kadarius…a falling Elijah Mitchell (at the rate he is falling)…a disrespected Chase Edmonds perhaps. You may need to add your own trinket to Diontae to get what you'd like done.
I like this kind of deal, BUT the problem is when you try to slide in on (example) Dionte for Rashod + ___, then the other owner, if you're a long-time clairvoyant trader in your league, will panic and wonder what you know about Rashod and/or the ____ you're asking for. Then they'll go out to the interweb and look up articles on Rashod or whomever and there's always some article on every player that proclaims they're the deep sleeper of 2022…and that might freeze the other owner in fear.
Hey…all you can do is make the offers and let the others react. If you've got a 'shark' trade reputation, then it's always hard to make deals. All you can do is make the firm offer and let them reject. If you talk in circles about it, or text in circles about it in theory…then they might get even more nervous as you try and play it cool, but it looks 'good' to them so there guard is up on what they're missing. Long time FFMers have a 'reputation' (makes them feared in deals), which is a hassle but also a sign of respect. So, to avoid this, you put it straight in their trade offer box…make them hit the reject button…make them think maybe you're drunk…don't talk/text about it in circles.
3) Package Diontae + ___ for a bigger ____.
This is my favorite kinda way to deal Diontae. Leverage his inflated value up into something bigger. And examples of this are – whatever your heart desires.
You put a respected top 30 Dynasty player Diontae with another respected thing (let's say) and ask for…Pitts, Davante, Tyreek type players. Use Diontae to move up in the world. Tyreek is on sale for the first time in a long time. If you want to roll the dice on him in Miami…Diontae + a decent-ish  ___ or 2nd-round DRD pick in 2023 or whatever for Tyreek might shock you getting done. It takes a Tyreek panicker and Diontae respecter to dance…it's not a given you'll find the right dance partner on your first try.
Need in on an elite QB? Diontae for one of the big QBs, if you're not comfortable with your QB…it might be the way to upgrade at QB…is to sacrifice a WR…when you probably have 3-4-5 other good ones loaded on your depth chart anyway. QB deniers (like 'smart' FF analysts) would see Diontae on par with or more valuable than the young elite QBs straight up in a trade. But in the real FF-world, QBs are more respected and Diontae for one of the big 3-4 something you might have to add a lesser QB to going back over or some other trinket…and that team has to have two good QBs in order for them to sacrifice one. They all discount QB's value…until they have a great one, then they can be untouchable. Doesn't hurt to try if the owner has a WR need and respects Diontae.
If you get into actual talks about a deal…your 'excuse' for moving Diontae is – you know he's really good/great and all, but you have excess WR talent and you're trying to upgrade your ____/whatever. Be careful to pimp out Diontae or make it look like you're dumping him (like people are panicking on Antonio Gibson on the past week+) by putting him on the trade block or offering him to several blabbermouth owners in multiple deal iterations and put Diontae's value at risk. Try to play it cool…but if you're getting nowhere, you might need to be a pimp and push him.
Diontae trade overall thoughts/summary…
I think we need to move Diontae before he loses any value this summer/offseason. There is not one thing that could happen this offseason to take his value much/any higher…it's all downward pressure from here on his standing in the FF world. An extended hold out from attending practice this summer could shine a spotlight on the Diontae problem…especially when the Steelers counter by discussing/leaking stories on how great Claypool-Pickens look, to try to scare Diontae into getting back to work.
I like Diontae the player/WR, but he's not all-around better/more talented than Chase Claypool or George Pickens. If the new Steelers' QBs figure that out quickly…this is going to be a very down year for Diontae to head to free agency in 2023.
I think our best course of action is to move quickly but not in a panic, not a sell-at-all-costs. Be patient. Find the Diontae respecter, the WR needer…and go to work from there. Find someone who sees Diontae as more of an emerging/nice back end WR1. Remember, only WE see Chase Claypool clearly more talented than/a threat to Diontae. Ditto the sentiment with George Pickens a year or two out. Most everyone else sees Diontae as the clear star of that WR group. We don't think Diontae is collapsing…we just see him falling a level…that he's peaked in value. We're trying to sell at the top of his market and take off any of the risks to that value.
Good luck.