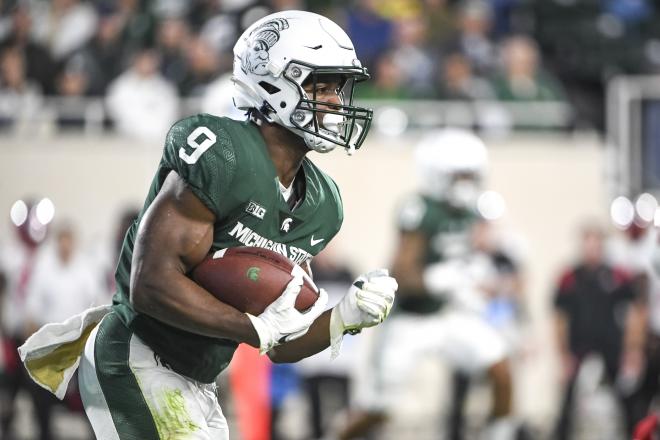 R.C. Fischer
Total Football Advisor
29 March 2022
NFL Draft 2022 Scouting Report: RB Kenneth Walker, Michigan State
*Our RB grades can and will change as more information comes in from Pro Day workouts, leaked Wonderlic test results, etc. We will update ratings as new info becomes available.
*We use the term "Power RB" to separate physically bigger, more between-the-tackles–capable RBs from our "speed RBs" group. "Speed RBs" are physically smaller, but much faster/quicker, and less likely to flourish between the tackles.
I wasn't a big fan of Kenneth Walker after my first and second scouting preview sessions. The first in the summer of 2021 and the second was conducted pre-Combine 2022. I didn't see what the big deal was…looked like a nice college RB, but not a captivating NFL prospect. Looked slower to me…like a 4.5s runner, and at 201 +/- pounds, that's just not a great NFL profile. But then he ran a 4.38 40-time at the 2022 NFL Combine and it was time to reassess the situation…I definitely did not see that coming. I thought he was a 4.5+ runner, but I've since learned everyone runs in the 4.3s now. Soon offensive linemen and nose tackle prospects will be. Is it that every young person is now faster…or just uber-groomed for the 40-yard dash…or were the measuring machines broken at the Combine? All we can do is trust the measurements…handheld rechecks indicate that the Combine times were real.
With this surprise (to me) Combine speed, I was looking forward to the deeper dive into Walker…were my initial instincts correct, or are the NFL Combine results going to knock me upside the head?
I prefer to say the NFL Combine 'woke me up' on Walker. Looking at more tape, a lot of it, and working with his Combine data – I can say that I'm onboard now. Not a head cheerleader, but I'm not pooh-poohing it anymore.
What changed? Well, I began to agree with the 40-time for starters. Walker doesn't just have generic speed at a generic (209 pounds) size…he has legit NFL speed. And it's more the 'movement' skills I saw on tape than the clocked shorts and t-shirt speed that got my attention. He has good acceleration and breakaway ability, but he is also very shifty, and does a really nice job of heading into trouble and changing course on the fly and getting out of it and finding space. Many talented backs have an Achilles heel - when they slow down it takes them too NFL-long to restart or redirect and in the precious microseconds lost stuck in gear defenders close in and take away escape routes. Walker has a top ability to head into traffic, stop, and then blast off east-west to find new life before defenders can do the same in pursuit. Very impressive subtle ability not many RBs have.
So I came to appreciate Walker's movement skills, and then the more tape I watched, the more I could also see he is a real/talented-for-the-NFL RB…not just an athlete running the ball nicely in college.
Additionally, I saw (on tape) that Walker is not tentative running between the tackles… despite his 'tweener' size (209 pounds at the Combine). He picks and chooses spots and hits the gas. He is willing to go full speed into the fray. He's not always looking to avoid trouble…he smartly avoids trouble but also will just push into trouble if it's the best option on the board…he really does have good instincts, instincts I didn't catch in my prior previews. He's just an all-around/complete, throwback running back. He has the right mix of aggression, athleticism, vision, and heart for the job.
Walker is not the fastest back I've seen this year. He's not the strongest. He's not the shiftiest. He's not the biggest or toughest, and doesn't have the best hands – but he's just good+ at all the key abilities and attributes.
I do not have to write about it in detail to try and convince anyone of what I see, I would rather just point you to watch his 2021 game against Michigan to tell the entire tale. Yes, it was a great stat line – 23 carries for 197 yards and 5 TDs with 3 catches, but it's more about watching all the ways he beat a top 10 Michigan defense. Very impressive.
Walker's cut-up tape v. Michigan: https://youtu.be/UBn2qZUErrU
No need to write more about his abilities…that game tape represents several of his other game tapes. Off the field, he seems like a genuine, personable kid with a (good) chip on his shoulder. Overlooked coming out of high school. Played at Wake Forest as a top RB for his first two years, then transferred to Michigan State for a huge 2021. He's always exceeded expectations at every level. No injury or character red flags present.
My only note of caution on Walker will come in the 'comp' section of the report (below).
Kenneth Walker, Through the Lens of Our RB Scouting Algorithm:
 -- 10 games in 2021 with 10 or more carries (had two games with 6 and 7 carries due to game flow/choice)…and he rushed for 120+ yard in all 10 of those games.
 -- Big Ten debut at Northwestern: 23 carries, 264 yards, 4 TDs.
 -- Three of more rushing TDs in a game six times ((all occurring in his last 18 games).
 -- 35 rushing TDs in 32 career games.
 -- 2021 Consensus All-American, Doak Walker Award winner and 2021 Walter Camp Player of the Year
 -- 2021 season: #2 in the NCAA is rushing yards, #8 in TDs
2022 NFL Combine Measurables:
5'9.2"/209
9.25" hands, 30.75" arms
4.38 40-yard, 2.53 20-yard, 1.50 10-yard
34" vertical, 10'2" broad jump
The Historical RB Prospects to Whom Kenneth Walker Most Compares Within Our System:
The one thing that came to mind from looking at this computer model list is based on my one (kinda) dislike of Walker for the NFL…not my favorite size. I'm just not a huge fan of 210 pounds or lighter 'workhorse' back hopefuls. I want my workhorse at 220+ pounds. I want my 3rd-down/COP backs at 205 or less…usually less because the smaller/sleeker the faster/quicker.
The thing that came to mind from this list is – the bigger name 210 +/- pound RB prospects haven't had a great run of sustained success in the NFL lately. Not because of talent, but because of injury.
J.K. Dobbins, and Walker is basically the faster Dobbins clone, ACL preseason year two.
Joshua Kelley, a big-time producer for UCLA and a sweet Combine…and he's been a dud.
D'Andre Swift has been all banged up off-and-on for two seasons, missed the first chunk of 2021 season and ended hurt.
Elijah Mitchell had three bouts with injury, missing games in-between playing so well last season.
Travis Etienne…ACL rookie preseason.
Clyde Edwards-Helaire, banged up off-and-on and a disappointment.
Cam Akers plays more at 210 pounds…torn Achilles preseason year two.
Eno Benjamin, let down.
Miles Sanders, disappointment and banged up.
Bryce Love, never was…and hurt.
Tony Pollard, looks great but is blocked by Zeke Elliott too much to get a great feel for him.
I could argue the best 210 +/- pound RB of the past three years might be disappointing, despised (by McVay) backup RB Darrell Henderson…who only gets chances when the handpicked McVay starter is hurt/gone/
A lot of talented names above…and most can't stay healthy, so far. And the ones that have been healthy, have been disappointments based on their expectations. Many of them can match Walker's impressive college output too…
I'm not saying Walker is going to fall into that same trap as well, but there's a high-risk alert ahead…maybe? The talent may be fine for Walker…but it's hard to show it when you're on the I.R. or PUP or 'questionable/game-time-decision' lists so much. Perhaps, Walker will break the mold? He is the fastest of the group. Just a note of caution…
| | | | | | | | | | | | | |
| --- | --- | --- | --- | --- | --- | --- | --- | --- | --- | --- | --- | --- |
| RB Score | RB-Re | RB-ru | Last | First | College | Yr | H | H | W | Speed Metric | Agility Metric | Power Metric |
| 8.268 | 7.98 | 8.32 | Walker | Kenneth | Michigan St | 2022 | 5 | 9.2 | 209 | 12.23 | 10.08 | 5.78 |
| 8.407 | 7.78 | 8.32 | Dobbins | J.K. | Ohio St. | 2020 | 5 | 9.4 | 209 | 10.55 | 9.72 | 7.87 |
| 7.887 | 6.79 | 8.53 | Kelley | Joshua | UCLA | 2020 | 5 | 10.5 | 212 | 7.13 | 7.43 | 7.62 |
| 6.986 | 6.05 | 5.81 | Wood | Cierre | Notre Dame | 2013 | 5 | 11.3 | 213 | 9.02 | 7.10 | 4.83 |
| 7.610 | 4.98 | 6.46 | Choice | Tashard | Ga Tech | 2008 | 5 | 10.4 | 215 | 8.88 | 7.76 | 4.39 |
| 7.100 | 8.44 | 5.46 | Swift | D'Andre | Georgia | 2020 | 5 | 8.2 | 212 | 6.91 | 8.85 | 7.16 |
*A score of 8.50+ is where we see a stronger correlation of RBs going on to become NFL good/great/elite. A score of 10.00+ is more rarefied air in our system and indicates a greater probability of becoming an elite NFL RB.
All of the RB ratings are based on a 0-10 scale, but a player can score negative, or above a 10.0 in certain instances.
Overall rating/score = A combination of several on-field performance measures, including refinement for strength of opponents faced, mixed with all the physical measurement metrics—then compared/rated historically within our database and formulas. More of a traditional three-down search—runner, blocker, and receiver.
*RB-Re score = New/testing starting in 2015. Our new formula/rating that attempts to identify and quantify a prospect's receiving skills even deeper than in our original formulas. RB prospects can now make it/thrive in the NFL strictly based on their receiving skills—it is an individual attribute sought out for the NFL, and no longer dismissed or overlooked. Our rating combines a study of their receiving numbers in college in relation to their offense and opponents, as well as profiling size-speed-agility along with hand-size measurables, etc.
*RB-Ru score = New/testing starting in 2015. Our new formula/rating that attempts to classify and quantify a RB prospect's ability strictly as a runner of the ball. Our rating combines a study of their rushing numbers in college in relation to their offense and strength of opponents, as well as profiling size-speed-agility along with various size measurables, etc.
Raw Speed Metric = A combination of several speed and size measurements from the NFL Combine, judged along with physical size profile, and then compared/rated historically within our database and scouting formulas. This is a rating strictly for RBs of a similar/bigger size profile.
Agility Metric = A combination of several speed and agility measurements from the NFL Combine, judged along with physical size profile, and then compared/rated historically within our database and scouting formulas. This is a rating strictly for RBs of a similar/bigger size profile.
2022 NFL Draft Outlook:
Walker is mostly projected as a 2nd-round pick, and that's probably right…it's where J.K. Dobbins and Miles Sanders, and others of this ilk were taken…late 2nd-round.
If I were an NFL GM, I tip my cap to Walker and would love to have him on my roster, but I am not drafting a 210-pound back in the top 100-150 to be my workhorse. I'd rather bypass and wait and take Kevin Harris, among others, later.
NFL Outlook:   
If recent trends hold…will be drafted with some expectations, will flash some promise, and then start getting dinged up and this time next year we won't even remember why we were all excited about him. Hopefully, he breaks the pattern because of his upper-end speed.