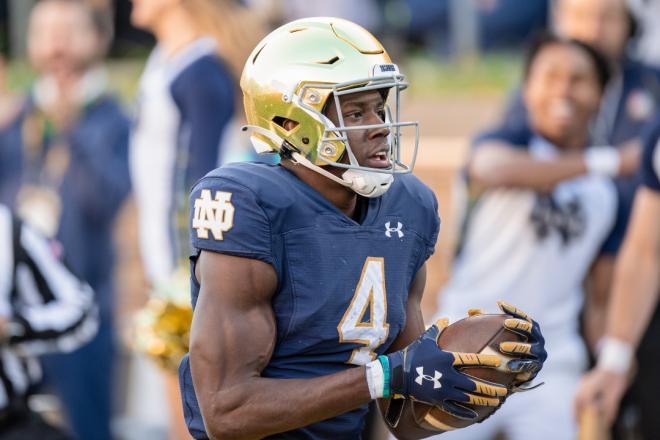 R.C. Fischer
Total Football Advisor
23 March 2022
NFL Draft 2022 Scouting Report: WR Kevin Austin, Notre Dame
*WR grades can and will change as more information comes in from Pro Day workouts, Wonderlic test results leaked, etc. We will update ratings as new info becomes available.
*WR-B stands for "Big-WR," a classification we use to separate the more physical, downfield/over-the-top, heavy-red-zone-threat-type WRs. Our WR-S/"Small-WRs" are profiled by our computer more as slot and/or possession-type WRs who are typically less physical and rely more on speed/agility to operate underneath the defense and/or use big speed to get open deep...they are not used as weapons in the red zone as much. 
Before the Combine where he booked a 4.43 40-time with a 39" vertical and 11'0" broad jump and a 6.71 three-cone, at 6'2"+/200,  I had no idea who Kevin Austin was, and didn't personally do any preview tape/scouting. But with that Combine performance, he got my attention, so I began to dig in and see if we had a sweet NFL sleeper here.
After watching some of his game tape and researching his background, etc. – I think he could be a deep sleeper, but not a 'sweet' sleeper. There are some flashes of possibility here, but overall the story doesn't look or feel that great, and the tape was OK but not special.
The story goes sideways right off the bat here…
Played sparingly as a freshman (5-90-0 in 4 games) in 2018, then was suspended for 2019 season…for speculative reasons that seem to amount to immaturity and just a general benching. He got out of the doghouse for the 2020 season but got hurt…fracturing his foot two different times…and barely played again (1-18-0 in 1 game appearance).
2021 saw him finally play an entire season, and he had a decent campaign – 12 games, 48-888-7 as a receiver. Led the team in receiving yards and tied for the receiving TD lead.
After the 'meh', forgettable college career no one was really thinking about him for the next level all that much…but then he had a terrific Combine and now people are rechecking their scouting.
I watched 4-5 games worth of Austin's tape…and was underwhelmed. He appears to be what you probably think he is from his profile – taller speedster goes deep and hits on a few plays. There's not a ton more to his game. He's raw and doesn't seem as fast on tape as his Combine numbers suggest. I didn't see Austin really separating…on his big plays in 2021, it was typically him sprinting deep, fairly well-covered, the CB running stride-for-stride, but then Austin would make a good concentration catch or have a one-step edge and make the grab.
Austin made some quality/impressive catches with the CB blanketing him, but two things about that: (1) Not separating from college CBs means 'not good' when NFL corners get on him. (2) For every 'nice catch' grab he had, there would be a troubling concentration drop or double catch on shorter passes. Austin does not show a penchant for #1 WR type work…nor as a pitch-and-catch underneath guy running slick routes and taking hits and being a grinder. Austin seems more comfortable just being a sprinter on the outside – and there's a place for that in the NFL, but Austin isn't all that impressive a version of it. To me, Austin looks like he's running on eggshells, too tentatively much of the time. I just don't see a fire or desire on the field…for whatever that is worth.
Austin seems to be a pleasant enough young man, on the surface. Well spoken. Seems to be smart/heady enough. So, the 2019 suspension/benching may be chalked up to immaturity that he might have grown past. Not 100% sure on that…just speculating. Regardless, judging just his on-field play – it doesn't seem to be worth more than 'athlete you might try to groom into something'…with some question of how bad he really wants it. 
Kevin Austin, Through the Lens of Our WR Scouting Algorithm:
 -- Got better as the 2021 season went on (his first and only real season). Three 100+ yard games in his final 5 college games…including a 6-105-1 game vs. Oklahoma State in their bowl game. He also scored 4 TDs in his final 6 games.
There may be an upside here because he played so little in college, and he was improving/getting more comfortable as the season wore on.
 -- With all his size and speed…was not involved at all in the return game, nor special teams.
 -- Not invited to any postseason all-star events.
2022 NFL Combine measurables:
6'2.3"/200, 9" hands, 32.8" arms
4.43 40-time, 2.54 20-yard, 1.48 10-yard
6.71 three-cone, 4.15 shuttle
39" vertical, 11'0" broad jump
The Historical WR Prospects to Whom Kevin Austin Most Compares Within Our System:
Not too surprisingly, Austin happens to compare with other nice 'athletes' who were fast but didn't have decent or good WR skills, and though their athleticism got them drafted (as it should at a certain point), it ended up meaningless/frustrating (and brief) in the NFL.
| | | | | | | | | | | |
| --- | --- | --- | --- | --- | --- | --- | --- | --- | --- | --- |
| WR Score | Draft Yr | Last | First | College | H | H | W | Power Strngth Metric | Speed Agility Metric | Hands' Metric |
| 5.817 | 2022 | Austin | Kevin | Notre Dame | 6 | 2.3 | 200 | 2.10 | 10.18 | 5.03 |
| 3.645 | 2017 | Chesson | Jehu | Michigan | 6 | 1.5 | 204 | 2.75 | 9.39 | 6.32 |
| 5.554 | 2014 | Coates | Sammie | Auburn | 6 | 1.5 | 205 | 8.13 | 12.89 | 5.87 |
| 6.589 | 2015 | Bell | Kenny | Nebraska | 6 | 1.1 | 197 | 6.73 | 12.89 | 7.65 |
*A score of 7.0+ is where we start to take a Big-WR prospect more seriously. A score of 8.50+ is where we see a stronger correlation of a Big-WR going on to become NFL good/great/elite. A score of 10.00+ is more rarefied air in our system and indicates a greater probability of becoming an elite NFL Big-WR.
All of the WR ratings are based on a 0–10 scale, but a player can score negative, or above a 10.0 in certain instances.
Overall WR score = A combination of several on-field performance measures, including refinement for strength of opponents faced, mixed with all the physical measurement metrics, and rated historically in our database.
"Power-Strength" = A combination of unique metrics surrounding physical size profiling, bench press strength, etc.  High scorers here project to be more physical, better blockers, and less injury-prone.
"Speed-Agility" = A combination of unique metrics surrounding speed, agility, physical size, mixed with some on-field performance metrics. High scorers here project to have a better YAC and show characteristics to be used as deep threats/to create separation.
"Hands" = A combination of unique metrics surrounding on-field performance in college, considering the strength of opponents played. Furthermore, this data considers some physical profiling for hand size, etc. High scorers here have a better track record of college statistical performance. Everything combining to project catch-abilities for the next level.
2022 NFL Draft Outlook:
We've started to see Austin get moved out of the UDFA rankings to a day three NFL Draft pick. I suspect he'll go late 6th or in the 7th-round.
If I were an NFL GM, I'm just not that interested here. Maybe as a UDFA invite to see if there's more we could do with him if he went onto the practice squad to learn for a while, but I suspect there will be many other more interesting, worthy options ahead of Austin for UDFA grabbing. Like, for example – I'd grab Jalen Camp (2021 draftee) away from Houston if I wanted to work with an athletic specimen WR who needed grooming…Camp shows skills way beyond Austin's. And there are others I could name already bouncing around practice squads that I would take over wasting time with Austin.
NFL Outlook:   
Likely drafted late. Goes onto a practice squad for a few years while they see if they can make more out of his wonderful athletic skills – he's an 'A' grade athlete (on paper), he's a plausible 'go deep' WR right away for a team in desperate need of bomb threat option sprinting on the outside – but he's not ready for real NFL impact or consistency, and he might never be. His 'on paper' athleticism says you should take a shot on it…cheap.