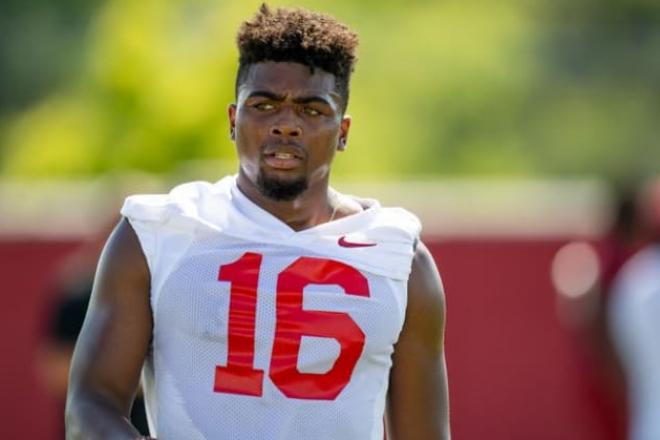 R.C. Fischer
Total Football Advisor
11 March 2022
NFL Draft 2022 Scouting Report: WR Treylon Burks, Arkansas
*WR grades can and will change as more information comes in from Pro Day workouts, Wonderlic test results leaked, etc. We will update ratings as new info becomes available.
*WR-B stands for "Big-WR," a classification we use to separate the more physical, downfield/over-the-top, heavy-red-zone-threat-type WRs. Our WR-S/"Small-WRs" are profiled by our computer more as slot and/or possession-type WRs who are typically less physical and rely more on speed/agility to operate underneath the defense and/or use big speed to get open deep...they are not used as weapons in the red zone as much. 
I've been 'in the bag' for Treylon Burks since the summer of 2021 (off his 2020 CFB season). I looked over some of his tape for preview work and saw an 'A' potential prospect ahead. Prior to the 2022 NFL Combine, I watched some more tape of his nice 2021 CFB season…and he still looked fine to me. Pretty much, pre-2022 NFL Combine, I've existed in a world where Treylon Burks is a 'given' for the next level – whether that means 'A' or 'B' grade…I've had little reason to doubt him.
His 'meh' 2022 NFL Combine opened the door for some doubting or pause of the 'A" enthusiasm…and we'll get to that in a moment. 'Meh' meaning not as fast or agile as I thought. Not as athletic. And then his Pro Day results came in, which showed an even worse 'meh' on weak bench press and no improvement on a few other items he did at his Pro Day.
So, with his Pro Day locked in and the Combine behind us, I scheduled my intensive Burks study with a pre-mindset to find evidence to prove his Combine/Pro Day measurable questions are not as indicative of his 'real' on-field talents.
With my deeper studies done, I have more doubts than ever before.
Not 'doubts' as if he's some kind of full-fledged fraud or bust – but where I was SO sure about him a few weeks ago, based on previews, now the reality is…he's not as perfect as I was starting to think. Not even close. But there's still an argument that he's a top 1-3 WR in this class. Instead of getting more clarity, with more time spent, I am more confused, unsure.
There are not many doubters of Burks (in the scouting or analyst or fan worlds), so I don't need to go over the positives first…we all know the 'story'. But let me share my negatives…my worries, first.
Really, the first set of negatives are his Combine and Pro Day measurables. I'm mature enough in my scouting to know not to fully damn a highly productive college prospect just based on 'analytics' or 'measurables'. I used to be all 'analytics' in scouting because everything else seemed a radically inexact science/way to 'find' hidden talent, and as a fan, I didn't have time to watch all the prospects/their tape (nor was it readily available like it is now). But now with a decade of experience and trial-and-error, I can say…'Analytics only' football evaluation is for football babies not able to eat 'real food'. Analytics is just one facet of the scouting equation…and is the most likely to give 'false flags' on players. It's still important, but it's not the end-all. Spare me (mainstream) your depth of target charts and SPARQ calculations. I need/want that info, but it's only part of the picture.
With that 'measurables' or 'analytics' caution – Burks's workout numbers did give me pause, given my experience with all the scouting worlds (just analytics or just tape). It made me question him some in my head – enough to make me want to really dig into his tape and go back over games I'd already watched. 4.55 speed is acceptable, at his size (225 pounds)…a great time for a power RB. As a WR…it's fine too, but when combined with a weak three-cone and shuttle time (7.28/4.28) and a nothing of a vertical 33" – we start to get an 'on paper' below-average athlete. Some straight-line speed and nice bully size, but not a burner…not a quick cutter…not 'high point' master.
Then when he benched a flimsy 12 reps at his Pro Day, I wondered – is he taking his body/physique seriously? Is he taking his career seriously? I mean, if I had the career Burks had after the COVID 2020 season…and I was being called an obvious top NFL Draft prospect – I would be in the gym hours a day, every day, blowing off classes (I did that anyway and I wasn't a pro prospect), and I'd just be consumed with working on all my Combine-related athleticism and football-related technique improvements. Burks has that 'country strong' upper body that looks sturdy…but his weak Pro Day bench made me note to dial in on his physique to make sure I wasn't taking the 'at a glance' look for granted.
Post-Combine, not expecting Burks to be a worry…but now I've started to worry about his measurables. Not doom…just no longer thinking he was the WR bully of this class. Which he is not, per se. We'll come back to this in a moment.
So, with some 'measurables' concerns…and wanting to allay these new concerns -- I went to go look at the tape again, most of his 2021 games, though I hyper-focused on his 2021 games with Georgia, Auburn, and then that huge Alabama game. I'd skimmed these tapes before (all tough opponents) – but now, I was watching his every move, every snap in them, whether he got the ball or not. And I have to say, I started to see some more 'questionable' things. Again, not doomsday…just, areas of concern.
Three things…
1) The way he got the ball in college is a potential NFL problem…
Burks' tape is pretty cool to watch. He looks good with the ball in his hands. But I realized, with more intensive watching/charting, that Burks got a lot of manufactured touches…a lot of swing passes, bubble screens. The Arkansas plan was perfect…get the ball into Burks' hands. And when Burks got the ball, he was a big boy with the ball on the perimeter.
Will NFL offenses build their offense to accommodate, promote Burks getting the ball in unique ways? I mean, everyone says they're looking for 'their Deebo', but then NFL coaches have watched efforts at it for (recent) years and done little about it themselves. I mean, yes…a guy like Burks will get a swing pass called his way at the next level…once a game in the pros, maybe? At Arkansas, he was the offensive centerpiece. On Jacksonville or New England or Arizona or Washington or Atlanta (as some examples)…is this going to be true in 2022…or 2023…or so-on?
When Burks was not getting 'handed' touches at Arkansas, he was usually making bigger plays deep – but his profile as 'deep ball guy' for next level isn't as favorable, not as much as I had thought. He's not super-tall or super-fast or super-vertical. He's totally fine…just not off the charts in any of these areas. He's really very solid/good, but not special. Alec Pierce is better built to be a downfield, outside threat – with more high-end speed/burst and more reach.
Burks might be an 'A' grade deep ball option in college, but possibly more a 'B' or 'C' grade one in the pros. If Burks reminds you of Courtland Sutton…has Sutton totally dominated in the NFL as a big boy outside WR? He's had moments. But Sutton was a little taller, with a little more reach than Burks coming out of college…with better physique and more bench press strength, and Sutton had ELITE three-cone/agility. Burks has weak readings on his agility…and his tape doesn't show that he's more agile than the Combine said…he's fine but not a high-end agility guy. Sutton has been a very good NFL WR, but not a consistent dominating NFL WR (so far)…if Burks is a lesser version of Sutton – then what are we talking? The next Tim Patrick?
Burks is better than Patrick on working the screen/swing game in college…but then again, Patrick came through in an era where that wasn't being done. Sutton played in an offense, at SMU, that didn't swing him the ball to get him going – they just kept sending Sutton deep to draw double coverage and he had terrible output/stats his final year. What if Burks's college offense is causing a bit of an illusion that is pleasant to the eye, but won't be fully true in the pros? Will the NFL make him a Deebo? It's a big 'if'…a big 'wondering'. Not an obvious 'yes'.
2) Not a great route runner…
If Burks is a solid but not special deep ball prospect for the NFL…and if he runs the risk of not being treated like a 'next Deebo' in the pros…what about his intermediate, pitch & catch route running? Can he be a 'next Michael Thomas' circa 2018-2019?
Honestly, when I watched Burks against higher level DBs (Alabama, Georgia, Auburn primarily), he wasn't running NFL routes to get open. It's swings and bombs. When I watched Burks in detail…in slo-mo to see his route running on plays where he went intermediate and got the target or was working hard to – he really doesn't create instant separation nor does he find it as he gets going. In the NFL, you need instant separation to be a Davante Adams type worker. I don't see that ability at a high level with Burks.
He's not terrible at it, but his routes aren't elite fast off the snap and they are more 'rounded' (a route running sin) as he goes…not sharp and snapped off. He couldn't really get open against Georgia (3-10-0) – but the Bulldogs were an elite defense that didn't allow time for the passing game much…still, that could be a vision ahead for Burks. They didn't really try to go to Burks in that pitch & catch manner, nor was Burks open when they were in that effort. Two of three catches against Georgia were swing passes behind the line of scrimmage, where he was quickly obliterated by the Bulldog defenders.
Georgia ghosted Burks. He was lost…not a presence in the game. And he's about to face a league of Georgia-like defenders ahead.
Against Alabama, Burks had a signature play – that one where he caught the deep ball on the sidelines and then adjusted and ran up the middle for a 60+ yard TD, leaving 4-5 Alabama defenders in the dust. Note that this play shows Burks being totally covered stride-for-stride sprinting deep, but as the ball was heaved his way, he shoved the defender out of the way (no P.I.), 2-3 yards out of the way as he adjusted to the underthrow, then caught it and sprinted to glory.
Burks caught two deep passes for exactly 100 yards in that Alabama game versus NFL-level corner Josh Jobe – both balls were sweet plays, but upon further examination Burks was blanketed by Jobe, he couldn't separate from Jobe on deep ball sprints, but then Burks would adjust to these underthrows/back shoulder throws. Watching the throws/catches in slow motion…Burks was so covered by Jobe, that Jobe was actually ahead of Burks on each sprint/route. Fortunately, the ball was underthrown for Burks to adjust to. Had the throws been on the money…they would have been incomplete or picked. The big takeaway is – Burks was not separating on these routes. Against higher level corners in the SEC, Burks did not out-sprint or beat them with his routes.
Burks will have a hard time being an outside threat if he's a shorter (than you'd like), and a 4.55 running/moderate speed guy with no real vertical – he's going to have to feast on back shoulder throws downfield in that case.
And if Burks isn't a great intermediate route runner, nor a get open quick kinda fast-feet option…then what are we talking here? A big guy outside receiver, a capable one…but one who doesn't create anything for himself at a high-level? One of our computer model comps is Michael Floyd, if you remember him. He had a solid NFL career but nothing like the #13 pick in the 2012 NFL draft. Floyd was a deep ball guy that was capable but not dominant. He was never an intermediate pitch & catch assassin option, and he for sure wasn't a short game playmaker. Floyd had a couple productive-ish seasons but never lived up to his 'big guy' high draft pick status. And by today's standards, Burks is not that much of a 'big guy'.
3) How BIG a guy is he…?
Not as big as you think. At a glance, Burks looks like a big, thick athlete. But when you start micro analyzing his physique vs. the guy everyone wants to compare him to, A.J. Brown, it's no comparison.
A.J. Brown loved to be photographed without his shirt (as he should). That guy had a supreme workout body coming into his NFL Draft. Abs for days. Ripped muscles bulging from his arms and thighs and calves…whether at rest or in motion. Brown was a sight to behold. He benched an above average (for a WR) 19 reps at his Combine. He ran a 4.49 40-time at 226-pounds. Brown looked like and tested like a WR who treated his body as a 'moneymaker'.
On the other hand, Burks benched 12 reps…which is pretty sad for a guy who looks big. So, I started looking at various photos of Burks compared to Brown…and compared to Deebo Samuel. And you can tell, comparing with the eyeball test, that Brown and Deebo are sculpted/jacked with muscular thighs and calves. Burks looks more like a natural athlete who doesn't hang out in the weight room much. Solid muscular arms – but not sculpted. I was looking at a picture of Burks 'at rest'…at the podium at the Combine answering questions and he has very undefined arms by comparison to the two other guys. When Burks is in action, catching a pass, he has muscles for sure – but not like AJB or Deebo.
And as I looked at Burks with a different, critical-of-his-physique eye…I noticed his legs looked a bit 'skinny' on tape. He wore white leggings in games a lot so they looked thin at a glance, but I thought it may just be the leggings giving the appearance…but when he didn't wear them his legs looked OK/fine but thinner than the other guys, his thighs and calves did not look like -- 'wow' this guy has been squatting small cars every day to build his body.
I'm starting to wonder if Burks takes his body seriously. He's got enough of an NFL body to get into the league, but he's for sure got work to do to get ripped like Brown and Deebo, etc. – then that makes you wonder why he didn't get on that kick after 2020 or 2021? Is it why he tested slower, less agile, with less bench press than Brown or Deebo?
Is the picture becoming that Burks is a lesser A.J. Brown…a lesser Deebo…a lesser Courtland? It's a lot of 'lessers'. I wish I was a lesser A.J. Brown; I mean…I am a lesser AJB, but I'd be fine with being considered a 'close' lesser to AJB. Burks being considered a close 'lesser' than these stars still makes him an NFL option…just not as cherished, desired, hopeful…maybe?
Deebo, Brown, and Sutton were not 1st-round draft picks…and they're all considerably more athletic and stronger and faster than Burks, on paper…and on tape too.
OK, that's a lot of time on the negatives.
On the positive side…obviously, the guy (Burks) can play. I mean, he was the best WR in the SEC working with a streaky, big, running QB. He has a good frame. He is quick enough for the NFL…I mean, that play where he outran Alabama's defense was sweet. He has good hands. He seems like a quality person/one who is not going to go full diva in the NFL with money. He was an academic honor roll student in college. He hunts wild hogs by hand/with a big knife for fun. There's plenty to work with here and he was successful in college. But…
His success came in part from an offense catered to him, as it should have been – but if he is not 'good enough' to have an offense catered to him in the pros (even if he's still good enough to play/start in the pros)…then what is an NFL team buying here? Can they make him a Deebo? Can they make him a Michael Thomas? It's questionable that he's the type of athlete that you wanna build around right now. You'd like to have him on your roster…yes. But are you gonna build an offense around him…a slower (by today's standards), non-agile (testing), non-bench pressing 'big guy' is going to be the center of your offense in the pros?
I'd rather build an offense around a guy like Chase Claypool, or Kadarius Toney…I don't see Burks on their same level for 'Deebo' activity, or superstar potential.
It's questionable just HOW GOOD Burks really is. He is good. He just might not be great…or he needs some serious workout transformation to go get great – but, again, why hadn't he done that like A.J. Brown or Deebo did?
Deebo lives for football.
A.J. Brown lives to sculpt his body.
I'm not sure what Burks lives for. Judging by his Combine and Pro Day…it's not the gym. In the end, it may not matter…or maybe TB12 will change him around. 
Treylon Burks, Through the Lens of Our WR Scouting Algorithm:
Burks had big games vs. Alabama, Auburn, and Texas A&M…but he also was held in check as much as he went off (against better opponents).
3-10-0 vs. Georgia/2021
5-37-0 vs. Texas/2021
4-16-0 vs. LSU/2021 (but got banged up)
Yes, he ran the ball some as a WR…JUST LIKE DEEBO, everyone wants to say. But was he just like Deebo?
Deebo had 4 career kick return TDs in college, and 7 rushing TDs as well. He was a freak with the ball in his hands, but his team had a hard time getting it to him/they didn't run an offense to get it to him as much as they should have.
Burks ran the ball 14 times for 112 yards and a TD in 2021 season. But if you eliminate the big rushing game against FCS Arkansas Pine Bluff, then he ran the ball 12 times for 56 yards and no TDs in 2021. Most of his carries were for 2 or fewer yards. Burks returned kicks as a freshman but wasn't special and was taken off that duty going into his sophomore season.
No rushing TDs, against D1 teams, for Burks in his college career…on 36 carries. Deebo ran for 7 TDs on 25 career carries in college.
2022 NFL Combine/Pro Day Measurables:
6'2.0"/225, 9.75" hands, 33.5" arms
4.55 40-time, 4.28 shuttle, 7.28 three-cone
33" vertical, 12 bench press reps, 10'2" broad
The Historical WR Prospects to Whom Treylon Burks Most Compares Within Our System:
Kenny Britt is an interesting comp…he had stretches/flashes of being a really impactful WR, but also had a lot of disappointment.
The N'Keal Harry comp is really pertinent, and scary. Harry was SO good in college…kinda like Burks, but Harry was a more physical playing style/beast of a college WR who wilted at the Pro level. There are some strong Harry vibes here.
I don't see Burks as a next A.J. Brown or Deebo…or Courtland Sutton. Maybe a lesser Courtland Sutton is the upside, but what's that worth in today's NFL?
A player comp that comes to mind, but didn't pop up in the computer analysis, is Bryan Edwards. Edwards tore up that same SEC, with a much worse QB play. He was similarly dominant, a bully in the SEC…and he's struggled to translate it to the pros.
| | | | | | | | | | | |
| --- | --- | --- | --- | --- | --- | --- | --- | --- | --- | --- |
| WR Score | Draft Yr | Last | First | College | H | H | W | Power Strngth Metric | Speed Agility Metric | Hands' Metric |
| 8.122 | 2022 | Burks | Treylon | Arkansas | 6 | 2.0 | 225 | 8.36 | 5.45 | 9.21 |
| 8.154 | 2009 | Britt | Kenny | Rutgers | 6 | 2.7 | 218 | 9.44 | 5.22 | 7.79 |
| 8.845 | 2019 | Harry | N'Keal | Arizona State | 6 | 2.3 | 228 | 11.66 | 4.37 | 9.65 |
| 6.174 | 2012 | Floyd | Michael | Notre Dame | 6 | 3.0 | 220 | 8.54 | 4.48 | 8.35 |
| 7.611 | 2019 | Brown | A.J. | Ole Miss | 6 | 0.4 | 226 | 12.38 | 5.56 | 7.83 |
| 9.979 | 2010 | Bryant | Dez | Oklahoma | 6 | 2.0 | 225 | 10.65 | 4.37 | 12.10 |
| 4.306 | 2017 | Pascal | Zach | O. Dominion | 6 | 1.5 | 219 | 7.18 | 2.40 | 7.17 |
| 10.096 | 2018 | Sutton | Courtland | SMU | 6 | 3.3 | 218 | 8.07 | 9.74 | 9.92 |
*A score of 7.0+ is where we start to take a Big-WR prospect more seriously. A score of 8.50+ is where we see a stronger correlation of a Big-WR going on to become NFL good/great/elite. A score of 10.00+ is more rarefied air in our system and indicates a greater probability of becoming an elite NFL Big-WR.
All of the WR ratings are based on a 0–10 scale, but a player can score negative, or above a 10.0 in certain instances.
Overall WR score = A combination of several on-field performance measures, including refinement for strength of opponents faced, mixed with all the physical measurement metrics, and rated historically in our database.
"Power-Strength" = A combination of unique metrics surrounding physical size profiling, bench press strength, etc.  High scorers here project to be more physical, better blockers, and less injury-prone.
"Speed-Agility" = A combination of unique metrics surrounding speed, agility, physical size, mixed with some on-field performance metrics. High scorers here project to have a better YAC and show characteristics to be used as deep threats/to create separation.
"Hands" = A combination of unique metrics surrounding on-field performance in college, considering the strength of opponents played. Furthermore, this data considers some physical profiling for hand size, etc. High scorers here have a better track record of college statistical performance. Everything combining to project catch-abilities for the next level.
2022 NFL Draft Outlook:
He's a 1st-round projection for one and all, and guys like him seem to go more last 10 picks vs. first 10 in the 1st-Round. I'm starting to wonder if, with the cluster of WR talent available, if Burks isn't going to fall to the back ten…or even out of the first round, if these measurables are going to scare off some teams/scouts…and I think it's a reasonable pause and debate thing among a ton of great athletes at WR available. I will guess late 1st-round here.
If I were an NFL GM, for the price tag…I can't do it. I might have done so based on previews with no workout data in, but with the Combine and Pro Day raising issues plus the deeper tape scrutiny – there are too many other better options at WR or other positions to spend a top 25-50 pick this way.
NFL Outlook:   
I don't think he's a next Deebo, unless a team gets him into much better shape and then he has the desire to do so. He's not an instant Deebo…he might be Deebo in 2-3 years, but that's a long wait.
I don't think he's A.J. Brown but more AJB than Deebo.
I don't think he's as good as Courtland Sutton, but in range…maybe.
I don't think he's Michael Thomas, but might can be groomed there.
There's something here with Burks…he's a 'ball player'. He's no joke, but I worry his NFL journey is not instant and obvious. There's concern you can't really define him to a role or type (like Bryan Edwards just existing in the NFL at this stage)…but that Burks has the upside that he has the foundation to be some or all these things with some work.