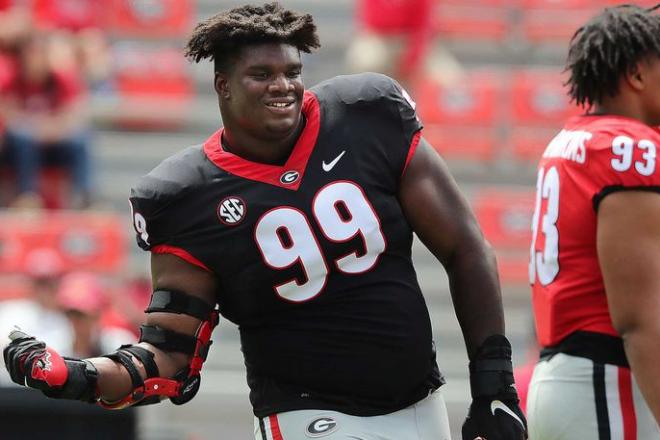 R.C. Fischer
Total Football Advisor
06 March 2022
2022 NFL Combine Day Three On-Field/Measurables: Reactions to the DL-LB Group
Just a quick reaction from day three of the Combine measurements and drills, in somewhat random order of my notes:
Another day that started (and ended) with shocking times across the board. 'Are these times real?' is what most of my scouting buddies are talking about, trying to figure out.
I've moved from 'day two can't be right' to…'Actually, I think this is real'.
What's odd for me, besides how amazing all the 40-times are, is that at the same time the 40-times are record setting (compared to Combines past), there is not any records set or 'wow' reactions to the bench press numbers, three-cone times, verticals, etc. Why is it that guys are faster across the board, in larger numbers, on average…but have the same or lesser bench, broad, vertical, three-cone results? That line of thinking had me on the case of 'a conspiracy theory' that something must be being 'fudged'…especially all the day-two official 40-times for the RBs getting shaved down, in every case, by a dramatic (for my history with the Combine) amounts from the unofficial times they posted.
Two things have caused me to just accept it, and try and figure out 'what's happening' big picture…and how I need to react as a scout/a FF projector-of-things into the future…
1) I did hand times on a few shock 40-times, on some RBs, and so did Ross Jacobs…we had similar times that corresponded to what was officially reported.
We both first tested (each of us doing 3-4x checks for accuracy) Kenny Walker on Friday night, because neither of us could reconcile what we saw on tape and what we saw for the 40-time. Well, it checked out…on him and others, for the most part.
Then after Jordan Davis ran a 4.82 40-time at 341 pounds I said, "No ****ing way'! This whole thing is BS!" Then I did my own hand-time checks on him, and it was in the high 4.7s. I quickly concluded that I must suck at hand timing, so thus all my prior day checks were suspect as well.
Immediately they started talking about scouts saying they hand-timed Davis faster than what the unofficial times showed…and I thought, maybe I don't suck at this.
Then they confirmed later Davis had an official 4.78 -- and I had to conclude that all this must be real, even going back to Friday's group.
2) The best evidence there is – is when the NFL Network does that simulcast superimposing guys running the 40 from any year you want. So, they take like Jordan Davis and overlay him and Aaron Donald and J.J. Watt to show us the 'pretend race' with all of them from their various Combine years…and the known times reported match what you see visually of them simulcast…they run in that order with that proper spacing on the simulcast.
So, I can only conclude – this is all real.
My working theory on the big picture is – the 40-time has been such THE SHOW, the most talked about thing from the Combine for years/decades, that the players are training at elite Combine prep facilities with the main focus on the 40-time…so, that's what they are getting – amazing 40-time efforts…exactly what they are overtraining for.
The other drills/times aren't getting better, but the 40-times are incredible. You can't blame the players for focusing on it because it's all the NFL Network and thus 'the fans' talk about. We're sheep. They're the shepherds of truth they want us to have.
All this calls into question any players that skipped the 40-times at the Combine…you assume they are hiding something, a flaw, a bad 40-time. When I estimate, fair or unfair, the guys who skipped…I'll estimate them (for now) a little weaker than what my eyes see on tape. So, like RB Kevin Harris (who skipped 40-times but did other things) is going to have to prove to me he's fast at his Pro Day…my assumption going into it will not be my eye thinking he's a 4.45 but tacking on +1.0 to a 4.55+ assumption/estimate, until otherwise shown by his Pro Day (+ the Pro Day fluff bump).  
What a mess!
I love it!
It's like being a detective at a major crime scene.
The night started with the DTs…
 -- The Combine was 'won' by Georgia DT Jordan Davis. He ran an impossible 40-time for his size…but he also had a nice 10-yard split and broad jump to help confirm everything. The 5+ hours of coverage Saturday was taken over by the Davis 40-time, which it should have…but is also why all these guys overtrained for the 40-yard dash.
Davis should be the HAND'S DOWN #1 overall pick, for a team who doesn't think they need a QB. Davis is a freak…his tape is good/great…and there is nothing else like him in this draft. There's 4-5-6-7 guys up for 'top 15 overall pick' OL prospects. And there's a thousand quality RBs and WRs and CBs and EDGE rushers. But there's no one really like Jordan Davis…in 2022, and in history, at that size.
The Kenny Pickett going #1 overall narrative just took a major kick to the stomach. Jordan Davis at 100-to-1 is a nice hedge on your Pickett 30-50 to 1 bets.
My pre-Combine preview came to life here…the key words of "I've not seen anything like this" were echoed by one all Saturday night. I wrote it a couple weeks ago (in my Combine preview)…
DT Jordan Davis, Georgia (Pre-Combine scouting grade: A/B)
Measurable Estimate = 6'5"/340
Pre-Combine Notes = Man, they don't make human beings like this…ones that are so nimble (at this size). I looked at his college output and saw nothing of note, then saw he was 9th in the Heisman voting, and I'm like 'What?' 'How?'
Then I watched the tape and was like 'wow…that's how'! I need to watch more but, in my preview, I see a monster up the middle that has really graceful feet. He's a 'freak' for this draft. I think. A 3-4 NT or a 4-3 brick wall…more 'mountain'.
NFL Comp? = Michael Brockers but better…PLUS 30 more pounds? I struggle to comp him because I'm not sure I've seen anything like this. I stood next to Daniel McCullers (6'7"/350) at the Senior Bowl down in the end zone during drill observations several years ago…and I still remember it to this day. It was so jarring, so frightening…I felt like an ant. I never saw a human being like that in the wild/up close. Davis is that size, but quicker/nimble.
 -- Davis's teammate Devonte Wyatt would have been the 'wow' of events in the past, a 4.77 40-time at 304 pounds…but now this seems like a yawn once you drink in the Davis performance/athleticism.
Wyatt is an option for team who miss out on Davis, but it won't nearly be as thrilling…but honestly it should be kind of exciting. 300+ pound people should not run in the 4.7s with 1.61 10-yard splits. But, apparently, it's all the rage ahead. In two years, 4.77 at 300+ pounds will be 'meh'.
 -- Davis's Combine shadow also cast over 'poor' UConn DT Travis Jones, who 'only' ran a 4.92 40-time at 325 pounds. Davis-Wyatt-Jones all secured 1st-round draft pick status for 2022, here at the Combine (an event that some people don't think matters…)
 -- Alabama DT Phidarian Mathis is having a monster fall from grace from January 2022. A crappy, effortless Senior Bowl followed by a poor Combine. He's fallen out of the top 100 for sure…with so many other DTs rising up to take his place and then some.
 -- 'Poor' Oklahoma DT Perrion Winfrey…'only' a 4.89 at 290 pounds. Again, would be 'wow' a few years ago. Now, he's probably a 2nd-rounder. Good Combine, great Senior Bowl week.
 -- How 248-pound Nik Bonitto snuck into the DT group…I have no idea. The next smallest DT this day was 283 pounds. His 4.54 40-time was nice for an EDGE, but out of place here and it fooled no one.
 -- For two years I could not understand Texas A&M DT DeMarvin Leal's appeal – he looked like a slow edge and too small/OK athlete DT.
Well, RC's fear confirmed here…a 5.00 40-time at 283 pounds.
If you want a 280+ pound 'tweener', you take Houston DL Logan Hall (283 pounds, 4.88 40-time, 7.25 three-cone, 1.68 10-yard) before slow Leal.
After the DT/DLs ran, the EDGE guys went…which was supposed to be the prime viewing (Hutchinson v. Thibodeaux), but after what Jordan Davis did, a lot of the oxygen was sucked out of the room after that – they were still talking about Davis into the EDGE group, and into the linebacker group. As they should…
 -- Amare Barno, Va Tech, ran first (as per my notes are, in alpha order) and he put down a stunning 4.36 40-time at 6'4.5"/246…which is like amazing…but all anyone could talk about was Jordan Davis, still, at this point. I thought Barno was fast from my previews too -- but too thin and not-special in my tape previews. Time to dig in deeper ahead. His 40 and 10 times were stellar and are 1st-round-like numbers…but not sure he'll be drafted like that. He's a project…but if Jayson Oweh can do it (4.3s as an edge)…so might Barno?
 -- Aidan Hutchinson secured his draft status…his 'real' draft status as 'good-not-great'. Mediocre/average 40-time (4.74…which is now disappointing but was average two years ago). His 40-time and shorter arms had him falling to #5-10 range instead of #1-3, but his stellar agility times saved him…an excellent 6.73 three-cone, best in the edge class. But agility is not preferred over raw speed/burst with an edge, which I think Hutch lacks (especially compared to the buffet of options here).
Hutch could go anywhere from #1-10 overall, I think more #4-8.
 -- George Karlaftis is better than Hutchinson, I believe, but he skipped the 40-time and got mostly ignored here. But his 6'4"/266 with a 38" vertical (2nd best among edge) and 10'1" broad (6th best among edge) says he probably runs a 4.6-4.7 40-time, which is nice. But his stock is slipping because of no draft hype like the other guys.
The media picks and chooses to hype, and Karlaftis has been ignored. He'll still go top 15-20 overall.
 -- David Ojabo feels like one of the more overrated edge options here…given all the options. I get the 4.55 is fast…and it is, and should be taken seriously, but his short-shuttle was worst in the group (4.45) and he keeps profiling (for me) like a straight-line fast guy, a surprise blitzer guy not a power edge…more Leonard Floyd than Danielle Hunter type pass rusher. Maybe as a 3-4 OLB playing all facets is a better way to consider him…not just over-focused on his pass rush stuff.
 -- And then there's my boy, Kayvon Thibodeaux…my villain of the 2022 NFL Draft. A few weeks ago Ross Jacobs and I bet a coffee on Thibodeaux going top 10 overall picked (Ross) or not (me).
When Thibodeaux came in taller than I hoped (6'4" officially, but I had thought 6'3" was possible…and his listed 6'5" was a farce) and faster than I thought (4.58 40-time), I started to think the hype was too strong now backed by Combine numbers.
However, it was Ross who eventually had the fear of losing the coffee turned on him.
It went like this last night…
After all the edges ran 40-times and the drills were about to start/started, Daniel Jeremiah talked up Thibodeaux but then lofted the ' scouts/people have issues with his motivation/effort' stuff…which is always a sore subject to turn heel in any way on a top prospect during a broadcast. NFL Network people are there for ONE REASON…hype up the guys in general and shield the negatives. But Jeremiah 'went there'…
As soon as Jeremiah lofted it out there, he quickly tried to backpedal with niceties. It just so happened Willie McGinnest was there on the field to comment on edge things, and he just so happens to be privately working with Thibodeaux…so, SURPRISE, McGinest went into excuse mode for Thibodeaux. And Willie capped it off by hyping/telling us Thibodeaux will SHINE in the drills.
Analyst Charles Davis said he face-to-face interviewed Thibodeaux this week and straight up asked him if he'd do all the drills and Thibodeaux said he'd do everything because he's a competitor.
Cut to…and you can't make this up…just as that discussion paused with Charles Davis saying that, someone points out that Thibodeaux just packed up his stuff after the 40-time and is leaving, skipping the drills.
…a moment of silence…
Then Daniel Jeremiah is like…'well, that won't help his image (in so many words)'…which was a siren call for impartial judge/personal helper/apologist of Thibodeaux, Willie McGinest, to go into a 2-minute defense of Thibodeaux skipping.
So then McGinest goes and tracks down Thib to try and get answers. He comes back to say that Kayvon decided to skip because he wanted to work out at both edge…AND…Linebacker, but things were running later in the night and he didn't want to do edge drills then re-warm up for LB drills…so, he said he'd skip the drills here and do them at his Pro Day.
Daniel Jeremiah was like…but isn't it a long day/late night for guys like Hutchinson and Ojabo too, right?
McGinest then spoke/lied to us some more about weapons of mass destruction hiding somewhere or some such thing. McGinest tried to deflect it all and sounded like the idiot he has been on the sidelines of coverage for the NFL for like a decade now. Willie was a great player, but a for-shit media member (McGinest makes Michael Irvin seem coherent and interesting) – and now we endured McGinest just lying/'spinning' (making up excuses without any forehand info) to his co-workers and us the audience for like 10 minutes off and on.
Jeremiah pressed lightly some more, but he didn't want to let McGinest hang himself on national TV much longer, so he gave up…but DJ's final swipe/take that 'this is not going to help put away the idea of Thibodeaux's motivations/mindset being an issue' – it's the right one, as I said in my Thib scouting report a week or so ago.
Thibodeaux is a grade-A jerk. Jeremiah mentioned what I saw, and many others saw, and Jeremiah saw weeks ago…Thibodeaux half-assing most of the time on tape. Now, we have Thibodeaux telling all the teams he met with that he was going to do all the drills (per Jeremiah, while McGinnest kept saying this was probably his plan all along with his agent)…and then just up and skipping them.
Thibodeaux is not special, except at being a grade-A a-hole, and everyone in the league knows it (except for lying liar/cover up man Willie McGinest). Considering all the amazing Combine performers we had this day, and considering all the Thibodeaux negatives – Ross, I'm getting my coffee for exactly the reasons I said I would a few weeks ago.
I still think Thibodeaux falling out of the 1st-round is on the table…more strongly than it was when I said it a few weeks ago.
 -- So, Ole Miss's Sam Williams ran a 4.46 40-time at 261 pounds…and…yawn, from the media. He's such a natural…he may have played his way into 1st-round consideration here.
 -- Pour one out for those who died at the Combine Saturday…
Kingsley Enagbare…4.87 40-time (but not a bad 1.72 10-yard)
Myjai Sanders…228 pounds…4.67 40-time. The weight means he tried to cut to the bone to run faster, but he's more safety than edge rusher at 228 pounds…a slow safety.
We wrapped up with the linebacker group, where the Jordan Davis aftershocks were still being discussed…
 -- Montana State LB Troy Anderson was great here…6'3"/243 and ran a 4.42 40-time. Fastest among all the LBs.
 -- Alabama's Christian Harris was fast too, a 4.44 40-time…but he did this at 226 pounds. Still, it's a good thing overall. He's probably a 4.6 at 240 pounds, if he wants to go that way…still not bad.
 -- Not sure why Jermaine Johnson ran with the linebackers and not the edge guys but 4.58 40-time at 6'4.5"/245 holds his top 15 status.
 -- Utah's Devin Lloyd took some steam out of his draft stock with a 4.71 and 4.74 40-times. When the official/solid 4.66 came in, it was forgotten…the 4.7s had already weighed him down.
 -- Minnesota edge Boye Mafe hit a 4.53 40-time at 261 pounds, so he keeps his 1st-round pick status.
 -- My favorite ILB, Chad Muma, put up a solid/OK 4.63 40-time at 239 pounds. His 7.06 three-cone is pretty nice too. He should still be our #1 ILB prospect, but we'll see once all the data is processed.
 -- Very quietly Penn State's Brandon Smith ran a 4.52 at 250 pounds. Nearly the biggest hands (10.25") of the LB group and the longest arm length (34.6") by far – Smith has 1st-round talent AND athleticism. He might unseat Muma as our top ILB prospect when we get the grades all analyzed.
 -- Channing Tindall kept the Georgia freak athlete train going with a 3rd-best (among LBs) 4.47 40-time, the biggest hands (10.6") and best vertical (42") and broad (10'9"). His draft stock keeps flying higher and higher.
 -- One of my favorite sleeper edge guys face planted the Combine measurables…Tre Williams ran a tugboat 5.15 40-time with, but his 7.20 three cone brought hope back – that's his game…being slithery and agile past blockers. His 81.6" wingspan was best among all the LBs measured. 
 -- The best linebacker for last…Travon Walker runs a 4.51 40-time with a 6.89 three-cone at 271 pounds is #1 overall pick consideration-worthy as well. I tried to tell everyone in my scouting circles that Walker was the one over Thibodeaux and Hutchinson – now, it's official.