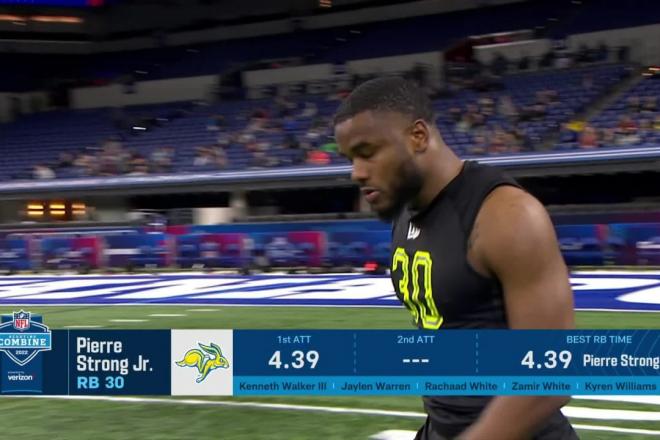 R.C. Fischer
Total Football Advisor
05 March 2022
2022 NFL Combine Day Two On-Field/Measurables: Reactions to the RB-OL Group
Just a quick reaction from day two of the Combine measurements and drills, in somewhat random order of my notes:
 -- 12 OLs officially under 5.00 40-times…that's insane. College Football keeps pumping out great athletes…the league really needs to expand by two teams.
…or was there something wrong with the timers on day two? We'll discuss in the RB notes, because it was the RB shock 40-time adjustments that made me think, after the shock OL times, that there might be an issue with the timers.
 -- OT Trevor Penning, No Iowa was probably the most mentioned/discussed OL prospect at the Combine this day. He's so notorious from the Senior Bowl for getting into 'skirmishes' with defenders and throwing them to the ground during blocking drills that the analysts can't stop talking about it.
His Senior Bowl story makes him memorable…and could get him drafted higher than expected. He ran a terrific 4.89 40-time (2nd-best of the group….01 away from tied for the best) and led all OLs in three-cone with a 7.25…and led them all in the 10-yard split at 1.70.
For what it is worth: Daniel Jeremiah said, "The (draft pick) conversation starts at #6/Carolina with Penning." Penning's Combine put a ton of pressure on the assumed Dean-Ekwonu fight for #1 overall OL prospect.
…making it easier for JAX to trade out of #1 to #6 with Carolina (for them to take Pickett), and they'd still get one of the top OLs.
 -- The second most discussed OL prospect here was OC Cam Jurgens, Nebraska. Not only did he garner attention with a 4.92 40-time and 25 bench reps, rating high in both areas among the OLs here…but there was a never-ending discussion of his legit beef jerky business.
I'll remember him for the beef jerky, honestly…and the fact that he looks like a young Brock Lesnar in every way…and that he was really smooth in all the drills.
 -- When OT Ickey Ekwonu, NC State ran a 4.93 40-time, and it made me think he had a real shot at being the #1 overall pick, over Evan Neal, as I have thought quite possible for a week+…but then when he posted a bottom tier 7.82 three-cone put a giant pause on the whole thought. On tape, I didn't see a 'bad' three-cone and short-shuttle/agility time coming.
Ekwonu didn't kill his draft stock, but he did not help his chances at being the #1 overall taken OL or being #1 overall taken.
I would argue Trevor Penning has now caught up to him and might possibly move ahead of Ekwonu on NFL boards. Ekwonu not falling, per say, just now that the #5-10 overall range is more likely in-play…and now Penning has soared up into that range too.
 -- OT Charles Cross, Miss State is often mentioned as a possible top 5-10 overall prospect, and he had a similar up/down Combine like Ekwonu -- a fantastic 4.95 40-time with a pause-inducing/head-scratching 7.88 three-cone.
These great-looking, fast OL prospects that have terrible three-cone are not dead because of it…you just have to question if they are top 5-10 picks/best in class prospects is all. If Kenny Pickett gets dragged for hand size…three-cone is one side debate point on trying to sort out top OL prospects.
We can't all have it both ways – the NFL measures it for a reason. History shows the better three-cone, the better prospect, athletically,, in general, but not all-or-nothing/100% guaranteed. We can't say, 'Wow' when Trevor Penning has a great three-cone…but then say it doesn't matter when Ekwonu or Cross have a poor reading.
…but the TV analysts do it every single time.
…that's if they were to even mention the three-cone.
The three-cone should be televised and have equal billing with the 40-yard dashes…but the 40-yard is a spectacle, and the three-cone is never televised and barely discussed (and now being skipped). The fans are constantly misled by terrible media/analyst understanding of what ALL the Combine drills mean for each position group.  
 -- OG Zion Johnson, Boston College led all the OLs in bench press (32 reps). He ran an OK 40-time but had a really nice three-cone. Zion is built differently than most any OL prospect here…just 'big' all over, like a tall bowling ball, like a series of bowling balls housed to create a human…big, rounded upper body and thick, rounded legs and calves.
He helped himself here coming in with better-than-expected athleticism times. He's working his way to the top half of the draft for all, not just some.
 -- OG Kenyon Green, Texas A&M is the one OL prospect that wounded himself at the Combine. His body looked sloppy. He had trouble with footing in drills. He ran an OK 5.24 40-time (OK for his size). He had a bad short-shuttle time of 5.12. 20 reps on the bench is embarrassing as well. I think he just fell out of the 1st-round.
 -- OT Kellen Diesch, Arizona State helped himself with a 4.89 40-time and a 32.5" vertical…both top 3 among all OL prospects here.
OK, let's talk about the RBs…
 -- First off, the numbers seem so fantastical on the speed times that I don't want to believe them…and I mean that…I'm not sure if I am ready to believe them.
In 2020, the last Combine year prior, 8 RBs ran a sub-4.5 40-time. In 2022, 14 RBs hit that level.
In 2020, two RBs hit a sub-4.4 40-time. In 2022, six RBs hit that level.
Some of the guys in the low 4.4s don't make any sense…to my eyes from watching their tape either briefly or extensively.
Every single time the 'official' 40-time was adjusted lower/faster than either of the RBs unofficial times, on attempts one or two. That, I have never seen before. It seems improbable…but then to see what RBs ran those fast times…it all seems very fishy.
And throw in there that the OL prospects had a shocking list of 40-times as well…now I'm really suspicious of this day.
It's easy to sell that the RBs and OLs all got magically faster as athletics improved year-after-year -- but did they? Why did the day one guys (WR-TE) not set all kinds of records, but the day two guys (RB-OL) did?
I am going to study it some more, but I think I might have to change/adjust/bump the RB and OL times higher…like a Pro Day bump. I can't have bad NFL timing mechanisms on day two corrupt my scouting models. I allow for some deviation in my data for 'times', but these times seem ridiculous from day two. Most RBs shifted more than .05 on their 40-times.
Now you know why the scouts hand time as well.
…and that is a possible solution. I may hand time all of these runs myself, multiple times with multiple people checking.
 -- If these 40-times are real…then, wow. Not that it makes all these RBs instantly great because they are a half-second faster than their contemporaries, but it takes some guys from 'OK' to possibly 'star', when you can run in the 4.3s at 215+ pounds.
It means a flood of plausible to good to great talent is drenching the NFL this year, from the RB position, and that will create a cluster, a log jam of talent at the position…more than it already was.
 -- Then, to make matters worse…none of them did the three-cone. They all just skipped. The most important reading of all things for a running back, to me, and they just all skipped, and no one cared? Why are we even doing the Combine anymore?
 -- Breece Hall is the big winner. I would have bet my life savings that Hall would not be a sub-4.4 runner.
Now, we slap a 4.39 40-time on him at 217 pounds and then no three-cone to evaluate…on a guy everyone pre-loved. He's now the Najee Harris of 2022 – he's the 1.01 of the Dynasty Rookie Draft already. He will be the only RB to go in the 1st-round of the draft now. The Jonathan Taylor comps will fly all offseason.
JT was NINE pounds heavier running his 4.39 than Breece…and JT ran for a higher yards per carry average in his big seasons, with more carries.
None of these 40-times makes sense. Hall with a 4.45 40-time…OK, still faster than expected but OK…but 4.39 is rarefied air for workhorse RBs. Regardless, it's what the mainstream has now…and maybe it is real.
Breece is the for sure 1.01…and I think that means we trade our 1.01s, because the tape does not match the hype now -- but I need more time to process all this data and the process the top player's tape to get a better feel for what the DRD market might be pre-NFL Draft.
 -- James Cook has a built hype that is going to push his NFL and DRD draft levels higher than maybe they should.
Cook is…
Dalvin Cook's brother.
Played in the SEC/played for a national title team.
Is a really good receiving back.
The combination of factors will get him drafted pretty highly by the NFL and Dynasty owners. And it will probably be legit for Dynasty…because the NFL will have it be a self-fulfilling prophecy.
 -- With everyone in the world running fast, the fact that Dameon Pierce (4.59) and Tyler Allgeier (4.60) did not definitely hurt their NFL draft prospects.
 -- Kevin Harris is my favorite RB of this group, going in. He skipped the 40-times, to my dismay. However, the few things he did do – he was a top-level performer.
#2 in vertical (38.5")
#3 in the bench (21 reps)
#3 Broad Jump (10'6")
#4 biggest back (221 pounds)
I have to wait to see if he gets timed at his Pro Day. Harris had no real reason to skip the running times, considering he did everything else, and did it well. It makes me worry…because I'm supposed to worry about these things.
Harris's vertical + broad numbers, at 221 pounds, would have made me think he'd clock in the 4.4s…and then that might have been a 4.39 with the Combine timers???