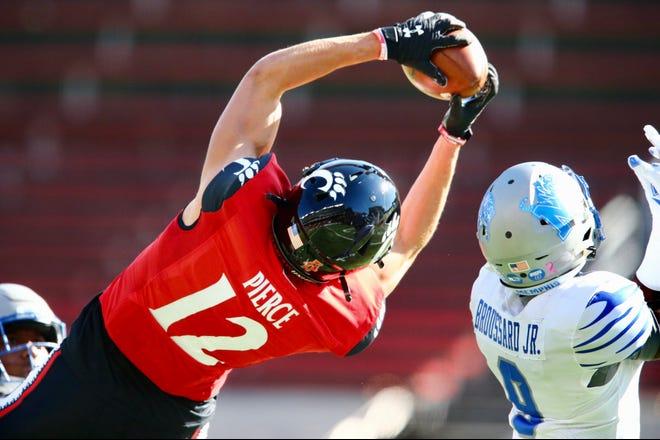 R.C. Fischer
Total Football Advisor
05 March 2022
NFL Draft 2022 Scouting Report: WR Alec Pierce, Cincinnati
*WR grades can and will change as more information comes in from Pro Day workouts, Wonderlic test results leaked, etc. We will update ratings as new info becomes available.
*WR-B stands for "Big-WR," a classification we use to separate the more physical, downfield/over-the-top, heavy-red-zone-threat-type WRs. Our WR-S/"Small-WRs" are profiled by our computer more as slot and/or possession-type WRs who are typically less physical and rely more on speed/agility to operate underneath the defense and/or use big speed to get open deep...they are not used as weapons in the red zone as much. 
The very first time I put on the tape to watch Alec Pierce in action, I was captivated. I knew right away a legit top NFL WR prospect was in front of me. When I saw him run an (official) 4.41 40-time at 6'2.6"/211…I wondered if he might be the best WR prospect in the 2022 NFL Draft class.
But then I ran his full data through our system (measurables and performance metrics) and it came back merely 'good', not 'great' as expected. Why not 'great'?
His performance metrics (our own in-house algorithm) aren't 'off the charts'…they don't align with how he looks on tape. He was 'meh' in 2019 and 2020 (Soph. and Jr. seasons) and then broke out in 2021 with a 52 catch, 884 yards, 8 TD season (14 games). 'Good'…not 'great'.
The conflict is, and you can see it clearly on his Alabama tape…he gets open all the time; he gets open at-will. He ended up with 2 catches for 17 yards and no TDs in the CFB playoff game vs. Alabama, and that sucks…but I would tell you, from the tape, he was embarrassing the Alabama corners on almost every route. He coulda/shoulda had 5-7 catches for 150-200+ yards and 2 TDs at least, from the routes he was getting open on.
So how can I quantify 'coulda' production? I try to allow for it in our numbers, from the tape when I see it consistently – but that's a slippery slope of potential bias and error trying to say, 'what should have happened'.
I can definitively tell you two things from watching the Alabama tape…
1) Pierce can get open on anyone…and the Alabama game was just an extension of Pierce's entire 2021 tape that I watched. The 4.41 40-time at the Combine was definitely not out of line – it is real. Pierce launches off the snap, and if he's running a straight deep pattern…he's by the CB in a blink and running wide open most every time, by like 2-3 yards. Most of Pierce's catches come with him having 2-3+ yards of separation…or him adjusting to a badly thrown ball and outdueling coverage for it.
Point being…whether straight sprint or slant into the interior, Pierce gets open…fast… usually leaving his coverage in the dust.
2) Desmond Ridder is not a good NFL QB prospect…he was the problem, the reason Pierce didn't have bigger stats.
Ridder is so busy throwing pre-programmed short or medium timing routes (which he is good at, but it's a head fake on his NFL abilities)…or setting up screens…or scrambling around – Pierce, busy running big boy routes downfield was outside of Ridder's comfort zone. The more I watch Ridder, the more I realize he's a good, safe college QB…but is gonna fail as a real NFL QB. He can be a nice backup throwing safe passes in a pinch, sticking to the playbook, but he's not hanging in a pocket, letting routes develop, and planting the ball on receivers (like Pierce).
If Ridder were a great pro prospect, you would have seen him hit Pierce for 15-20+ TDs last season. Hell, Cincy might have hung in the Alabama game if Ridder had just stopped being a baby and launched it to Pierce downfield and prayed that Pierce would come up with it. Alabama was missing their top corner, and Pierce was abusing everyone covering him…and Ridder barely ever looked at it…even as the game was getting away. Ridder is gonna be Ridder.
I 'think' Pierce has legit NFL skills somewhat like an Adam Thielen possibly.  Our own Ross Jacobs proposes a 'Jordy Nelson' upside, possibly…but I'm not 100% sure because it is all hypothetical. Pierce didn't get enough throws to show enough of his full potential. But Pierce running a legit 4.41 40-time makes me think Pierce has that upside in the NFL – a dangerous weapon on the outside.
Not only does Pierce have top NFL speed, especially at his size, but he appears to have good hands. He'd often bail out crappy downfield throws from Ridder, winning contested throws or adjusting faster than the CBs did to an underthrown pass. Everything I see in Pierce screams NFL starter, a real downfield weapon.
Pierce is likely to take his craft seriously at the next level…he won't embarrass the organization. He's an all-academic performer with a Mechanical Engineering degree (achieved in 3.5 years). Pierce is a humble, soft-spoken, eager player. It's a smart bet that his aptitude and work ethic will push him to get better as a wide receiver.
There's a lot of potential with Pierce, with some flags on whether he can work the inside at the next level at 211 pounds…but his height and speed/acceleration are such that he may just run away from coverage a bunch anyway, and his frame, though a bit thin, is muscular. I think he could transform his game to interior worker as well, adding 3-5 pounds of muscle.
Something special might be here, but I have a hesitation to pound my fist on the desk proclaiming it. He may just be 'competent' with some speed and goes on to be Chris Hogan-like good-but-forgettable at the next level. 
Alec Pierce, Through the Lens of Our WR Scouting Algorithm:
 -- 14 games played in 2021, eight of them with 3 or fewer catches…it doesn't make sense with how good/fast he looks on tape. Either he's a secret problem/mediocre, or my 'Ridder theory' is at play.
 -- output vs. top opponents 2021…
6-144-0 vs. Notre Dame
2-17-0 vs. Alabama
But, from the tape…it was the same game for Pierce – running by his coverage almost at will.
2-65-1 vs. Houston in AAC title game…and Ridder underthrew him for a short TD, and then Pierce beat legit speedster star CB Marcus Jones by 5+ yards downfield wide open and Ridder overthrew it but Pierce dove forward to make the catch…a 70+ yard TD opportunity turned 40+ yard diving catch with no TD. I keep seeing these missed opportunities with Pierce…that are all Ridder's fault.
2022 NFL Combine:
6'2.6"/211, 9.0" hands, 33.0" arms
4.41 40-time (9th best among WRs at Combine)
4.28 shuttle/7.13 three-cone
40.5" vertical (tops among WRs at Combine)
10'9" broad, no bench
The Historical WR Prospects to Whom Alec Pierce Most Compares Within Our System:
Not as exciting a player comp list as I had hoped, as Pierce's weaker three-cone hurt his profile…but, again I say…he's got super nimble feet to get open on any type of route.
I see (scouting eye) some Adam Thielen, but the computer sees more workhorse, reliable with spikes up and down performance WRs like Mike Sims-Walker. Javon Walker reminds me some of Pierce, which is a positive comp.
| | | | | | | | | | | |
| --- | --- | --- | --- | --- | --- | --- | --- | --- | --- | --- |
| WR Score | Draft Yr | Last | First | College | H | H | W | Power Strngth Metric | Speed Agility Metric | Hands' Metric |
| 8.321 | 2022 | Pierce | Alec | Cincinnati | 6 | 2.6 | 211 | 6.80 | 8.35 | 8.02 |
| 7.370 | 2007 | Sims-Walker | Mike | C. Florida | 6 | 1.8 | 209 | 5.91 | 9.80 | 8.90 |
| 8.720 | 2007 | Meachem | Robert | Tennessee | 6 | 2.0 | 214 | 6.63 | 7.69 | 8.70 |
| 6.488 | 2019 | Dulin | Ashton | Malone (OH) | 6 | 1.3 | 215 | 7.08 | 7.05 | 7.54 |
| 8.451 | 2002 | Walker | Javon | Florida State | 6 | 3.0 | 210 | 4.86 | 9.63 | 7.58 |
| 8.932 | 2020 | Mims | Denzel | Baylor | 6 | 2.7 | 207 | 6.85 | 11.89 | 9.27 |
| 8.630 | 2015 | Perriman | Breshad | C. Florida | 6 | 2.0 | 212 | 6.78 | 10.06 | 8.67 |
*A score of 7.0+ is where we start to take a Big-WR prospect more seriously. A score of 8.50+ is where we see a stronger correlation of a Big-WR going on to become NFL good/great/elite. A score of 10.00+ is more rarefied air in our system and indicates a greater probability of becoming an elite NFL Big-WR.
All of the WR ratings are based on a 0–10 scale, but a player can score negative, or above a 10.0 in certain instances.
Overall WR score = A combination of several on-field performance measures, including refinement for strength of opponents faced, mixed with all the physical measurement metrics, and rated historically in our database.
"Power-Strength" = A combination of unique metrics surrounding physical size profiling, bench press strength, etc.  High scorers here project to be more physical, better blockers, and less injury-prone.
"Speed-Agility" = A combination of unique metrics surrounding speed, agility, physical size, mixed with some on-field performance metrics. High scorers here project to have a better YAC and show characteristics to be used as deep threats/to create separation.
"Hands" = A combination of unique metrics surrounding on-field performance in college, considering the strength of opponents played. Furthermore, this data considers some physical profiling for hand size, etc. High scorers here have a better track record of college statistical performance. Everything combining to project catch-abilities for the next level.
2022 NFL Draft Outlook:
I see Pierce with draft projections all over…I've seen 1st-round/late and I've seen 4th-5th-rounds, and everything in-between. In the end, I'm guessing top 100…like 3rd-round early. But 1st-round wouldn't totally shock me either, if a team sees what I see from Pierce's tape – that a lot was left on the table.
If I were an NFL GM, the more Pierce falls in this draft past the 1st-round…the more interested I am in taking a shot on him becoming the next Adam Thielen. There are some star attributes I see here, but I also see a few minor concerns. Much more 'good' than 'bad' with 'great' upside potential.
NFL Outlook:   
Depends upon the draft respect.
If a team pushes for him top 50, then he should play right away.
If he is snubbed as a 3rd-round pick then it's a fight to get respect early.
If he goes 4th-5th-rounds, then he's got an uphill battle.
I think eventually he'll make his way to productive starter with a 'floor' of deep ball weapon/decoy guy and 'ceiling' of star receiver who works the entire field after adding 3-5 pounds of muscle.