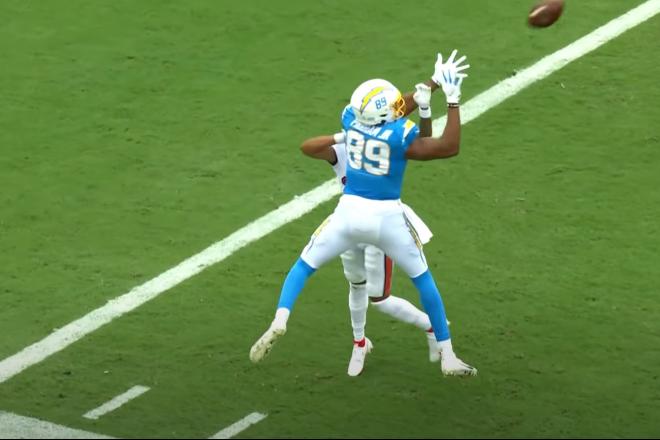 R.C. Fischer
Total Football Advisor
23 May 2023
Donald Parham was a bit of a 'freak' (tall/long at a legit 6'8"+) TE prospect out of FCS Stetson in 2019. He earned a Senior Bowl invite as a 1st-team FCS All-American…and did well enough there that he was firmly on the 2019 NFL Draft radar, but as is the case with most FCS players…and most TE prospects who didn't play in the SEC and were not projecting as a great blocker ultimately end up as UDFAs for the 30+-years-behind-the-times NFL that didn't see enough in Parham to draft him…despite his 6'8.3"/240 size and 85 3/8ths wingspan and 4.68 40-time speed and 38.5" vertical and holding his own at college all-star events.
The Lions took the first UDFA shot at Parham in May 2019…then cut him the following day. A month later, Washington gave him a UDFA camp shot, but he got waived for opening day and put on the practice squad.
Parham couldn't buy the NFL's attention, so he went to the XFL and became a star in their return season…and that got him back on the NFL radar. The XFL was way ahead of the NFL on Parham, which is not unusual…
In April 2020, the Chargers signed him and he made it to the LAC roster that season…winding up as an end zone specialist (imagine that at 6'8"+ with an 85"+ wingspan and 38.5" vertical…the NFL is so forward-thinking) and scored 3 TDs in 2020 as an alley oop red zone threat with rookie QB Justin Herbert.
2021 season looked like Parham was breaking out. He started 9 games. He was playing 40-60% of the snaps in most games. He looked great on tape, but still under-targeted. But he expanded his game to working all over the field, not just 'tall guy in the end zone'. He was averaging around two catches a game and 20+ yards per when this seemingly innocent play (and TD that ended up getting negated) happened early in their Week 15 game:  https://youtu.be/2dVGsMx8_1Y.
Parham was then lost for the game/the rest of the season…a developing situation/promising breakout in progress halted. He also had a concussion that cost him time in college, and now here was another.
Parham was expected back for the 2022 season start, with bigger things/more growth expected -- but he sustained an ankle and hamstring injury that cost him the 2022 preseason and the first 4 games of the season. He played 25% of the snaps in Week 5, in his return. He was rolling towards a career high game Week 6 (ended up 3-53-0/3) but sustained another concussion and missed the next 6 weeks.
Parham returned from concussion Week 14/2022 and played a (then) season high 31% of the snaps…35% of the snaps the following week. 41% of the snaps in Week 17, starting for the first time in 2022, and scoring his first TD of the season. Week 18, he pushed up to 51% of the snaps…while starter Gerald Everett played 44% of the snaps (but was an insignificant game for LAC). The final 4 games of the 2022 season, Parham's snaps increased every game and Everett's were declining.
In LAC's playoff game, Parham started (with Everett in a 2-TE set) and tied his career highs in targets (5) and catches (4) in a game.
Parham's career headlines in the NFL are: Concussion worries/time missed…but getting thrown right back in to the fire when healthy/cleared and improving every season/game otherwise. AND being the deep sleeper attention of various Fantasy analysts the past 2-3 years -- but now has nearly lost all his supporters.
I'm still hanging in.
To me, Parham is still developing towards being an NFL starter (and possible star). He looked like a real TE weapon developing in 2021 as it was and seemed like he had advanced his game to starter-level TE his second year in the NFL (2022). I'm watching a guy over the past four years that is always getting in range to grab a brass ring and then some non-surgical injury issue derails him just as he gains momentum.
I'm also seeing that over the past two seasons the Chargers are not giving up on him -- they are playing him as soon as he returns from injury, getting 30-60% of the targets as a rotational TE and his receiving numbers are starting to percolate higher as he develops more time/trust with Justin Herbert -- who Parham has been with for coming up on his 4th offseason/preseason.
For 2023, enter Kellen Moore, new O-C for the Chargers…who I am open to being a decent, possibly smart-ish offensive mind -- and anything is better than the worst O-C in the NFL the past two seasons for LAC, Joe Lombardi (*Eric Bieniemy really wasn't really the KC O-C, Andy Reid was). Maybe the new O-C/Moore will be not-ridiculous and sees the opportunity in pushing Donald Parham as a weapon…while also de-emphasizing one of the most overrated TEs of the past five years, Gerald Everett. It's also possible Everett gets cut for the June 1st deadline.
If I knew Parham was the starting for LAC in 2023, like if that announcement just came down the pike and Everett had been traded/cut as well -- I'd have Parham as a TE1 in our projections immediately…and more of a top 8 TE than back-end #10-12 TE1 projection (he has a major advantage working with Herbert). Parham's size and reach is a major advantage and his movement skills are solid/improving as a route runner.
Ignoring rookies for a moment, Parham is possibly the most talented/upside 'backup' TE (listed) in the NFL…just 'getting a break' of some kind away from a launch to FF prominence. *If Jelani Woods is really a backup for IND, then Parham is the 2nd-best backup TE in the NFL…but Woods will be the Colts starter this year, I'm betting/projecting.
Some visuals of Parham's work the past couple years:
2019: XFL highlights https://youtu.be/V6zbFtoyPHo
2020: https://youtu.be/Jd_OdUY9Vz8
2021: https://youtu.be/quQNepPszyw
2022: https://youtu.be/aydnkjI2SEk
This could happen 8-10+ times a season if LAC wanted: https://youtu.be/UxfsmicMtXc