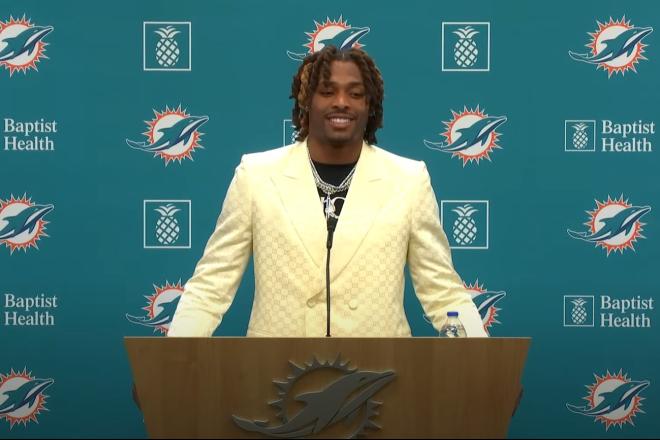 R.C. Fischer
Total Football Advisor
20 May 2023
Intro: In this 'pairing' series, we'll take a quick look at the top defensive units (talent-wise, per me) and try to find their best 'pairing' match schedule-wise for 2023. We have to consider pairings at DST right off the bat because there are no shutdown defenses and there are so many good offenses now, it's hard to find any one DST that has a great schedule run on its own -- but combining two DSTs that have schedule's that complement each other might just get us by with an advantage at the position.
The Dolphins defense was not great last year. Bottom 10 in FF scoring. Bottom 10 against the pass. Was #6 best against the run. #22 in PPG allowed. All that doesn't matter to 2023…because so much has changed/upgraded on Miami's defense this offseason.
The biggest upgrade was dumping D-C Josh Boyer and hiring one of the best D-C's in the game -- Vic Fangio. But it wasn't just the D-C upgrade…Miami upgraded all over the defense…
…and it starts with trading for Bradley Chubb at the trade deadline last season.
And then Miami made a huge move to kick off the 2023 offseason by trading for Jalen Ramsey…arguably the best cover corner in the league, when he wants to play CB (the Rams used him as an OLB/SAF most of the last 2 years without the football analysts being aware of it still to this day). Ramsey will team with Xavien Howard to form the best CB group, on paper, in the NFL for 2023. Byron Jones was punted from the organization.
The Dolphins also signed the very good Tennessee ILB David Long in free agency to upgrade the LB group.
Miami also drafted a CB that many thought was a 1st-round corner, getting him in the 2nd-round, Cam Smith out of South Carolina.
This is a very talented starting 11 group with a terrific D-C, but their early season schedule is pretty rough…
They open at LAC Week 1. Week 4 they're at BUF. Week 7 they're at Philly and Week 9 they go international with Kansas City. A brutal set of four ace QBs to face in the first 9 games, every other week they seemingly face an elite QB.
In-between the gaps, and after Week 9 (v KC)/Week 10 (bye) the schedule turns in their favor all the way through until Week 18 v. BUF (which may not FF matter anyway).
I had our computer scan for the DSTs that would best pair with Miami, where this other DST has good/great matchups when Miami is in a tough spot Weeks 1-4-7-9-10.
Here are the computer's best matches for a Miami-DST pairing…
#1) Seattle-DST
Seattle is the only DST that hits strong on all five rough spots for Miami (the other next best options can only get to four of 5 good covering weeks, on paper). Not only is Seattle a good match, but they are arguably the best actual defensive unit of the top matches…and also very acquirable since they are not a top 12 ADP DST.
When Miami should be benched, Seattle has LAR (Wk1), NYG (Wk4), ARI (Wk7), BAL (Wk9), and WSH (Wk10).
I really like how this pairing lines up…on paper.
#2) Buccaneers-DST
When Miami should be benched, Seattle has MIN (Wk1)…not good, NO (Wk4), ATL (Wk7), HOU (Wk9), and TEN (Wk10).
#3) Green Bay-DST
When Miami should be benched, Seattle has CHI (Wk1)…which is shaky, DET (Wk4)…not good, DEN (Wk7), LAR (Wk9), and PIT (Wk10).
#4) Steelers-DST
When Miami should be benched, Seattle has SF (Wk1)…not good, HOU (Wk4), LAR (Wk7), TEN (Wk9), and GB (Wk10).