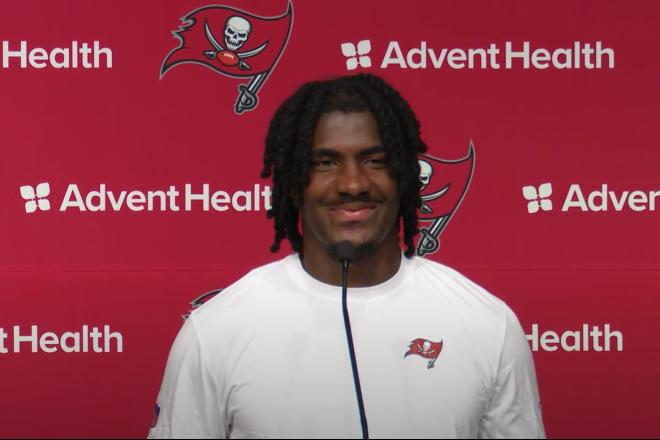 R.C. Fischer
Total Football Advisor
01 May 2023
I'm going through all the NFL team's drafts one team at a time, while working on the draft's impact to the Dynasty Rookie Draft and Dynasty/Best Ball projections, etc. It will take me a few days to really focus on and deliberate how things went, in general, for each specific team…for all 32 teams.
This year, I'm going through division-by-division for an opening 'gut reaction' to things…and publishing them a division at a time. This is my 'first reaction' to each team's overall draft. I'm still going to circle back around and re-study and re-debate things all offseason, and scout more of these players deeper -- but this is my initial reaction.
*Our annual computer model grading of the NFL Draft will be out in 1-2 weeks when we have processed all the data and UDFAs, etc.
In order of best-to-worst grades, using my 'Gut' grading system for this first reaction…our computer model grading will be better/more detailed on comparing all the drafts.
TAMPA BAY BUCCANEERS (Gut Grade: B-)
A solid first two days of the draft here. Taking Calijah Kancey is what the draft is all about -- taking a shot on things that are super-unique, could be game changing. Cody Mauch in the 2nd-round was a very solid, value add OL. Yaya Diaby is an underrated pass rusher value in the third round…he may be as good as most of the 'reached for' 1st/2nd-round pass rushers.
Day three…the Bucs' picks were solid-ish and unspectacular.
They did add RB Sean Tucker as a UDFA…a great value, depending upon Tucker's secret medical issues (they were concerning enough to see him go undrafted). No threat to Rachaad, just the better 2nd RB compared to Edmonds.
Not a QB or RB added with purpose by TB -- this team is going to go behind Baker Mayfield and Rachaad White, as we've been beating the drum on for weeks leading up to this draft.
CAROLINA PANTHERS (Gut Grade: C)
When the media, and fans, are more rational and fair about it…like 10+ years from now -- there will be 30-for-30 type documentaries on how cataclysmically bad the decision was to select Bryce Young over Anthony Richardson or C.J. Stroud, and probably over Will Levis too. Before you get into the size issues on Bryce, you have the fact that Young does not possess the passer ability of Richardson-Stroud-Levis. He doesn't have the arm for it when things are tight/muddy, as they often are in the NFL. He's not as good as Brock Purdy either, among others.
All that aside, Young is an upgrade from P.J. Walker and Sam Darnold, so that's a mild 'win'. I like Jonathan Mingo alright. Chandler Zavala is a solid OG prospect, who was a solid value at pick #114.
Carolina had a nice UDFA class: Jalen Redmond was a Combine standout among DTs, in athleticism. I think Rejzohn Wright was one of the 10 best CBs in the draft. Nico Bolden is a great SAF sleeper plucked as a UDFA.
David Tepper is showing to be a terrible, somewhat over-meddling (randomly) owner who is easily swayed by ex-players (especially Steve Smith) and he so desperately wants to be 'accepted' by the ex-players and football people so much it's getting uneasy to watch. Tepper has made nothing but awful head coaching decisions, and hiring Frank Reich may be his greatest feat of ineptitude yet. 
I am starting to take positions in the Carolina 'under' win total of 7.5 at +100. A mediocre QB with an O-Line like he's never had to play behind before and mediocre/unimpressive weaponry across the offense with a terrible head coach and really weak staff…and most of the rest of the NFC South is flawed but scrappy but underappreciated by the public/Vegas.
NEW ORLEANS SAINTS (Gut Grade: D+)
My main offseason bet is 'under' 9.5 wins for the Saints.
I think them getting Derek Carr set off some weird hysteria that the Saints 'got their guy' (that Las Vegas couldn't wait to be rid of)…and with that PLUS the weakness of QBs throughout the division, the Saints caught a momentum ride to the assumed winner of the division and thus they'd likely do that with 9-10 wins. I think the pressure is to the under…that this thing falls apart in 2023…and this time next year, Derek Carr will be an issue for the new head coach replacing Dennis Allen.
I think Carr is mediocre at best, and fading at worst…like Wentz-Ryan was for teams -- the veteran QB reach by desperate teams, a few years too late. From there, I believe Dennis Allen is a bad head coach and the Saints' personnel management has been in trouble/good talent leaving the organization the past two years…and long-time Sean Payton just flat-out walked away as well. When their long-time, well-respected assistant head coach and defensive coordinator Ryan Nielsen bailed on them this offseason, he landed with the same job in Atlanta…and took a few Saints defenders with him this offseason. Michael Thomas has been a locker room cancer for years and they still keep paying him to come back…and Alvin Kamara is another cancer who will likely be suspended for half-a-season (he should be in jail, but he won't be).
Bad QB, bad head coach, bad organization, bad locker room does not equal 'division winner'. And the rest of the division isn't that bad, relative to this very flawed Saints team. I'd pound my first on the desk for this 'under' if not for the great O-Line group they have…and their stellar CB group. All the problems around that should be too much for the O-Line to save.
I say all that, to note -- I am keenly watching/observing all Saints things as it relates to my 'under' bet. Their 2023 NFL Draft was a big event that I paid close attention to as it unfolded…
Taking Bryan Breese in the 1st-round did nothing for me/didn't worry me about my Saints 'under' bet…David Onyemata out (to ATL), Bresee in…not a 2023 upgrade.
2nd-round Isaiah Foskey in, Marcus Davenport and 2022 star Kaden Elliss gone (both gone to ATL)…another downgrade/no help to 2023.
3rd-round Kendre Miller in, Alvin Kamara likely out…a push-to-downgrade.
4th-round Jake Haener is not the next Brock Purdy, so if Carr falters, I'll get either Jameis Winston or Haener in relief…fine by me!
I like the Nick Saldiveri pick in the 4th, and you know I love A.T. Perry in the 6th…but lasting until the 6th-round means Perry will get pushed to the back of the line, so ATP likely cannot help them much in 2023, because he won't be allowed to.
Through the Derek Carr situation…through coaches/personnel people leaving New Orleans…through free agency losses…through this weak draft -- the Saints are not better now than they were last year, and they stunk last year.
I will give the Saints scouts some credit, they did well in the UDFA period…Shaq Davis SC State WR was one of our deep sleeper highlights for late in the draft/UDFAs. Sy Barnett WR Davenport, a great Pro Day that I'd like to see facing NFLers. Joel Wilson had some scouting positives, as a TE for C. Michigan. I like Vandy LB Anfernee Orji's tape and physical body for the NFL. Not a bad UDFA haul.
ATLANTA FALCONS (Gut Grade: D-)
Bijan has a lot of name appeal, but when you step back and look at it -- the Falcons just burned the #8 overall pick in the draft on a running back who is not as good as Tyler Allgeier. That's a breath-taking draft, franchise building mistake. Honestly, Bijan is the third best RB on the Falcons roster at the moment…(CPatt, anyone?). Bijan is a solid addition but he's not radically changing the offense…he's just going in and Allgeier and CP are out…actually, the more Patterson is taken away the worse the team is.
Atlanta took a solid OT prospect 2nd-round, Matthew Bergeron…and then may have blown it with all their picks from then on in. If 3rd-rounder Zach Harrison doesn't pan out…this draft is in real trouble. Clark Phillips is size and athleticism challenged from the 4th-round, but is scrappy…but may not be able to hang in the NFL as well as he starred in college. Atlanta took several names that were hot in January, that the pre-draft process wasn't kind to from there -- but they took them anyway in April.
I didn't like this draft at all, and they got no help from the UDFA signings either. The Falcons didn't get much better, overall, from this draft -- a real missed opportunity after a solid free agency period in 2023.