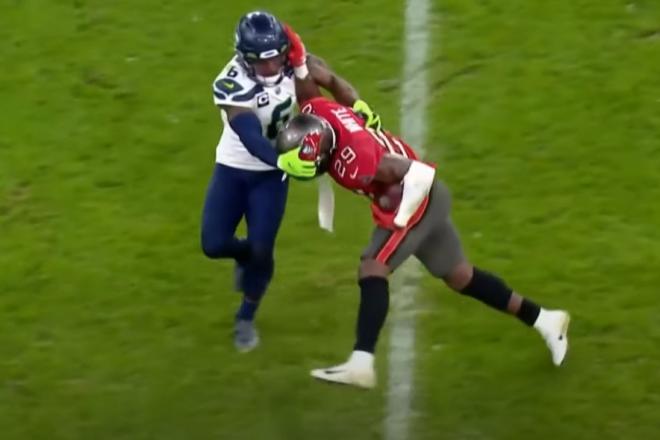 R.C. Fischer
Total Football Advisor
24 March 2023
I am going to propose that Rachaad White is the single greatest value player in Dynasty right now, at this very moment…and possibly the single greatest value for the next few weeks -- but then the discount window may close fast after day two of the 2023 NFL Draft.  
It's a bold statement to make on Rachaad, and I'm prepared to back it up -- but first I need to go through the history that got me here and help make the case for why I'm being so bold/brazen on Rachaad. And then we'll consider some questions/objections before I lay out how to value and trade for Rachaad -- compared to existing players and in terms of Dynasty Rookie Draft picks valuation.
Let's take a long journey together…
How We Got Here…
First, the idea of the great value I perceive in chasing Rachaad White right now begins with your likely reaction to my opening paragraph ('the single greatest value in Dynasty…').
Those that have been with me for a while, you know how highly we have had Rachaad rated since last preseason (and I'll cover that in a moment), so when you saw how highly we have him projected on our current 2023 Dynasty top 600…you weren't fully shocked, but were you fully on board with it? Probably not. If you owned him, you were delighted seeing how high his ranking was. If you don't already possess him, then you saw our lofty valuations and made a mental note…but you probably didn't drop what you were doing and started sending trade offers.
Almost every time I have mentioned to a client or subscriber that it's a priority to make a run after Rachaad White, that he's still way undervalued for what he brings to the Dynasty table…the reaction is, 'huh' and/or 'really?' It's not laughed off…but it's not exciting anyone either. That's how I know there's value here to go trade for -- even FFMers are not fully, righteously excited. That's OK…it's my job to try and light that fire/make that case. And I'm going to try to do just that here.
Last pre-NFL Draft season, we had Rachaad White graded solidly as an NFL talent but I wasn't pounding the table for him at first. We had him in the upper echelon, but I had more interest in the extreme value proposition of Isiah Pacheco and Tyler Allgeier. White was our #5 rated 'power' (bigger) RB prospect to start the 2022 draft scouting process…but in August 2022, we moved White to the #1 rated rookie RB, regardless of size or style, for the 2022 class.
What happened to cause such a late rise to the top? Easy…I got to see him work against NFL talent, as well as seeing all the other RB prospects work the preseason as well. Going into the preseason, I knew White was in the conversation for best RB prospect of 2022 but as soon as I saw him in training camp and then in preseason games -- it was clear, he was the best of a really great RB draft class.
I believed all along that Rachaad White was the best receiving back of the 2022 draft class…and that his pass game ability would give him a real advantage when considering him for FF/PPR purposes. Not just good…but really good in the passing game…watching his college tape. But when I saw him working in the NFL preseason (and regular season)…he wasn't just really good, but elite in the passing game. A guy that size, with graceful/fluid movement skills running any pass pattern you'd like with excellent hands -- he's probably the 2nd best receiving skills on a running back prospect that I've ever scouted…just behind WR-to-RB-in-college convert David Johnson…and ahead of Christian McCaffrey.
Pair an elite passing game ability with good size (6'1"/215) and nice speed (4.48 40-time, 1.52 10-yd split) and you already got something special. But what I had underrated pre-NFL Draft was how good a runner of the ball he was. I thought he was good/really good toting it, but his preseason NFL work started to reveal a great running back who was a spitting image running style of Le'Veon Bell -- that patient style, the hesitation seeking an opening, but (and this is key) then the ability to kick on the jets in a blink to fly through the opening with high-end agility and power to go-with. White had a frame (in college) to add 3-5 pounds of muscle, and he did. And, side note, he's committed to playing (in 2023) at 220+ pounds of pure muscle with the speed of a 210-215-pound RB. He's morphing/evolving quickly into a perfect RB prospect.
In the passing game, there is none better from the 2022 draft class…nor in current existence in the NFL (David Johnson is past his prime). That's how good Rachaad is. And if you don't get on board with that statement…we're going to have a hard time doing business on him ahead. You gotta believe.
You may be inclined to skip these videos, but I wish you would not…I wish you would watch them in order -- it's a total of less than 10 minutes and it's very important to the case here. Get a drink and sit back and really soak these videos in…really watch White at work, and the words being said, etc.
 -- State's evidence #1: https://youtu.be/DHGB-e6DPkc
 -- It's a year later, and it's easy to forget what was right in front of our eyes the whole time.
State's evidence #2: https://youtu.be/1A5oqQpirQA
 -- Week 12 of 2022: His first and really only true 'start'…no Leonard Fournette (out) and thus was White's only game playing 70%+ of the snaps in a game. His output: 14 carries for 64 yards, 9 targets, 9 catches.
State's evidence #3: https://youtu.be/fRjuKfG8vt4
 -- Don't forget about this… State's evidence #4: https://youtu.be/kp8gKDpXRdc
Rachaad White is the best receiving back from the 2022 draft class hands down. And I'd put him in a battle with Isiah Pacheco and Tyler Allgeier for the best runner of the ball of the class -- the winner is more dependent upon the style runner you like, but it's Pacheco or Rachaad for me in that area, as all-around runners of the ball.
I'm saying Rachaad White is the best receiving back and probably the best runner of the 2022 group, and definitely the best receiver-runner combo. Better than Pacheco, Allgeier or Breece Hall.
As of today, from our tracking, Rachaad is (current Dynasty ADP) being drafted behind Breece Hall (who is WAYYY ahead of him) and then Kenneth Walker (who is also way ahead of him), and Dameon Pierce is slightly ahead of White. Rachaad is a better NFL RB than all three of those guys.
2022 into 2023…
In 2023, post-free agency, White is on a team/depth chart that has been cleared for him to take over. White was already better than Leonard Fournette last season, and everyone knew it…but Len was the moody veteran who they had to keep in the mix/in a somewhat prominent role down the stretch. White was starting but Fournette would come in and take as many/more touches and snaps…and looked pretty bad doing it by comparison. The feeble Bucs' run game only had a prayer when White was in the game/taking the series.
The problem, overall, for Tampa's run game in 2022 was all their O-Line injuries…it was an unfortunate injury plague from the preseason on.
Leonard Fournette would only run for 3.5 yards per carry in the 2022 NFL season season.
In the first nine games/half of the 2022 season, White carried the ball sparingly -- 38 carries for 117 yards…just 3.1 yards per carry.
Week 10, trip to Germany, facing Seattle, Todd Bowles had had enough. Rachaad was the surprise starter in that early (USA time) Sunday morning game, Fournette dying and playing in relief of/with Rachaad…and White rushed for 105 yards on 22 carries, and a star was born. In the second half of the season (including playoffs), Rachaad started every game and ran the ball 98 times for 405 yards…4.1 yards per carry, behind a dead O-Line, splitting time with Fournette, which is a miracle of production with that depleted O-Line. And this muted 2022 output is also deceiving, hiding him from the mainstream right now as well…when in reality, it took a great performance to get to the 4.1 ypc mark with this squad.
Oh, and that Rachaad pass game ability…from Week 12 through their playoff game (but excluding Week 18 where Rachaad barely played/division wrapped up already), Rachaad caught 4.9 passes per game (on 5.6 targets per game)…he caught a whopping 86.2% of his 58 targets during the regular season. He's a passing game stud waiting to fully break out.
Fast forward to free agency period 2023… Leonard Fournette sent packing. As soon as that happened, analysts were predicting various free agent RBs to go split with White…especially Ezekiel Elliott…while some mock drafting Bijan Robinson to the Bucs. Why? Because it's an insight into the soul of the collective football universe -- THEY (the entire football world/media/scouts) are looking right past Rachaad White, like he's not even there.
The good news about that: The NFL hivemind that propagates this ignoring of White…that's where all your league mates are getting their football intel from. If/when you go to make a trade offer for White…and your trade partner rushes out to see the latest news and takes on White, it will be crickets and tumbleweed blowing across the dirt road. Actually, it will be articles written with projections on who Tampa is getting work past Rachaad.
This March 6th article on NFL.com captures the vibe perfectly:
As we head toward free agency and the 2023 NFL Draft, the Tampa Bay Buccaneers sit with major holes and questions throughout the roster.
Quarterback is the most glaring need, and voids litter the defense and offensive line. With the pending release of Leonard Fournette, running back could be in play for Tampa as well to pair with 2022 third-round pick Rachaad White.
There has been some discussion about the Bucs possibly snagging the top RB in the draft in Bijan Robinson, who had a massive day at the NFL Scouting Combine over the weekend. Given where they are in the first round at No. 19 overall, there is some logic to taking the top player at a position rather than the fourth or fifth-best edge rusher or corner, depending on how the draft unfolds. It's also become very divisive to draft a first-round RB.
NFL Network Draft Analyst Daniel Jeremiah pegged Robinson as his pick for the Bucs in his latest mock draft, noting that providing an offensive workhorse could aid whoever winds up under center.
White has heard the chatter of Tampa adding a player like Robinson, recently telling Pewter Report that he isn't fretting about any competition.
"I don't have no problem with Bijan," White said. "The thing is, at the end of the day, what I have learned even though I'm young -- [from] my agent and what people in my circle taught me -- it's a business, we all know that. Tampa Bay has to do what's best for Tampa Bay. My coaches have to do what's best for my coaches. Everybody has a little selfishness in them -- you have to. Me, I'm selfless. You can draft Bijan, you can draft whoever, at the end of the day, I'm going to win that job, that's just what I've always done.
"That's what I always did with my track record, no matter what. No problem with Bijan or whoever Tampa drafts. Obviously you have to draft a guy, it's the league. I don't have any problem with that, the only problem I have is people saying, 'We don't know if he can be Kenneth Walker -- if he could be a budding star.' Kenneth and I are like close friends in real life, we talk a lot. I'm just saying if you give me 200 carries in a season -- if you give me the opportunity and I don't make anything out of it, then you can say we don't know if he can be a budding star."
White carried the ball 129 times for 481 yards and one touchdown in 17 games as a rookie, netting eight starts down the stretch. The 24-year-old showed some pop and muscle when given the chance, including a 105-yard game on a 22-carry day in Week 10's win over Seattle in Germany.
With the Bucs moving on from Fournette and importing a new offense under Dave Canales, White has the chance to improve across the board in 2023 -- unless Tampa uses significant assets to leapfrog the former third-round pick.
Robinson owns the talent of a workhorse back, but with a ton of needs this offseason and not much salary cap space to play with, it feels extravagant for Tampa to use a high pick on an RB, particularly with the depth of this year's draft class.
Your league mates just KNOW that Tampa Bay is gonna draft a running back -- because every article/mock draft about the Tampa RB situation right now is like White is not any answer/solution at RB at all for the Bucs…he's more of a problem the team has to solve/work around. I think the Bucs know exactly what they have, and that's why they ditched Fournette the moment they could. The Bucs signed Chase Edmonds to the roster…the perfect backup/low touch running mate to stay out of White's way. Edmonds was drafted to Arizona, initially, during the Bruce Arians regime. Edmonds was not a junk/meaningless signing…he has (good) history with Arians. But he's just a distant backup for/non-threat to Rachaad.
Rachaad White is the best running back talent from the 2022 NFL Draft class, and his team just paved the way for him to be 'the guy'. And yet…White is the consensus #17-22 RB in Dynasty rankings. The media is not endorsing Rachaad at all. I would feel comfortable projecting White with 15-18+ carries a game in 2023 with 5-8+ targets per game, 3-5+ catches per game in 2023.
You have to believe Rachaad is an RB1 for FF in 2023…and beyond, and if so, then it's time to go get him at a huge discount from our valuations vs. the current mainstream thought. AND there's a time factor you need to work quickly within, I believe. More on that in a moment.
QUESTIONS/CONCERNS
White hasn't become a star yet, so there's going to be 'what if' worries about being too bold, too ahead of the curve on Rachaad. There are objections likely popping up in your head, such as…
 -- If Rachaad White is so great, why isn't there more heat on him in the media?
I don't want to go into my diatribe on how unbelievably bad and wrong the football media, and scouts, and coaches, and ex-players are about critiquing and scouting their own sport…history is our guide. The last three 1.01 RBs in a Dynasty Rookie Draft are: Clyde Edwards-Helaire, Najee Harris, Breece Hall…none of which are their draft's best RB talent or FF producer, so far. The analysts are almost always wrong about everything. Their opinion is nearly meaningless here.
I'm not sure why Rachaad is so overlooked by THEM. I mean, right now, Isiah Pacheco is even lower ranked/near in ADP in Dynasty drafts than Rachaad…and they didn't see Pacheco coming at all (but we saw it ahead of anyone roaming around on this earth -- and I say that not to brag, but to give my credentials and/or re-remind us…I'm not that crazy). The football intelligentsia is still missing it on this 2022 rookie RB class…they don't see much in White-Pacheco-Allgeier…they didn't last summer, and they aren't much more into it now…not as much as they should be.
The mainstream football analysis pattern is: This time of year, the offseason/preseason, the media and fans get uber-hysterical about the incoming rookies. Rookies are all magical unicorns we cannot critique, and who we must fawn over as saviors to their new team. All 1st-round picks are future Hall of Famers, and most 2nd-7th-round picks are all sleepers/steals according to a team's local media and fans.
Then when the actual season goes and these rookies play, and they aren't 'magical beings' right away…when they're just good or OK or bad or developmental players…then the bloom is off the rose, the fans are supremely fickle, and these same rookies a year later are now boring and we're looking ahead to the new crop of magical rookie unicorns.
When a rookie, like White, doesn't really start as a rookie…or play for a great/high profile team and doesn't score a bunch of TDs -- they are forgotten/downgraded the following offseason. Most rookie RBs are like new cars driven off the lot and then their proverbial value drops 25% once gone from the dealership. Last year's rookies are mostly old news today, unless they played at Alabama or Ohio State or were otherwise college high-profile and/or did something good/great in the 2022 NFL season season. White had a kinda quiet…quietly good…rookie season, but didn't do anything super splashy -- so, Rachaad is perfectly flying below the media radar.
So, with all those factors…the media leads Dynasty owners around by the nose as they nonstop talk about the current incoming rookies and thus Dynasty owners want all the current rookies over most of last year's rookies. It never changes…it's always true…every year I've been in this game.
 -- What will happen to Rachaad's targets with Tom Brady gone?
This is a great question -- that I don't know the answer to.
I believe that the team knows the pass game weapon they have in White…we saw it in the 2022 NFL season. We've heard the GM speak to it preseason 2022, before Rachaad even suited up for a practice. And Baker will throw to RBs…and he's never had an RB-receiver like White to work with.
In his best season, 2020, Baker completed 58 passes (3.6 rec. per game) to Chubb-Hunt-D'Ernest-Hilliard on 74 targets (4.6 per game). I don't think Baker will be an issue…nor will the new O-C, who is a promising, young QB coach from Seattle (credited to some degree with the Geno miracle of 2022) -- Dave Canales. If Byron Leftwich were still here, it would be a minor full-scale panic…but another boost for Rachaad this offseason -- Canales being hired/Leftwich being fired.
 -- Will the O-Line be an issue, like it was in 2022?
Another great question. It's an 'OK' O-Line…terrible in 2022 due to mass injuries. If they draft an ace O-Linemen to go with what they got (Tristan Wirfs is awesome), then we should be OK here. As bad as the O-Line was in 2022…Rachaad worked well behind it when he got the push. I think Rachaad will be OK no matter, given his array of skills, and Tampa gets some guys back healthy -- but I'd extra love it if Dawand Jones landed here too…
 -- What happens if Ezekiel Elliott signs here…
He's not.
But there are football writers pitching it…again, because they disrespect/don't know about Rachaad…not really KNOWING him.
Use this current wave/cloud of Tampa signing Elliott news/theories to allow Rachaad's current owner to feel like he's dumping Rachaad on you before the Zeke (or Bijan) bad news hits.
The current ESPN reporting theory on Elliott…
One year, $4 million with the Buccaneers. Here, he would be part of a split backfield alongside Rachaad White, who would serve as the team's primary pass-catcher out of the backfield. Elliott would be an early-down runner and much-needed pass protection specialist for an offense currently expected to start Baker Mayfield or Kyle Trask at quarterback.
Tampa will likely move toward a more run-heavy approach after Tom Brady's retirement, so it is going to need someone to rotate with White.
This report couldn't be more wrong…or more representative of how out of touch the ESPN types are. USE IT to YOUR advantage. Hurry. And if Zeke did sign here, he's so faded away that it would be a minor speed bump that Rachaad would likely run right past/over.
I'm willing to shove my chips in on Rachaad…and that Tampa is not going to bring in any real talent to compete with him -- because they know he is THE GUY…their guy.
The Proper Valuation of Rachaad White…
OK, are you onboard now? I mean, really onboard? I'm proposing that Rachaad White might be one of the 5-7 best PPR RBs in the game right now. If you're there with me…or close…and you don't currently own him, it's time to go after him -- before the NFL Draft, and in this still 'doubting' period by the media, and thus your league mates doubt.
Now, I know Rachaad is a running back, and your league mates are like Dracula drawn to the need for fresh blood with RBs for FF…they crave RBs beyond control. So, I get that when you try to trade for one, it can get trade partners uptight about it.
Your opening move is to not mention Rachaad specifically, at first. Try to come into the conversation on the 'needing RB help' front and go from there. Play it coy as possible. If you've been with FFM for a bit, and you've been running rings around the others inn trades and personnel management with amazing pulls of talent ahead of the curve time and time again -- so when you ask specifically for a player, the price doubles and owners get their butt cheeks clenched about making a deal where you're going to steal something from them.
I'll address the more direct route in a moment, but you can start by the indirect method of wandering into the trade conversation nondescript. If you can't get anywhere with that or can't get any engagement…we'll then resort to making a bold, real (not a cheap steal attempt) official offer. Not texting or emailing it -- send it officially through the system. Put the owner in a decision spot.
What's Rachaad worth to acquire?
He's not an RB1 in Dynasty. People see Breece Hall and Kenneth Walker as RB1s from the 2022 rookie class and Dameon Pierce ahead of Rachaad. Rachaad is an RB2 valuation, but is still young/a near-rookie and people can get territorial about him if they drafted him…so he might be as high as an RB1.5 value to acquire.
We want to get a bargain or fair current market price here, but willing to pay up if needed -- in PPR, I think it's important to target in on/acquire Rachaad for an RB1.5 or RB2 Dynasty price…whatever it takes.
Examples of my favorite kinds of deals…
Travis Etienne FOR Rachaad + a small item…if you have Etienne, but most of you don't (if you've been with us for a while). Etienne is seen as a top 12/RB1 in Dynasty…and I'd rather have Rachaad all day long…but it's not an even swap in today's Dynasty economy. Etienne has more value than Rachaad, in the marketplace. But if I had to, I'd do it straight up…but the proper price is Rachaad + ___.
Javonte Williams FOR Rachaad + a small item. If I had to choose one of these two RBs, straight up, I'd want Rachaad, even though I love Javonte too…I think the Javonte injury PLUS Sean Payton's desire for a split backfield is a drag on Javonte. Javonte is seen as a top 10 RB1 in Dynasty today.
I don't really want to deal away real producers for Rachaad…like trading McCaffrey or Henry or Jacobs or Ekeler or Jon Taylor in some multi-thing deal. I want to trade smoke and mirrors for Rachaad.
Miles Sanders straight up for Rachaad, if you can get it…great, clean, done. D'Andre Swift straight up could get it done in some leagues.
Cam Akers + small item for Rachaad…I'd love it.
I'm giving all RB for RB-based examples because most RB deals involve RB swaps more than anything, because Dracula needs his blood fix…people live in fear of trading away RBs, unless they are getting them back in return. But if you can package WRs into a Rachaad deal, great. It would depend upon the WR need of your trade partner and what WR you had to give. Don't trade any of the top guys in any type of deal for Rachaad…no Chase-Jefferson-Davante-Tyreek, etc.
One of the easiest, cheapest ways to trade for Rachaad is by offering Dracula's favorite blood of all, more coveted than an existing RB in return…trading a 1st-round draft pick to them for Rachaad. Draft picks are the ticket to future magical unicorns…and getting rid of a boring old second-year player to get a Willy Wonka golden ticket! Your league mates are all about that.
I'd say, in a 12-team, 20-man roster mindset, with normal scoring, non-Superflex, you could give a 1.07-1.10 to 1.12 range pick and get Rachaad straight up. You could get him for a 1.01-1.06, BUT in that case you want Rachaad + something for the bigger magical unicorn ride tickets. But any deal for a 1.01 is a way different beast to deal with.
This Dynasty Rookie Draft, right now, to me, is Bijan Robinson with a Saquon Barkley+ extreme valuation…'through the roof' valuation…and then a big drop off in excitement from there. This is the weakest WR class in years. It's a soft RB group with some hopefuls like Tyjae Spears. It's a great TE class, but those guys don't go 1st-round in DRDs usually. It's a great QB class, but only Anthony Richardson will probably go 1st-round in a DRD, if any QBs do in a non-Superflex DRD. The 1.01 is on a whole other pedestal this year.
To give you a sense of my valuation thinking on Rachaad… If he were in this 2023 DRD, just him, the way we know him right now, the 2nd-year Buccaneer, then I'd say…Bijan Robinson is the 1.01 and then Rachaad is the 1.02 pick.
And THEE only reason I have Bijan 1.01 over Rachaad is because Bijan is a god to the masses. You have to take Bijan to trade him. A 1.01 trade involving Rachaad is messy and not as optimal/clean…but can be done. But it would be Rachaad as the secondary item, a legit great player as the base for the exchange + Rachaad + something else for Bijan/1.01 is the rough valuation.
A deal involving the 1.02 is more like (good player) + Rachaad for the 1.02…and that might be too much to give. I don't love the deal situations for Rachaad for a 1.02-1.05…I'd rather try a player swap or a 2nd-round pick + moderate player for Rachaad type thing.
If it comes down to it…I'd do like a 1.05-1.12 straight up for Rachaad, even if I thought I should get Rachaad and (small item) for the 1.05 or 1.06…I want Rachaad bad enough, and so I could do a 1.05+ overpay to get him, in PPR and probably in half-PPR too. You really should get a little more than just Rachaad for a 1.05-06-07 range pick.
If you don't want to chatter with Rachaad's owner for hours on end, you can cut to the chase and put them on the spot and send a Rachaad + 4th/5th-round pick in the 2023 DRD for your 1.07-8-9-10-11-12. Always, ALWAYS (or try to) get a late pick thrown in anytime you trade your 1st-round pick. What FFM can do with a 4th and 5th-round pick in a DRD is where the magic is. Look no further than last year. Give me enough lottery tickets, and I'll find you a jackpot. It could be like getting Rachaad for near-free, in a sense with the pick swap, if we can pull another miracle late in the DRD.
I hope, with this report, I created a stir…a desire, a love for Rachaad White. But I'll take a 'I'll take your word for it, RC' maneuver…but I really want you to see the beauty, the value forming with Rachaad White.
1) Go forth and prosper…go make some deals.
2) email me if you want so we can look at proposals together, so you feel comfortable with the offer/counteroffer…to feel good about the heist. This email address is being protected from spambots. You need JavaScript enabled to view it.
I made this email offer to Dynasty owners on my big Kyler Murray and Diontae Johnson sell-off projects of 2022 offseason. I offer this discount double check offer because (a) I'm a giver…thank you for subscribing, and (b) because it's so critical, to me, that we get this value done for 2023, in a hurry, before the media catches on to it, and (c) because it's a pretty bold move not to be rushed into or falling short.
3) When you make a successful Rachaad deal, email me the exchange details so I can keep getting an idea of what it is taking to make a deal and can share it generically with the flock.  
One final State's evidence on the way out the door on this report: https://youtu.be/lmOl7p9_6EU