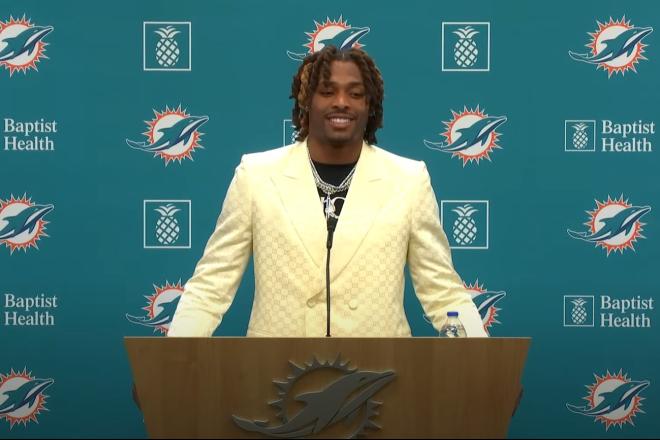 R.C. Fischer
Total Football Advisor
23 March 2023
I began putting this list together just based on actual free agents, but then inserted a player who was greatly affected by the free agency around him -- then I just broke the rule more considering other players who were FF 'winners' who weren't free agents specifically. So, this list is a mix of actual free agents changing teams PLUS players helped by all the free agent and/or trade activity around them.
Of course, this is all pre-NFL Draft possible impacts to their situation…
#12) LB Kaden Elliss, ATL
A few New Orleans Saints defenders have headed over to the Falcons in free agency, following what might be the actual brains of the defensive operation in New Orleans all along, D-C Ryan Nielsen (Saints  D-Line coach/associate head coach for a few years and co-defensive coordinator in 2022).
There's a fine line between 'followed' and the new coach 'plucking' assets away that he has full awareness of. Elliss was an emerging star for the Saints last year, and now goes to Atlanta to work as a weapon linebacker -- he can play traditional interior linebacker, but he can also work as an edge rusher as well…a starting/best they have edge rusher potentially.
Elliss was bought/brought with a purpose…a 3-year/$21.5M deal with $10M guaranteed. He was brought in to start/play/impact…finally. A very nice IDP sleeper for 2023.
#11) WR Deonte Harty, BUF
The impact of this was felt quickly…that is the hope that Buffalo has in Harty, that it wasn't just some random roster fill signing -- the next day, after Harty signed, the Bills cut long-time similar WR Isaiah McKenzie.
Also, the GM said they plan to use Harty as an outside/inside WR and not so much in the return game…which is HUGE, positive news.
The mystery is: The starting WR lineup is likely Diggs, Gabe Davis, and _____.
Is the blank Harty? Is it Khalil Shakir? Is it a Harty/Shakir split? Is shaky-hands/limited Gabe Davis going to be the one moved out of the starting lineup?
Harty's specialty is bubble screens and sharp routes underneath…and he's the best at that on the Bills roster, so there is some hope here…but he may be doing all that as a #4, rotational WR and not as a true locked in starting #3 WR.
#10) QB Baker Mayfield, TB
Baker's last stand.
I've wondered all along his career, what might happen if Baker was unleashed to play an up-tempo push the ball downfield passing game…one like he had at Oklahoma. He may get his chance with the Bruce Arians philosophy of aggressively throwing deep…if Todd Bowles doesn't override it and go super conservative.
Baker unleashed with Evans-Godwin-Gage-Otton-Rachaad could be interesting…or time has passed Baker by, and he can't handle today's NFL. He's in a perfect situation for him…maybe. The Bucs could also land a 1st-round QB in the draft and blow this all up.
#9) RB Rashaad Penny, PHI
A great landing spot, for now…
Miles Sanders is gone, and Penny brought in to join Kenneth Gainwell and Boston Scott. It's a great opportunity, except…I'm sure Philly will draft a running back, but IF Penny is fully recovered AND the Eagles don't draft Bijan Robinson 1st-round or any other top RB in the 2nd-round -- Penny could have a shot to lead this backfield out of the gates Week 1…running behind a top O-Line.
If only he could stay healthy for once…
#8) LB Cole Holcomb, PIT
One of my favorite IDP ILBs the past few years, and he goes to a team desperate for linebacker goodness/stability -- perfect-fit-move for both teams. Holcomb starts day one and could be back to contending to lead the NFL in tackles, after losing most of last year to an injury.
Holcomb was #10 in the NFL in total tackles in 2021 season and was on a pace to best that number in 2022 but got hurt Week 6 and was trying to get back for weeks but was ultimately done for the season.
#7) WR Allen Lazard, G
Aaron Rodgers can be a finicky QB…he likes what he likes. Assuming he goes to the Jets, Rodgers will have a day one cemented relationship with Allen Lazard…and Rodgers-Lazard will have a cemented relationship with the new O-C, the great former-Broncos HC (for less than a year) Nathaniel Hackett.
Early on in FF 2023, Lazard, not Garrett Wilson, could be the WR to own…or at least strongly WR2/3 useful.
My worry is…could Davante Adams be next heading here?
#6) RB D'Onta Foreman, CHI
A real FF opportunity here -- the football analysts think Foreman is a generic nobody and they're off writing articles about how good Khalil Herbert really is now that David Montgomery is gone…that Herbert was secretly better than Montgomery anyway. They should be writing about how much better Foreman is than Montgomery OR Herbert.
Foreman is built to be a lead dog…and with the current depth chart, he'll be just that. However, Chicago is likely in play to take a running back in the draft…and if they take a hot one top 100 overall -- then Foreman's hot FF prospects start to cool a bit, depending upon who that RB is. If Chicago skips a high pick RB, or just gets beat to the Bijan-Gibbs-Charbonnet punch -- then Foreman is in really good shape for Week 1.
#5) QB Joe Burrow, CIN
Standing between Burrow and a place among the elite output QBs (possibly on top of the mountain, not just near it) is O-Line protection…it's been an issue for two seasons now. Well, this free agency period Cincy landed a big fish in Orlando Brown…one of the top pass protection OLs in 2022. And they snagged OL Max Scharping for some added depth. They have decent OL pieces in place as it is -- but they got hurt at the wrong time last season. More depth is the ticket -- and Cincy is addressing it.
They lost Samaje Perine as a backfield protector…so they have to, and they can, replace him this offseason. Whether they do, properly, remains to be seen.
#4) DST Miami Dolphins Defense
Traded for Jalen Ramsey…that's a big win for free agency via trade. Did sign ILB David Long, who I like a lot…but does miss games every year with hamstring issues. Maybe the Miami (literal) atmosphere will help his hammy issues. Don't forget -- they traded for Bradley Chubb last year before the trade deadline. AND they have, arguably, the best D-C in the game Vic Fangio signed in 2023. A lot of defensive firepower is assembling in Miami this year.
This could be the 'it' DST for 2023.
#3) RB Tyler Allgeier, ATL
ATL re-signed OLs Kaleb McGary and Chris Lindstrom to keep continuity on one of the best run blocking O-Lines in the NFL in 2022…for a head coach who would prefer to run the ball 60+ times a game and never pass.
The leader of the 2023 (and late 2022) run game is Tyler Allgeier, who has a great setup for big yards/possibly leading the NFL in rushing in 2023.
#2) QB Russell Wilson, DEN
There are no more excuses for Russell Wilson in Denver. He has a top offensive head coach in Sean Payton. The team is floating word that they want to trade Courtland Sutton and Jerry Jeudy, which is smart if they can or will be OK if they stay. But in free agency, Denver added the most important thing they could for any QB -- upgraded protection.
Denver added Mike McGlinchey from SF, arguably the best tackle available in free agency. They also added the solid enough OG Ben Powers. But don't overlook adding blocking TE Chris Manhertz, FB Michael Burton, and ace blocking RB Samaje Perine to the mix as well.
If Russell Wilson is gonna re-emerge…he has all the tools and protection around him, aside from a weak WR group (right now), to do so with.
#1b) RB Miles Sanders, CAR
I'm not a fan/never been a fan, but I can't deny this is a great landing spot for FF/touches purposes. He's with a head coach who has ties to the old regime who drafted/had him in Philly. He's also back with his old RB coach Duce Staley. Sanders has been cleared for the main role and main touches and got the contract/money to prove it.
I think it's a mistake, but Sanders is gonna get treated like I wish all the RBs that I like would. Doesn't it always seem to work out that way? Still, you can have Sanders. I just can't do it.
#1a) RB Rachaad White, TB
I have a major report coming out on Rachaad in a few days, wrapping it up soon after this report publishes, but look at the path the Bucs have paved for RW to be the workhorse back for Tampa in 2023…
They cut Leonard Fournette as soon as they could, preannounced it and ate money to make him go. Part of that was functional -- saving some money on the cap, but it wasn't a major save, and they could've renegotiated down a bit and just kept him around another year. They didn't. Fournette was purposefully whisked out the door.
Tampa then did not sign any RB of note to challenge or pair with Rachaad…instead adding, Bruce Arians connected from Arizona, Chase Edmonds.