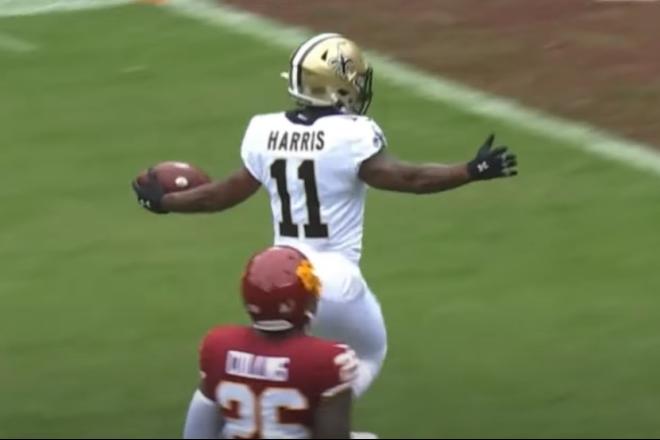 R.C. Fischer
Total Football Advisor
13 March 2023
*Note: Deonte Harty changed his name last year. Old information on line would be found under Deonte Harris. 
Let me start by saying: I am a big fan of Deonte Harty -- the NFL WR. I think he's one of the hidden offensive gems among the way out of the spotlight offensive players in the NFL. 
Harty has two gifts/styles he can work at WR…
1) He has been known as a watered-down Tyreek Hill type weapon WR — you set up purposeful bubble screens and just let him go to work. He's great with the ball in his hands like that. He's a 4.48 40-time runner with 6.82 three-cone agility…an all-NFC conference return man his rookie season. He knows how to navigate through traffic with the ball, and he has the speed+ to do it. 
He can also play a deep ball game as a WR weapon with his speed and catch ability. 
Harty has also thrived in the run game, as you would expect from the 'Tyreek' description…15 career rushing attempts for 123 yards, an 8.2 yards per carry pace.
2) But I think the real hidden part to his game, as a WR, is his 'A' grade ability to get open off the snap. He has some of the best 'get open' feet in the league. He's virtually uncoverable off the snap running those quick move inside/outside short timing routes. He's not just another small-speedy sprinter WR -- he has good+ technical skills as a route runner to really be a legit BFF throw for his quarterback. He has had games with 5 and 6 and 7 catches in a game in his NFL career…the 7 catches coming in a playoff game in 2019 season.
OK…if he's so good, why hasn't he 'hit' already? 
Harty was a gem of a small-school find by the Saints and credit to Sean Payton for recognizing his talent right away as a rookie and pushing him as an undrafted free agent out of little-known/scouted Assumption college. Harty was the main (all-conference) returned and occasional jet sweep and bubble screen guy in 2019 as a rookie. 
In 2020 season, Harty started getting more WR snaps and started a couple games early in the season. Harty was pushing his way towards regular starter snaps but just as his targets and snaps were rising, he got hurt (hamstring) Week 11 and was out for the rest of the season. He returned for the playoffs and posted a 7-83-0/7 game in their opening playoff win. 
In 2021 season, Harty pushed higher in targets, output, and snaps again. Four 70+ yard games in his first 11 games of the season. Then a mild hamstring injury made him miss a few games. He had a quiet last couple games of the season with the revolving door of QBs in Winston-Siemian-Taysom all season — Sean Payton's last season with the Saints. 
2022 season brought on Dennis Allen as head coach and a (mistake) free agent signing of Jarvis Landry sent Harty to the #4 WR spot and barely targeted by Jameis Winston and then five games into the season Harty got a turf toe injury and ended up missing the rest of the season. 
Essentially 2022 season was a waste and not a good note to be sent into free agency on. So, it's 2023, Harty is a free agent…a free agent no one really cares about. 
But there's one person who might care…a lot. New Denver Broncos head coach, Sean Payton. 
It's not like the Broncos are loaded with WR talent. Jerry Jeudy is their big target…and that's not that good. Jeudy is OK, not a stud…not an inside worker…just an outside finesse/soft WR. Courtland Sutton, as I made the multi-thousand-word case last off-season, is a WR time is passing by — in style not age. He can't get open very well in today's NFL (and now even more CB talent is flooding the NFL in this year's draft). All Sutton is good for is contested catch deep ball heaves…and I bet Sean Payton tries to dump him off on some team pre-NFL Draft.
The Broncos don't have a real/established interior WR or weaponized WR like Deonte Harty. Actually, they do have a prospect for it in 2022 rookie Montrell Washington as a similar-ish (to Harty) weapon hope -- but Harty is more weapon AND technician…and knows Coach Payton from the past. K.J. Hamler isn't really made for that role either.
If Harty landed on the Broncos and got into the #3 WR role…he has upside to be a 4-8 target per game and occasional jet sweep option…and would make big plays, chunk plays, and TDs from the various touches -- Harty's four career receiving TDs are from 4, 55, 70, and 72 yards out. I would argue the best all-around, most dangerous WR on the Broncos is a WR who is not on their team (yet, but could be in a few days or so), Deonte Harty. 
The biggest key to this Harty 2023 FF angle is him being wanted by Sean Payton. In Dynasty leagues, Harty is very likely on waivers today, and you get a free look now to see…to see if Denver does sign him. If they don't sign him, then he's potentially droppable (we'll see where he might wind up). This is more of a deeper roster waiver flyer gamble…for those in Dynasty leagues with 10-12+ teams and like 250+ players rostered total in the league.
If the Broncos do not sign him…it may be 'a tell' that Sean Payton sees Montrell Washington as his new 'Deonte Harty', a WR who is already on the roster, younger, and at a cheaper payroll…and then I'll probably do a Very Deep Sleeper report on Washington with the Broncos in that Harty role for Payton.
Some of Harty's work in the NFL...pay attention to his footwork, not only his speed: https://youtu.be/7baoMcgqfAo
**This is a series I originally created for FantasyPros several years ago. You can see the old reports on their site with simple Google searches. It's my series for my site now!