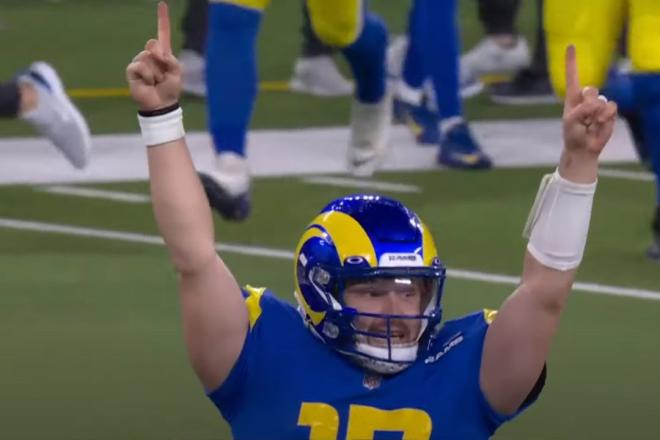 R.C. Fischer
Total Football Advisor
12 December 2022
2022 Week 14: Rams 17, Raiders 16 (Dynasty/Fantasy Analysis Game Report)
This game.
Where else can you get this awesome 'free' form of entertainment (the NFL) that you can actively participate in (Fantasy) and bet on?
The Rams sign a recently cut QB, who studies the playbook on the plane trip to the West Coast and being with the team less than 48 hours, that QB comes into the game after one series and ultimately leads a two TD drive, come from behind victory in the last few minutes for a stunning performance that is the talk of the league.
Joe Buck said it best, in-game, I'm paraphrasing: 'Why do we even need training camps or practices?'
My head is still spinning from this game. Why would Sean McVay push Baker into the lineup like that? Seriously…ask yourself and answer that question? The Rams had nothing to play for. Baker could not have been fully ready. It spits in the face of the QBs he has had on the roster who have been working for McVay for years, one of which had a neck issue that he could've just sat out for his own good. Instead, that QB (Wofford), for some reason, starts the game for a series…all hand-offs, and then Baker is put in? Why bother starting Wofford? Like, I have no idea what Sean McVay is doing besides driving around the admin part of the Rams facility in a golf cart and making lackeys eat cans of highly processed saline solution and noodles.
The Rams headquarters has a cafeteria, right? So, you're telling me the support staff is not allowed to go to the cafeteria…instead, you take time at lunch to drive around on a golf cart and chuck canned soup at them…for their own good? No wonder the Rams suck. McVay makes millions of dollars and the best he buys the office staff for lunch is canned soup? You couldn't spring for like a few $5+ Little Caesars Pizzas? Pathew Pafford coulda got you a deal, I'm sure.
Between non-continuity commercials, marrying a foreign Instagram model, and this Baker Mayfield decision…and the fact that Jared Goff is THRIVING in Detroit, finally away from McVay…I'm not so sure McVay is the boy genius everyone thinks. But what do I know? He won a Super Bowl (through referee interference), so he's a 'made man'.
You could counter, "But, Baker won them the game!" That's not my point. It's the optics all around the decision and what it said to his players and what it says about McVay. The Rams just won a game with a QB who had no real McVay influence or control. Baker won the game…99% on his own. The Rams hadn't won their six games prior with heavily McVay influenced QBs/plans…just sayin'.
Whether McVay gets no credit or 90% of the credit for this win…what a win, what a game! Baker was mostly hit-and-miss all game, mostly miss…then his final two drives were hit-and-miss but key 'hits' and somehow, they won the game. I don't think it was a Raiders defensive collapse. Baker got hot against a prevent and most plays the Raiders 'won' against Baker, but he kept getting 2nd, 3rd, 4th lives…like a cat…and a semi-miracle, streetball TD throw in the end wins the game. The Raiders won the game via any judge's scorecard, but the Rams won on the scoreboard…and that's what we'll remember.
The Rams break their six-game losing streak and are now (4-9)…season still over. But get ready to gorge on the Rams/Baker on your TV for the next three weeks! Monday Night Football Week 15 vs. Aaron Rodgers…another fallen team. Week 16 on Christmas vs. Denver, another fallen team, in a game for the battle of who is the worst team in the NFL. Week 17, Sunday Night Football at the Chargers…who will, by then, could have a losing record and could be about out of the playoffs.
The Raiders made a strong statement that they're the worst team in the NFL with this horrific loss on internet TV. With a chance to get right back into the playoff picture, just needing to win over the team about to play a quarterback who literally just got there, the Raiders take an early lead, then try to sit on it…and got burned in the end.
LV falls to (5-8) and would need to win out to get to (9-8) and have a wild card shot. They will not do so; likely they will wind up with 6-7 wins and a lot of organizational chaos and decisions to make in the offseason.
*Note any fractional numbers in parentheses (4/2) or (2/3), etc., are a 'split' stat on our definition of a 'quality start' (or not) marker on a player -- using 14 PPR points in a game for RB-WR-TE and 21 for a QB…point levels that are good/productive/well above average starts for a Fantasy week. Trying to identify trends, consistency (or not) in players we might not normally realize.
A (3/2), for example, means: 3 times the player hit at/above the mark, and 2 times they did not.
Fantasy Player Notes…
 -- What Baker Mayfield (22-35 for 230 yards, 1 TD/0 INT) did in this game, we can all agree, is one of the most miraculous, befuddling things to ever happen in an NFL week. I don't need to mention more about it…the game announcers/analysts mentioned it plenty enough for all of us, after every successful throw he made. Baker deserved something positive, I'm happy for him.
My random notes about this whole event…
1) Everyone thinks this saved Baker's career, and that's true…for this week. We live in a week-at-a-time reality in football fandom and NFL management. If Baker has a moderate game, or worse, next week and they lose, etc. -- then all this will be forgotten, to some degree…the impact of what he did will shrink in people's minds…every week we live on from this game, the feel-good about it will dissipate.
2) Baker will not be in-demand as a starting NFL QB in 2023, despite this game. He'd have to go on a helluva season-ending run to make that case. If he does, what does this say about the Browns and Panthers organizations? Baker's best hope is backup to Matt Stafford, and hope Stafford gets hurt…it's his only path to playing time.
3) Baker should start for the Rams the rest of the way, and Wofford-Perkins should try and find a new team in 2023 or start prepping for some other non-on-field gig.
4) I think one of the reasons why Baker was successful here was the fact that he was kinda unleashed and allowed to go with his own flow in this game. If Baker had initially (in his career) been put in an offense built for him, with decent/hard-working WRs (not overpaid divas like he had in Cleveland), and if the coaches just let him cut it loose…things might have been different. Even so, he got the Browns to the playoffs and had people thinking the Browns were a Super Bowl team at one point…and then it all came undone.
Had Baker been allowed to be Baker…who knows what his career might have been? But that will never happen with him in the NFL, especially now that he's a backup at best. He'll always jump into 'someone else's offense' now.
Like Nick Foles…Baker is never going to get chances to be 'the man' on purpose from here on in. It's going to take perseverance and injuries above him to let him make another run as a starting QB somewhere down the road.
 -- We can take a look at who Baker threw to in this game and try to make some inferences ahead, but how can we do so when he hasn't really worked with these guys much…but now will have a week+ of time with them going into Week 15? Baker might develop new favorites with new favorite plays, as he learns the playbook.
But, for what it is worth, Ben Skowronek (7-89-0/8) took the early lead for top guy for Baker. This was the first time the Rams used Skowronek as a real WR and not a swiss army knife H-back-TE-WR.
Tutu Atwell (5-50-0/9) made a case to be a top target as well, but Baker didn't have a ton of time to be able to allow Atwell's downfield routes develop…in-game, Baker would start gearing up to go to Atwell but then he'd pull it down and have to scramble or take the sack.
I bet some on Brandon Powell (0-0-0/2) to have another nice FF effort in this game, but that's because I thought John Wofford would start AND FINISH this game…and run the same offensive plan they had last week.
Once Baker took over, the offense changed to more traditional and Powell played limited snaps…and they tried to get the ball to Powell on bubble screens -- but every time they tried, there would be a penalty, or the pass would be batted. Powell officially had 2 targets, but they went to Powell like 4-5-6 times in a variety of ways that saw most of them get called back/negated.
Had I thought Baker would seriously start, I never would have pushed Powell as hard. But I still would've thought he'd get 3-4+ touches…not zero. Got my hand caught in the Baker cookie jar to start the FF week in a few places.
 -- I tried Mack Hollins (3-40-0, 2-22-0/4) as a flier for this heavy bye week in some places, and that was looking great for a half…the 1st-half, where he basically got all his numbers. I think Hollins got one running play in the 2nd-half and that was it for 2nd-half touches, as the Raiders died, collectively, in the 2nd-half.
Hollins is a (2/11) this season, and a (1/9) his last 10 games. 
Fortunately, for some this week, a Powell or Hollins gamble/wound was aided by Davante Adams (3-71-0/7) not having a Davante Adams week for the FF opponent. Jalen Ramsey shadowed a WR for the first time here, consistently, in two seasons…and it worked. Even Adams's catches were mostly miracles with Ramsey blanketing Adams.
 -- Foster Moreau (0-0-0/1) has been garbage since taking over for Darren Waller, and prior to that Waller was pretty much garbage. So, why would anyone think Waller returning next week would be FF-gold?
Derek Carr (11-20 for 137 yards, 0 TDs/2 INTs) has nothing to offer but predetermined throws to Davante. And when a team was able to shut that down, like LAR did here, Carr had no answer with the other receivers. It's a cautionary tale for anyone trying to get a spot start Hollins (2/11), Renfrow (0/6), Waller (1/4), Moreau (0/11) ahead. Those 'other guys' (non-Davante's) randomly have a moment…but good luck guessing which one when.
Oh, and this game was a nice visual to make the proper scouting claim…Carr is not better/more talented than Baker Mayfield. Never has or has been. Gimme Mayfield, as an NFL GM. The NFL's response, 'We will pay Carr a ton of money to be our QB…but not put in a claim for Baker'.
In their careers, who took a team further into the playoffs/got their sad franchise the most Super Bowl buzz at any points of their career…Baker or Carr? Chilling how 'nothing' Derek Carr has been in his career.
 -- Another week of the sad Cam Akers (12-42-1, 1-1-0/1) show. At least he scored a TD to salvage his FF week…and that was after getting benched for some time in-game due to a key fumble he had in the red zone. He looks very 'meh', but he is getting decent touches.
And it was another week of Kyren Williams (3-19-0, 1-0-0/2) as a ghost in this offense. I think the bloom is fully off that media-rose. Like we said, multiple times, leading up to his activation.
 -- Two IDP notes…
Raiders CB Nate Hobbs (9 tackles) always impresses me on tape in 2022, as a shutdown corner, but we also have to note his tackle counts in games this season. He's played 7 games and had 8 or more tackles in five of the 7…really impressive for a corner in IDP.
My Week 13 love, Rams DL Michael Hoecht (5 tackles, 1 QB hit), had a more muted game here. Why? He got burned on a few Mack Hollins jet sweeps early so they reeled him in from rushing off the edge. Still, a decent game…and played 80%+ of the snaps for the third game in-a-row.
 -- DST notes…
The Raiders-DST was humming along until the final 5+ minutes of a minor breakdown. Still, it was their third game in the last 4 weeks where they held an opponent to 20 points or fewer. I'd say there is a good chance they'll keep that streak going the next two games (NE-PIT) but I don't know where this team's head will be at coming off this loss and now a long shot for the playoffs -- but D-C Patrick Graham is good, and I'd bet they're going to do that NFL thing where the team plays well the week following a national embarrassment.
I liked the Rams-DST as a sleeper in this game/week, and they came through OK enough…holding LV to 16 points and holding them to just three points in the 2nd-half. At Green Bay on MNF next week might be another sleeper situation.
Snap Counts of Interest:
64 = Skowronek
62 = Van J
39 = Atwell
14 = Br Powell
27 = Akers
19 = K Williams
18 = M Brown
60 = Moreau…100% of the snaps and just 1 target, no catches.