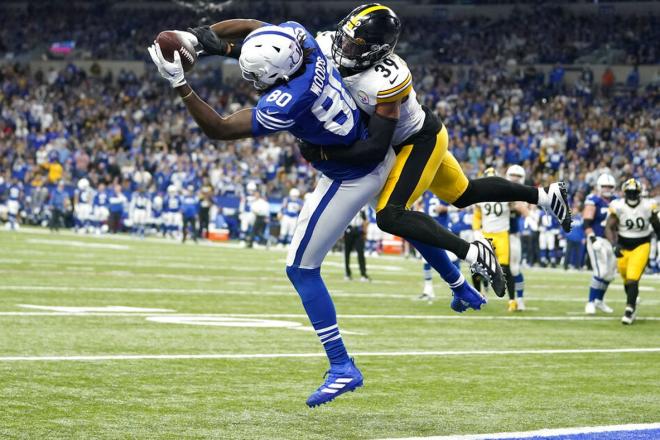 R.C. Fischer
Total Football Advisor
29 November 2022
2022 Week 12: Steelers 24, Colts 17 (Dynasty/Fantasy Analysis Game Report)
A sad Monday night watch, one where (if you watched it) you got to see on full display what I've been talking about since Weeks 1-2 on the Matt Ryan problem…you got to see an NFL quarterback dying right before your eyes. You got to see the single worst NFL starting QB of Week 13…not Trevor Siemian, not Bryce Perkins, not Russell Wilson, not Kyle Allen -- it was Matt Ryan. Which is why I bet on/picked the Steelers plus the points to cap off another hot week of picks (12-4 ATS). Betting against Matt Ryan 2022 is mostly a 'winner'.
I watch the tape. All week long. I don't get to spend Thanksgiving hanging out with family or traveling. I eat a quick Turkey day meal like I'm a prisoner in a hurry before we have to go back to our cells…and then it's back to the office as I daily pick through the NFL week like a detective looking for the most minute clues to catch the mad serial killer. I watch 32 QBs in action, live and then again on tape, every week…I can compare and contrast them pretty well in my mind's library. You make that all possible with your support of FFM, so I thank you. And it's why I was all over Matt Ryan early on in the season -- saying that he is shot. Sad, but true. I could see 'it'. It's sad to see old icons fall, but I don't have time for sympathy…I'm doing this so we can all FF or handicapping prosper from it. Matt Ryan is killing the Colts…and he killed them here.
The Steelers played a solid game against a good Colts team overall, but all Pittsburgh had to do was get a lead and then sit on it and try and let Matt Ryan beat them…and the Colts obliged. The coaching inexperience of the new O-C, and the new HC for that matter, shined through here. Had I been coaching that game, and I was watching Matt Ryan dying on cable television, I would've just run Jonathan Taylor every play, spelling him with Deon Jackson running other plays and then thrown only occasional screens and bubble screens to try and minimize the Ryan affect and try stay close to hope my defense allowed me to win. Instead, they constantly tried to get Matt Ryan 'going'. It's unbelievable.
More Matt Ryan talk in a moment…discussing his FF-affects.
The Steelers played a competent game and didn't have Matt Ryan, so they won to jump up to (4-7). They have a schedule ahead to get over .500, but I'm not sure they'll make it…but it's possible they can get into the wild card discussion after Week 14, if they keep winning. 6-7 wins probable for Pitt, but 8-9 possible.
The Colts blew their season with a loss here, to drop to (4-7-1). How Jim Irsay doesn't fire the GM after this game for the Wentz-Ryan debacle of the past two years and the small fortune spent to watch it happen, I have no idea. The Colts should start the rebuilding mode, but Jeff Saturday can't afford to lose games and thus stoke the media out to get him…so, they'll probably try and win to the end…sticking with Ryan then.
*Note any fractional numbers in parentheses (4/2) or (2/3), etc., are a 'split' stat on our definition of a 'quality start' (or not) marker on a player -- using 14 PPR points in a game for RB-WR-TE and 21 for a QB…point levels that are good/productive/well above average starts for a Fantasy week. Trying to identify trends, consistency (or not) in players we might not normally realize.
A (3/2), for example, means: 3 times the player hit at/above the mark, and 2 times they did not.
Fantasy Player Notes…
 -- I have to start this section by going back to Matt Ryan (22-34 for 199 yards, 1 TD/1 INT). Couple things to consider…
1) Part of the reason he looked worse than normal is the Steelers defense is pretty good. That defense facing ATL-BAL-CAR the next three weeks has some use/hope.
2) Ryan was so pained to even complete a basic pass that I think there's a chance a QB change is coming…as soon as this week, except Week 13 is at Dallas, which will be a bloodbath for the Indy QB, whomever it is…so, they may let Matt Ryan out there to die leading into a Week 14 bye, two weeks to get Sam Ehlinger more prepped for the rest of the season trial.
3) The Colts could try and flip Nick Foles in there to throw a curveball at Dallas this week, but that's probably too radical a thought for a team that has dismissed their best QB (Foles) all season. I mean, Foles cannot be worse than Matt Ryan. I refuse to believe that. Foles has been better than Ryan their entire careers, but Foles has been stiffed by the NFL multiple times and the Falcons sold out to Ryan for forever. Foles won a Super Bowl over the Patriots…Ryan famously did not.
If you think NFL teams/scouts/coaches know quarterbacking better than you or I…exhibit A on that not being true: An NFL team traded for and signed/extended Matt Ryan on purpose and gave him a ton of money and are sticking by him despite what everyone in the world is seeing.
This passing game cannot be better with Ryan still in there, and it will be obliterated by Dallas defense Week 13…likely led by Matt Ryan.
 -- With that being said (about Ryan), let's talk about Jelani Woods (8-98-0/9). Couple different thoughts…
1) Credit again to Ross Jacobs working the East-West Shrine scouting and bringing him to my, and everyone's, attention initially. Then our computer models jumped in, post-Combine and pushed him as a 1st-round draft talent…a guy many of you in Dynasty stole all summer in Dynasty Rookie Drafts. Ross and I watched this breakout performance as proud scouting papas.
2) He dropped his first target, right in his hands…and I was like 'Oh, crap…they'll move away from him now.' But Woods got the very next target/play and went on to catch 8 straight passes, and most of them were not easy…because of Ryan's issues.
That's the thing that's been sitting there all along -- the guy is a 6'8" athletic freak, just throw it his direction…especially when he's covered by a 6'0" linebacker who runs slower than the quite fast Jelani. Ryan did, out of necessity…and it worked.
3) Frank Reich was too much of a delicate genius/idiot to figure this out. Credit Jeff Saturday for doing so…this was Woods' first game active (off injury) for Saturday -- and he played Woods a season high 41 (64%) of the snaps and set Kylen Granson inactive. Jeff Saturday should get an official head coaching contract for just immediately knowing the obvious 31+ other head coaches wouldn't think to do with a Jelani Woods.
4) The Week 12 Executive Summary bemoaned the state of the Fantasy TE hopes going into Week 13…and then Jelani Woods came to save us! Or did he…?
Will this keep up, ahead?
I don't know. I'm very suspicious…super-hopeful, but always wary of the NFL stupidity. However, I love Jelani and…where else are we going to turn to? I'm all in to get Jelani if I'm desperate at TE.
I wouldn't be surprised if Jelani had a 5-70-1 game Week 13…and I wouldn't be surprised if he had a 1-7-0/2 game heading to a bye and being a conundrum to hold through the bye. At this stage, beggars can't be choosers. There is no other TE hope like this left…unless Donald Parham gets the same treatment when/if back healthy.
5) If Sam Ehlinger takes over Week 13…or Week 15 on…then there's another wrinkle. I don't know if Ehlinger will use Jelani like he should either. But…again, I say -- what else is there for the TE desperate?
 -- Just a quick note on Kenny Pickett (20-28 for 174 yards, 0 TD/0 INT). He didn't have a killer FF output here, but he didn't need to. Facing a very good pass defense, the Steelers ran the ball 36 times for 172 yards with practice squad RBs -- the Steelers have a run game now. Pickett doesn't have to try and win everything every series. Good for the Steelers…bad for the FF-output of the receivers.
And just to note, Pickett is looking more-and-more at ease and in control with every passing week. Not an FF-stud ahead, but not a liability or a QB to instantly target with an opposing DST either.
 -- Major Steelers news…maybe…Najee Harris (10-35-1, 1-4-0/1) had to leave this game with an abdominal injury. Jaylen Warren was inactive, so Tomlin lovechild, the turtle Bennie Snell (12-62-1/11, 2-14-0/3) reared his head out of his shell and led the backfield the rest of the way. Anthony McFarland (6-30-0, 2-11-0/2) saw some touches as well.
If Najee is out, then Jaylen Warren is the main option for FF.
But, if Warren is also out (and he was a DNP for practices all last week with his hamstring issue) then Snell will be the forced lead with McFarland in the Warren role when it's Najee-Warren, under normal circumstances.
Warren is a strong RB1/2 if he gets the opportunity without Najee. Snell is an RB2 with hopes of falling into the end zone. McFarland would be an RB3 with Snell, with Warren/Najee gone.
 -- Several of us needed Parris Campbell (2-14-0/3) to come up big on MNF to steal some wins for the week…and, instead, we got the worst Parris line in his last 6 games with Ryan. Figures.
Nothing Campbell did wrong…it's that Matt Ryan couldn't complete a forward pass in the 1st-half, and then went heavy Jelani for his non-Pittman throws in the 2nd-half.
One of Parris or Jelani will thrive with Ryan, it appears…or they split each other down. Jelani is the better/easier option for Ryan, so we can't have a lot of trust in Parris if Jelani is about to rise to prominence -- but note that Parris had been great for FF prior to this moment. So, I wouldn't just throw Parris in the trash just yet, but I don't know how we can start him Week 13 with any confidence after seeing this Matt Ryan abomination.
 -- George Pickens (3-57-0/6) and Diontae Johnson (5-49-0/8) having 'meh' games, as we projected…blame two things:
1) The Steelers ran, not threw, all over Indy.
2) The Colts secondary/CBs/pass defense is as good as there is right now, as we mentioned a few times last week…thus Pitt wanted to run over them, and they were able to.
 -- Just two quick Pitt IDP notes…
1) Levi Wallace (5 tackles, 2 PDs) went out with an injury late in this game. It would hurt (a little) the Steelers-DST projections if he were out Week 13. Wallace has 9 PDs in his last 5 games. He's also holding opposing WRs to a 53.1% Comp. Pct. against with 2 TDs allowed and 3 picks.
2) What has happened to T.J. Watt (3 tackles, 1 FF)?
Since his 8-week injury absence and return Week 10, in his 3 games back, Watt has all of 0.5 sacks and no TFLs. A shockingly low production from the normally high-end Watt. 
Pittsburgh Dad's thoughts: https://youtu.be/xnbwWHEUrLk
Snap Counts of Interest:
41 = Jelani
22 = Alie-Cox
28 = Snell
21 = McFarland
20 = Najee