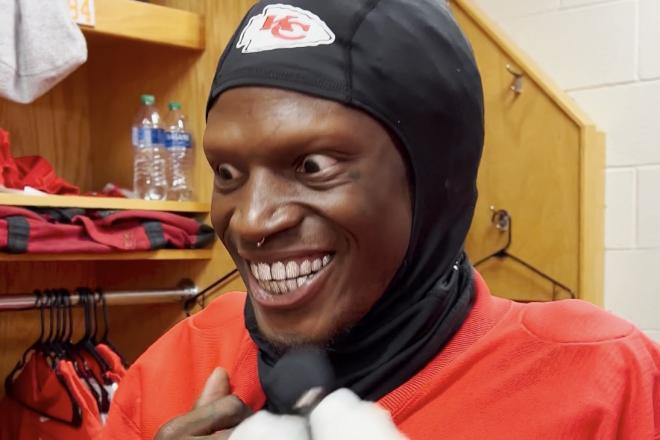 R.C. Fischer
Total Football Advisor
14 November 2022
2022 Fantasy/Dynasty Monday Executive Summary: Week 10
Week 10…shaping up to be the first potential 'meh' week in a while during the bye weeks stretch. We're tracking about 55% win-rates this week, down sharply from the prior weeks. We were due for 'one of those weeks' and Week 10 is on the edge of such a week.
But there is some hope for better results…because so many people have games that are going to be determined by higher share owned by FFMers tonight in the Eagles-DST and/or Curtis Samuel, and/or Jalen Hurts. The 'predicted' outcomes by the various league platforms would show a 55% win-rate in the end, but 60%+ is possible if that stated MNF trio beats expectations and then better yet if any of them really has a big night it could grab back a few more wins. If they collapse it could push our tracking towards 50%...yuck. It's going to be a watch with great intent night tonight for many.
I'm feeling good if I have games to be settled needing the Eagles-DST or Hurts, and then you never know about Curtis Samuel…he could pop or be 'meh'. Good matchup tonight against Philly with no Avonte Maddox.
Whatever you need tonight, good luck to us all! I think we'll be more pleased than disappointed after tonight.
Four more weeks/games until the FF-playoffs, after tonight's game. Most people reading this are in the playoff picture securely…some loosely…and others a game or two out. Three of the next 4 weeks are still bye week impact weeks, so we should all helped by those byes more than not -- going (2-2), at a minimum, the next 4 weeks is very likely for most teams in the race, but (3-1) is definitely achievable…and that's only a game improvement over any (2-2) thoughts. I say that for the 2-games-out teams -- you can go (3-1) ahead while playoff teams in front of you go (1-3) and can jump into the playoffs. Obviously, two games out right now is not a favorable position to be in -- but it's not doom…it's not over. For anyone still technically in the playoff hunt, a win in Week 11 and key losses ahead of you can open up a world of possibilities for the final 3 weeks. Just win next week and see where you're at…with all the injuries happening, last week, during the week, in-game…anything is possible. Play the game until they rule you officially out.
For everyone else in a good position right now, the game remains the same as Week 1 as Week 11…buy low, sell high, work waivers. And what's really nice is many FFM-based teams have been holding Kadarius Toney and/or Rachaad White for several weeks, and now we might have something here. A few grabbed Christian Watson as a flier in redraft from our positive talk the last few weeks on him, and lo-and-behold you got an asset to work with now -- use or trade. Even if you lost your game Week 10…many 'won' with the way your bench broke going forward launching Toney-Rachaad and Watson, among others. It's always nice to see that the hottest waiver wire pickups of the week in consensus/mainstream articles are guys you already had on your bench for the last 2-5+ weeks! That's how we do…that's why we win bigly during the bye weeks.
We gotta just keep on keeping on. There's no magical formula in Fantasy…there's only injuries and parody, and us making more smart moves week-to-week than our opponents do, in reaction to injury crisis or bye week players out, and gaining that edge to get into the playoffs on an upswing.
Keep hustling. This is getting good now. We're heading to the really fun part of the FF season -- the final stretch to secure division titles, secure playoff spots, or kick into gear and leapfrog into the playoffs from trailing the pack most of the season.
It is the fun part coming up the next 4 weeks/games…we can go (3-1) or (4-0) from here. You've made too many slick and/or brilliant moves all seasons to start doubting the plan ahead now. Most losses this season were 'wins on the bench' losses. So, we have the power to go on a win streak from here with solid sit-start work.
It starts with a win Week 11…and for some it includes locking down Week 10 wins with the MNF results tonight. It's gonna be an exhilarating and/or torturous MNF watch for many tonight. Let's get some big performances from Hurts-CSam and that Eagles-DST or whatever it is you need to happen or not happen.
This is a big FF game tonight, impacting so many outcomes for the week…and inordinate amount for a Monday night game. It's exhilarating and/or torturous to watch it play out on cable TV tonight, but we've prepared for this moment…we got these assets specifically tonight.
For all those with games on the line…make friends with the fear to watch it all live at 8:15pmET on ESPN tonight, (caution: language): https://youtu.be/1vCulArInkw
*Note any fractional numbers in parentheses (4/2) or (2/3), etc., are a 'split' stat on our definition of a 'quality start' (or not) marker on a player -- using 14 PPR points in a game for RB-WR-TE and 21 for a QB…point levels that are good/productive/well above average starts for a Fantasy week. Trying to identify trends, consistency (or not) in players we might not normally realize.
A (3/2), for example, means: 3 times the player hit at/above the mark, and 2 times they did not.
--THREE THINGS--
SEA-TB
 -- Rachaad White (22-15-0) got the surprise start…and ran the whole first series, a three-and-out. Then Leonard Fournette (14-57-1, 1-1-0/1) came in the second series and ran angry/inspired and it looked like it would be a White start moment just to fire up Fournette type of strategy/event…but then White re-took over 2nd-half and was the guy that ran as the lead to help put away the game, even the final minutes with some clutch runs.
I think we've arrived at White starting but Fournette lurking, pouting and needing pacifying too often to fully give into White -- but those with Rachaad are in a WAY better spot today than this time last week.
 -- The Tampa defense came to play in this game and had everything squashed until a late 4th-quarter flurry by Geno Smith (23-33 for 275 yards, 2 TDs/0 INTs). They held Kenneth Walker (10-17-0, 6-55-0/8) to 17 yards rushing and 1.7 ypc. The TB defense is so Jekyll and Hyde it's hard to take this game as any trend for them or the opponent performance…this was the 'good' TB defense…who knows about next week.
 -- Mike Evans (5-54-0/6) has now gone six straight games without a TD…very strange, but just a sign of the Bucs passing game struggles. Everyone, including Brady, looks fine…but everything is laborious trying to complete basic passes for this offense it seems, every week.
Evans is a shocking (4/5) this season…and a (2/4) his last 6 games.
MIN-BUF
 -- I did not believe Josh Allen (29-43 for 330 yards, 1 TD/2 INTs, 6-84-0) would play this game, but not only does he play…he looks totally fine. No concerns going forward for FF…except his numbers have been trailing off for 3 weeks now…3 TD/6 INTs his last three games with two of the 3 games under 220 yards passing. Isn't that shocking? Not sure if a blip or a worry…but he looks fine.
 -- The Bills pass defense was a no-fly-zone early in the season, but they've lost several members of the secondary all season, and in recent weeks…you can throw on this defense now. Thus, Kirk Cousins (30-50 for 357 yards, 1 TD/2 INT, 6-12-0) with a 350+ yard game…but give the credit to Justin Jefferson (10-193-1/16), who may have played the best, most dominant game of WR play this season.
 -- James Cook (5-22-0) got a few carries again and is showing he's getting more comfortable in the NFL…leading contender for 'handcuff' for Buffalo. Nyheim Hines (1-9-0/1) is barely on the radar in this backfield. Duke Johnson (2-4-0) got two carries…to Hines's zero. That's where Nyheim is at.
DET-CHI
 -- Another Justin Fields (12-20 for 167 yards, 2 TDs/1 INT, 13-147-2) cannot be stopped as a runner event. He's never run like this before, going back to college…but he's found religion as a runner and he's in such a groove he's virtually unstoppable. He's making a run to be the #1 QB in FF scoring YTD with two massive FF events back-to-back.
He started the season (0/6) and is (4/0) his last 4 games.
 -- As Fields ran for goodness, he didn't really pass for goodness…and thus Chase Claypool (1-8-0/2) was a surprising ghost here. No effort this week to get him more touches. Downgrades to CC, again, coming for our ROS projections on him.
 -- D'Andre Swift (6-6-1, 1-6-0/3) looks not-good and he's not getting many touches…as the Lions now are winning, and it happening without any real input from Swift, D'Andre is going to fade more and more in this offense -- because the staff does not trust/love him. Downgrades coming for him too…
Swift is a (3/3) this season…(1/3) his last 4 games.
JAX-KC
 -- Kadarius Toney (2-33-0, 4-57-1/5) did get more action with Mecole Hardman out, and it helped even more when JuJu Smith-Schuster (2-33-0/4) also got knocked out…then MVS (3-60-1/4) got knocked out for a while too, but MVS eventually returned. All of this benefitting Toney and not Justin Watson (1-12-0/1) and Skyy Moore (1-6-0/1)…Toney is pushing towards being too good for KC to keep off the field.
 -- Jacksonville got down three scores quickly and then were heavy passing to try to get back in, some of it against soft coverage…and thus Christian Kirk (9-105-2/12) had a day. Kirk's numbers are pumping back up again as Jacksonville is often down and throwing in soft coverage. Kirk started out (3/0) this season, then went (0/3) but is a (3/1) the last 4 games.
 -- Back-to-back games with Jerick McKinnon (1-2-0, 6-56-0/8) with 6 catches in a game…while Clyde Edwards-Helaire (0-0-0/2) got a big zero this game…and Isiah Pacheco (16-82-0) led the run attack/bleed out the clock efforts.
CLE-MIA
 -- Raheem Mostert (8-65-1, 4-22-0/4) had a nice FF game, but it is very obvious that this is a Jeff Wilson (17-119-1, 2-24-0/5) as the lead dog situation. Mostert will get touches and be some kinda hope week-to-week…but Wilson is 'the guy'. No doubt. Wilson is a (2/0) as a Dolphin.
 -- Another nice effort, with no TDs, for Donovan Peoples-Jones (5-99-0/9). His last 6 games: 4.7 rec. (6.7 targets for 74.3 yards, and 0.0 TDs per game…no TDs this season but good/growing everything else.
 -- Three straight games with 3 TD passes for Tua Tagovailoa (25-32 for 285 yards, 3 TDs/0 INTs)…as he enters the MVP discussion. But keep in mind, with this great stat output run…a very easy schedule it's happening against -- the schedule is going to get rough in a few weeks.
Tua started the season (1/4) and is (3/0) since.
HOU-NYG
 -- Add Darius Slayton (3-95-1/4) to the 'veteran'/washed up (everyone thought) guys that are breaking out in 2022. Slayton is the Giants #1 WR…with three quality starts in his last 5 games (3/2) after an (0/3) start where he barely played was thought to possibly be cut or traded. Crazy.
 -- As discussed on the Video Q&A…Nico Collins (5-49-1/10) has the door open to become the Texans new #1 WR, over Brandin Cooks (4-37-0/7), given Cooks' self-detachment from the team. Collins took a step here…a team high 10 targets, plus the only TD catch for Houston here.
Collins was an (0/6) going into this game, but got his first quality start here.
 -- Two TD passes for Daniel Jones (13-17 for 197 yards, 2 TDs/0 INT, 5-24-0)…5 TDs/0 INTs his last 4 games. He hasn't thrown a pick in 6 games. He's also rushed for 387 yards this season and 3 TDs. He's as solid a QB2 flier as there is out there right now.
NO-PIT
 -- All the talk of Jaylen Warren (9-37-0, 3-40-0/3) getting more involved led to Najee Harris's (20-99-0, 0-0-0/1) best game of rushing yards of the season…still, no TDs, no catches, under 10 pts in PPR…and nothing special-looking watching it…just a bad Saints run defense with a ton of injuries to the unit.
The Steelers are not going to push Warren anymore than they already do…they are too in love, too much sunk costs into Najee to justify. I say that because Mike Tomlin outright talked about Warren getting more of a push this week…and then he didn't. That's Tomlin telling us his heart/mind on it. We should all listen.
Najee is a (1/8) this season…(0/6) his last 6 games.
 -- Another really weak pass game effort from Kenny Pickett (18-30 for 199 yards, 0 TD/0 INT, 8-51-1) and all the receivers suffered…which is how it will go with Pickett in 2022 -- more weak weeks than FF-fruitful for the WRs. Pickett is (0/6) this season.
 -- The best offensive player the Saints have is Taysom Hill (0-1 passing, 3-1-0) and they have totally gone away from him, all the retreat while the offense stumbles and the losses mount. Inexplicable, but then again this is the Dennis Allen Saints…nothing makes sense.
As Taysom falls, Juwan Johnson (5-44-1/7) rises, finally. 4 TDs in his last 4 games, 3.6 rec. (4.8 targets) per game in that 4 game stretch. Juwan is a (2/8) this season…but a (2/2) the past 4 games.
DEN-TEN
 -- The Titans were missing half their defense for this game, due to injuries…and yet they sacked Russell Wilson (21-42 for 286 yards, 1 TD/1 INT, 7-8-0) six times, hit him 18 times and held the offense to 10 points...that's how awful this Denver offense is and how great Mike Vrabel is at coaching.
 -- Nick Westbrook-Ikhine (5-119-2/8) was available…and Tennessee got down 10-0 quickly and needed to throw some and NWI got the day. I don't believe this is the start of anything…just a game script/flow situation.
 -- Jerry Jeudy (0-0-0/1) went down quickly in the game with a leg injury and was carted off. With Jeudy out (and Hamler already inactive), Kendall Hinton (4-62-0/5) picked up extra targets and UDFA rookie Jalen Virgil (1-66-1/1), who flashed big play potential in the preseason…made a big play in this game (more of a 'lost in coverage' event).
If Jeudy is done and Hamler still hurt -- then it's probably Hinton getting the start…or, I hope, they reach for rookie Montrell Washington for the slot role. Virgil is still too raw right now, I think…talented, but very raw as a WR. Washington could make an instant impact, but I bet he doesn't even see a touch Week 11.
IND-LV
 -- I thought Matt Ryan (21-28 for 222 yards, 1 TD/0 INT) might be a surprise starter…a week from now, but credit to Jeff Saturday for recognizing what's best for Indy to make the playoffs right away. Ryan will start the rest of the way, as long as Indy is in the playoff hunt…which will probably be most of the season.
 -- If Matt Ryan is starting, Parris Campbell (7-76-1/9) is a WR1-2 threat again…where he was until Ryan was ripped away from him. Time to chase back into this.
 -- Foster Moreau (3-43-1/44) has at least three more starts without Darren Waller around. Moreau is another random TE1 hopeful any given week. He had a TD here, but also dropped one…and he doesn't normally drop passes. Had he caught that 2nd TD, he'd be a white-hot free agent this week, nationally, as everyone searches for a solution to their TE woes.
DAL-GB
 -- Both Ross Jacobs and I have been writing about the Christian Watson (4-107-3/8) 'pop' waiting to happen…but we didn't suspect this type of game was coming Week 10. Wow. And to think he missed out on another 50+ yard TD in this game by a half-step. Boy will there be fighting over this for this week's free agent chase! We'll discuss those details in the next section.
 -- Dalton Schultz (6-54-1/8) is back. His last three weeks: 5.7 rec. (6.7 targets), 59.0 yards, 0.33 TDs per game. His MCL sprain is behind him now. He's a strong TE1 with Dak.
 -- Odd stat…
Dak Prescott hasn't thrown for 300+ yards in a game all 2022 season, but he's played just 4 games…and not hitting that mark in his last 6 games total, going back to 2021. Dak is a (2/2) this season, however.
Aaron Rodgers hasn't thrown for 300+ yards in a game either, in his 10 games played/all 2022 season….14 games in a row back to 2021. Rodgers is an (0/10) this season.
ARI-LAR
 -- I said the Arizona offensive output wouldn't change much with Colt McCoy (26-37 for 238 yards, 1 TD/0 INT, 4-4-0) at the helm. I was wrong…it's actually better. We might get another McCoy next week…but at SF is not optimal. I think Kliff might proclaim he's being 'cautious with Kyler'…but that hiding/covering his desire to go face SF with McCoy. We'll see.
 -- The Rams have been great against the run this season…until this game where James Conner (221-69-2, 3-17-0/3) made some plays/runs despite playing behind a totally ruptured O-Line. Conner having a decent game here, to me = the Rams are quitting on the season. Conner is a (2/5) this season.
Eno Benjamin was cut Monday…which means Keaontay Ingram might have some handcuff hopes here, but it's a bad scene in Arizona.
 -- As of this writing, wee hours of Monday morning, it looks Cooper Kupp (3-0-0/5) is gonna be out for a while, probably all rest of the season. Who takes on those juicy Kupp numbers, in his absence? I'm not sure any one option is an absolute.
There's such a special thing with Stafford-Kupp that you probably cut Kupp's typical game production in half and then spread that half around multiple receivers…so, no real 'winner' -- but Ross Jacobs and I will be studying on it and trying to see if there is a winner to discuss.
KC-SF
 -- Elijah Mitchell (18-89-0, 1-0-0/2) returned, and SF showed that when they want to attack a weak run game opponent, they're gonna split Christian McCaffrey (14-38-1, 4-39-0/6) and Elijah…because they have the luxury to do so. Mitchell could see 10+ touches a game in a rotation with CMC.
 -- With a lower volume pass game/run heavy attack…Deebo Samuel (2-24-0/2, 4-27-0) is falling off…he's being statistically beaten by Brandon Aiyuk (6-84-0/7) almost every single week of late. We have to start projecting Aiyuk ahead of Deebo week-to-week until something changes.
Deebo is a disappointing (3/5) this season. Aiyuk is a (3/5) as well…but a (3/1) his last 4 games.
 -- Tough matchup going in for Justin Herbert (21-35 for 196 yards, 1 TD/1 INT, 5-22-0) but he got off to a fast start then the 49ers defense clamped down while the 49ers offense just kept the ball away with their run attack.
Could be mostly shootouts ahead for Herbert…KC, ARI, LV, MIA, and hope for Herbert especially if Keenan and/or Big Mike return. Mike Williams said he's trying to return for that KC game…he was working out on the field in shorts pregame and looked like he was moving and stretching OK.
CINN bye = I'm not expecting Ja'Marr Chase back Week 11, but with the extra week off we'll see if he at least is back practicing this week in some fashion. There's a real possibility his regular season is over with that hip injury if he doesn't see the practice field this week or next.
BAL bye = I fully expect Mark Andrews back for Week 11. He was off for Week 9, didn't practice/inactive and then a BYE Week 10. It was said he could've played Week 9 if a major game…so with two weeks off from that, he should be good to go Week 11.
NYJ bye = Two game weeks with the team plus a bye, so Week 11 we should see more James Robinson touches in-game…maybe the lead in a 60/40 split with Michael Carter.
NE bye = The Patriots entered their BYE as the #2 FF scoring PPG DST on the season. They are a good start Week 11 v. NYJ but then the next six weeks are all mediocre-to-bad matchups, including MIN-BUF-CIN-MIA. You better have a new plan after Week 11…
  ===== FIVE PLAYERS =====
*** FIVE FREE AGENT PLAYERS TO TRUST***
*Looking at players owned less than 50% on average in leagues across the whole FF-landscape. Your league, obviously, may be different/deeper.
**Adding a school grade to show my interest level (A-F)…and I don't mean that a D-F grade is 'bad'/just showing how pressing/important to me, your situation may differ due to injury, etc..
***IF FAAB% mentioned at any time below is based on a 16–20-man roster league. And it's hard to predict the right bid % because every league, situation, and lineup needs are so different. So, doing the best I can to 'project' (i.e. 'guess') what they will be based on early chatter.
*Again, note…not a grade on talent…just how important/urgent/great the waiver move is in context.
1) WR Christian Watson, GB (Grade: A-/B+)
There's nothing that ignites white hot FF value than 3 TDs in a game the week prior AND if the player was a rookie who did it…and you got that daily double here.
I think Watson is a talent, for sure. But this type of game sets his value into orbit…hotter than it should be. If you have already or acquire Watson this week, for redraft, I'd likely be looking at major sell off deals with Watson as a near WR1 valuation. Watson has been hot garbage and/or hurt for nine weeks and then had a couple big plays against Dallas (so you know many people watched it with their own eyes) and is now the greatest WR of our lifetimes.
Watson will still be a #2 WR behind Allen Lazard and more a big play hope than a consistent WR1 type stat accumulator. Anyone remember when Romeo Doubs was the greatest WR in the history of football? Those were fun times. Watson is way better than Doubs…but the instant value this week may be so hot you have to try to cash it in on the secret Watson lover/FF owner out there.
2) RB Rachaad White, TB (Grade: A-/B+)
If he wasn't on a BYE, he'd be an 'A' grade. I have professed love and support for White since the summer, so I'm not going to repeat my desires here…and most of you have been sitting on him for just this moment, but nationally he's less than 50% owned…so he's on the list.
White has two issues affecting his value: (1) the bye week, (2) Leonard Fournette is going to loom and lurk around this all 2022…unless we find out Fournette is done with a hip issue -- then this is an A+ pickup…the future of the TB backfield could be fully launched in that case.
3) WR Kadarius Toney, KC (Grade B+)
Everyone wanted to use him Week 10 with the Mecole injury, but I was on the fence because KC loves to rotate WRs and I wasn't sure Toney would get enough work. But then in-game, early, JuJu and MVS both went down and out (MVS returned a bit later) and suddenly all the WRs needed to step up. Toney was chief among them, but still only worked 44% of the snaps with 6 touches. Had he not one-legged skipped for a wide-open TD…you'd be half as excited here. I'm trying to keep our cool on this event because everyone is now all-in on Toney as must-start every week from here on in. I'm not so sure we're there yet.  
Toney's time is coming. His time may be here. But don't discount a KC staff that will hold back talent in favor of experienced, steady things…and just dabble a few plays to the upstart talent working part-time snap counts. Toney's day is coming but not sure if it is here yet…but it might not be long. A healthy JuJu and MVS…and Mecole, will work for KC next week over Toney…and if that is true, you can only place so much FF-faith in Toney Week 11+, until KC pledges their faith.
4) WR Parris Campbell, IND (Grade: B+)
With Matt Ryan back, we go right back to Parris Campbell as a WR1-2. Parris's last three games with Matt Ryan at QB: 9.0 rec. (67.7 yards, 1.0 TDs per game…a TD in every one of the games. Stunning.
BUT you'll chase the fairy tale ending with Toney before you consider Parris…when Parris is doing more than you could hope Toney will in the crowded KC offense. I'd chase Parris in redraft before Toney, but I might as well tell the wall in my office that…it will be received the same way. Young, fresh players are always better than dumb old 4th-6th+ year players actually producing at high or just respectable levels -- that statement will be chiseled on people's FF tombstones this season.
5) WR Nico Collins, HOU (Grade: C)
With Brandin Cooks snubbing team management, it provides Nico the opportunity to become the #1 WR here…and Nico got 10 targets and a TD Week 10. I know he's not a rookie, but he's a 2nd-year guy…so that's still kind of exciting…no?
And before you protest with '…but Davis Mills'…in the last 4 weeks, Mills is #7 among all QBs in passing yards (927/231.8) and tied for #7 in TD passes (6). He's not a disaster…and is throwing more and more in deficits to catch up/try (6th most pass attempts among QBs since Week 7).
6) WR Darrius Slayton, NYG (Grade: C-/D+)
The Giants best WR…(3/2) his last five games…double-digit PPR scoring in four of his 5 games as the new starter/#1 WR. It's not-nothing…and he looks great on tape, but he has Dan Jones to deal with -- but Jones has more TD passes the past 4 games (5) then he has had his past 7 games (back to 2021) combined. It's some kind of hope.
7) TE Hayden Hurst, CIN (Grade: D)
Among the TE1-2 group, Hurst was dropped by many for his bye last week…and I get that, but if Ja'Marr Chase is out, Hurst is one of the better TE1/2 hopefuls to be a TE1 any given week with Joe Burrow.
-----------------------------------------------
***FIVE WAIVER PLAYERS TO DISTRUST***
1) WR Jalen Virgil, DEN
Had a 66-yard TD Week 10…his one and only catch, a left-wide-open event. This rookie UDFA has some hope for the future, but I don't think that future is right here, right now even with Jerry Jeudy out. That Denver offense is a nightmare and Virgil is too raw right now to be relied upon…he probably will barely play. He's more of a deep sleeper to watch than anything to jump in on right away.
2) WR Nick Westbrook-Ikhine, TEN
5-119-2/8 this week against Denver…a great stat line that will draw the desperate in, I get it…but NWI had 2 catches total in his prior five games to this one. This is a bad Tennessee passing game for FF numbers. I would not trust this will hold up.
3) WR Laviska Shenault, CAR
3 catches and rushed for a TD this past week…they are trying to get him the ball, but he's so awful I don't know why they try. Only 39% of the snaps played Week 10. He looks terrible, but many football analysts and Carolina coaches think he's the second coming. Don't get suckered into the perpetual sweet talk on him.
4) WR Zay Jones, JAX
He usually has a high catch count in a week to suck everyone back in and then follows it up with duds for the next 4-6 games. I'm not that interested in Jacksonville's #2 target. He's not the absolute worst option among free agent WRs but you have to be able to do better.
5) TE Trey McBride, ARI
This one I'm on the fence on. Zach Ertz is done for the year, so McBride is the next man up…but I don't think he's a plug & play solution at this stage of his career. Rookie TEs are almost always traps…and McBride is useful/good hands but nothing special…despite his lofty draft stock, and he's not a TD TE…more a catch count one. With Marquise Brown coming back and the target load already heavy to Hopkins-Moore, I think you're better off with other established/random TE1-2 hopes.
At a certain level, I don't blame anyone for taking a look…I just think this isn't going to be much of anything for FF in 2022.
------------------------------
***FIVE BUY LOW PLAYERS***
*NOT 'Buy at any price'…it's Buy LOW. Try to find a deal. If none to be had, walk away. It's also NOT…go immediately ask the owner 'What do you want for ____', don't telegraph your desires.*
1) WR Allen Lazard, GB
His first non-double-digit PPR game output since his Week 2 debut, which means PANIC!!!! And now that Christian Watson will be crowned the greatest WR in NFL history, after last game's three TD event, Lazard will be seen as a dying asset others will want to sell fast to dump on 'dummies' who they think they're suckering.
I think the rise of Watson helps Lazard not get all the attention in coverage and can free Lazard up a bit…and helps the entire GB offense. They needed another pass game weapon badly…and they may have found it.
People still asked about starting Lazard every week for the past 4-5 weeks as Lazard produced WR1 numbers, so now that he had a down week and Christian Watson erased 9 weeks of drops and injuries and disappointments in one game -- Lazard is a nobody that people didn't trust before, now even worse/less trusted. Lazard will be available as a near WR3 value. I'm not buying him at WR2 prices, I will buy out of the bargain bin as a WR2.5-3.0 or I won't buy. I know the marketplace is turning hard on Lazard this week…they've already had their turn signal on for the past 5-9 weeks.
2) QB Justin Herbert, LAC
Dud after dud after dud in recent weeks. Herbert looks fine but his FF-numbers have been very mediocre. He's played a lot of tougher matchups lately and done so without Allen-Williams. If he can get one or both back with the schedule easing ahead -- you might get a lucky turnaround QB.
For Dynasty, this is your great opportunity to go get him for the future while the sentiment is down. He may not be able to turn it fully in 2022, but with a whole new staff in 2023 he will. If LAC loses to KC Week 11, Brandon Staley is all but done as LAC coach for 2023. A supreme asset for the future that is on sale finally, right now.
3) WR JuJu Smith-Schuster, KC
Got hurt off a big hit Week 10, left the game not to return…thus an FF-dud due to injury and now with Kadarius Toney as the most celebrated player in FF -- KC things are going on sale.
If JuJu checks out OK this week, and a team is willing to dump him as a PPR WR2.5 valuation…I'll snag him for depth and upside. He was becoming a PPR WR1 before Week 10. He's not going to die off because of the weird Week 10 events…and Toney's rise would only help JuJu a bit take some coverage heat off him but not help Mecole Hardman, who will see less snaps and targets with the Toney rise.
4) WR Jaylen Waddle, MIA
Down game Week 10…any time Waddle has a down game, it's a door cracked open to buy…if you have Tua and/or Tyreek. Possessing both Tyreek and Waddle is a genius move because they work as WR1s together, but would be even hotter if one or the other got hurt. It won't be cheap, but it's just a strategy for those with Tua and/or Tyreek.
And with Waddle on a BYE this week there's that hope for a trade from the Week 11 desperate…
5) RB Cordarrelle Patterson, ATL
He just got 5 carries in a game Week 10…what kind of RB1 is that? One you might steal for peanuts because of last week's carry count. If you are RB desperate, or just want depth, CPatt is an RB to have hope that he goes back to his 10+ carries lead and typical stat production/TD scoring.
I'm not paying a lot but if I can steal it for an RB2.5 valuation or less, I will…from a panicked owner who is staring at that Week 10 stat line disaster. No guarantees on CPatt's usage any given week, so this is not an over-pay/hot chase at all.
-------------------------
***FIVE SELL HIGH PLAYERS***
*NOT 'Sell at any price'…it's sell HIGH/sell good. Try to find someone in love with your player or seen as a neat value thrown into a multiplayer deal. If no one respects the player/buys right…then walk away.*
1) RB Devin Singletary, BUF
Two rushing TDs Week 10…makes DS a MUST SELL this week. Between the fact that people are bonkers for (a) RBs in FF, and (b) anyone that did anything good the prior game/day/week -- you must sell this high/hot as it can get. This is likely as good as it will ever get with Singletary.
His first rushing TDs all season in Week 10…for a reason -- Josh Allen and others typically take all the short TDs. This is your chance to sell an RB3 for RB2 money, if anyone is buying it, if you can use it to fill other needs or get something to help your specific roster -- go for it NOW.
2) RB Najee Harris, PIT
Almost rushed for 100+ yards Week 10…so, everything is all fixed! Hardly. Najee has sucked all season and sucked Week 10 too -- but got a lot of carries against a dying Saints team with half their defense out hurt and some elevated yards (and no catches). This may be your last time to ever sell Najee high. Again, people are supreme suckers for any (a) RBs in FF, and (b) anyone that did anything good the prior game/day/week. Check and check here.
3) RB James Conner, ARI
Najee Harris West Coast version.
But Conner had two TDs Week 10 for his uprising, so he's like an RB1.5 valuation this week -- you have the cover story of 'he was hurt before, now he's back healthy'…but in reality, he's still slow and the Arizona O-Line is a disaster. You got a decent game from him finally…sell it hot.
3) RB Raheem Mostert, MIA
Jeff Wilson has captured this backfield. If you were rolling with Mostert the pre-Wilson trade and riding high but got bit by the Wilson arrival to Miami…Mostert had a good FF game Week 10 to puff his handcuff value up for the Wilson owner, if you see a trade to them specifically. It means more to them.
Mostert is just a #2 RB in a good offense…like several other RBs, like Alexander Mattison, etc. Worth sitting on in lieu of nothing else to gamble on for RBs in your league -- but hopefully sellable/somewhat attractive off a hot game this week.
4) WR Courtland Sutton, DEN
I want out of anything to do with the Denver offense. If Jerry Jeudy is out for a while, Sutton is going to get even more coverage attention…and he stinks as a WR as it is (among the supposed star WRs, like DJ Moore is an overrated fraud) and this pass game/offense is dreadful on top of anything else. If you can find a sucker for Sutton and you can flip him for needs, go for it. Sutton doesn't have to be forced out…he's a WR2-3 on volume…this is just 'sell' if there's someone who thinks Sutton is a strong or decent WR2 here.
------------------------------
***FIVE DEEP SLEEPER WAIVER PICKUPS***
*Total flier/lowly owned or not-owned players
1) RB Jaylen Warren, PIT
As always, is a Najee injury away from being a main carry RB1-2…with the media pushing him to start after every loss/Najee dud game.
2) WR Donovan Peoples-Jones, CLE
All the guy does is score double-digit FF points in PPR every week, but never a TD, so he seems boring -- but he's very consistent every week and if he does get a TD, he'll be a WR1 for the week. Who knows if Deshaun will help or hurt?
3) WR Terrace Marshall, CAR
People will drop out of him after his one-catch Week 10…or just still ignore him on waivers. He's better than that…he's trying to breakout as Carolina's #1 WR…whatever that is worth.
4) RB Alexander Mattison, MIN
As good a #2 RB situation where you hold the lottery ticket in case the #1 RB gets hurt and forces the #2 RB to take over fully.
5) QB Deshaun Watson, CLE
He makes his debut in 3 weeks…and is a name that might have value to trade ahead of it, as we get closer. Or maybe he does well right off the bat? He starts back to practice this week.
6) TE Foster Moreau, LV
Darren Waller will miss at least 3 more games, if not the rest of the season…leaving Moreau as the main TE for LV…for whatever that is worth on this offense, probably a TE1.5
7) WR Jameson Williams, DET
Projected to debut in December sometime…that's getting too late into the season to really matter but it's some kind of hope for the FF playoffs…maybe.
8) RB Jerick McKinnon, KC
Starting to take off as the PPR back…as CEH dies off.
9) RB DeeJay Dallas, SEA
If Kenneth Walker goes down, Dallas takes over.
10) RB Zamir White, LV
What happens if FF's #1 RB, Josh Jacobs, goes down? It's Zamir's game to lose.
11) RB James Cook, BUF
So, the Bills barely use Cook all season…then they trade for Hines, and then post-Hines trade/Weeks 9-10 they start to use Cook more and he keeps making chunk plays. Cook is looking like the handcuff here…but probably splits with Hines/Duke Johnson and still doesn't really matter except for his big play potential.  
12) WR Montrell Washington, DEN
If Jeudy is done for a while and if Hamler can't get back, Denver could get the bright idea of using a Tyreek Hill-type option that's been sitting there waiting to work for this dreadful offense, but Montrell is not a tight end on the depth chart, so Nathaniel Hackett probably doesn't know Washington is even on his roster.
13) WR Lance McCutcheon, LAR
The moment, if, you hear McVay invoke the name of McCutcheon as getting a chance with Kupp down/out…it's a super deep sleeper for those in deeper leagues to take note of. I'll explain more when/if it happens, and you can look back at our preseason writeups on him.
---------------------------------
 -- FIVE…IT'S OK TO QUIT THEM PLAYERS (for REDRAFT) --
1) WR Michael Bandy, LAC
Had 8 targets/5 catches in Week 9, looked good…promising…hope for the preseason star.
84% snap share Week 10…and just 1 target. Message received. Williams and/or Allen is due back and Bandy will quietly disappear.
2) TE Cade Otton, TB
Cam Brate back, Otton hopes sink…as expected.
3) RB Nyheim Hines, BUF
Most new acquisition players jumped right into action with their new team. Hines has 1 catch and 10 total snaps played in two games with his new team. It's not a playbook thing…it's a 'they didn't need him' thing.
4) TE Taysom Hill, NO
All the upside remains that Hill could bust out with more QB time or unplanned QB time, but as far as being a weekly TE you can rely on...those days have ended. Hill has gone from 6-10+ touches/opportunities a game for weeks and leading the Saints in TDs to 2-4 touches in games the past two weeks and no TDs, as they move away from him.
It makes sense, because the Saints have scored 24 or more points in games Taysom touches the ball (rush-rec-pass) 5 or more times in a game. When he has 4 touches or less, the Saints are (0-3) and have scored 10-13-10 for points in the three games.
Dennis Allen…the next in a long line of inexplicable, useless head coaches that run from talent/things that work to do failing traditional things. Enjoy the one-and-done season, Dennis. You'll land on your feet with Sean Payton in LA next season, it's OK.
5) TE Isaiah Likely, BAL
If Mark Andrews is back, the Likely story is paused/ended. And I highly assume Andrews plays Week 11. Hold on, if you want, to see the practice reports…but I'm pretty confident Andrews should be ready. Likely is just a random hope TE1-2 with Andrews out anyway. You can move on early to seek other hopes.
--------------------------------
***STREAMING DSTs OFF WAIVERS(?) OPTIONS***--
1) Jets-DST
Coming off a BYE…three straight 'good' matchups, then Buffalo, then a favorable Weeks 15-16. The schedule leans favorable, but you also have to factor this is becoming one of the better defenses in the league, so matchup is just one part of the equation, and most all the rest of their games will be played in cold/DST favorable circumstances to further aid the DST production/opportunity.
Week 11 = v. CLE
Week 12 = at DET
Week 13 = at NE
Week 14 = at BUF…not great but the weather could make it a mess/slog.
Week 15 = DET…not perfect but the Jets may handle the decent DET offense…and this would be at cold, windy NYJ.
Week 16 = JAX…I like it at cold, windy NYJ.
Week 17 = at SEA…OK matchup, not great.
2) Commanders-DST
A very nice upcoming schedule for a very decent Washington defense, one getting Chase Young back finally. It would be even better if they could get Cole Holcomb back from injury.
Week 11 at HOU…a good start option
Week 12 = ATL…a good matchup for WSH
Week 13 = at NYG…good matchup
Week 14 = BYE
Week 15 = NYG…still a good matchup
Week 16 = at SF…not good.
Week 17 = CLE…could be OK.
3) Steelers-DST
Too risky to play against Cincy Week 11, but then if they stay healthy, they're an option Weeks 12-16 with fairly favorable matchups and the Week 14 hosting BAL is usually a lower scoring war. The risk is Pittsburgh falls out of the race too far to take advantage of the better matchup hopes.
Week 11 = host Cincy with their weak O-Line and no Ja'Marr, but Burrow is amazing.
Week 12 = at Indy…this works fine
Week 13 = at ATL…OK matchup
Week 14 = v. BAL…always a war.
Week 15 = at CAR…nice
Week 16 = v. LV…workable and maybe favorable in the cold/outdoors for LV
Week 17 = at BAL…always a war, and in the cold.
4) Bengals-DST
The Bengals are still pretty banged up in the secondary, but the Steelers offense is pretty bad, so this is a stream option Week 11.
Week 11 = at PITT
5) Seahawks-DST
A top 10 FF scoring DST this season due to a high sack and turnover rate, and they're young and improving as we go. Week 11 bye and three games that are FF-hopeful Weeks 12-14.
This is a play ahead for the more desperate for options week-to-week.
Week 11 = BYE
Week 12 = v. LV
Week 13 = at LAR (a good matchup suddenly)
Week 14 = v. CAR
---------------------------------
 -- Sleeper/lesser-name IDPs whose box scores or live watch caught my attention --
1) LB Jack Sanborn, CHI
We had him on here last week after he got launched to a starting role with Roquan Smith traded away…and we like Sanborn a lot. Well, this week he only made 12 tackles, and had 2.0 sacks. He's very good and here to stay.
2) LB Luke Matherson, LV
Is like Jack Sanborn (above), a UDFA find…a possible long-term solution at ILB. Started for the first time this season and had 6 tackles and a TFL. He may go back to backup when Divine Deablo returns.
3) CB Sam Webb, LV
One of my favorite rookie UDFA discoveries of the preseason. He got his most work/snaps of the season here and responded with 8 tackles and 2 PDs. He's a player…he's got a future.
4) CB Akayleb Evans, MIN
With Dantzler down (now on IR), the rookie Evans has been working more the last two games and has averaged 6.5 tackles, 1.0 TFLs, 0.5 PDs, 0.5 FF per game.
5) OLB Kaden Ellis, NO
Last two weeks: 6.0 tackles, 1.0 sacks per game. He's a highly athletic OLB that has been quiet most of his career. He's finally starting this season, but it was a slow start but he's heating up a little now.
-------------------------------
OUTTRO:
It's all in front of us…division titles…playoff berths…jumping from out of the playoffs to into the playoffs. Four more weeks to close the gap, to close the deal.
We should be favored to go (3-1) or better to a Week 14 finish…and, if so, where would that put you in the standings? Sprint to the finish. Things are starting to break our way on several key players invested in based on last week. Don't let your FF-head talk you into negative scenarios. Don't get all up in your head.  https://youtu.be/q7rdcNRMNW0