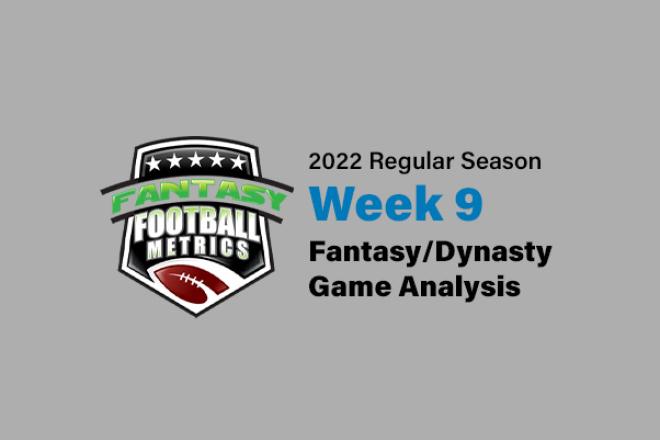 R.C. Fischer
Total Football Advisor
10 November 2022
2022 Week 9: Chiefs 20, Titans 17 OT (Dynasty/Fantasy Analysis Game Report)
KC raced out to a 9-0 lead, and everyone thought the vaunted Chiefs were about to run the 10+ point underdog Titans out of the building, but they didn't. The Titans scored two TDs in response and took the 14-9 lead and held KC scoreless for about 2.5+ quarters and took a 17-9 lead deep into the 4th-quarter. It took a KC miracle drive with a few minutes left to go to tie the score 17-17, and then KC pulled off the win in OT. The Titans had this game…they were the better team most of the game, but Patrick Mahomes continues to prove that 'QB is everything in the NFL'.
I walk away from this game supremely impressed with the Titans. Mike Vrabel is so beyond the best coach in the NFL it isn't even debatable. Mike McDaniel is probably #2, but it's too early to make that call. Kevin O'Connell is going to be there too. The Titans were the better team. KC converted a few miracle 3rd & longs on a final drive with Mahomes running to get by…if not for Mahomes late game miracles, Tennessee wins.
Think about this: Mahomes threw 68 times for 440 yards and only managed 1 TD pass and 17 points in regulation…the final 7 points a virtual statistical miracle of 3rd-down conversions with Mahomes running a 3rd & 17 run for 18 yards…hats off, but not normal.
Tennessee is (5-3) and one of the only teams in the NFL that I could say is a team that could win the Super Bowl. Last year's #1 seed is not going to be #1 this year, probably (if they had beaten KC then maybe), but they will win the AFC South hands down and be hosting a playoff game and go from there. I still think it could be with Malik Willis at QB come playoff time, but I'm not putting money on it. The Titans should finish around 11-13 wins and win the South going away.
HUGE win for Kansas City (6-2)…with a loss, KC would've been behind Tennessee in the playoff seeding…losers to both Buffalo and Tennessee (if it had happened) and not likely to be a #1 seed. It's mostly all clear from here to get that #1 seed since their supposed loaded division totally blows…KC should win 13+ games and complete with Buffalo, Tennessee, and Baltimore for the #1 seed. Buffalo and Baltimore (schedule) have an edge over KC for that, but SO much time to go and Josh Allen is now in question. But you can take it to the bank -- KC wins the AFC West, and the Titans win the AFC South.
*Note any fractional numbers in parentheses (4/2) or (2/3), etc., are a 'quality start' (or not) marker on a player -- using 14 PPR points in a game for RB-WR-TE and 21 for a QB…point levels that are good/productive/well above average starts for a Fantasy week. Trying to identify trends, consistency (or not) in players we might not normally realize.
A (3/2), for example, means: 3 times the player hit at/above the mark, and 2 times they did not.
Fantasy Player Notes…
   -- Malik Willis (5-16 for 80 yards, 0 TD/0 INT, 8-40-0) put up another FF-dud but he did make on-field improvements in this game over his debut last week. We got a little more purposeful, effective running plays and a little more opportunity to throw.
Willis is going through the early Justin Fields phase of clueless/scared/everything is a blur as a passer and good runner but not running up to his ability right away. Fields still isn't a good passer, but he's OK enough with a strong arm, but his running game is unleashed and that's creating passing opportunities for his lower passer skill ways. Willis hasn't been let off the chain to create all that, but we got minor flashes of it a little more this week than last. In the end, Willis is a way better passer and way better runner than Fields…he's just not 'there' yet but he is 'baby stepping' towards it.
The Willis weak debut/intro is creating Dynasty opportunity…he's a great buy low/reasonable now that the magical unicorn rookie wasn't a magical unicorn out of the gates, in fact he's been nothing even close to magical…so, he's gone from a lofty, dreamy market value for current owners to a more normal priced/valued prospect and falling. A good time to go any and grab Willis as an investment for the future if possible. Like we were early in on Jalen Hurts (but we were all along on that, not the same with Willis per se)…Willis is a 'next Hurts' type opportunity, going evermore on sale with these two disaster debut games.
Willis is going to be a future high-end QB1 in 4pts pass TD and probably nice in 6pts pass TD as well. He's in the Hurts-Lamar-Fields realm and could be better than all of them in the end…but it's gonna take a little time. But I wouldn't be surprised if Ryan Tannehill continues to fade, that Vrabel doesn't make a big boy change to Willis later in the season from a 'how much worse could it be?' perspective…but at least Willis can make magical plays with his feet, he just needs more time. They almost just beat Kansas City, at Kansas City with an un-ready Willis…imagine when Willis gets more comfortable.
 -- Patrick Mahomes (43-68 for 446 yards, 1 TD/1 INT, 6-63-1) is running an offensive version of what Tua is running in Miami, as I've mentioned a few times this season. All quick hitter, short passes by design to slice and dice defenses…and it's working. When plays break down, then Mahomes expands the field and makes miracle plays. I think they should just throw every play anyway, by design, possessing Mahomes…they almost did this game.
68 throws, 43 completions, and just 1 TD pass and just 17 points in regulation is more example of a team just trying to keep Mahomes in front of them and out of the end zone ultimately. Tennessee was masterful at it for 57 minutes of this game…but most defenses aren't as good as Tennessee's.
Did you know, Mahomes has rushed for 25 or more yards in a game in four of his last 6 games? He's also a (6/2) this season with (5/0) his last 5 games.
 -- Part of the reason Mahomes had to throw 68 times…the Chiefs ran the ball 13 times with their RBs, for 14 yards…1.1 yards per carry. Their backfield is a mess like the Rams' situation…who is the RB to own? None.
Isiah Pacheco (5-5-0, 1-4-0/1) is now the starter but all that means is he is blocking a lot and rotating in and out with the other two guys. He has 1 TD this season…Week 1. Him as the KC starter sounds cool, but it has been FF-meaningless…and I don't know how it becomes meaningless ahead…they don't want to run and they have this eternal rotation of everything and it works for them, but not for FF production…except for Kelce.
Clyde Edwards-Helaire (4-5-0, 1-14-0/2) has fallen in value faster than Najee Harris…the 2020 and 2021 #1 overall Dynasty Rookie Draft picks are who I just mentioned. Make sure you get all the Dynasty draft picks you can because they're SO valuable. CEH is the rotational pass game back for quarter's 1-2-3.
When the game is serious and/or KC in need of offense…then CEH goes bye-bye and Jerick McKinnon (3-4-0, 6-40-0/8) takes over for the pass game effectiveness.
Right now, none of them are FF-valuable in your 12-team FF leagues.
 -- The KC rotation game is not just for RBs…it's for the WRs too.
JuJu Smith-Schuster (10-88-0/12) works as a quasi-TE-like weapon in this short pass game. JuJu started out (0/5) but is now a (3/5) for quality starts this season. Three straight games over 85 yards with two 110+ yard efforts. He's becoming a stronger WR1-2 in PPR.
Mecole Hardman (6-79-1/9) has become the Chiefs best FF WR. Five TDs his last 3 games. Mecole started the season (0/6) but now is a (2/6). I think it's a blip and he'll retreat soon...but JuJu won't, he's here to stay as a WR2 floor, WR1/PPR ceiling.
As Hardman produces, it will keep Kadarius Toney (2-12-0/2) sidelined in the rotation longer…just a luxury item in the mass rotations. Toney actually got the first target/catch of the game for KC. Caught his second pass soon after. Then he wasn't seen for like the rest of the game…then in OT he caught the first pass but there was a penalty, and then disappeared again. 9 snaps total played…mostly all first series.
It may take weeks before we see a Toney turn. If you think, 'surely, they'll see the talent and push him'…I can refer you back to rookie Tyreek Hill, who would get one touch, take it for a 50-70+ yard TD in the 1st-quarter, and then not touch the ball again the rest of the game. And it happened over-and-over-and-over again during his rookie breakout season. Then Hill wanted out because of underutilization the past few years.
Why would you think they'll treat Toney any differently? He's just a guy in the eternal rotation KC uses.
Skyy Moore (0-0-0/1) is more buried than Toney. Both might be the future, but they are not the now.
If you're still holding onto MVS (1-12-0/1), you are wasting a roster space. He's a deep ball decoy in the short passing game. He's a (2/6) this season. He doesn't fit this new offense…JuJu does…Hardman does, kinda…not MVS, he works as a decoy.
 -- Noah Gray (3-45-0/3) notes…
1) The #2 TE on this team with the eternal rotations…and he's playing 65%+ of the snaps in the past 4 games…over 55%+ all season. I didn't realize it was that high.
2) 3 catches in a game in two of his last 3 games.
3) He might be the only 'tight end handcuff' in Fantasy.
I'm not suggesting Gray would step in and be the #1 TE in FF if Travis Kelce were lost, but he would probably be in the TE1 hunt for sure…and everyone would be chasing him desperately off waivers.
For those with a deeper roster/deeper leagues and you've got Kelce and you're rolling along to the playoffs this season and you have a random #2 (and #3) backup/emergency TE…you might consider Gray as your #2/3 TE. KC is past their bye, so your TE is either going to be Kelce…or Gray (if Kelce goes down) the rest of the season.
 -- Gray, as KC's #2 TE, is getting more snaps and targets than Titans rookie Chig Okonkwo (1-48-0/3), which is a crime against humanity after seeing Chig's opening play of this game. A wonderful TE screen and run (through 7-10+ Chiefs defenders for 48-yards.
The scouting community was shocked when Chig ran a 4.52 40-time with a 1.57 10-yard split at the NFL Combine…but it looked real in this game, on that one play. He's a faster Jonnu Smith-like TE who is still too early for FF usage, and in a bad spot for FF-consistency…but after that big play in this game (and then they never ran it again), I gotta believe Tennessee might see some pass game hope in a bad passing game with little to get excited about.
 -- If Derrick Henry goes down…it's starting to look like it might be Hassan Haskins (1-5-0, 1-2-0/1) who might take a chunk or half+ of the work with Dontrell Hilliard in support. A few weeks ago, I would've said Hilliard for the bulk…now, I think it's a split and every week Haskins gains more trust and support…and touches. He is looking better and better, more comfortable, each week.
 -- The Titans defense has held opponents to 20 points or less in five straight games, corresponding with some of their key defensive players getting back healthy and the schedule being favorable…but they just brick walled KC. They have a choppy schedule ahead but not bad…and this defense may be so good, especially against the run, that they are getting more matchup proof, or less matchup impactful than normal defenses. This is becoming one of the best defenses in the NFL, quietly.
 -- The Chiefs-DST is arguably/probably better to run with than the Titans, even though the Titans have a better defense…the Chiefs D is emerging with young talent all over…but the better overall late schedule ahead might tip to KC but the Titans are viable that stretch too with a great matchup Week 16 hosting HOU to push their overall projections hot for Weeks 15-17.
Snap Counts of Interest:
83 = JuJu
71 = MVS
54 = Mecole
26 = Watson
26 = Skyy
09 = Toney
62 = McKinnon
22 = Pacheco
17 = CEH
33 = Swaim
31 = Hooper
18 = Chig O
30 = Henry
16 = Hilliard
 6 = Haskins