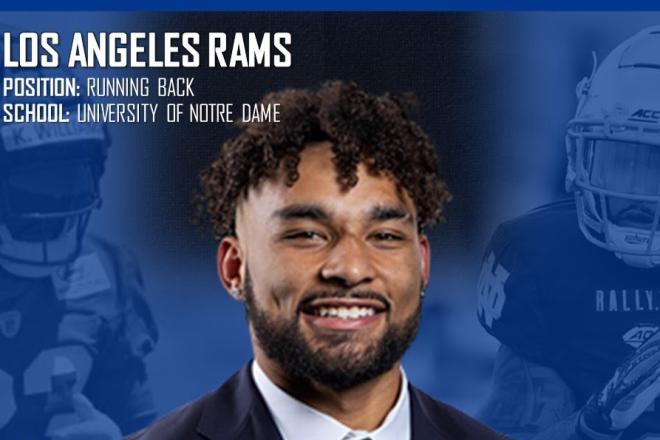 R.C. Fischer
Total Football Advisor
10 November 2022
National Trade Kyren Williams Week (There's a Problem…)
In the last 48 hours, people have been sending me notes of Kyren Williams deals they made…because we've been picking him up for weeks waiting to flip him before he actually plays.
The good news = people are doing just that.
The bad news = most are reporting deals that are selling this Kyren asset all wrong…for half or less the real value.
Just because WE think Kyren Williams is nothing much, it doesn't mean that the market does -- in fact, as I've said over and over, the market has been and is going to swoon to this…a rookie RB they've never seen but the media says was awesome back in January 2022, pre-Draft…a top 1-2-3 RB prospect for many always-wrong analysts in January…but then Kyren flopped all his pre-draft workouts and when people did their deeper study the fraud was exposed…the better analysts and the NFL weighed in by April and slashed his value/rankings. And he fell to a late 5th-round pick in the 2022 NFL Draft.
BUT…that's not gonna stop unstudied, take the word of 'THEM' FF reporting that Kyren is secretly great because they saw a two-minute cool highlight video of Kyren and they look at the mess the Rams backfield is -- and they smell a rookie unicorn opportunity. Why, what if he's the greatest RB of all time…you don't know?!?!
So, the FF-media is beating a Kyren drum…and super-smart, RB zombie desperate FF-owners hear the drum beating and smell a Disney story of them getting the Rams next great RB for their FF squad. Only, in some cases you picked him up 2-3 weeks ago waiting for this moment…the moment to flip him hot…as I've been writing about and mentioning on the Video Q&A for weeks now.
This is the week people are making moves to flip Kyren…great. Except many are selling him off as some junk RB3-4 when in reality, to the smart ESPN+ subscriber FF-owners, Kyren is an RB2 or better value…why, he might be an RB1…you don't know!
SELL AS AN RB2.0 range value…especially when word hits he is 'active' for the upcoming game (whenever that is, probably Friday) -- his value will continue to soar. You have a great SELL asset for no cost basis…don't blow it by selling it for nothing (RB3-4) just to be rid of it to check it off your to-do list -- go for something serious, make them pay, make them bleed for it…find the secret crush owner…it's most of them that pay super-attention to the mainstream news as if they're the only one that sees it. They aren't going to tell you how much they covet the magical unicorn rookie, so don't engage in an hour of text/chat about it…make/send hard proposals in one-on-one or multi thing deals with Kyren valued around a strong RB2.
Maybe there's not as much market and you get RB2.5-3 valuation offers, and maybe it's a key cuff you need so you do a quick swap. I think the market out there is hotter for him. But you're selling short if you don't explore several teams of options to sell him -- the majority of the people in your league want in on Kyren, no matter what they say out loud. Find the secret Kyren lovers and get real strong offers in…you make the offers, stop talking about deals in circles with them in text or chat -- just put them on the spot with a real offer letting them know Kyren is being traded somewhere because you need ____ (whatever excuse) for the week, so take it or leave it because he's going to go because so many people have shown interest. Create the market. Isolate a deal and strike. Email me if you want my two cents on your offer…make sure you gimmie the needed details about the league/scoring/situation or you're gonna get delayed in my response.
This is a serious opportunity I don't want anyone to miss, at this critical time with this juicy hot-of-the-moment asset…so, thus the special alert.
This email address is being protected from spambots. You need JavaScript enabled to view it.