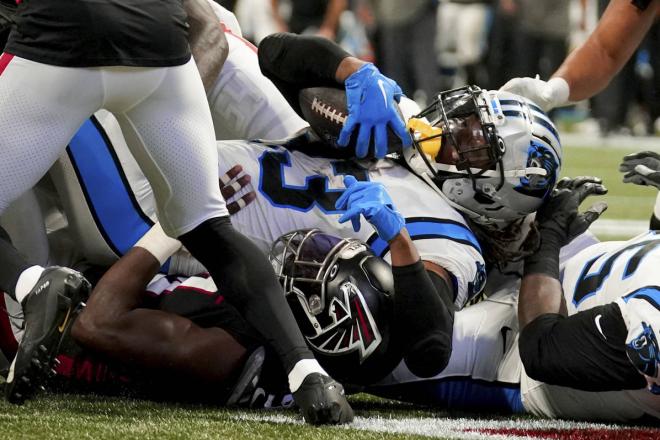 R.C. Fischer
Total Football Advisor
31 October 2022
2022 Fantasy/Dynasty Monday Executive Summary: Week #8
Well, Week 8 is going to be memorable for me -- because I missed my first 1pmET Sunday opening kick in a decade+, since turning pro in football analysis. I got discharged from the hospital, after an unplanned 3-day stay, post gallbladder removal surgery…getting the dismissal official Sunday 12:45pmET. They started to wheel me out of there right at 1pmET…and I was glued to my phone watching the plays/results come in via FantasyPros 'GameDay' feature of every play from every game firing out at me until I got home. The guy who was wheel-chairing me down to the hospital pickup zone was trying to talk to me, but I played up the unresponsive patient with short grunt responses so I could focus on the play results popping up as the NFL Sunday action got underway.
I will also never forget doing the Sunday morning final projections slumped over in a hospital bed, in total pain on my right side from sitting upright (as I could) trying to maneuver my mouse on a TV tray to make all the needed updates to the computer, with spotty hospital wi-fi while nurses came in and out interrupting me with final vital checks for release. I made it through, somehow. I delayed the due pain meds until after the inactives were announced and as I communicated with sources on final things to make the final projections. Once the projections got uploaded…I got drugged out and soon after finally dispatched.
It looks like this Week 8 was good to most FFMers. We're tracking another +/- 65%+ win-rate across the board. Still some things to settle with MNF, but way more positive outcomes projected than not from MNF activities. We're settling into to our usual, higher win-rate run happening during the bye weeks. Slowly but surely the teams that face planted off the jump are getting back into the race and the strong teams are getting stronger. Overall, across the FFM board, we're in a good place…considering the mayhem of the NFL/FF 2022. We all are getting RB opportunities fed to all of us each week it seems, helping us start to make our move -- D'Onta Foreman is back as a Savior for yet another season, just at the right time we needed a savior.
Seven more weeks to go for most leagues (before the playoffs)…so, if you're 1-2 games out of the playoffs after this week, you're strongly IN IT this season. With the mass injuries across the league, things are shifting around so fast it's crazy to behold -- but that's an advantage to create opportunities to get back in it and hit a stride going into the FF-playoffs. One win in Week 9 changes everything for those 1-2, even 3 games out. Don't panic…keep playing the game until they declare you done.
Teams that are in the FF-playoffs and those securely headed to division titles -- the world can turn in one week of injury reports, so keep on grinding until the end.
Good luck on your MNF needs tonight as we march on to Week 9.
Here's video of my hospital release, if you were interested. The nurses and staff were mostly great but it's maddening being confined there for days…and depressing seeing all the other worse-off people there. I was so glad to get out of there, so this video captures my mindset on finally leaving the hospital confinement…also it's a video of what many were doing to FF opponents with Tyreek and D'Onta…and even Kyle Pitts this week: https://youtu.be/WW1U4bcbUkI
*Note any fractional numbers in parentheses (4/2) or (2/3), etc., are a 'quality start' or not marker on a player using 14 PPR points in a game for RB-WR-TE and 21 for a QB…point levels that are good/productive/well above average starts for a Fantasy week. Trying to identify trends, consistency (or not) in players we might not normally realize.
A (3/2), for example, means: 3 times the player hit at/above the mark, and 2 times they did not.
--THREE THINGS--
DEN-JAX
 -- Evan Engram (4-55-1/6) is, I think, FINALLY becoming a desired target by his QB. It only took like 5 years. Engram hit a TD pass early, and then had a shot at one more, at least, but Trevor couldn't connect. We're back to Engram as a TE1…which means the let down is coming. Doesn't it always happen that way with EE?
 -- Who knew the best weapon the Broncos had, according to them, would be rookie TE (who missed most of training camp) Greg Dulcich (4-87-0/5)? 5.5 rec. (7.0 targets) for 69.0 yards per game the last 2 weeks of him really playing. Just more befuddling things from Denver. Nate Hackett loves plays for the TE. It has a chance to keep up, maybe?
 -- With this effort, the Denver-DST has held seven of their 8 opponents to 17 points or fewer. Much of it on a very favorable schedule, but they are really good too.
CAR-ATL
 -- So happy for D'Onta Foreman (28-118-3, 0-0-0/0)…back-to-back 100+ yard games for what was thought to be an impossible to run behind O-Line. Foreman has established himself as the lead RB for Carolina, but he will yield relief touches with Chuba Hubbard (DNP) or whomever.
 -- Our 'outta nowhere WR of the week' was Carolina's Terrace Marshall (4-87-0/9), who responded with a solid game…but note he had 2-3 TD shots from the red zone/goal-to-go just missed. Caught one but landed just out of bounds. Had another caught but stripped on the way down. Marshall has a little life as a flex option during these bye weeks. He really looks good, but D.J. Moore (6-152-1/11 is definitely the lead target for sure,
 -- Kyle Pitts (5-80-1/9) got the kind of stat line you can better sell him off to get other pieces…Pitts is just in that random TE1 mix with 15-20 other TEs each week. He's not separating or going to a higher level it appears. He could, but the Atlanta offense is not set up for him to be that FF star. Pitts got his first quality start of the season here…(a 1/6) this season.
CHI-DAL
  -- Finally, a coach gets it…David Montgomery (15-53-0, 3-22-0/3) should not have been a feature RB for an NFL team…he could be a part of a group, but the last few years have been a waste -- it looks like Khalil Herbert (16-99-1) is pulling into a split, if not the real lead for this team going forward.
Herbert is a (3/5) this season with two quality starts in-a-row.
Montgomery is a (2/5) this season.
 -- Will the Dallas coaches now get it like the Bears coaches? The backup RB is better than the long-time starter, so get over it already? Any time Tony Pollard (14-131-3, 1-6-1) gets free of Zeke…he's terrific. Everyone can see it except Jerry Jones, so the Dallas coaches will continue the charade as long as Jerry wants.
It's gonna be sad when you see Zeke starting and taking key touches over Pollard in games ahead. Pollard was already starting to be the more important/higher touch count option, but still yields too much to Zeke…and always will until Zeke is gone.
Pollard is a (3/5) this season, a hair from (5/3).
 -- Justin Fields (17-23 for 151 yards, 2 TDs/0 INT, 8-60-1) continues his march to QB1 in 4pts pass TD. Three workable/FF-nice games in a row now. Not great for the NFL, per se…but sweet for FF with 76.7 rushing yards and 0.67 rushing TDs per game the past three games. Fields is a (2/6)…with two quality starts in-a-row now.
MIA-DET
 -- I thought for sure Dan Campbell would punish Jamaal Williams (10-53-2, 3-23-0/3) after fumbling twice in Week 7, because that's what tough guy coaches do -- they don't tolerate fumbles lost (fumbles not lost are OK, so are picks thrown by the QB, or blown coverages on defense, or WR/TE drops…only lost fumbles are bad). Campbell even said fumblers won't play, leading up to this week…and, well, nothing changes -- same old Lions plan.
We found the one thing the Lions coaching staff dislikes more than lost fumbles…it's D'Andre Swift (5-6-0, 5-27-1/5). I've mentioned it a few times…but this staff mocks/hates his soft running style, and they seem to punish Swift for it more than any Jamaal fumbles or lack of talent issues. I'm duly noting all of his going forward. They don't have to tell me again…I get it now…no more doubting Jamaal. Williams is a (4/3) this season and one of the league's TD leaders. Why do I keep trying to predict the downfall? Just go with it until it definitely stops.
Swift is a (3/1) this season, despite all the turmoil.
 -- The buy low window on Tua (29-36 for 382 yards, 3 TD/0 INT) just closed with this tally. This is what I've been chasing with Tua, my 'buy low' efforts, for weeks. Toughening schedule ahead, but to some degree Tua is getting matchup-proof with their jet set offense that defenses have to react to, not the other way around anymore.
 -- Jared Goff (27-37 for 321 yards, 1 TD/0 INT) looks good to my eye but this offense is starting falter around him. He's missing multiple weapons every week…the sluggish running game with Jamaal as the lead. Goff has 1 TD pass in his last 3 games, total…with 3 picks in that span…as Detroit faces tougher opponents. It only gets tougher from here. GB-CHI-NYG-BUF the next 4 games.
Malign Goff all you want, but he's a (3/4) in Q-starts this season…and got one Week 8, despite all the issues around him.
ARI-MIN
 -- DeAndre Hopkins (12-159-1/13) could've caught 20 passes in this game if he/Kyler wanted. Minnesota could not cover Hopkins despite everyone knowing he was getting the ball heavy. Hopkins has looked way more dominant than Marquise Brown did in this offense. When Hollywood returns…he falls from his WR1 pace pre-injury to WR2. Hopkins is a (2/0) right off the bat, upon his return.
 -- Every team is attacking Arizona with their TEs, because of Arizona's weakness covering the TE. So, then Minnesota doesn't do that, the first I've seen in a while…and the Vikings really flirted with losing this game the entire game, when they should've won by 2+ scores.
We now know what this staff thinks of Irv Smith (4-28-0/4)…in the easiest/gimme matchup to expose, the Vikings didn't. Johnny Mundt (1-1-1/1) did score a TD…so the Cardinals hot pace of giving up TDs to the TE continues.
 -- Missing his 1st and 2nd-string centers, and struggling all season, Kyler Murray (31-44 for 326 yards, 3 TD/2 INT) completed 70%+ of his passes…had 300+ yards passing and a season high 3 TD passes. This Vikings pass defense is growing into one of the weaker links to attack in Fantasy. Kyler is a (3/5) this season.
LV-NO
 -- Can I say that I hate the way Davante Adams (1-3-0/5) and Derek Carr (15-26 for 1010 yards, 0 TD/1 INT) work together, from a technical, clinical scouting watch? I know Adams was sick (flu) all week going into this game, but a 56% connection rate this year. And the way it looks on tape…the Raiders would have a QB controversy for 2023, but they invested heavy money in Carr-Adams…and all it's gotten them to a (2-5) record so far this season. The Carr-Adams-McDaniels trio is going to be a drama ahead and into 2023.
I am not interested in the 'they need more time together' narrative. They were paid top scale money because they already had a relationship. Carr looks shakier and shakier every other week, whether throwing to Adams or anyone else. Adams is a (4/3) this season.
 -- A little more work for Rashid Shaheed (3-38-0/3) in this game…the Saints seem to be invested in him more and more each week, and Michael Thomas and Jarvis Landry don't seem interested in returning anytime soon. We're keeping half-an-eye on Shaheed.
 -- Darren Waller (DNP) was a late scratch (Saturday). With this loss, the Waller inactive might be the forerunner of him getting traded Tuesday. If he is traded, my guess at a landing spot: New York Giants or Minnesota.
NE-NYJ
 -- Mac Jones (24-35 for 194 yards, 1 TD/1 INT) wasn't good but he won…so the QB controversy holds off another week. He's gonna get replaced by Bailey Zappe at some point…I think it will be in-season 2022 at some point ahead. Mac is a (1/4) so far.
 -- My big Hunter Henry (1-22-0/1) play to take advantage of the Jets v. the TE…it fizzled. The real defense to attack with the TE is becoming the Patriots, more than the Jets D...and Tyler Conklin (6-79-2/10) was proof in this game.
 -- James Robinson (5-17-0, 0-0-0/1) played some in this game. I imagine he's 50/50 next week and then Week 10 moves to 60/40 with Michael Carter (7-26-0, 4-35-0/7) by plan -- JRob the runner, Carter in the pass game. It won't be anything like the Breece Hall events at all.
PIT-PHI
 -- I wish the Steelers would use a foot injury as an excuse to put Najee Harris (8-32-0, 6-26-0/6) inactive…then see what they got with Jaylen Warren (6-50-0, 3-25-0/3). Warren is obviously better for the team right now. The Steelers need to go on a win streak to get back into the playoffs somehow…but they won't if they keep wasting touches on Najee. I think the situation is starting to buckle…people are over their Najee allure. Jaylen Warren just needs a chance.
 -- George Pickens (0-0-0/3)…a big zero Week 8. Had a 20+ yard catch, a terrific catch again from GP…but it was ruled 'not a catch' but replay showed it clearly was…but the genius Steelers staff didn't challenge the obvious. The Eagles secondary was too much for Pickens to make a bunch of highlight plays on them, but he should never take a zero…that's a Pickett/Tomlin issue. Pickens had been white hot, so this is just a bad matchup one-off.
 -- Make it five of their last 6 games for the Eagles-DST holding their opponent to 17 points or fewer. Check this schedule out ahead the next 7 weeks: Mills, Heinicke, Ehlinger, A. Rodgers, Tannehill, D. Jones, Fields.
TEN-HOU
 -- The big, exciting Malik Willis (6-10 for 55 yards, 0 TD/1 INT) starting opportunity ended up a giant dud. The Titans just ran the ball 45 times for 314 yards and walked out with a simple win. I could've QB'd the Titans to victory here. No opportunity for Willis…and then didn't need to. I started him in a couple places…and got burned on some, overcame it in others.
 -- You get things wrong and write in the preseason, but our projections pushing Derrick Henry (32-219-2, 1-9-0/1) as the #1 asset to own for FF 2022 redraft…not looking bad right now. He's simply the best RB in the game, and really the only one that makes a massive difference/is irreplaceable.
Henry is a (5/2) this season…with five straight Q-starts.
 -- There's nothing to discuss with the Texans…arguably the worst team in the league now, which is a shame because they have talent -- which means they are poorly coached. And that won't be fixed any time soon.
WSH-IND
 -- This was literally Taylor Heinicke (23-31 for 279 yards, 1 TD/1 INT, 6-29-1) vs. younger Taylor Heinicke = Sam Ehlinger (17-23 for 201 yards, 0 TD/0 INT, 6-15-0). Ehlinger was safe and nothing special. He'll have some decent games…and then not. He's Heinicke 2.0. He'll do a bit better as we go.
Heinicke gets a quality start to begin his starting stint (which he'll keep over Wentz) as a (1/1) so far.
 -- Jonathan Taylor (16-76-0, 0-0-0/1) has gone five straight games without a TD…or without rushing for more than 76 yards in any game. He's wasting away with little reason to believe it will turn for him until Frank Reich gets fired.
The #1 pick in redrafts 2022, universally, is a (2/4) this season.
 -- Antonio Gibson (7-19-0, 7-58-1/7) has suddenly become the man again. Brian Robinson (8-20-0) takes some carries and isn't in the passing game anything like Gibson. Washington has won three in-a-row, so they are not trading Gibson Tuesday.
You saw the Jon Taylor Q-start spilt…more painful, Gibson is now a (3/5)…and (2/0) the last 2 weeks. Going into Week 9…you're probably better with Gibson than Taylor, that's where we are at in 2022…
SF-LAR
 -- How much does Sean McVay hate Darrell Henderson (4-16-0, 2-14-0/2)? So much so that he just pushed Ronnie Rivers (8-21-0, 4-15-0/4) ahead of him this week. It's not even worth discussing the existing LAR RBs…the Rams will trade for some RB Tuesday…Kareem Hunt or D'Ernest Johnson or Jamaal Williams or D'Andre Swift or they will pull some rabbit out of their hat.  
 -- Things looked a little better here for Allen Robinson (5-45-0/7), after a bye week to get integrated a little more…but still not anything amazing. ARob is a (2/5) this season.
Cooper Kupp got hurt late in the game and is now possible to miss a week. Who should we get for FF purposes, in a Kupp absence? I think Stafford-Kupp is its own thing, and the pass game would fall even further, and the action be spread around to all the different options. A bump for Allen Robinson, but if Carlton Davis is back…it could be a huge disappointment.  
 -- Brandon Aiyuk (6-81-1/6) now has three 80+ yard games in a row…with 3 TDs in that 3-game stretch. The rise of Aiyuk comes out of the account of Deebo. Aiyuk is (3/5) with three Q-starts in a row.
NYG-SEA
 -- This was Wan'Dale Robinson's (2-15-0/3) follow-up game to take control of being the top target for the Giants. Every week, it's a different WR that leads the way…and 'leads' is a very loose term. Let's just not try and find a #1 WR/a FF-useful WR from the Giants offense. Save ourselves sometimes.
 -- Three games in-a-row for Geno Smith (23-34 for 212 yards, 2 TDs/0 INTs, 5-26-0) below 215 yards passing in a game. He's getting his TD passes, back-to-back games with 2 TD passes but no real yards to go with it…which makes him just like Aaron Rodgers the past several weeks, but Geno is celebrated -- and Rodgers is trying to be replaced by the media.
 -- Despite Lockett-Metcalf playing, Marquise Goodwin (4-33-0/5) did take a little step forward to be the noticeable (not random) #3 WR here and trying to get on the FF flex radar.
GB-BUF
 -- Gabe Davis (2-35-0/7) is so odd to me. Lots of TDs (four in 6 games), but his numbers are pretty awful for a 'star'. Catches in games the past five games: 2-3-3-1-3. Catch rate of targets = 54%...with the great Josh Allen. He's had a couple big plays but otherwise he offers little. The Bills might be one of those teams looking to add a WR at the trade deadline. Gabe is (3/3) this season.
 -- GB rookie WR Samori Toure (1-37-1/4) may have bought himself some more playing time with his smart-changed/improvised route for a 37-yard TD, bringing joy to Aaron Rodgers. This is only even mentionable IF Allen Lazard is out…and he probably will be again this week.
 -- Another 2 TD passing game for Aaron Rodgers (19-30 for 203 yards, 2 TDs/1 INT)…six of his last 7 games with 2 TD passes. He's #5 in TD passes among QBs this season. He's not an issue…the team isn't winning, so therefore the analysts think Rodgers is failing. The problem is, for FF, low yardage totals for Rodgers. He doesn't have big playmakers to make the big yards right now.
LAC bye = With Mike Williams out, Josh Palmer is the player to get…you should have last week. Palmer can have a WR2 run, perhaps, with Big Mike out. This is a good spot for Palmer to step up.
KC bye = Everyone is piling into Kadarius Toney, which I get, but it will likely be a couple weeks before Toney is up to speed…and then we have to hope Toney can get it together mentally and stay healthy. If he does, this will be explosive…unless KC uses him sparingly…like they did Tyreek Hill year one…very slowly, sparingly, annoyingly so even when it is obvious to the whole universe. Like they ignored Josh Gordon. Like they ignore Skyy Moore now. I really don't know what way this is gonna go…but 'disappointing' is on the table…but 'superstar of the future' is too.
  ===== FIVE PLAYERS =====
*** FIVE WAIVER PLAYERS TO TRUST***
*Looking at players owned less than 50% on average in leagues across the whole FF-landscape. Your league, obviously, may be different/deeper.
**Adding a school grade to show my interest level (A-F)…and I don't mean that a D-F grade is 'bad'/just showing how pressing/important to me, your situation may differ due to injury, etc..
***IF FAAB% mentioned at any time below is based on a 16–20-man roster league. And it's hard to predict the right bid % because every league, situation, and lineup needs are so different. So, doing the best I can to 'project' (i.e. 'guess') what they will be based on early chatter.
*Again, note…not a grade on talent…just how important/urgent/great the waiver move is in context.
**Not as fruitful a waiver week this week. Tread lightly with low expectations…opportunity may knock later in the week for whatever bizarre things pop up.
1) RB Latavius Murray, DEN (Grade: C+)
The least talented player on this week's list gets the highest grade. Why? You can't underestimate the value of a working RB right now -- and Murray is Denver's top RB right now and should be as long as he can go in 2022. A TD scored in two of his 3 Broncos appearances, averaging 12.3 carries a game. It works during the bye weeks. Latavius is an (0/4) this season, but close to a (2/2).
2) WR Garrett Wilson, NYJ (Grade: C+)
Week 8…finally a good game for Garrett with Zach. I don't know if I trust it. Four poor results prior to Week 8 with Zach. Buffalo on the docket Week 9. Tough schedule, struggling/bad QB…be careful, but he does have some upside hope AND because he's a rookie he's a super-boost of value to the world -- so, you might acquire and use in a trade deal this week because rookies are magical beings everyone thirsts for. Garrett is a (2/6) this season.
3) QB Justin Fields, CHI (Grade: C+)
Most sharp leagues, Fields is long gone…but statistically he's under 50% owned. He's working his way towards 4pts pass TD QB1 status with his upgraded running the past few weeks. With so many failing, established QBs…Fields is working and fresh.
4) RB Kenyan Drake, BAL (Grade: C)
Drake's value ebbs and flows with Gus Edwards's health, but Gus has been not-100% after either of his two games back…Gus is a high risk for re-injury, leaving Drake as the healthiest RB the Ravens seem to want as their lead.
Worst case, Drake splits with Gus.
Best case, Gus is ruled out THU-FRI of this week and you got an RB1 hope for the week.
5) WR Josh Palmer, LAC (Grade: C)
This is Palmer's do-or-die moment of his career. Mike Williams out means Palmer is going to be the top non-Keenan option for the great Justin Herbert. If the first game out of the bye, Week 9, with no Big Mike around and Palmer practicing for 2 weeks as the main outside WR, ends up resulting in some low target junk game -- then this isn't going to work and Palmer's career is effectively over…that's a real possibility, but so is 7-10+ targets a game while defenses try and stop Keenan and force LAC to beat them with Palmer and friends.
6) RB Kyren Williams, LAR (Grade: C-/D+)
Same note from last week, but you have hours to trade him before LAR makes their move…but if LAR doesn't do anything, then Kyren is going to get some kind of chance.
From last week: Most RB crazed leagues, Kyren was already claimed because people are insane over RBs. But in leagues where not every RB with a pulse can be rostered, you might consider grabbing Kyren (as we suggested last week too) to sit on and let the media puff up his value and then sell this before people see he sucks and is not going to be the Rams Messiah RB. It's already started…and the drumbeats will get louder this week. This is the media's boy -- there's power in that. This is a pickup and flip this week before the Rams trade for their real RB answer.
7) TE Greg Dulcich, DEN (Grade: D+)
The Broncos are acting like this is their Travis Kelce, so I guess we go with it? He's fine…I just don't trust this offense, but they do love their tight ends in this offense. 5.5 rec., 69.0 yards per game the past two weeks in favorable situations. Dulcich is an (0/3) so far and a tough matchup Week 9 vs. TEN.
8) TE Evan Engram, JAX (Grade: D)
Becoming Trevor's favorite throw over all his options…even ahead of Christian Kirk. Engram is such a talent and he's starting to flash again…but he usually sucks you in and then burns you. This is starting to look different, but I'm still skeptical…but intrigued enough to go here where I'm in need of TE firepower/depth. Engram is a (1/7) this season.
9) TE Hunter Henry, NE (Grade: D)
Henry began his great schedule run of all the awful TE defenses in the league most of the next 8 weeks with a total dud against the Jets. The prior two games to Week 8, Henry averaged: 4.0 rec. (6.0 targets), 57.5 yards, 0.50 TDs per game and 97.5% of the snaps played.
The Week 8 dud will scare everyone away, understandable…but the scenario still warrants consideration. We run from anything that was bad the prior week, so Henry falls in that bucket…but he still should be in consideration for those in need -- but there's like 20 functioning TEs to pick from any given week now…so any of these half-baked TE FF -hopes are losing steam as Dulcich, Hurst, Tonyan, Engram, Schultz, Knox, etc. start to trend up. Henry is a (1/7) this season.
10) WR Mecole Hardman, KC (Grade: D-)
Mecole is like Parris Campbell heading into Week 8 -- they are the flash for a moment WR that suck you in, and then they disappear…so, I don't want to believe it can hold up with Mecole. However, people have wanted to love Mecole…so, every time he has a blip the people swoon.
You can possibly use him during a bye week need, I guess…4 TDs in his last two games, 3 TDs in Week 7…(1/6) for the season. Personally, I'm not a believer…rushing TD jet sweeps are random with Mecole, not consistent. But people love Mecole, so he'll have some trade value this week potentially. However, the Kadarius trade puts a dagger into Mecole at some point…if Toney gets into the rotation, it's coming off Mecole's account.
-----------------------------------------------
***FIVE WAIVER PLAYERS TO DISTRUST***
1) WR N'Keal Harry, CHI
Scored a TD in his second game for Chicago…he's still a limited WR on a very limited passing game. Not to be trusted. No upside breakout coming.
2) WR Demarcus Robinson, BAL
The Ravens seem to delight in Robinson…he plays a ton of snaps each week, as Devin Duvernay watches from the sidelines. And Robinson got 8 targets in Week 8…but, also, Mark Andrews was down/out and Rashod Bateman hurt too…I don't know. I just know there cannot be FF-hope in Demarcus Robinson in Baltimore besides one lucky event to try and guess…which may have peaked Week 8?
3) RB Caleb Huntley, ATL
Led the Falcons in touches over Tyler Allgeier Week 8. It still looks like Allgeier is preferred…and when/if Cordarrelle come back Week 9, then it will be a pecking order of CPatt…then a drop to Allgeier with then some Huntley.
4) TE Isaiah Likely, BAL
If Mark Andrews is back for Week 9, Likely is a no-go. Is he an Andrews handcuff, of sorts? I guess that may matter to you as an Andrews owner…other than that Likely with Andrews back isn't going to be FF-useful as you'd like. If Andrews is out Week 9 and/or long term 2022…then Likely is a Solid C- or D+ free agent/waivers pick up target this week.
------------------------------
***FIVE BUY LOW PLAYERS***
*NOT 'Buy at any price'…it's Buy LOW. Try to find a deal. If none to be had, walk away. It's also NOT…go immediately ask the owner 'What do you want for ____', don't telegraph your desires.*
1) RB Raheem Mostert, MIA
When an RB has a good week…he's untouchable, when they disappoint (i.e. don't score a TD…usually the driver of emotions) then the emotions shift to established public perceptions. Mostert has a nice Week 7, so everyone liked him. Week 8, good touches but no TD, etc., so now he's bad again…bad to current owners who think Mostert is a joke because he's an older RB. Only rookies and some 2nd-year RBs are exciting…not 30+ year old producers like Mostert.
If you can buy as an RB3, he can be your RB2 with RB1 hopes in a high functioning offense. Mostert is a (2/3) since really becoming the main RB…BUT the real key is he has three AWESOME matchups ahead…CHI-CLE-HOU.
2) QB Tom Brady, TB
If your season is falling down and your QB is killing you and there's no relief in sight -- I keep noting that Brady is the one throwing like a high-end QB1 producer (in terms of volume, set up, schedule, etc.) but because the TD counts are down, and the losses are mounting…he seems like a bust. He's throwing well enough, but I am watching games where no one is open, and Brady is doing the best he can.
If this all ever clicks in, Brady can be a top 5 producer with his schedule ahead. Brady is the one QB hope for a big turn ahead…him and Herbert.
3) WR Cordarrelle Patterson, ATL
Out of sight, out of mind…his value is down because of the unknown and not being seen lately…but if he's back for Week 9, he joins a team that wants to run its way to the NFC South crown, and that favors CPatt getting used more than they'd like to because there a division title at stake now. It's all-in time in Atlanta.
4) WR George Pickens, PIT
A 0.0 score in a full week of play is never good (his Week 8)…and it always drops FF value. So, if you like Pickens…this is a week where owners are frustrated with him and want to punish him and trading him away in a cheap deal might help their emotional state for the moment. Pickens is Pickett's #1 WR…and was a (3/1) in the four games prior to his bad matchup with Philly.
5) TE Pat Freiermuth, PIT
So-so Week 8…flying a little under the radar as to how good he has trended with Kenny Pickett, and now on a BYE, so a team more willing to part with him in a deal. He's showing some David Njoku trends with Pickett…high targeting, high functioning PPR TE trends. Pat F. is pushing as a top 5 FF TE with Pickett, so far. Freiermuth is a (2/2) with Pickett his season.
-------------------------
***FIVE SELL HIGH PLAYERS***
*NOT 'Sell at any price'…it's sell HIGH/sell good. Try to find someone in love with your player or seen as a neat value thrown into a multiplayer deal. If no one respects the player/buys right…then walk away.*
1) WR D.J. Moore, CAR
Was on his way to a nice/solid 5-90-0/10 game against an empty ATL secondary and then they hit that hail mary to him…now he looks like a star with games with back-to-back TDs. If you wanted to try and sell this sudden WR1.5 valuation before P.J. Walker or Steve Wilks ruins it again…this is your chance. Moore is a (2/6) this season…the 2 quality starts happening the last two games.
2) WR Michael Pittman, IND
The WR2 who has a WR1 aura if you can find someone to sell it to as a WR1 type valuation. Pittman has 2 TDs in his last 15 games played. He's the tall D.J. Moore of FF -- everyone thinks is doing better than he is. Pittman is a (3/4) this season…but (1/4) his last 5 games.
3) TE Kyle Pitts, ATL
Two out of his last 3 games with a TD…should actually be three in-a-row…they are starting to figure out he's good in the end zone, but the targets and activity is still too low on a team that only wants to run the ball. Week 8 was his best FF game of the season so now is the best time to sell high. There are people who absolutely love/worship him. I'm not just dumping him in a panic -- I am going to squeeze all the ROI that I can here.
4) RB Kyren Williams and/or Ronnie Rivers
If you think the Rams make a deal for an RB, then these two have got to go fast.
5) WR Rondale Moore, ARI
Had a nice Week 8 game, pumps up his value a little bit to help use him to get something small or as a throw-in to get something done. I don't think there's a turn here, and he's dead when Marquise returns in a few weeks.
------------------------------
***FIVE DEEP SLEEPER WAIVER PICKUPS***
*Total flier/lowly owned or not-owned players
1) RB Rachaad White, TB
If Fournette goes down, White is an instant RB1…and with the way that lead RBs are going down….
2) RB Jaylen Warren, PIT
A Najee injury away from being an RB1.5-2.0.
3) RB Zamir White, LV
What happens if FF's #1 RB, Josh Jacobs, goes down? It's Zamir's game to lose. Could Jacobs get traded Tuesday?
4) WR Terrance Marshall, CAR
Our 'outta nowhere WR of the week (8)' had a 4-87-0/9 game that was so close to 6 rec., 100+ yards, 1 or 2 TDs and everyone clamoring for him ahead. Granted, it was a very fortuitous matchup…but has ATL and BAL coming Weeks 10-11 ahead. He looks like a #1 WR/alpha for Carolina…a team without a real one. A Courtland Sutton #1 WR…tough, good, not an 'A" grade WR…but good.
5) RB Boston Scott, PHI
A Miles Sanders injury away from launching to RB1.5…but Kenneth Gainwell puts some pressure on here
6) RB DeeJay Dallas, SEA
If Kenneth Walker goes down, Dallas takes over.
7) WR Michael Gallup, DAL
If Dallas doesn't make a move for a WR, Gallup is going to have to step into that #1 WR role and let CeeDee be a nice slot. Lamb cannot be their go-to.
Gallup has been junk so far, in his return from injury…but what if he's just getting healthy/up-to-speed as we go?
8) WR Jameson Williams, DET
Projected to debut on Thanksgiving Day? Will be the Lions #1 in short order.
9) RB D'Ernest Johnson, CLE
If you think Hunt is getting traded, D'E becomes the new Nick Chubb handcuff…but maybe Johnson is the one who is traded Tuesday? Do you have an open spot to add him pre-MNF kick?
10) QB Jimmy Garoppolo, SF
What if CMC unlocks the gate to a real passing game for SF? JG has 2 TD passes in four straight games. LAC-ARI-NO the next three weeks too.
---------------------------------
 -- FIVE…IT'S OK TO QUIT THEM PLAYERS (for REDRAFT) --
WR Sammy Watkins, GB
People hoping he would be the answer to Lazard being out were stuck in the same trap the entire NFL was on this guy for the last like decade.
WR Robbie Anderson, ARI
Two games with Arizona = 4 targets total, 0 catches.
WR Van Jefferson, LAR
Activated for his 2022 debut…and 31 snaps with no targets.
WR Elijah Moore, NYJ 
If he doesn't get traded Tuesday, which he probably will not, then you should leave him behind for 2022.
WR Robert Woods, TEN
The Titans passing game is dreadful again and Treylon Burks is returning soon. It doesn't matter that Woods is their top WR right now.
--------------------------------
***STREAMING DSTs OFF WAIVERS(?) OPTIONS***--
1) Chiefs-DST
One of my favorite overlooked/sleeper defenses right now. They've been weak for FF, so far, due in part to a tough schedule. The schedule is about ease up for a defense that has young talent all over that's starting to gel.
Week 9 = TEN
Week 10 = JAX
Week 11 = LAC
Week 12 = at LAR
Week 13 = at CIN
*********
Week 14 = at DEN
Week 15 = at HOU
Week 16 = SEA
Week 17 = DEN
*********
2) Steelers-DST
On a Week 9 bye, but after that, they could get T.J. Watt and the rest of their secondary back for the 2nd-half of the season and have a favorable matchup with the Saints Week 10 (IF everyone is back).
Week 12 at Indy can work…and maybe Week 13 at ATL too.
This is a sleeper DST to keep on your radar if/when Watt returns.
3) Bengals-DST
They should handle CLE on MNF this week and still have a good schedule ahead, and Logan Wilson is back for them, which is huge.
Week 9 = CAR
Week 10 = bye
Week 11 = at PIT
Week 12 = at TEN
4) Jets-DST
Been on a roll, and despite the Week 8 loss…they gave the Patriots fits too. The problem is the schedule…BUF Week 9, bye Week 10. But then you get NE-CHI Weeks 11-12…before the schedule turns against them again.
5) Commanders-DST
Another quality effort Week 8 from this sneaky good defense. MIN-PHI the next two weeks is no good, but then HOU-ATL-NYG-bye-NYG-SF-CLE is a nice finish except for Week 16 at SF.
---------------------------------
 -- Sleeper/lesser-name IDPs whose box scores or live watch caught my attention --
1) LB Christian Harris, HOU
The rookie is being pushed into the starting lineup…for a team getting run all over, so he can/will get numbers ahead. Seven tackles in his first real start of 2022 season this week.
2) SAF Ryan Neal, SEA
His last four weeks: 7-7-7-6…with 6 PDs in that span. Every time he gets a chance, he puts up numbers.
3) CB Rayshawn Jenkins, JAX
I keep dismissing his numbers each week, but he keeps producing for IDP. Since Week 3, here are his tackle counts in a game: 5-6-12-8-5-8. He's also averaging over 1+ PDs per game and has a couple TFLs as well. I might be late to his party, but he's producing…I shouldn't ignore it anymore.
4) LB Damone Clark, DAL
Rookie to watch…made his debut in relief in this game and had 6 tackles (but just 1 solo). He's a talent. It will be interesting to see how fast he integrates here.
5) CB Kader Kohou, MIA
6-6-4-6 for tackle counts his last 4 games, since starting to play a bigger role on defense/starting.
6) LB Tomon Fox, NYG
I need to watch this tape and see what happened, but 8 tackles and 2 TFLs in Week 8, out of nowhere, gets your attention. Still just a part time player for NYG at this point, a rookie UDFA.
-------------------------------
OUTTRO:
Lots of stuff going on this night…MNF…Game 3 of the World Series (if not rained out)…and Halloween (getting rained out where I am at). Whatever of those, or all, that you are consuming tonight -- be safe and good luck. https://youtu.be/vsUmiB30Q8A