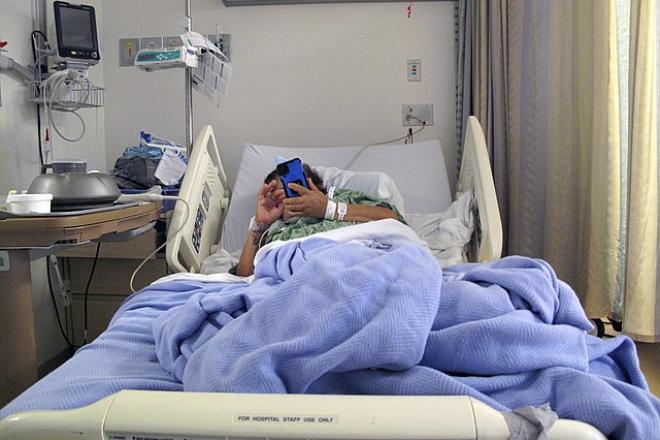 R.C. Fischer
Total Football Advisor
29 October 2022
2022 Week 8: Saturday Night FF Notes (live from my hospital bed)
It's day two of me being stuck in the hospital's coming off gallbladder removal surgery. Things got a bit more complicated than they expected so, instead of being released Friday after surgery, I needed to be under observation for (hopefully) just two days/nights, and then (hopefully) I'll be released Sunday morning in time for football watching at home…not in the hospital watching Sunday Ticket on computer.
I will not be doing the Sunday morning Video Q&A this week -- because I just don't know my timing in the morning of being released, and I'm not sure I can sit upright in a chair for an hour+ anyway.
So…with those barriers this week, I wanted to hit some details on the top news items and just make quick notes on the two games we haven't reported out on yet…I've watched SEA-LAC and NYG-JAX, that was easy to do sprawled out in a hospital bed. Typing out a full report with all the normal chaos around the hospital has not been a smooth opportunity.
I'll report out on any Sunday news tomorrow in some manner….to be determined + projections update 12-1230pmET.
In random order, items I'm getting asked about the most/seeing he most interest in…
 -- Everyone has Kareem Hunt as a done deal to the Los Angeles Rams. But I will say once again, if all they're asking for is a fourth-round pick -- then the Rams would have done this deal days ago.
I maintain, as some football analysts are speculating, that the Browns are going to wait until after their Monday game with the Bengals before they make a decision. Assuming they lose, with the Bengals then winning plus the Ravens having beaten Tampa Bay, and with a daunting schedule ahead, the Browns should be ready to throw in the towel and sell off some assets.
The Rams make the most sense, as they are the team that feels in the most need/desire for a lead running back... not a depth running back. Hunt to the Rams makes too much sense, but the Browns gotta be willing to part ways and we won't know that until Monday night slash Tuesday.
If the Rams are staring at Alvin Kamara for a first-round pick or Kareem Hunt for a fourth round pick, they'll do the Hunt deal. Probably for a third-round pick but getting back a fifth or sixth round pick from Cleveland. Is there a team really willing to give a first round pick for Alvin Kamara? I highly doubt it between his age, his salary, and his pending legal issues.. it doesn't make any sense.
 -- Who is going to trade big for Jeff Wilson? Why would any team offer anything heavy for Jeff Wilson? And why would the 49ers give away Wilson in the midst of the season where every running back they have gets hurt? It makes no sense. Jeff Wilson isn't going anywhere except for to the third string when Elijah Mitchell returns. I could see the 49ers trading their rookie Tyrion Davis-Price instead of cutting him but I don't think they'll move Wilson in order to keep TDP #3, because the 49ers see themselves as a serious contender.
 -- Because the Rams think they are contenders too, they are not going to try and combat the NFC West or the entire NFC running their lead as Ronnie Rivers and Kyren Williams. It would be silly for them to do so.
Now, there's a rumor that Ronnie Rivers could get a start this week because Darrell Henderson could miss the game. That may or may not be true, but that starting stint would be for just Week 8...because you know come the trade deadline the Rams will have found a veteran running back to pair with Darrell Henderson, like they did last year when they got Sony Michel.
Ronnie Rivers is nothing special. The Las Vegas Raiders gave him a look in the preseason and released him eventually. Then the Rams put him on their practice squad and elevated him up last week due to the Cam Akers situation. Rivers is not a desired plan, it was an emergency reaction. But there is some FF-value (maybe) to seeing what Ronnie Rivers can do/if he can generate himself some fantasy value or not -- but I'm going to guess not…not behind that terrible offensive line nor against that very good 49ers defense. If you grabbed Ronnie Rivers Saturday, your goal should be to trade him by kickoff Sunday.
And I don't know how people are balancing the assumption that the Rams are going to acquire Kareem Hunt or something like it but then also somehow have a big role for Kyren Williams down the stretch, as some have speculated. I don't know that Kyren Williams will have any role down the stretch because he's just not that good and there's no way the Rams are going to go forward with plans of featuring a late day three rookie running back to take a feature role when he's barely played real NFL action, just the preseason. I would be FF-trading Williams as fast as I could before the Rams announce their new running back they acquired Monday or Tuesday.
 -- I guess the Rams are somehow going to acquire everybody in the trade rumor mill, because they're also supposedly going to acquire Brandon Cooks too. I absolutely DO believe Cooks is going to get traded, as you'll see him be set inactive this week to keep him safe for a potential trade, but I don't think it will be to the Rams. Green Bay or Buffalo or possibly the Giants would be the front runners for that acquisition
I strongly believe Cooks will be inactive Sunday because they're gonna trade him but remember that Nico Collins is going to miss this week's game with an injury -- so, that means the Texans are going into their game with Tennessee without either of their main starting wide receivers. I love the Titans to crush the Texans this week because it is apparent Houston is going to throw in the towel on the season.
With the starting wide receivers out, it leaves the exciting tandem of Chris Moore and Phillip Dorsett as the likely starters for poor Davis Mills this week. I don't think you can trust either for fantasy, but Chris Moore would be the one I've gamble on.
 -- I also love the Texans to win this week because Malik Willis is going to be at quarterback. Now, I don't think Willis is 100% ready to be and NFL starting QB...but he cannot be any worse than Ryan Tannehill who has started his fade into being like a Matt Ryan in another year.
I think Malik Willis is startable in fantasy this week depending on your situation. I'll say it for the umpteenth time this year, Willis is the new, better Michael Vick and what he lacks in passing skills out of the gates he will more than make up for as a runner. Willis will be like a Justin Fields event right now, except for Willis is a far superior runner of the ball. I wouldn't be surprised if he ran for 100 plus yards on the Texans this week.
I also would not be surprised if Willis makes a bunch of splashy plays and if the offense scores 25+ points in a big victory -- that there would be a serious QB controversy come next week. Ryan Tannehill's time is ending soon, Willis could make it happen sooner than anybody expected with this opportunity.
Also, Willis could crap the bed in this forced start and just be a developing story for 2023. All I know is, I can't wait to watch and see what happens. Again, he cannot be any worse than 2022 Ryan Tannehill.
SEA-LAC Notes…
 -- I was not surprised at all when Seattle thumped the Chargers in LA. As I've been saying for a few weeks, the Chargers are one of the ten worst teams in football pushing towards one of the five worst teams in football which is one of the greatest crimes in the NFL given they have Justin Herbert. Brandon Staley is coaching his last season for the Chargers, I believe. And welcome in Sean Payton 2023.
 -- There were two big wide receiver news items out of this game, of course the news has to do with guys getting hurt...
1) Big Mike Williams got his leg caught up in a nasty twist/bad angle and will be out for at least four weeks most likely. As I said a couple days ago, the FF-play is getting Josh Palmer now while they're on a bye and sitting on him until Week 9 through week 12 or so.
2) DK Metcalf also got hurt, and he is likely to miss 1-2 games. It was Marquise Goodwin that picked up the slack for Metcalf in Week 7. I suspect it will be the same for the entirety of Week 8. And I gotta say, Goodwin looks like a legit starting WR still to this day. I don't know why he keeps bouncing on and off rosters without any playing time. He looks quick and gives a full effort, he's just not a veteran coasting to grab more paychecks he's legit trying to produce and stay in the league. I wouldn't be surprised if Goodwin put up a WR2 day against the Giants this week.
NYG-JAX Notes…
 -- The Giants pulled out another victory in Week 7, albeit over the hapless Jaguars. But, hey...it still counts. Giants' fans just enjoy it for what it is. Both teams played well enough or poorly enough to have won or lost this game, but the Jaguars blew their chances and the Giants wound up a winner like they seem to every week.
 -- I think you can have some confidence in an emergency Daniel Jones start for fantasy football during the bye weeks. As long as the Giants keep winning. Jones is energized, as is the team, by this win streak...and when Dan Dimes is motivated he tends to run the ball with a purpose more and he's a pretty successful runner of the ball when he wants to be. He's also throwing the ball crisper… He still is not really reading defenses that well and just firing it to where he thinks a receiver is going to be, but when he has time and he picks the right receiver he can put it on them.
 -- It took Daniel Jones two weeks to figure out Wan'Dale Robinson is his best/easiest throw, so with that Wan'Dale has a WR2-3 hope any given week. I still don't see anything special out of Wan'Dale Robinson but I know he makes the most sense/is the easiest throw for Jones to make.
DEN-JAX (early SUN game in Europe)
 -- I have nothing clever to project about this game. Russell Wilson will lead a struggling offense against a dying Jaguars defense...and I expect Wilson to maybe have his best game of the season and take Courtland Sutton with him.
The Giants will run with Saquon, run with Daniel Jones, and throw most targets to Wan'Dale Robinson so that he can catch and run with the ball.